Water is vital to our health. Our country is blessed with an abundance of clean water source.
Despite that, our home water supply is not always in the best condition. It is common to see yellowish water or muddy tap water, which not ideal as drinking water.
As a result, most families install a water filter (also known as a water purifier) at home. 
Here, I have put together the 6 most important criteria when it comes to selecting the best water filter:
---
How to choose the best indoor water filter
1. Price
In the case of water filters, a more expensive model usually translates into clean drinking water and greater convenience.
Any salesperson who claims their water filters which cost more than RM5,000 or RM10,000 can magically cure disease is usually bogus. You should avoid them at all costs.
There's no water filtration system that can heal disease (at least not proven scientifically).
Experts do agree that filtered drinking water that is free from germs can be good for those who are vulnerable to infection, eg: those who suffer from critical illness. That's all
If you have enough time, please watch this very educational and insightful video by CNA insider. It clearly explain how water filtration works and what it actually does.
At the same time, I am aware that not everyone can afford a water filter that costs a few hundred ringgit. To help you decide which type of water filter to buy, I have drawn this simple decision diagram.

I separated water filters into three budget ranges: below RM500, below RM1,000 and above RM1,000.
People who don't want to spend more than RM500 should get a water pitcher filter. It is most suitable for groups with a tight budget, such as college undergraduates.
Another option would be a faucet-mounted water filter. A filter like this is ideal for renters. It does not require additional plumbing work and can be easily moved to another location.
For those willing to spend over RM500, you can purchase multi-stage water filters. If you're willing to spend more than RM1000, you might even consider reverse osmosis filters (which I believe is unnecessary).
2. Types of water filter and filtration method
In most cases, I recommend getting a countertop or under-counter multi-stage water filter. These types of water filters are more than adequate and safe to consume. 
The reverse osmosis (RO) system removes almost all kinds of impurities, good and bad alike. Hence, it may not be the best thing to drink RO water, as water itself contains some nutrients which are beneficial for the body.
Water pitchers with filter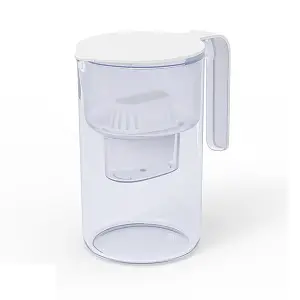 It is basically a kettle or pitcher that comes with a basic built-in filter. These filters are not connected to your plumbing, are free-standing and portable. It is also known as a gravity filter.
It usually consist of 3 simple filtering process, by passing the water through a layer of fibre, a resin filter and lastly an activated carbon filter. Resin water can reduces the heavy metals content, turning hard water into soft water.
| | |
| --- | --- |
| Pros | Cons |
| Easy set-up, no installation required | Only filters some contaminants |
| Cheap and highly portable | Filtering is slow. |
Faucet-mounted water filter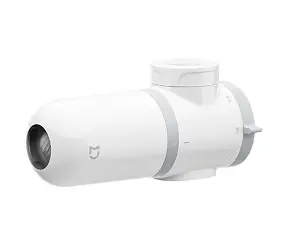 Faucet mounted filter look like the ones pictured above. This attachment is installed on the kitchen faucet so that water flows through the filter and is diverted into a separate outlet.
The filter process is similar to the water filter pitcher. The whole water filter system is squeeze into a size of faucet attachment. The flow rate of water would be affected and become slower than usual.
| | |
| --- | --- |
| Pros | Cons |
| Cheap | Water flow is slow |
| Easy to install | Not all faucet compatible |
| | Limited filtration of contaminant |
Countertop water filter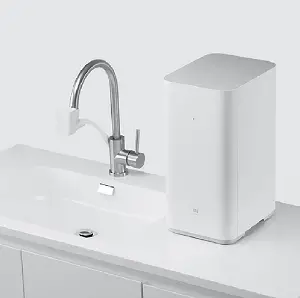 The countertop filter housing usually sits next to the kitchen sink and is connected by a small hose to the faucet. The connection method is similar to a faucet water filter but it has a more complete water purification system in place.
They usually start with a sediment filter to filter dust and sand particle. Then, it passes through an activated carbon block to reduce chlorine and heavy metal, which reduces odour. Lastly, each brand will add the last layer of their proprietary filter out most of the impurities.
| | |
| --- | --- |
| Pros | Cons |
| Easy to install | Take up big space and not aesthetically pleasing. |
| Good quality filtration | Not all faucet compatible |
Under counter water filter
Under counter filter systems connect directly to your cold water line and dispense filtered water through a secondary small faucet instead of using the main faucet.
The entire water treatment system operates in the same way as a countertop water filter. Yet it is hidden under your kitchen counter, making your kitchen clean and organized.
| | |
| --- | --- |
| Pros | Cons |
| High degree of filtration | Requires basic plumbing skill to install |
| Filter is out-of-sight | |
Reverse Osmosis Filter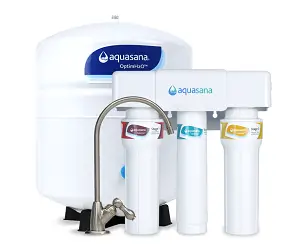 Reverse osmosis filter is just like a normal multi-stage filter but with an extra reverse osmosis membrane filter (RO filter). It is accomplished by pushing tap water with pressure through a semi-permeable membrane to remove contaminants from water.
Since the reverse osmosis filtration can be quite slow, reverse osmosis system usually comes with a storage water tank. So, it is going to occupy quite a big space.
| | |
| --- | --- |
| Pros | Cons |
| Highest degree of filtration | Costly |
| | Bulky requires more space |
| | Produces wastewater in the filtration process |
3. Professional certification
A water filter should obtain certification from professional bodies such as WQA (Water Quality Association) or NSF (National Sanitation Foundation). Although NSF is most widely used in the United States, water filter makers that seek this certification demonstrate their credibility.
There are too many water filter brands on the market. Most consumers have no way to verify the claims made by each vendor. Consequently, there are many water filter companies who employ false marketing tactics in order to sell their products.
I recommend Malaysians purchase water filters with at least one or two certifications from professional organizations.
4. Replacement filter/cartridge availability 
Cartridges should be readily available and sell at a reasonable price. You don't want to buy from unknown brands that may disappear after a year or two.
If you buy from an established brand, you are assured to be able to replace the cartridge in the future.
5. Hot & Cold Water Dispenser Feature 
Personally, I believe it is unnecessary and wasteful to keep water hot or cold all the  time. Grab ice cubes from the fridge and a good thermos to store hot water.
A hot water dispenser can be very useful and convenient, especially for those dealing with babies and toddlers. Especially when you have to prepare baby formula or warm milk. 
Be aware that this type of dispenser usually uses a water storage tank, so it may not be the best water to prepare milk for a baby.
6. Rent or buy
Personally, I would rather buy a water filter than renting one. So, I encourage others to do the same by owning your own water filter.
Top water filter vendors like Cuckoo and Coway spend millions of ringgit each year to advertise how good their filters are and how affordable they are. 
Both companies encourage users to sign long-term rental contracts with them, which cost RM50 to RM100++ per month. I know many people prefer to pay a small sum monthly rather than a large sum up front.
 However, long-term contracts are also a long-term financial burden.
Is Cuckoo or Coway really the best water filter as they claim?
No, in my opnion.
In fact, I do not support getting Cuckoo and Coway water filters for personal or household use. It would be suitable for use in an office or in a corporation.