Malaysians are huge fans of IKEA furniture and IKEA meatballs (There are 4 huge IKEA store just in the West Malaysia). We can all agree that IKEA furniture is stylish and the decorative items are affordable.
But , there's one thing in particular isn't fitting into our culture, their bedframes and mattresses.
The IKEA mattress sizes are different from Malaysian mattress sizes. For your knowledge, IKEA uses Euro sizes for its mattress and bed frame.
Euro-size beds are typically 200cm long, longer than Malaysia's bed. Moreover, they are being produced according to metric measurement, centimetres.
On the other hand, Malaysia mattresses are only 190cm in length. They are also slightly wider because they are typically manufactured according to imperial measurements, inches.
There are four common bed/mattress sizes available in Malaysia: single, super single, queen, and king.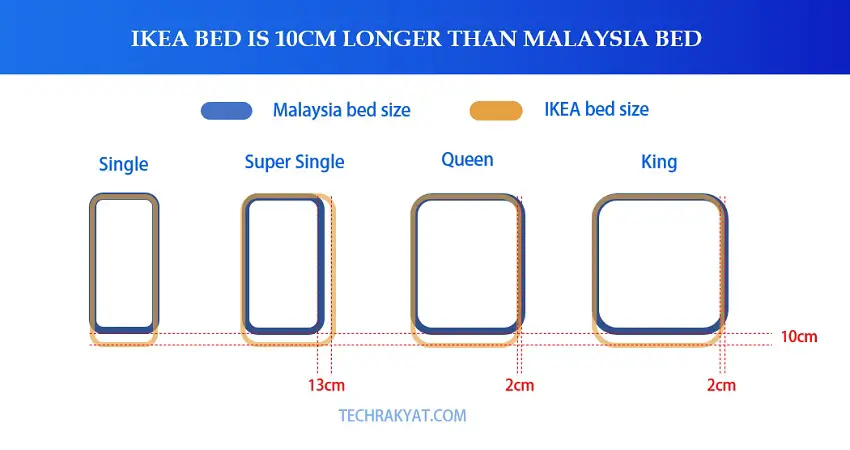 The photo above shows that IKEA and standard Malaysia bed size are quite similar in width. However, the length of an IKEA bed is 10cm longer than an equivalent Malaysia bed.
If you're taller than 183cm (6ft), you should consider IKEA beds and mattresses. The extra 10 cm can help you sleep better so that your feet don't go dangling in the air when you sleep.
Below is a detailed table comparing IKEA bed size to Malaysia bed size:
Mattress Size
IKEA
Width x Length (cm)
Malaysia
Width x Length (cm)
Single
90 cm x 200 cm
90 cm x 190 cm
Super Single
120 cm x 200 cm
107 cm x 190 cm
Queen
150 cm x 200 cm
152 cm x 190 cm
King
180 cm x 200 cm
182 cm x 190 cm
Mattress Size
IKEA
Width x Length (in)
Malaysia
Width x Length (in)
Single
35 in x 79 in
36 in x 75 in
Super Single
47 in x 79 in
42 in x 75 in
Queen
59 in x 79 in
60 in x 75 in
King
71 in x 79 in
72 in x 75 in
Some of you may find it difficult to memorise a bed measurement in inches and the measurement could be confusing.
In Malaysia, most mattress vendors actually use feet (ft) instead of inches(in) to describe mattress dimensions.
Malaysia mattress sizes measured in ft are as follows:
Single bed: 3 ft x 6 ft
Super single bed: 3.5 ft x 6 ft
Queen size bed: 5 ft x 6 ft
King size bed: 6 ft x 6 ft
Despite the fact that the exact length of a bed is 6.25 ft, many people refer to it as 6 ft because it is easier to read and remember.
I was a "victim" of IKEA bed before. I bought a daybed frame but didn't buy the daybed mattress, thinking that I could save some money buying a mattress at a lower price on Lazada or Shopee.
Hope this IKEA bed size guide help you to clear up any confusion between IKEA bed and Malaysia bed.
---
Bed size references: