Malaysia has slowly recovered from the Covid Pandemic. Despite more people returning to the workplace, the work-from-home culture is here to stay. Having a reliable printer is an essential component of a home office setup.
For average consumers, there are mainly two types of printers: inkjet printers and laser printers.
But how to choose and identify which type of printer is more suitable for you?
Comparing the pros and cons of inkjet printers and laser printers
| | | |
| --- | --- | --- |
| Feature | Inkjet Printer | Laser Printer |
| Printing method | Spray ink on paper  | Toner powder is melted onto paper |
| Refill | Liquid ink | Powder toner |
| Initial cost | Cheap | Expensive |
| Refill cost | High | Low |
| Printing cost | High, 10 to 30 cents | Low, 1 to 5 cents |
| Printing speed | Slow, 3 to 15 ppm | Fast, 18 to 35 ppm |
| Printer Maintenance | Regular printing to avoid clogging | No clogging issue |
| Durability | Moderate | Very durable |
| Waterproof | No, smudge when wet | Yes, resistant to water |
| Precision | Moderate | High |
| Footprint | Small | Big |
| Best for | Colour printing (photos) | Black and white (text document) |
---
4 tips to decide whether an inkjet or laser printer is better
1. Printing volume
For most home users like me who don't normally print large amounts of text documents, an inkjet printer will suit us better. Inkjet printers are ideal for small quantities and occasional printing.
The cost of owning a laser printer is only justified if you print hundreds, if not thousands of pages per month.
So, a laser printer is more suitable for offices.
2. Printing needs
If you are printing a variety of materials, such as photos, school work, and reports, then an inkjet printer will serve you better than a laser printer. 
Inkjet printer has better colour bending and colour depth and it works on more paper types. So, the quality of photo printing with an inkjet printer will be superior compared to a laser printer.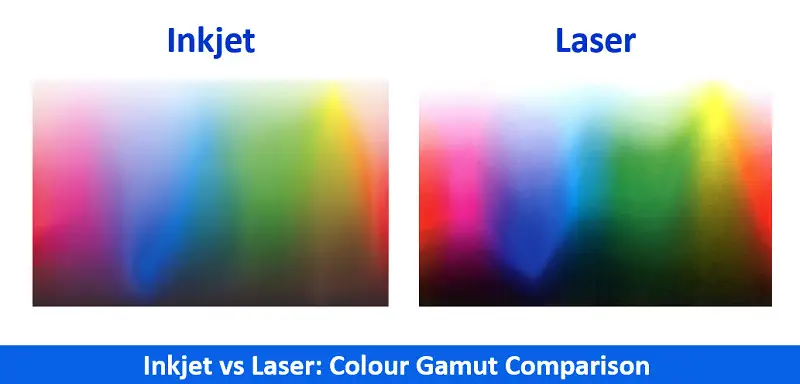 The laser printer is ideal for printing text documents. The powder toner used in this printer gives it a higher degree of precision, as it won't smudge the paper. Laser printers usually produce better and crisper text no matter what type of paper is used.
It is also capable of printing smaller points of letters with greater clarity than an inkjet printer.
Laser printers also print much faster than inkjet printers. If you often need to print out quickly, then a laser printer will be a better choice.
3. Budget
You should purchase an inkjet printer if you have a small budget because a laser printer has a higher introductory price.
Many printer brands using a "razor and blade" business model lose money on printer sales but make up for it in ink sales. 
Hence, the inkjet is more affordable and more suited for home users that have a small budget and print small quantities.
However, bear in mind that the cost of refill cartridges for an inkjet printer is much higher than for a laser printer.
So, if you are printing a lot, it is better to buy a laser printer once you can afford it. Laser printing is cheaper in the long run due to cheaper refill costs.
4. Space and size
Lastly, you should take into consideration space available and printer size before you decide on which printer type to buy.
Inkjet printers are the best option if you don't have enough space to house your printing station. 
Inkjet printers are generally smaller than laser printers of equivalent functionality. The difference in size is due to the difference in their printing technology and cartridge.
The inkjet printer uses small ink tank cartridges while the laser printer uses long cylindrical drum toner cartridges. Thus, the laser printer's footprint is usually bigger than an inkjet printer.