In Malaysia, most of us who lives in the city are constantly dealing with traffic jam, haze, air pollution as well as a hot and humid tropical climate. Hot temperatures are admittedly, not easy to deal with. Fortunately, we have this wonderful invention called air conditioner that can provide us with instant relief from the heat.
Almost all buildings/houses would have at least ONE air conditioner in Malaysia. Yup, we just cannot live without having one! And this is a FACT of life in Malaysia.
There are many types of air conditioners available in the market – wall-mounted, ceiling-mounted split unit, windows type air conditioners, portable air conditioner and air cooler.

Today we talk about air cooler a.k.a. evaporative coolers. Also, some call it a ventless air conditioner. Whatever it is, they all refer to the same thing. Let us dig into some technicalities for interest sake.

Best Air Coolers in Malaysia:
Refrigerant-based ACs vs Air Cooler(Ventless/Evaporative AC)

Wall-mounted ACs and Portable ACs basically function the same, and fall in the Refrigerant-based ACs category. The basic mechanism involves a motorized compressor that compresses the refrigerant gas to create the chilled air. And as such, hot air is produced as a by-product and must be removed to the outside. Thus, explains the need to have a hose to push the hot air out.
But when it comes to air coolers, they function differently. Unlike refrigerant-based ACs, air coolers do not use any refrigerant gas, neither employ any compression mechanism as well. Therefore, no heat is released and thus no venting is required to remove the heat to the outside. This totally removes the need of having a hose to excrete the heat out. Thus, no complicated installation required at all, which makes them very mobile and portable.

So how does it work then? Well, it relies on water evaporation to create the cooling effect – as hot air pass through a cooling media, the cooling media will absorb heat from the air, reducing the hot air to lower temperature. The surroundings will then be cooled and moisturized. But then and again, the air is usually not cold but only cool. And thus, explains why they are called air coolers.
One noteworthy thing though is that because they use only a fraction of power to run as compared to refrigerant-based ACs, they are indeed power-saving and cost-effective. Refrigerant-based air conditioners generally are more expensive and always required ducting.
And if mobility is your number one concern, an air cooler is the way to go then. They are truly portable, flexible, easy to clean and most important of all, relatively much cheaper. They are also environment-friendly, as they utilize a natural process with no ozone-harming pollutants and chemicals involved. And oh yes, it can double as a humidifier as well! So yup, this appliance is truly safe, eco-friendly and also a cost-effective solution to fulfil our cooling needs.
How to pick the best air cooler
There are a few key factors which you should consider buying an air cooler over an air conditioner. I have summed up as below:
initial cost – you don't have or don't wish to pay a large sum of money in cash to buy the air conditioner since the air conditioners are usually more pricey.
long term cost – air cooler uses much lesser electricity. 1 horsepower air conditioners can use up to 700-1000W per hour while air coolers only use 60-80W per hour. That's about 10 times saving in electricity.
space constraint – it may be a rental property where you are not supposed to drill the wall of the property. Or there's no proper a/c point provided by the property developer. Installation can either cost too much money or aesthetically unpleasant.
time constraint – you need a quick and short term solution for special festive seasons. For example, Hari Raya Aidilfitri, Chinese New Year, or Hari Deepavali. Instead of going through the hustle to install a permanent mounted A/C, just buy an air cooler, plug to a power supply, turn on, and you get cool air~
Please take note that it is very important to ensure good air circulation in the room when using an evaporative air cooler. This is to avoid the air from becoming too saturated. The machine becomes less efficient when the surrounding humidity level is too high.
Similar to a mounted air conditioner, you should always be aware of the intended space coverage and choose right size air cooler that fits for the job. If you get an air cooler has too small a capacity for your area, the poor machine would have to chug along extra hard to get the huge area to cool down – which makes no sense because this is totally wasting energy and you don't get a cool room at the end of it all.
And one last thing to bear in mind, if you can't stand of spinning fan noise then air cooler is strictly not for you.
1. Midea MAC 215F Ionizer Air Cooler
Best Air Cooler for Home Use
Midea MAC-215F Ionizer Air Cooler is the best value for money air cooler for the most common need. It can be easily set up at any place, any time. Turn on your power supply and enjoy the cool air.
RM265 on Lazada RM277 on Shopee
Well, the best air cooler falls onto the laps of Midea MAC-215F Ionizer Air Cooler. It measures at 390mm(depth) x 350mm (width) x705mm (height), slightly below your waist level. It's not too huge or neither too small, about the right size for a living room but can be tight for a small bedroom.

Midea MAC-215F consumes only 60W power but it is able to cool your room faster than a normal fan. It can operate under three different fan speed and has a maximum airflow of 420m3/h. This multi-functional fan deploys wide angle oscillation to ensure broader coverage area. Perfect for a medium-sized room.

This air cooler also functions as an air purifier. Coupled with an ionizer, you can be assured of fresh and clean air, with more anions in your surroundings. Thus, unpleasant odour, dust, smoke, pollutants will be reduced. However it is, do not expect them to outperform air purifier in filtering the surrounding air. If you're really concern with indoor air quality, check out my recommendation of best air purifier in Malaysia.
The notable thing about this is a large capacity water tank-14 litres and it comes with an aroma box to help infuse the scent into the air. It is equipped with an auto shut-off pump when dry, this is a safety feature meant for precaution purposes. As with most air coolers, because of its mechanism that utilizes water vapour. It is also an awesome humidifier as well with humidifying capacity of about 1200ml/hr.
The warranty given for Midea MAC-215F air cooler is 12 months by Midea Malaysia.
Pros:
Easy installation – plug and use.
Multifunctional – air cooler, humidifier, purifier, ionizer function.
Easy to use and operate.
Larger capacity water tank (14L) – allows longer hours of comfortable use. (can reach 10 hours operation)
Strong fan blow.
7-Hours programmed timer control.
Wide-angle oscillation.
Safety feature – auto shut-off pump when water tank is dry.
Economical.
Cons
The cooling effect may not be that effective especially when the room is hot, to begin with. If you desire a colder air, needs to put in ice packs.
Somewhat noisy.
Competitions
MIND portable air cooler (cool1b ionizer) measures 370mm(D)x29.5mm(W)x 800mm (H). It has an airflow of 800 m3/h, 20L tank capacity. It does look superior to Midea's air cooler but there are too many complaints on its being unreliable and short servicing life. Check out the reviews on https://www.goshop.com.my/prd/20064695.html

ELBA EAC-H6580RC(WH) 14L is 376mm(W)x340(D)x740(H) with 14L tank capacity. Its tank capacity is slight smaller than Midea but the price is slightly more expensive.

Honeywell CL151 Air Cooler 15L is 380mm(D)x365mm(W)x680mm(H) with 15L tank capacity. It produces 350m3/hr but consumes as much as 126 watts of power. The biggest downside of this machine is the pricing that cost RM100 or roughly 35% more than Midea's MAC 215.

Cornell Air Cooler with Dustproof Filter CAC-E33 is 310x325x1020mm in size. It's the tallest among other indoor air coolers. It has all the function like others including, ionic function, dustproof filter, water pump protection and son. It uses only a mere 45W. However, a small tank capacity of only 4 litres makes it the least favourable because you will have to frequently refill the water.

Sharp 20L Air Cooler PJA200TVB is 350x390x880 in size. It's one of the cooler and modern looking air coolers. It has 20L tank capacity, 750m3/h airflow, 3-speed control and pump protection. But, it cost a hefty RM449 to own one. You can get basically get a portable air conditioner with that much money.

Morgan MAC-COOL4 is 400x380x915mm in size. It can generate as much as 1650m3/hr and has an ionizer function. The downside of this machine is its small 10L water tank capacity. If you don't mind refilling water more often, you may wanna consider this air cooler.

Pensonic Air Cooler PAC-105M operates at 65W, dimension 300x300x725mm. It has only 7L water tank, 3 fan speed. Overall it's a mediocre package when compared to Midea and Morgan air cooler.
2. Morgan 60L MAC-COOL10A
Best Air Cooler for Office/Factory/Outdoor
Morgan 60L MAC-COOL10A is the best outdoor air cooler to cater for large area cooling. It has an impressive 2800m3/hr airflow. Suitable for warehouse, event organizer or even 'mamak' stall.
RM736 on Lazada RM798 on Shopee
If you're looking for a more powerful air cooler, we recommend Morgan Air Cooler 60L MAC-COOL10A. It is a very cost-effective air cooler. Because this 'little giant' is powerful enough to cover an area as big as 80m2 (~900 sqft) yet it operates at a reasonable 220W power consumption. So, if you are thinking of cooling down a big or wide-open space, this is your best pick!

This air cooler comes with wheels which makes it easy to be moved anywhere, anytime. There is also no complicated installation required. The airflow is packed at a solid strong of 2800m³/hr. The fan allows adjustments of 3 wind fan speeds, namely high, medium and low.

To increase its cooling efficiency, it actually with 3-sides honeycomb cooling pads as well. It can be set to oscillate and ensuring a bigger coverage area. They swing horizontally but if you require them to swing vertically, you need to manually adjust the louvres.
With a large water tank capacity of 60L, this machine is going to last for quite some time. However, big capacity air cooler has an additional feature which is different from small air cooler. Big air cooler like MAC-COOL10A has a valve dedicated for water supply connection. This machine comes with automatic water refilling feature. As long as it is connected to a water supply, there is a built-in circuit that will trigger the water to refill when the water drops below a certain set level to ensure a continuous cooling effect.
Morgan 60L Powerful Air Flow MAC-COOL10A Air Cooler comes with a 1-Year Warranty.
Pros:
Within 30 mins to an hour, significant cooling down of surrounding.
Easy to use and operate.
Huge capacity water tank
Strong turbo fan blow – adjustable 3 speeds.
Louvres are adjustable.
Automatic water refilling feature.
Cons:
No ionizer function.
Bulky
Loud and noisy.
3. Arctic Air Desktop Portable Air Cooler
Best Desktop Mini Air Cooler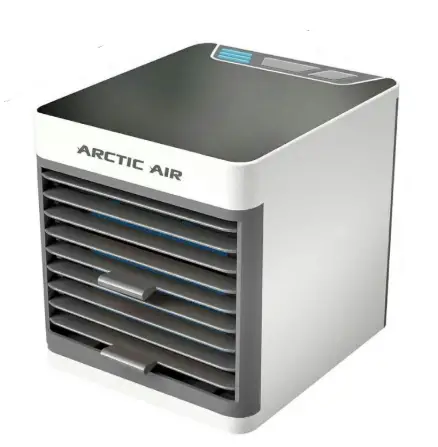 Arctic Air Desktop Portable Air Cooler is the best mini air cooler. As its name suggests, it is a niche product to put on the desktop to cool only very small & targeted area. It can only serve well for one person. It is a very niche product which I don't really recommend anyone on getting one.
RM34 on Lazada RM32.50 on Shopee
Arctic Air Desktop Portable Air Cooler is a USB Mini Portable Air Cooler. It has 3 operational speeds (High, Medium and Low) fan control and powered by USB. The size is very very compact and thus easy to move it anywhere, anytime. The beauty of this is that it can be running off a laptop or even a power bank!

It works by drawing in hot air and pushes it through a wet filter, which then emits cool air to the surroundings. It's a stripped-down version of a proper air cooler that has less complex mechanical parts.
It is easy to use and operate, simply fill in water, plug into a USB port and it will start working! Easy as A-B-C! The built-in water tank has only 500ml but it is able to last up to 8 hours. It also comes with an auto shut off feature when no water. Having a water level indicator is packing awesome and also with adjustable air outlets provide you with the needed flexibility.

It is advised to fill up to a ¾ portion only and not allow the water to overflow. It is also easy to clean and maintain – just use a toothbrush to scrub and clean the water tank once a week, is good enough.
With 7 soothing and lovely serene mood lights, the LED lights can be displayed to the colour of your choice or rotate in a cyclic mode.
Just one last precaution. Although official claims that there will be no water spill, we advise that once water is in place and the appliance is running, do not shift or move it. This is to avoid any water leakage because there are a lot of online feedbacks that complain about water leakage issue.
Arctic Air Cooler has a 1-year local supplier warranty.
Pros:
Easy installation – plug and use.
Multifunctional – air cooler, night light, humidifier.
Compact and space-saving.
Plug and play.
Easy maintenance.
< 40dB noise level.
Cons
Only moderately cooler compared to a normal fan
Leaking problems but can be resolved – just don't shift it too often once the water is in place.
very small and targeted cooling area.
Conclusion

While it may seem to make sense to get an air cooler, you need to consider your many options available, wall-mounted air conditioner and portable air conditioner. Each type has its own pros and cons. Best to weigh them against your cooling needs and choose the one that fits you the best. As far as air coolers go, they are very cost-effective but do take note that they usually cool down the temperature and not really blowing cold air like an air-cond.
Check out our reviews on the best air humidifiers in Malaysia too.