Are you finding the best gaming mouse for FPS, MOBA, MMO or even RTS? From more than 40 gaming mice, I have handpicked the best wired and wireless gaming mouse for different budgets and game types.
Choosing a gaming mouse is different from a normal mouse or wireless mouse. 
For productivity work, I always recommend others to get a wireless mouse because wireless latency is not a big deal. However, a gaming mouse is a totally different story. Gamers prioritize the best responsiveness and sensitivity, so a wired mouse is still a huge thing for the gaming scene.
According to my review, these are the 10 best gaming mice for Malaysia:
Comparing the top 10 gaming mice in Malaysia.
| Model | DPI | Latency | Wireless | Buttons | Weight |
| --- | --- | --- | --- | --- | --- |
| Logitech G300S | 2,500 | 11ms/- | No | 9 | 82g |
| Razer Deathadder Essential | 6,400 | 18ms/- | No | 5 | 96g |
| Razer Deathadder V2 | 20,000 | 7ms/- | No | 8 | 82g |
| Logitech G502 Hero | 25,600 | 10ms/- | No | 12 | 121g |
| Razer Basilisk X Hyperspeed | 16,000 | -/10ms | Yes | 6 | 83g |
| Corsair Sabre RGB Pro | 18,000 | 8ms/- | No | 6 | 74g |
| Glorious Model O | 12,000 | 13ms/- | No | 6 | 67g |
| Razer Viper Ultimate | 20,000 | 7ms/9ms | Yes | 8 | 74g |
| G Pro X Superlight | 25,600 | 8ms/9ms | Yes | 5 | 63g |
| Corsair Scimitar RGB Elite | 18,000 | 12ms/- | No | 17 | 122g |
Click latency is shown in wired/wireless. 7ms/9ms stands for 7ms wired and 9ms wireless. All latency data are based on rting.com actual test results.
Notes:
Everyone perceives the best mouse differently. It is not entirely based on data and specification, most of the time the best mouse should be the one that feels most comfortable on the hand. It should be compatible with the habits and grips of the users.
---
Best Cheap Gaming Mouse
Logitech G300S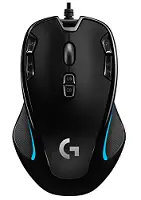 Best deal on Lazada Best deal on Shopee 
Logitech G300S features:
2500 DPI
9 programmable buttons
11ms latency
Symmetrically shaped, good for both hands
Wired
Reasons to buy:
Cheap
Low latency
Versatile buttons
Reasons to avoid:
Too many buttons on top
No thumb button
DPI not high enough
Logitech G300s is the best mouse for under RM50 without a doubt. Rather than spending on other brands and unknown RGB gaming mice, you should really try out this mouse.
Don't be deceived by G300s affordable pricing, it's actually packed with features and tons of value. It is not surprising that it is one of the best selling gaming mice on Shopee.
It has 9 customizable buttons which make it great for MOBA games like Dota 2 and League of Legends. All the buttons are located on top of the mouse and there is no thumb button.
Some users preferred this configuration as it is easy to access while some hated it as they like the thumb button better. So, this could be one of the main factors for you to consider before buying this mouse.
Other than that, it has an ambidextrous shape which is not common in gaming mice. Because most gaming mice are tailored to suit right-handed gamers. And there's up to 7 colours and lighting options to choose from.
Logitech G300s also has a very low click latency of 11ms. It can thus handle even high-speed games like FPS games.
One thing which could turn off professional gamers is its low DPI range. Since it only uses a normal Logitech optical sensor, it can only be set to a maximum of 2500 DPI.
Overall, the Logitech G300s is a great and cheap gaming mouse but it may not be suitable for those with big hands due to potential accidental clicks. All Logitech gaming mice come with a 2 years warranty.
---
---
Best Gaming Mouse Under RM 100
Razer DeathAdder Essential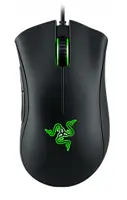 Best deal on Lazada Best deal on Shopee 
Razer Deathadder Essential features:
6400 DPI
5 programmable buttons
18ms latency
Right-handed
Wired
Reasons to buy:
Practical ergonomic right-hand grip
Side Thumb button
Moderate DPI
Reasons to avoid:
Average click latency 
Cable not so flexible
Razer DeathAdder Essential is another popular gaming mouse among Malaysian gamers. It is one of the cheapest Razer gaming mice in the market. Well-suited for rookie gamers who want to have a taste of Razer gaming gadgets.
The mouse sports a simple ergonomic form that was tested and praised by many gamers. When it is in use, the scrolling wheel button is glowing with Razer's signature green lighting.
The Razer Deathadder Essential equipped with a 6400 DPI optical sensor. It is not the best in class but can handle precise and fast swipes movement. It uses a braided cable which reinforces the strength of the wire and cable.
It also has a total of 5 Hyperesponse buttons which uses Razer's mechanical switches. According to rtings.com's test result, it shows that the click latency is 18ms. So, it may not be good enough for some FPS esports gamers. 

All buttons are customizable with Razer Synapse 3 software and support the Hypershift feature. Razer Hypershift is a feature that lets users map and switch between 2 sets of shortcut keys on a mouse. So, it basically doubles the shortcut keys on a mouse.
Other than the small flaw with its click latency, the Razer Deathadder Essential is a solid wired gaming mouse for under RM100. It is very well-built and sufficient for most gamers.
---
Best Budget FPS Gaming Mouse
Razer DeathAdder V2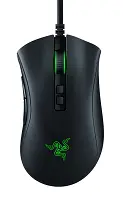 Best deal on Lazada Best deal on Shopee 
Razer Deathadder V2 features:
20000 DPI
8 programmable buttons
7ms latency
Right-handed
Wired
5 on-board memory profiles
RazerSpeedflex Cable
Razer Chroma RGB
Reasons to buy:
Best-in-class optical sensor, 20000 DPI
Fast response click, 7ms latency
8 customizable button
Reasons to avoid:
The Razer DeathAdder V2 is identical to DeathAdder Essential in terms of looks and feels. This gaming mouse costs only RM50 more to get you an entirely different beast.
Although they look identical, the hardware that powers DeathAdder V2 is significantly more powerful than DeathAdder Essential.
The DeathAdder V2 has a huge range of CPI and it is super responsive. It can move as fast as 20,000 DPI. The click latency recorded only as low as 7ms.
Other than the huge leap of gaming performance, it comes with more buttons too. It has a total of 8 programmable buttons and can store up to 5 onboard memory profiles. 
Razer DeathAdder V2 comes with Chroma RGB and uses Razer Speedflex cable. The Razer Speedflex cable is lighter, softer and more flexible than braided cable. Furthermore, this mouse weighs only 82 grams. It gives you an "almost wireless" mouse control experience.
The Razer DeathAdder V2 is a good value for money gaming mouse regardless of whether you're a Razer fan or not. Its top-notch feature is rare to see in this price range. Its subtle gamer aesthetic makes it suitable to be used for work in the office as well as gaming at home.
---
Best Value Gaming Mouse
Logitech G502 Hero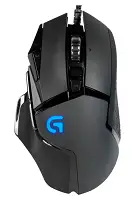 Best deal on Lazada Best deal on Shopee 
Razer DeathAdder V2 features:
25000 DPI, Hero sensor
11 buttons
10ms click latency
Wired
Adjustable weight (5×3.6g)
121g mouse only
Logitech LightSync RGB
Reasons to buy:
Hero sensor, 25600 DPI
10ms click latency
11 customizable button
Hyperfast scroll and tilt wheel
Reasons to avoid:
This futuristic-looking Logitech-G502 is my personal favourite value for money gaming mouse.
It uses the most powerful optical sensor in the market, the Logitech Hero 25K optical sensor. The HERO 25K is the most accurate gaming sensor ever developed. It delivers supports 400+ IPS speed and 25,600 DPI sensitivity.
It has a total of 11 customizable buttons for your favourite shortcuts and macro. This is inherently more convenient than Razer Hypershift features. MMO gamers (eg: World of Warcraft players) who need to handle dozens of spells and skills will definitely appreciate the convenience with this mouse.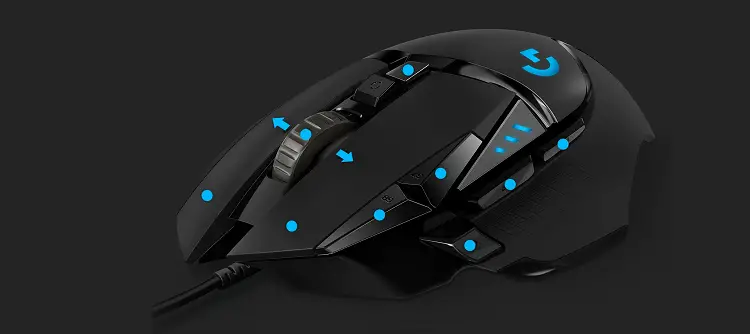 It has a dedicated button for fast switching DPI on the fly. It also has the DPI shift button which shifts the DPI settings from high to low sensitivity to give users a finer touch with aiming control in first-person shooter games like CS: GO, Valorant, Call of Duty and more.
Not only that, the scroll wheel of G502 Hero is very impressive too. It supports tilt scrolling and Logitech Hyperfast scroll. Hyperfast scroll lets the mouse scroll freely to quickly run through long pages.
Similar to DeathAdder V2, this mouse can store up to 5 different profiles for the buttons.
The Logitech G502 HERO has a unique adjustable weight feature. It is ideal for gamers who prefer gaming mouse with a sturdy feel. The mouse self-weight is 121 grams and it has five additional 3.6 grams weights. Users can choose to position them in different positions and combinations, a variety of front, rear, left, right and centre.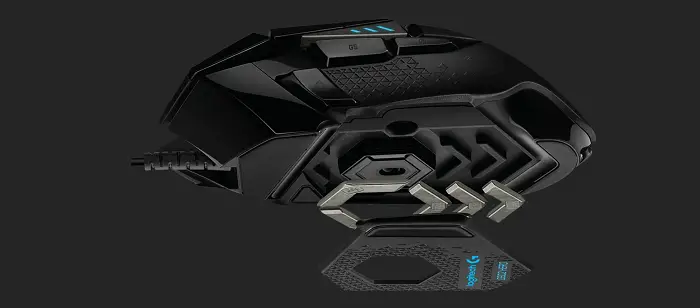 Logitech Lightsync lets users customize the RGB colours to be driven by games and audio, further enhancing its gamer aesthetic.
If you can accept a heavy mouse, then G502 HERO is the best gaming console under RM200. If you prefer a lighter weight mouse, then get the Razer DeathAdder V2.
---
Best Budget Wireless Gaming Mouse
Razer Basilisk X Hyperspeed
Best deal on Lazada Best deal on Shopee 
Razer Basilisk X Hyperspeed features:
16000 DPI
6 buttons
Hyperspeed, 10ms wireless latency
Wireless
450 hours in Bluetooth mode, 285 (Hyperspeed mode)
83g 
Reasons to buy:
10ms Hyperspeed wireless mode
450 hours battery life
Ergonomic grips
Razer 5G sensor 16,000 DPI 
Reasons to avoid:
No built-in battery
No RGB
No wired mode
To be honest, I am surprised that Razer Basilisk X Hyperspeed wireless gaming mouse is priced so competitively, at only RM179. This is because Razer gaming accessories are infamous for their premium price tags.
The Razer Basilisk X Hyperspeed features a more ergonomic design than the DeathAdder series. It has a curved thumb rest, and the contour of the mouse is smoother and rounder.

The Basilisk X Hyperspeed uses a Razer 5G optical sensor which has 16,000 DPI and 450 IPS tracking speed. This makes it very good for FPS games.
The Razer Hyperspeed wireless dongle offers one of the lowest click latency in the industry. It promised to sustain high-speed transmission in the noisiest, data-saturated environments. Rting's test result reported only 10ms click latency.
Using only Bluetooth modes, a single AA battery can last for 450 hours on this Razer gaming mouse. And it lasts 285 hours in Hyperspeed mode.
Although the Razer Basilisk X Hyperspeed has a gamer-centric exterior, it doesn't come with RGB lighting. This makes it great to be used in the office. But this might be bad news for the RGB fans.
---
Best Wired Gaming Mouse For FPS
Corsair Sabre RGB Pro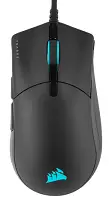 Best deal on Lazada Best deal on Shopee 
Corsair Sabre RGB Pro features:
18,000 DPI
6 buttons
8ms click latency
Wired
74g weight
Drag-reducing paracord cable
8000Hz hyper-polling
Reasons to buy:
Ultra-lightweight 74g
Super-low latency 8ms
8000Hz hyper-polling
Reasons to avoid:
Limited customizable buttons
High polling rates required high end processor
The Corsair Sabre RGB Pro is designed for professional/esports FPS gamers. All of its features are fine-tuned to give users a competitive edge in FPS games. 
This Corsair mouse is extremely lightweight with only 74 grams. The design is conservative and universally ergonomic to different hand sizes and grip types. Users can hold it with a palm grip, claw grip and fingertip grip without any problem.
It also has a drag-reducing paracord cable and 100% PTFE glides pads to support super fast-paced gaming. 
Corsair Sabre RGB Pro prides itself on its Corsair Quickstrike button. The mouse is fine-tuned to have zero gaps between the mouse key and switches. It assures every click to be fast and responsive.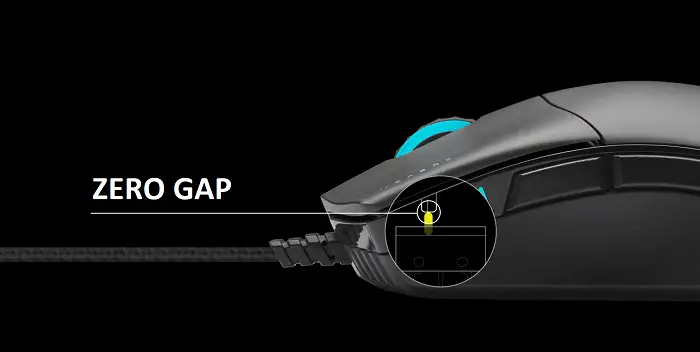 The Corsair Sabre RGB Pro is also the first gaming mouse with an 8000 Hz polling rate. It is powered by Corsair Axon hyper-processing technology. Compared to conventional gaming mice with a 1000 Hz polling rate, it transmits 8 times more data than conventional gaming mice under 1ms.
In terms of button customization, it only has 6 buttons which is a bit lacking given its high price point. It has dual-zone RGB for users to showcase their personalities.
---
Best Ultralight Gaming Mouse
Glorious Model O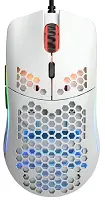 Best deal on Lazada Best deal on Shopee 
Glorious Model O features:
12,000 DPI
6 buttons
Super lightweight 67g
13ms click latency
Wired
Glorious Ascended Cord
Reasons to buy:
Superlight weight 67g
Gamer aesthetic
Reasons to avoid:
Could be too light for some users
Not suitable for big hands
The Glorious Model O is the world's lightest RGB gaming mouse. It comes in two variations, the Model O (68g)  and Model O- (58g). The Model O is for medium to large hands, where Model O- is for small to medium hands.
At the first glance, the honeycomb shell of Model O immediately stood out. The honeycomb designs span over the top and bottom of the mouse to reduce its weight in every possible way. 
It sports an ambidextrous shape that is suitable for left and right-handed users.

The honeycomb design not only reduces weight but also ensures the overall strength of the mouse. During gameplay, you won't feel the holes, but they provide ventilation to keep your hands cool & fresh.
The cable used by Glorious Model O is known as Ascended Cord. The 2-meter length braided cable is ultra-flexible and extremely lightweight, giving your mouse a wireless feel.
The bottom of the mouse is padded with G-skates feet, 100% virgin PTFE feet that gives the perfect glides on your mouse pad.
Gaming performance-wise, Model O has 250+ IPS tracking speed, 12,000 max DPI, and 6 buttons.
In short, the main unique selling point of Glorious Model O is its extreme lightweight. So, buy this mouse for this reason. Otherwise, there are gaming mice with more customizable features.
Glorious Model O and O- are compatible with all OS including Windows, Mac, and Linux.
---
Best Wireless Gaming Mouse
Razer Viper Ultimate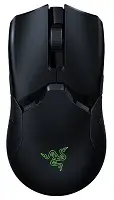 Best deal on Lazada Best deal on Shopee 
Razer Viper Ultimate features:
20,000 DPI
Max IPS 650
8 buttons
Ultra-lightweight 74g
7ms wired/9ms wireless click latency
Wired and wireless
Built-in battery
Razer Optical Mouse Switch (70 million clicks lifecycle)
Reasons to buy:
Super low click latency
20,000 high DPI
Built-in battery, last 70 hours
Durable
Reasons to avoid:
Side buttons are a bit sunk in compared to models
The Razer Viper Ultimate (APV)  looks a bit like the DeathAdder series but comes with a little tweak. Unlike DeathAdder mouse which is meant for right-handed gamers, Viper has an ambidextrous shape so that it can be used with either hand comfortably. And it weighs only 74 grams.
This Razer wireless gaming mouse features three of the top-tier Razer's mouse technology to provide the ultimate gaming experience for its users. It uses Razer Hyperspeed Wireless technology, Razer Focus+ Optical Sensor, and Razer Optical Mouse Switch.
As mentioned before, Razer Hyperspeed Wireless has a super low click latency of 9ms that rivals esports-grade wired gaming mice. 
The Razer Focus+ Optical Sensor ensures the mouse moves with superb accuracy. It has 20,000 DPI, 650 IPS tracking speed and supports a maximum acceleration of 50G. It is suitable to be used even in esports competitions. 
The Razer Optical Switch uses an infrared light beam to detect clicks instead of physical contact. This removes the bouncing effect and debounce delay. It is almost 3 times as fast as a mechanical switch. With no physical contact needed, this switch is good for up to 70 million clicks.
There are a total of 8 programmable buttons on Razer Viper Ultimate and it can store 5 different profiles on it.
Lastly, the built-in battery can last for 70 hours with a single charge. When battery life is low, just plug in the USB cord to Razer Viper Ultimate and you can continue to play or work!
---
Best Pro Gaming Mouse
G Pro X Superlight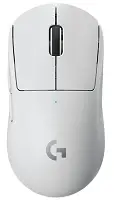 Best deal on Lazada Best deal on Shopee 
G Pro X Superlight features:
HERO Sensor, 25600 DPI
Max IPS 400
5 buttons
Extremely lightweight 63g
8ms wired/9ms wireless click latency
Wired and wireless
Built-in battery 70 hours
Reasons to buy:
Low click latency
The best sensor in the market
Lightweight 63g
Reasons to avoid:
Limited buttons (may not suit MMO/MOBA gamers)
Expensive
Logitech G Pro series often being touted as the best gaming mouse ever created because of its high sensitivity HERO sensor and near-perfect low click latency.
G Pro X Superlight is the upgraded version of the original Logitech G Pro with even lighter weights. The G Pro X weighs only 63 grams while maintaining the normal mouse design. It doesn't use a honeycomb shell design like other ultra-lightweight gaming mice.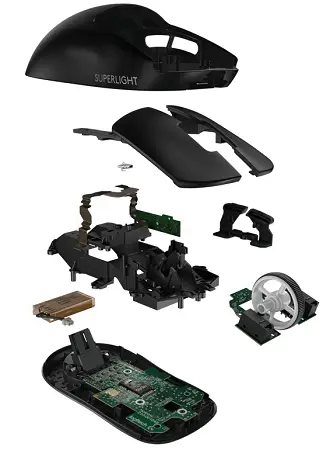 Logitech is able to achieve this through some engineering wizardry while maintaining the Logitech G Pro form factor and also has a built-in battery. Normally, wired mice will be slightly lighter because there is no built-in battery
In terms of gaming performance, the click latency of this mouse is top-notch with 8ms on wired, and 9ms on wireless. The HERO sensor has the industry best sensitivity of 25,600 DPI.
The G Pro X Superlight is designed for professional FPS gamers. Its focus is speed and accuracy with no unnecessary features. There are only 5 buttons, no DPI switching buttons, no Hyperscroll mouse wheel, no tilt scroll, no gesture support, and no Bluetooth support.
It makes a perfect combo to the Logitech G613 wireless keyboard that we recommend under our best wireless keyboards picks.
For around RM570, the Logitech G Pro X Superlight is indeed a very expensive mouse that is definitely not suitable for all. It's worth it if you're an esports player who can use it to win games and tournaments for some nice returns. It makes sense to invest in the best tools that make them money.
---
Best MMO Gaming Mouse
Corsair Scimitar RGB Elite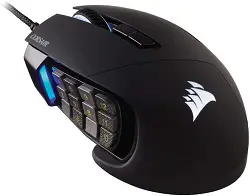 Best deal on Lazada Best deal on Shopee 
Corsair Scimitar RGB Elite features:
PMW3391 18,000 DPI
17 buttons (12 side buttons)
Heavyweight, 122g
12ms wired
Wired
Reasons to buy:
Well-built
12 programmable side buttons for macros
Huge but ergonomics
Reasons to avoid:
Strictly for MMO/MOBA gamers
Corsair Scimitar RGB Elite design says it all; it is designed for serious MMO players, most notably for those playing World of Warcraft and having 3 rows of skills and items.
The mouse is huge and quite heavy at 122 grams. This is due to the fact that it needs to accommodate a total of 17 buttons within this mouse. But this doesn't mean the mouse is uncomfortable to use. The ergonomics of the mouse is surprisingly good which suits big and small hands.
The Scimitar RGB Elite uses Omron switches (50 million click durability) for its left/right-click to ensure it lasts for extended gaming. Its 12 side buttons located on the thumb area sit on a slider panel. It allows users to reposition the side buttons to the ideal fit.
The Corsair Scimitar RGB Elite is not cheap but you're paying a small premium for more convenience in MMO gaming that saves you time and energy. If you prefer a wireless MMO gaming mouse, you can check out the Razer Naga Pro.
Other Gaming Mouse That I Like
SteelSeries Rival 3 review
SteelSeries Rival 3 is a great alternative to Razer DeathAdder V2. It is light, durable, well-built and comfortable to hold on to. But it has only 8500 CPI which is lower than DeathAdder V2.
SteelSeries Sensei 310 review
Another solid wired gaming mouse from SteelSeries. But the Corsair Sabre RGB Pro is lighter, has a higher DPI and polling rate.
---
Gaming Mouse FAQ
What is DPI on a mouse?
DPI stands for dots per inch. It is the standard measurement for mouse sensitivity. The higher numbers of DPI, the higher mouse sensitivity.
What is CPI on a mouse?
CPI stands for count per inch. It is similar to DPI, representing mouse sensitivity. It is often referring to the mouse sensor sensitivity. It means the same thing as DPI, they can be used interchangeably.
What is polling rate on a mouse?
The polling rate is measured in Hz. It is the frequency of a mouse reporting its position to the computer. The polling rate of 1000 Hz means the mouse reports its position to the computer 1000 times within one second.
What is IPS on a mouse?
IPS stands for inches per second. It refers to the mouse's capability to keep up with physical mouse movement. Gaming monitor also uses the term IPS, which stands for in-plane switching that has bright and vibrant colours.
Which mouse do pro gamers use?
Logitech G Pro series is the most popular wireless gaming mouse among pro gamers. It is used by hundreds of pro gamers and professional Twitch streamers.