One who works on computers all the time needs a good mouse, to be more precise, a "good wireless mouse". In comparison with a wired mouse, a wireless mouse is convenient, has less clutter and allows you to move it freely without feeling any restriction.
Nowadays, a wireless mouse is just as responsive as a wired one. There are however many big and small companies that make mice. By not choosing carefully, you could end up with a wireless mouse that lacks reception and has clicks delays.
I surveyed dozens of popular wireless mice in the market to find you the best mouse that is superior in performance, responsive, well-built and ergonomics to hold. Here are the 8 best wireless mice in Malaysia:
Compare the top wireless mice in Malaysia:
Model
Size (LxWxH,mm)
Connection
Buttons
M720 Triathlon
115 x 74 x 45
Dongle, Bluetooth
Customizable
MX Master 3
125 x 84 x 51
Dongle, Bluetooth
Customizable
Surface Precision
123 x 78 x 43
Bluetooth, wired
Customizable
Razer Basilisk X Hyperspeed
130 x 60 x 42
Dongle, Bluetooth
Customizable
Logitech M590
103 x 64 x 40
Dongle, Bluetooth
Customizable
MX Vertical
78.5 x 79 x 120
Dongle, Bluetooth,
wired
Customizable
Magic Mouse 2
113 x 56 x 21.6 
Bluetooth only
Customizable
Logitech M331
105 x 68 x 38.4
Dongle only
Basic
---
Best Overall Wireless Mouse
Logitech M720 Triathlon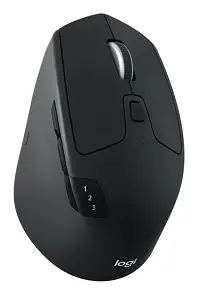 The Logitech M720 triathlon mouse is my favourite wireless mouse. It is balanced in terms of price, functionality, and ergonomics. It glides smoothly on any surface, nice sensitivity, feels great on the hand, enough extra shortcut buttons and comes with Logitech's famous infinite scroll features.
Best deal on Lazada Best deal on Shopee
Logitech M720 triathlon Features Highlight:
Multi-device wireless mouse
Built to last
Hyper-fast scrolling
Comfortable grip
Versatile – compatible with Windows & Mac
Long-lasting battery
Logitech M720's Positive Review:
Works as expected. The mice can be connected via Bluetooth using multiple devices. I didn't use the USB dongle at all. Save a lot of time just simply toggle the number. Supporting 3 devices is a lot.
Logitech M720's Negative Review:
after idling for a few seconds scroll does not move when you turn the wheel, need to move the mouse a little and then the scrolling activates again, is this a defect or the usual? ergonomic wise is good.
The Logitech M720 is suitable for any hand size, regardless of whether you're using a palm grip or fingertip grip. The size of the mouse is 115 x 74 x 45mm. It features a full rubber body and a sculpted palm rest grip which give it a comfortable hold.
There is a total of 8 buttons on this mouse. Apart from the standard left and right clicks, you can personalize the extra button via the Logitech Options software. There are two side buttons and a hidden thumb button that lets you use gesture mode.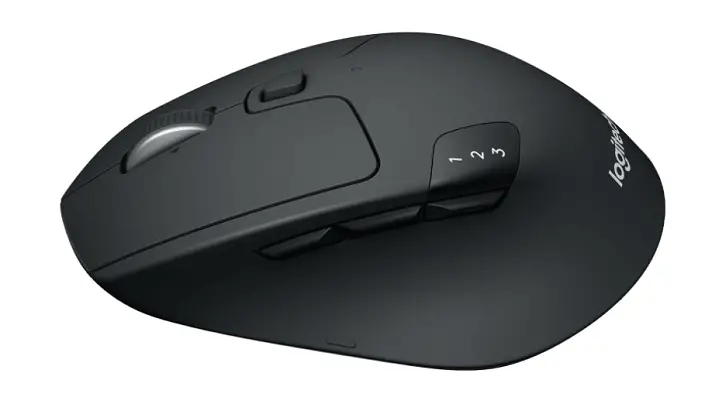 M720 Triathlon is equipped with a hyper-fast scrolling feature, an electromagnetic frictionless scroll. If you don't like it, you can easily switch it to "click-to-click" scrolling with the toggle sits right in the middle of the mouse. The scroll wheel also supports horizontal scrolling with its tilt-wheel feature.
This is also a multi-device wireless mouse, which gives you the flexibility to control across different devices via the software Logitech Flow. You can share files seamlessly between the devices too.
For example, you can connect it concurrently to a desktop pc and a laptop. Then, controlling these 2 different devices by only using an M720 mouse, without the need to switch the mouse. Video below is an official demonstration video from Logitech
It is compatible with both Windows and Mac users. It supports both Bluetooth and USB dongle receiver connections, pairing with a maximum of three devices at once. Switching between different devices is as easy as pressing the quick-switch button. 
In terms of tracking capabilities, M720 has a moderate 1000 DPI using a High Precision Optical Tracking sensor. It is nothing if compared to a gaming mouse but good enough for working on documents and normal usage.
It uses only a single double-A battery and can last up to 24 months. When not in use, the mouse goes into power-saving mode automatically, which helps conserve energy.
Logitech M720 Triathlon is built to last, claiming to last up to 10 million clicks. It comes with a 1-year local manufacturer warranty. You can get a very very good deal if you buy the Logitech MK850 combo, which includes a Logitech ergonomics wireless keyboard with the M720 Triathlon.
---
Best Wireless Mouse For Work/MultiMedia
Logitech MX Master 3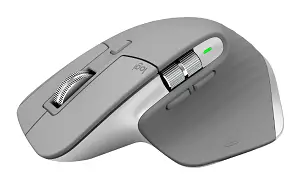 Logitech MX Master 3 is the holy grail of wireless mouse and is used by many renowned tech reviewers. One of them is MKBHD, Marques Brownlee. It is perfectly sculpted to fit in your palm. It has not only a vertical scroll but also a thumb scroll! A perfect workhorse for those working on multimedia and video editing.
Best deal on Lazada Best deal on Shopee
Logitech MX Master 3 Features Highlight:
Ultrafast Scrolling
Ergonomically sculpted for intuitive controls
Highly customizable extra buttons
Multi-Device function
Long-lasting battery
App-specific customizations for shortcut key
MX Master 3's Positive Review:
Item is packed well with extra box and bubble wrap. The item is in perfect condition. Delivered in just 2 days. The mouse has perfect built and of good quality. It has a rubber texture on it and comfortable to hold. The scroll wheel is extremely smooth and quiet to use, especially when you scroll really fast, the scroll wheel will accelerate to scroll many pages. Very good product!
MX Master 3's Negative Review:
-Nil-
The Logitech MX Master 3 is hands down the best of the best wireless mouse. A great improvement from its predecessor Logitech MX Master 2S, the side buttons are more accessible now.
The MX Master 3 stands out for two reasons: its superior ergonomic design and unique thumbwheel design.
It has an ergonomic design that is comfortable for prolonged hours of use, thanks to its thumb rest and rounded shape. It's great for palm grip users, although some people with smaller hands may face some trouble gripping it comfortably. On the whole, this mouse is well-built and is quite heavy, giving it a solid feel.
With the thumbwheel, Logitech MX Master 3 is great if you do a lot of creative and multimedia work on your computer. It helps make your workflow more seamless, especially if you're working between several applications such as Photoshop and Lightroom. 
Users can use the horizontal wheel for zoom in/out, horizontal scroll, adjust brush size, navigate browser tabs and more. Not only that, but it also has a thumb rest button gesture control.
The vertical wheel (called magspeed wheel) has an infinite scrolling function, which lets it scroll freely without any clicks or friction. This is a really cool feature, especially when browsing through long documents. 
Besides, MX Master 3 has a maximum DPI of 4000 while M720 only has 1000 DPI. So, it is really sensitive and precise. It also features Darkfield Tracking[1] which allows the moves to track on the glass surface, which was deemed impossible in the past.
The MX Master 3 comes with a built-in 500mAh Li-Po battery that can be charged with a USB-C cable. One important thing to take note of is that the wired connection is only meant for charging. MX Master 3 does not support wired mode.
Logitech MX Master 3 lasts about 70 hours for each full charge cycle. It comes with a 1-year hardware warranty.
---
Best Wired and Wireless Mouse
Microsoft Surface Precision Mouse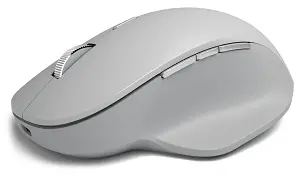 The Microsoft Surface Precision looks a lot like MX Master 3. But the design is more minimalist and has fewer shortcut buttons. It also doesn't have a thumbwheel. Despite lacking those features, this is still the best mouse that can be used as both a wired and wireless mouse.
Best deal on Lazada Best deal on Shopee
Microsoft Surface Precision Mouse Features Highlight:
Comfortable grip and design
Premium build
Smooth scrolling function
Customizable buttons
Can pair to three different devices at once
Support USB wired connection
Surface Precision's Positive Review:
I've never enjoyed a mouse this much. I have not had any issues with pairing, this mouse pairs faster to my SB2 than just about any other Bluetooth accessory I own. Changing between the smooth and click scroll wheel is a godsend I wish all mice had 
Surface Precision's Negative Review:
There is a jumpiness to the pointer movement that simply isn't there with other mice I've used, including the Logitech M510 that I'm replacing due to one of the buttons dying. I suspect it's the Bluetooth connectivity that is causing the issue.
The Microsoft Surface Precision Mouse is Microsoft's answer to the Logitech MX Master series. 
The sculpted, palm-shaped curve design along with the premium painted finishing gives this mouse a polished look. The aluminium scroll wheel exudes a premium-quality feel. 
The left-side thumb rest gives the user the necessary comfort when working for long periods of time.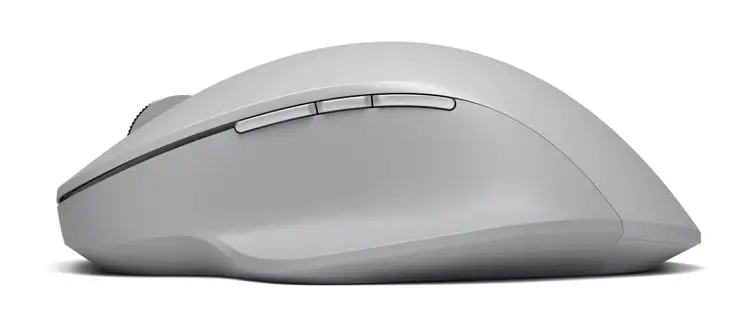 There are five buttons on the Precision Mouse. Two main buttons for left/right-click, and three side buttons. By default, the front and rearmost buttons go forward and backwards in browsers, while the middle button switches to windows task view. All these buttons are customizable via Microsoft's Mouse and Keyboard Center software.
In terms of connectivity, this mouse can only be connected through Bluetooth or USB-C cable. It doesn't use any USB dongle receiver. The wired mode is incredibly handy especially when you're out of battery but still rushing to finish off some work. It could prove to be a great help.
On top of that, the Surface Precision Mouse supports multitasking by allowing you to work seamlessly across up to three computers.
It is powered by a rechargeable lithium-ion battery that lasts up to 3 months. Although it is a product of Microsoft, this mouse is compatible with both Windows and macOS.
Microsoft Surface Precision Mouse is the best wireless mouse that feels premium on hand and supports wired mode. It comes with a 1-year warranty by Microsoft Malaysia.
---
Best Budget Wireless Gaming Mouse
Razer Basilisk X Hyperspeed Mouse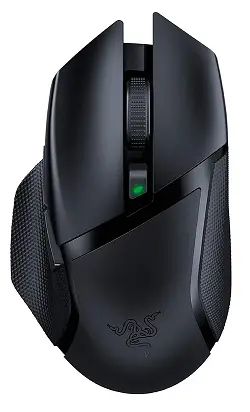 The Razer Basilisk X Hyperspeed mouse does deliver top-notch wireless gaming performance with impressive accuracy and responsiveness. Also, in terms of price, this mouse is certainly giving its contenders the run of their money, at only RM170
Best deal on Lazada Best deal on Shopee
Razer Basilisk X Hyperspeed Mouse Features Highlight:
Razer HyperSpeed Wireless technology
Ultra-Long Battery Life
Razer™ Mechanical Mouse Switches
6 Programmable Buttons
Razer 5G Advanced Optical Sensor
Ergonomic right-handed design
Razer Basilisk X Hyperspeed's Positive Review:
It's the cheapest wireless mouse from Razer, slightly lighter in weight, no lighting, but it works well as a mouse. If you want quality from a good brand but don't want to spend much, this is a great choice. 
Razer Basilisk X Hyperspeed's Negative Review:
Disconnected intermittently
The Razer Basilisk X Hyperspeed inherits the shape of the original Basilisk, with its sweeping thumb grip, angular front design and sloping surface, except this version is simpler with a more basic grip design. 
This mouse rocks a total of 6 programmable buttons that uses Razer's own mechanical switches, which are tested to last for 50 million clicks, cool!
The Razer 5G Advanced optical sensor offers up to a whopping 16,000 DPI sensitivity. It also tracks at speeds up to 450 IPS (inches per second). Razer Synapse lets you customize the DPI setting and the buttons. This mouse is created with gamers in mind, especially for FPS gamers who require the fastest response time.
For connectivity, it supports USB dongles and Bluetooth connections. The USB dongle uses Razer's proprietary hyperspeed wireless technology. It is touted as being the fastest wireless technology currently available on the market, 25% faster than competitors. It gives gamers the lowest click latency as if they were using a wired mouse.
A single AA battery can power the Razer Basilisk X Hyperspeed for up to 450 hours. In order to maximize battery life, Razer intentionally removes RGB lighting from it.
Simply put, the Razer Basilisk X Hyperspeed mouse truly delivers excellent wireless gaming performance with impressive battery life and at a solid price indeed. It is no wonder this mouse is the best budget high DPI wireless mouse in the market.
The Razer Basilisk X Hyperspeed mouse comes with a 2 years local manufacturer warranty. 
---
Best Bluetooth Wireless Mouse For Laptop
Logitech M590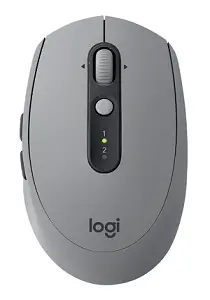 The Logitech M590 is not only the best wireless mouse for laptops, but it is also the best wireless Bluetooth mouse for the money at RM100. Despite being relatively small, it feels nice in your hand. The rubber grip at the side is also great. It is also a silent mouse that makes almost no noise when clicking.
Best deal on Lazada Best deal on Shopee
Logitech M590 Features Highlight:
Silent wireless mouse (90% click-noise reduction)
2-Year battery life 
Multi-device workflow
2 thumb buttons at the side
Logitech M590's Positive Review:
The product is really good! the size is just nice and it fits well my palm amazingly as I thought it would be smaller. comfortable to use. the keys/buttons on the mouse can be customised for a total of up to 25 types of different functions.
Logitech M590's Negative Review:
a little slow response when switching to a different device
I consider the Logitech M590 to be the best value for money wireless mouse. This is a compact mouse that is easy to carry around. Unfortunately, for people with larger hands, it may not have the nicest grip.
It is a silent mouse, which allows you to work more silently and efficiently. You need not worry about constant mouse clicking that may wake up your sleepy babies while working from home, or annoy your colleagues at the office.
The M590 mouse can be connected to 2 devices at once via the on-demand switching button. Utilizing Logitech Flow, the M590 wireless mouse allows you to easily navigate across two computers seamlessly, providing you with the accuracy and precision you need to work between the computers effortlessly, boosting your productivity.
Also, the M590 was built for productivity with high-performance feet and a rubber wheel. The micro-precise scroll wheel allows you to scroll faster and easier through your tasks. Its scroll wheel support left-right tilting for horizontal scroll. The extra two thumb buttons are very handy for some simple shortcut functions like back and forward.
The Logitech M590 has both Bluetooth and RF connections. There's an automatic sleep mode and an on/off switch to save power. On a single AA battery, the mouse is able to last up to 24 months. The mouse will start blinking in red if it detects a low battery level.
I would recommend the Logitech M590 for anyone who needs a small wireless mouse for travel. It is priced fairly and comes with all the handy and important features that boost productivity.
---
Best Ergonomic Wireless Mouse
Logitech MX Vertical Mouse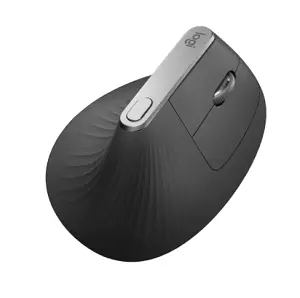 A unique ergonomic and vertical design makes the Logitech MX Vertical Mouse the best ergonomic wireless mouse on the market. The mouse isn't for everyone, those who love it say they won't go back to a regular mouse again, and those who hate it complain it strains their hands more.
Best deal on Lazada Best deal on Shopee
Logitech MX Vertical Mouse Features Highlight:
Comfortable vertical shape for your arm, wrist, and hand muscles
Strong build quality
Great battery life
Can sync and quick-swap among three wireless devices.
4 Customizable buttons
Rechargeable Li-Po battery (240mAh)
Logitech MX Vertical's Positive Review:
I wasn't sure about the shape of this at first, but the more I used it, I realized the genius of the design. You end up supporting your hand with the palm, and the angle is perfect for ergonomic comfort. 

The sensor is super accurate which means you get things done quicker, and the software is awesome for creating macros to help speed up your workflow. I love the rubber grip; it keeps your palms from getting sweaty and feels nice on your hand. 
Logitech MX Vertical's Negative Review:
I've had this mouse for 3 months now and recently I've strained my hand while using it. While initially I thought the mouse was comfortable, I began to notice a few pain points. First – an unnecessary amount of strain on my thumb muscles .

Second – the mouse buttons require far too much pressure to push down. I believe that these two reasons are what led to my strain and for that reason I can not recommend this mouse. These issue could be rectified in the future by making the mouse a bit more bulbous towards the palm and adding buttons with far less actuation force.
First thing, MX vertical is a huge and bulky mouse because of its vertical grip design. It has a dimension of 78.5 x 79 x 12 mm. Therefore, it is not travel-friendly. This mouse isn't best suited for all, especially those with smaller hands. Most people need time to get used to this mouse.
The base is an oval shape and if you were to look at it more, it does look like a seashell. The left portion is deeply curved, creating a natural thumb rest atop the mouse's base.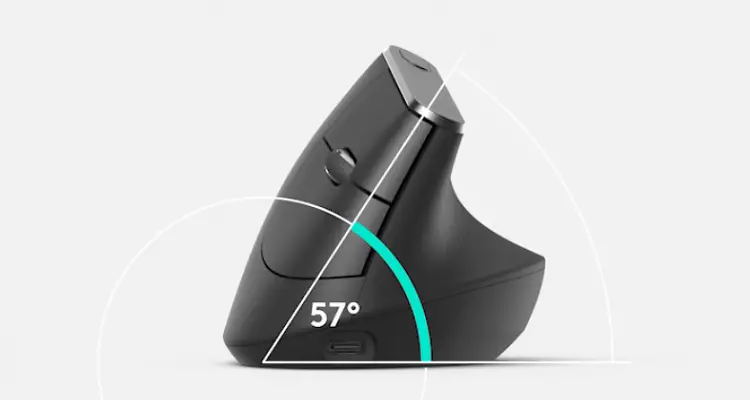 The right side sports a 57-degree angle and it is here that you'll find your click buttons and scroll wheel. This angle was scientifically tested to minimize the stress of holding a mouse on your hand, wrist, and arm. The grip compares to a handshake so you won't need to twist your arm.
There is a lot of science behind the use of 57 degrees because you do not want a straight-up vertical mouse that requires you to squeeze the mouse in order to click it. By making the mouse slightly tilted downwards at 57 degrees, users able to click more easily.
Many have commented that after using the mouse for a week, they felt their muscles relaxed. It can be a frustrating experience for beginners because it can register a lot of false clicks due to the fact that users can't move it accurately as compared to a normal mouse.
Simply put, as long as you can get used to it, this is a great long-term investment in your physical health and well-being.
The optical sensor tracks up to 4,000 DPI. It supports Bluetooth connectivity and a dongle-based RF wireless connection. It also supports up to  3 device connections as per any other premium Logitech mouse.
Different from the MX Master 3, you also have the choice of using it as a wired mouse by plugging in the USB Type-C charging cable.
Logitech MX Vertical is powered by 240mAH built-in batteries. It can last up to four months on a single charge. As a final reminder, this mouse should only be bought if you can physically test it first. In case you are just feeling adventurous, you can get a cheap alternative like the VicTsing PC324 on Lazada.
---
Best Wireless Mouse for iPad
Apple Magic Mouse 2 

Apple Magic Mouse is far from perfect. But its slim size makes it extremely portable. Also,  its native integration with Ipad makes it the perfect companion for your Ipad.
Best deal on Lazada Best deal on Shopee
Apple Magic Mouse 2 Features Highlight:
Multi-touch gesture
Premium quality
Easy integration/connection with iOS
Battery last 70 days to 4 months
Apple Magic Mouse 2's Positive Review:
Amazing product from apple. Innovation at its best. Smooth and silent.

Customizable gesture control and wheel less scrolling is just brilliant.
Apple Magic Mouse 2's Negative Review:
-Nil-.
Speaking of Ipad, the first thing that comes into my mind will be mobility. Hence, the main criteria for picking a good wireless mouse for the iPad will be the form factor of a mouse and its integration with an iPad.
The criteria above left us with not many choices. And Apple Magic Mouse 2 definitely fits the bill.
Similar to any Apple products, you should be ready to pay a premium for it. The Apple Magic Mouse 2 cost a hefty RM300. 
In terms of design, Apple Magic Mouse 2 is totally in its own league. Spotting a minimalist and clean exterior, the Apple mouse is extremely lightweight at only 99 grams. It measures a size of 2.16 x 5.71 x 11.35 mm. 
The Magic Mouse 2 doesn't have a left and right-click button, and there's no scroll wheel. Rather, it uses a unique multi-touch surface that lets you perform a variety of touch gestures, such as swiping between sites, web pages, scrolling, zoom and more. It is literally a touchpad.
The connection of Magic mouse 2 to the iPad is the easiest and most effortless. Turn on the mouse, turn on the Bluetooth and it is ready to use. The reason Magic Mouse 2 is best for iPad is its native touch gesture support. You can use the swipe left/right gesture on the mouse similar to how you would control an iPad with your finger.
In terms of battery life, the mouse has a built-in rechargeable battery and could last up to 70 days under typical usage. 
However, there are some quirks with the Magic Mouse 2. The charging port is located at the bottom of the mouse. So you can't use the mouse if it is charging. The Magic Mouse 2's thinness and flatness also get complaints that people feel uncomfortable and tired after using it for a long time.
Overall, Apple Magic Mouse 2 is great to be used with iPad (iOS). Coupled with a wireless keyboard can turn your iPad into a laptop.
---
Best Budget Wireless Mouse
Logitech M331 Silent Plus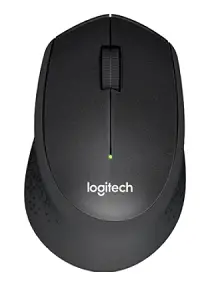 At only about RM70, the M331 silent is an easy recommendation to everyone who is looking for cheap wireless. For information,  it used to cost around RM100 to RM120. This mouse is practical, accurate and silent, which you can't find on any other mice at this price point with this brand reputation.
Best deal on Lazada Best deal on Shopee
Logitech M331 Features Highlight:
Silent click
1000 DPI
Soft rubber grip at the sides
Rubber scroll wheel
Works up to 24 months
Logitech M331's Positive Review:
Solid mouse and silence click. Love it
Logitech M331's Negative Review:
-Nil-.
The Logitech M331 has a dimension of 105.4 x 67.9 x 38.4 mm and weighs 91g with a battery.  The curved shape makes it comfortable to hold, while its soft rubber surface with distinctive patterns enhances comfort and grip. These features allow you to work with it comfortably for hours.
The M331 also comes with Logitech SilentTouch which reduces over 90% of clicking sound, even the scrolling sound is very subtle. It has a sensitivity of 1000 DPI which is good for all kinds of office work.
The mouse connects through a USB receiver and notes that there is no Bluetooth connection. It only needs 1 AA battery and can last up to 24 months.
Due to the low price point, this mouse does not support fancy features like multi-device connections or customizable buttons. 
Overall, it is still a very solid and cheap wireless mouse for everyday use.
---
Other Wireless That I Like
Logitech G series
Logitech G is a sub-brand from Logitech which the hardware are tailored to suit gamers' appetite. The G series inherits most of the good qualities of the Logitech mouse. For example, Logitech G305 is a very good wireless mouse that comes with 12,000 DPI and 1ms latency.
Xiaomi Wireless Mouse Lite
The Xiaomi Wireless Mouse Lite is a great and cheap wireless mouse under RM30. It is lightweight and ergonomically designed. It has a 1000 DPI sensor and a low battery indicator. A USB dongle is required to connect to the computer. No Bluetooth connection support.
---
Competitions
Microsoft Arc Mouse
The Microsoft Arc Mouse is an arc-shaped mouse. Its main advantage is its unique design and lightweight design which makes it suitable for travels. However, the high price point and lack of features make it prohibitive to recommend anyone to buy it.
Logitech Pebble
Logitech Pebble is a slim and portable mouse that can fit easily into pockets and small bags. It features SilentTouch technology and connects to computers via USB dongle or Bluetooth. The original Pebble cost around RM100 which isn't really a great deal compared to M590.There are sellers on Shopee that sell this at only RM28. But I could not verify whether the product is genuine so I do not dare to recommend others to buy it.
Philips Wireless Mouse M314
The Philips M314 is one of the most popular hot-selling wireless mice on Shopee. It is a basic and slim wireless mouse. There are left/right button clicks and a clickable scroll wheel. It has silent click features as well. But it is a bit lacking in terms of ergonomics and comfort of grip.
Apart from the brands mentioned here, companies like Dell, HP, Lenovo, Asus many PC brands have their own mouse too. But I recommend that it is better to stick with Logitech since they use the best laser sensor technology.
---
Wireless Mouse FAQ
Is a wireless mouse worth it?
Yes, wireless is worth it. It could make your working experience so much better and you do not have to bother with dangling wires ever again.
Is a wireless mouse good for gaming?
For casual gaming, a wireless mouse is good enough. If you want to play competitively, a wired mouse is necessary in order to cut off the click and movement latency of a wireless mouse.
What is DPI for a mouse?
A mouse's sensitivity is measured by the number of dots per linear inch (DPI, dots per inch). The higher the number of DPIs, the more sensitive this device is, and the faster its pointer speed.
What is IPS for a mouse?
The IPS, inches per second, refers to how well the mouse can keep up with actual physical fast movements
---
Reference:
Logitech – Darkfield Tracking