If you currently work from home on a laptop, it's a good idea to invest in a wireless keyboard that allows you to type with a correct posture. Furthermore, wireless keyboards are great for people who work on multiple devices.
You can easily type on different devices using the same wireless keyboard. It keeps your desktop clean too.
Based on my extensive research of more than 30 different wireless keyboards, I've selected the 10 best wireless keyboards for different purposes.
Top 10 Wireless Keyboards in Malaysia
| Model | Switch Type | Connectivity |
| --- | --- | --- |
| Logitech MX Keys | Scissor Switch | USB Receiver, Bluetooth |
| Razer BlackWidow V3 Pro | Razer Green Mechanical Switch | USB Receiver, Bluetooth, Wired |
| Logitech G613 | Romer-G Tactile Mechanical Switches | USB Receiver, Bluetooth |
| Keychron K2 | Gateron Mechanical Switches | Bluetooth, Wired |
| Logitech Ergo K860 | Scissor Switch | USB Receiver, Bluetooth |
| Corsair K63 | Cherry MX Red | USB Receiver, Bluetooth, Wired |
| Apple Magic Keyboard | Scissor Switch | Bluetooth, Wired |
| Logitech MK850 Combo | - | USB Receiver, Bluetooth |
| Logitech K380 | Scissor Switch | Bluetooth only |
| Logitech MK345 Combo | - | USB Receiver only |
---
Best Wireless Keyboard
Logitech MX Keys Keyboard

Best deal on Lazada Best deal on Shopee 
Logitech MX Keys Features:
Smart illumination
USB-C Rechargeable
Connect via BlueTooth or USB receiver
Pair with multiple device
Logitech MX Keys' Positive Review:
The keyboard strokes and tactile feel like my Thinkpad laptop. You can feel the spring kind of feel whrn typing. Very responsive. Love the premium feel finishing and its backlit light. This is my dream keyboard. Great for coding and typing a lot of words. 
Logitech MX Keys' Negative Review:
-Nil-
Our recommendation for the overall best wireless keyboard is Logitech MX Keys. This is a full-size keyboard with number pads that is suitable for office work. It was also the wirecutter's best Bluetooth wireless keyboard.
The keyboard uses a proprietary low profile scissor-switch which makes typing smooth and easy. The travel distance is just nice and gives sufficient tactile feedback. The typing noise is very minimal too.
Although all the keys are square, they are spherically curved in the middle to follow the shape of the fingers. Moreover, all of them are spaced optimally to provide the best and effortless typing experience.

The MX Key uses a technology called Smart Illumination. Rather than only illuminating when you start typing, the keyboard comes with proximity sensors that detect your hands and illuminate before you start typing, which means you start with the right letter even when working in the dark. 
Also, the backlighting adjusts its intensity automatically based on the lighting conditions.
In terms of connectivity, the Logitech MX keys can connect to a maximum of 3 devices at the same time. It can connect via the USB receiver or Bluetooth. The working range is about 10 meters.
The Logitech MX keys come with a built-in battery that can last 5 months without backlighting and about 10 days with backlighting. It has a 1-year warranty.
---
Best Wireless Gaming Keyboard
Razer BlackWidow V3 Pro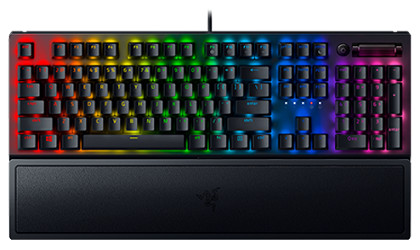 Best deal on Lazada Best deal on Shopee 
Razer BlackWidow V3 Pro Features:
Razer Green mechanical switches
RGB backlighting
80 millions keystroke lifespan
Detachable wrist rest
Razer HyperSpeed Wireless
Razer Black Widow V3 Pro is the best wireless gaming keyboard to buy in Malaysia. It is also featured as the top pick in rtings.com
This is a full height and full-size wireless mechanical keyboard. It is available with two types of Razer proprietary switches, the Green and Yellow Switches. Green switches are clicky and yellow switches are linear and silent. These switches are said to last 80 million keystrokes.

Additionally, the Razer Black V3 Pro uses a double shot ABS keycap. It involves two layers of plastic moulded together as one unit. There is no printing on the keycap, the legend is an actual plastic piece. There is virtually no chance of it fading or chipping.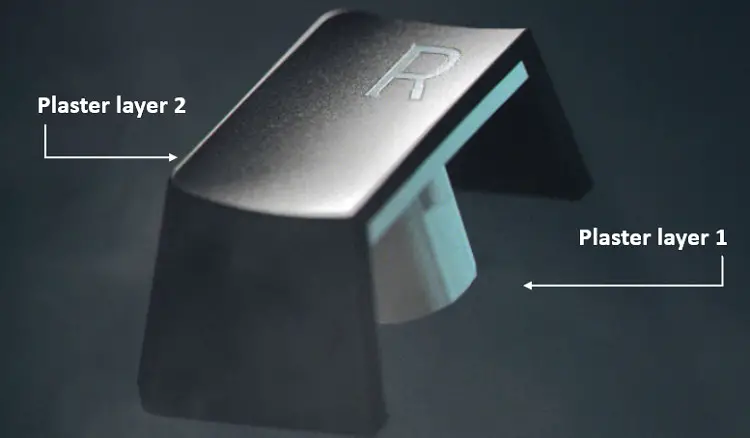 For gamers, this Razer keyboard is powered by the signature Razer Chroma RGB backlighting. It has over 16.8 million colours and effects that you can choose from. With more than 150 Chrome-integrated game titles, such as Fortnite and Apex Legends, you can enjoy greater immersion through the dynamic lighting.
Besides, you can use the Razer Synapse 3 to customize the RGB backlighting too. Using the program, you can also re-program your keys and set up macros for productivity and gaming purposes.
The Black Widows V3 Pro has amazing ergonomics. It has 2 incline settings and comes with a detachable plushy wrist rest. Therefore, you will feel more comfortable in long gaming sessions. It can connect to three devices concurrently through USB-C cable, USB dongle and Bluetooth.
---
Best Value Logitech Wireless Keyboard
Logitech G613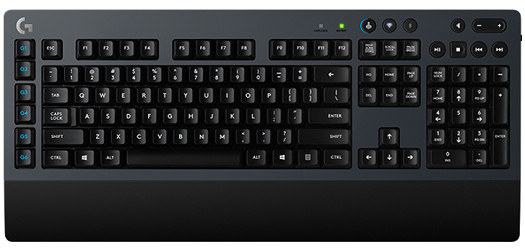 Best deal on Lazada Best deal on Shopee 
Logitech G613 Features:
Lightspeed wireless
Romer G Tactile switches
18 months battery life
Additional G-keys and media keys
Logitech G613's Positive Review:
It's a good entry level wireless keyboard, worth the money. Sacrificed RGB lighting.
The mechanical keys might not suit your taste if previously you are on cherry mx switches. This feels more like membrane key switches.
Logitech G613's Negative Review:
-Nil-
The Logitech G613 LIGHTSPEED is our pick for the best value Logitech wireless keyboard. Despite being a gaming keyboard, the keyboard doesn't have RGB lighting and is not loud while typing. This makes it suitable to be used in an office environment
The keyboard uses Logitech Romer-G tactile mechanical switches that have a very short pre-travel distance. It is not as clicky or tactile as a standard mechanical switch. Some customers find it mushy and not satisfying to type.
This keyboard has excellent ergonomics, with a non-removable wrist rest and a good inclined angle. It is a bit bulky because of the wrist rest. It may not be suitable if you have a narrow or crowded desk.

It uses Bluetooth and Logitech Lightspeed for wireless connection. Lightspeed wireless is also used on the Logitech wireless gaming mouse. It has a super low latency of a 1ms response rate.
Another core feature of this keyboard is the dedicated programmable G-keys. The G keys can be customized through the Logitech G hub to execute macro or special shortcut keys. It also has dedicated media buttons for a control volume, mute, fast forward, play, pause and stop.
The Logitech G613 does not have built-in batteries. It needs two AA batteries and can last up to 18 months.
With its additional G-Keys, this keyboard is ideal for MMO players. However, it may take some time to adapt your typing habit to this new layout.
---
Best Wireless Mechanical Keyboard
Keychron K2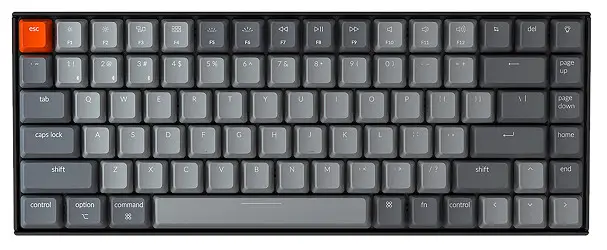 Best deal on Lazada Best deal on Shopee 
Keychron K2 Features:
Gateron mechanical switches
ABS keycaps
65% keyboard
White/RGB backlighting option
4000mAh built-in battery
Bluetooth or wired connection
Keychron K2's Positive Review:
The keyboard is great. The feel and texture of keycaps is nice. Compact and well built. Definitely recommend to those who are looking for a 65% compact style of mechanical keyboard.
Keychron K2's Negative Review:
-Nil-
The Keychron K2 is a decent entry-level mechanical keyboard. Non-enthusiasts may not be familiar with Keychron. But, a quick Google search for the best keyboard will show you dozens of lists that include at least one Keychron keyboard in it.
If you notice, this is not a full-size keyboard but a 75% keyboard. The 75% keyboard has a row of  F1 to F12 keys and also includes arrow keys. The layout is pretty similar to what you have on a laptop.
It is important to note that the Keychrone K2's body is very high compared to a normal keyboard. The front keyboard height is 3.4cm and the back keyboard height is 3.6cm. This is purposely designed to correct bad typing posture. So, it is best to use with a wrist rest.

Screenshot via Hardware Canucks. Logitech Craft vs. Keychron K2
The Keychron K2 keyboard is focusing on providing users with the best typing experience. Users can choose between Gateron Red, Blue or Brown switches. The blue switches are the most popular because of the tactile and clicky feedback they provide. Though it can be very satisfying, the noise can be quite loud and can annoy others.
You can listen to the typing sound test for each type of key switch. It's mesmerizing.
The build quality of Keychron K2 is top-notch and it is compatible with both macOS and Windows. Both Windows and Mac layout keycaps are included in the box. Unfortunately, it doesn't have dedicated software to customize the keys.
The Keychron K2 can only be connected through wired or Bluetooth connections. There is no USB dongle, which may disappoint some since USB dongle connections are more reliable.
Additionally, the USB-C port is located on the left side of the keyboard rather than on the back. It's quite unpleasant to have the cable poking out from the left edge of the keyboard.
The Keychron K2 is a solid wireless mechanical keyboard that gives you an ASMR-like typing satisfaction. It can last up to 240 hours with its large 4000mAh battery.
---
Best Ergonomic Wireless Keyboard
Logitech Ergo K860 Wireless Split Keyboard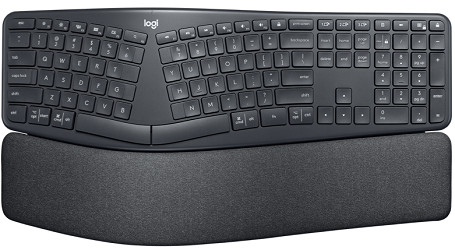 Best deal on Lazada Best deal on Shopee 
Logitech Ergo K860 Features:
Split keyboard design
Curve to fit hand contour
Memory foam wrist rest
Required two AAA batteries
USB dongle and Bluetooth connection
Logitech Ergo K860 is the best ergonomic wireless keyboard with a curved-up and split keyframes design. Although this type of layout may appear awkward, it is intended to reduce strain on the wrist and forearms.
It features low profile scissor switches, which are very similar to the Apple Magic Keyboard and the Logitech MX Keys.
The wrist rest is very comfortable and feels great to touch on. There is a layer of 4mm memory foam and 2mm high-density foam inside of the pad. The surface is a stain-resistant knitted fabric, giving it a cosy feel.
The Ergo K860 is thoughtfully designed with adjustable feet which are placed at the front instead of the back of the keyboard. It allows users to type more naturally in a standing position.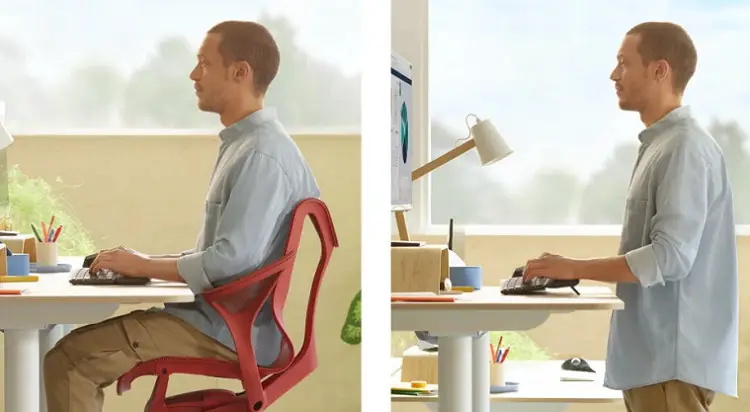 The Logitech Ergo K860 ergonomic keyboard is a sturdy and thoughtfully designed peripheral that's great for long typing sessions, providing great support with its wrist rest and front tilt legs.
Try the Logitech Ergo K860 if you often type for long hours and care about your health. This keyboard is designed and developed to improve and reduce contact pressure. It is clinically proven to reduce muscle activity by 21% in the upper trapezius muscle.
---
Best Wireless Keyboard For Typing
Corsair K63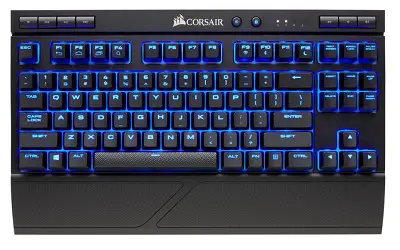 Best deal on Lazada Best deal on Shopee 
Corsair K63 Features:
Ice blue/blue backlit keys
Tenkeyless (TKL) layout
Cherry MX Red switches
1ms response rate
Built-in battery, last 15 hours
Detachable soft-touch wrist rest
The Corsair K63 is a tenkeyless gaming keyboard that is surprisingly good for typing. A detachable wrist rest is included, and the whole keyboard is very well-built and comfortable to use.
The Corsair K63 uses a Cherry MX Red mechanical key switch. The Cherry MX Red is a linear switch that has no tactile bump. It is suitable for fast gaming and typing that wants the least resistance.
The Corsair K63 can connect through its 2.4Ghz USB receiver, Bluetooth or wired USB connection. It has an ultra-fast response rate at only 1ms.
The keyboards are quiet enough to type on in an office setting, so you shouldn't have to worry about their noise. When you're first starting, typos are more likely because of the short travel distance. Once you get used to it, it will turn out to be great for fast typing.
Using the Corsair iCUE software lets you customize the function for each of the keys, set up macros, and customize the dynamic lighting effect. It has only a single colour though.
One of the unique features of the K63 keyboard is it can be used with the Corsair K63 gaming lapboard. With the gaming lapboard, you can work or play games comfortably on your sofa. The Corsair K63 is sold separately with a price tag of RM199.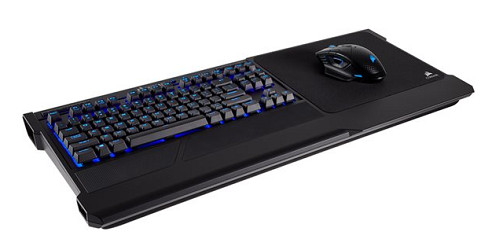 Corsair K63 is great for someone who wants a keyboard that is balanced for both productivity work and gaming.
---
The Best Wireless Keyboard For Mac
Apple Magic Keyboard 
Best deal on Lazada Best deal on Shopee 
Apple Magic Keyboard Features:
Bluetooth wireless connection
Built-in battery
Low profile scissor switch
It would not be a surprise that the Apple Magic Keyboard is a very good Bluetooth keyboard for Mac. 
The Apple Magic Keyboard is all about simplicity and usability. It uses low-profile scissor switches that are quiet but also provide an enjoyable typing experience. There are no backlighting or programmable keys on this keyboard.
It automatically pairs with your Macs through Bluetooth so you can start working right away. Other than that, it is easily paired with other Apple products such as iPads and Apple TVs.
Magic Keyboard's battery life can last for around one month between charges, thanks to its clean design without backlit. It comes with a one-year warranty.
---
Best Wireless Keyboard Mouse Combo
Logitech MK850 Combo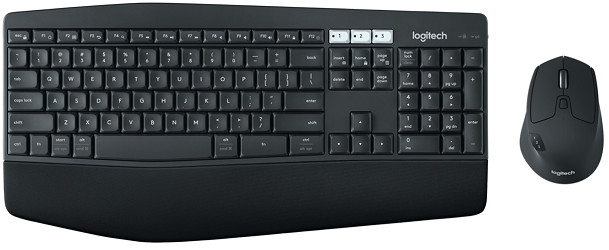 Best deal on Lazada Best deal on Shopee 
Logitech MK850 Combo Features:
Curved keyframe design
Bluetooth and USB receiver wireless connection
Requires two AAA batteries
Fixed cushioned palm rest
Logitech MK850 Combo's Positive Review:
Awesome! Super easy to pair with multiple devices via Bluetooth. Smooth transition between devices.
4 days of using this keyboard. Instantly feel more productive, don't have to use separate keyboards for different devices & switching is done as easy as a button press. Cheaper than RRP listed on Logitech website
Logitech MK850 Combo's Negative Review:
-Nil-
The Logitech MK850 is the best wireless keyboard mouse combo. I'm not saying that this is the best keyboard mouse combo ever, but I do mean that it's the best official one from Logitech.
The MK850 combo is basically a steal to buy at only RM265 on Shopee. Because the mouse that comes with this keyboard is Logitech M720 Triathlon. This piece of the mouse can cost as much as RM200 if you're buying it alone.
The MK850 has a slightly arched design for better ergonomics. There is also an oversized soft wrist rest that provides maximum wrist support while typing on it. It reduces pressure and hand fatigue.
The ability to pair and switch between multiple devices makes using MK850 a productivity workhouse. There are three dedicated buttons for you to quickly switch between 3 devices.
MK850 is probably the best value for money wireless keyboard to buy among the 10 wireless keyboards recommended here, especially if you still lack a good wireless mouse.
---
Best Portable Wireless Keyboard 
Logitech K380 Bluetooth Keyboard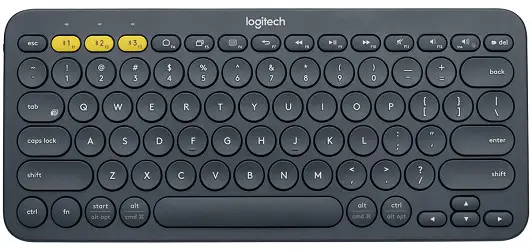 Best deal on Lazada Best deal on Shopee 
Logitech K380 Features:
Small and portable
Bluetooth and USB receiver wireless connection
Requires 2x AAA batteries
Compatible with all devices
Logitech K380's Positive Review:
Perfect to use with ipad air 4. Cute size and colour plus it's a silent keyboard. The bluetooth function is very easy to use.
mouse and keyboard mmg betul silent. tak dengar pun kalau guna. smooth je. dah try connect dgn laptop, tablet dan tv semua function. lepasni tak sakit dah tangan nak menaip. and boleh bersandar kalau nak buat kerja. tak perlu rapatkan laptop. mmg terbaik utk ergonomic.
Logitech K380's Negative Review:
A little laggy when used with iPad mini
The Logitech K380 is a small, light and portable wireless keyboard that lets you carry it around easily. It is best to use with tablets like the iPad and Samsung Tab. It is compatible with all kinds of devices that support Bluetooth connections.
The K380 keyboard uses a scissor switch which is silent to type on. This is a basic keyboard with no backlit key and programmable keys.
The price tag of RM150 is a bit high though. Furthermore, the spacing between the keys is very narrow, so you may not feel comfortable typing for long hours on it. 
Therefore, Logitech K380  is only recommended for use with mobile devices. If you're looking to buy a wireless keyboard for your home or office, there are a lot of better options.
And lastly, make sure you're buying from the official store. Don't fall for product listing with huge discounts which you could end up buying counterfeit products.
---
Best Budget Wireless Keyboard Under RM100
Logitech MK345 Wireless Combo

Best deal on Lazada Best deal on Shopee 
Logitech MK345 Features:
36 months keyboard battery life
2x AAA batteries required
Connect through USB-receiver 
Logitech MK345's Positive Review:
I loveee it! It is comfortable to use – with that extra space which can be used as arm rest for typing
Logitech MK345's Negative Review:
-Nil-
If you have a limited budget, the Logitech MK345 is the best wireless keyboard mouse combo for under RM100. The mouse that comes with this combo is Logitech M330, which is selling at RM27-RM47.
Do a quick calculation and you will realize that you're paying about RM70 for the board.
If you can stretch your budget a bit, the Logitech MK850 is better value for money than you get the M720 Triathlon which costs RM200+.  You're only paying RM60+ for a better keyboard than MK345 sets.
The MK345 combo uses a USB nano receiver for wireless connection and does not have Bluetooth pairing. And it does not support multi-device connections. So, it is not suitable for use on a laptop that only has one USB-Type A or no USB-Type A.
Nonetheless, the keyboard is comfortable to use and the keys have a little resistance to them so they don't feel cheap. The keyboard is integrated with a plastic wrist rest to support your wrist. The overall build quality is acceptable but not that great.
The Logitech MK345 is a reliable, no-frills keyboard mouse combo. You get what you pay for.
---
Wireless Keyboard FAQ
How do I choose a wireless keyboard?
You should prioritize typing layout, ergonomics and switches. Other important features would be the multi-device connection and whether it supports a Bluetooth connection.
How many keyboard sizes are there?
There are mainly 8 types of keyboard sizes which are full-sized, compact, 75%, 65%, 60%, 40% and independent number pad.
Which wireless keyboard is best?
Notable wireless keyboard brands are Logitech, Razer, Keychron, Cors