Today, we will take a look at some of the best mini projectors that are available in Malaysia. 
Mini projectors for home and office are growing in popularity because they are so small and convenient to move around.
Some of the most popular projector brands in Malaysia are Epson, Acer, BenQ, Xiaomi, Viewsonic, Mirval and Viuio.
When buying a projector, users have to be extremely careful because many sellers tend to overstate the projector specification (especially China brands).
So, please check out our list of our top 6 recommended mini projectors in Malaysia:
---
Important notes:
Keep in mind that the key benefit of a projector is its huge display size (at a more affordable price).
If video quality is your utmost priority, you should consider getting QLED or OLED 4K TV instead. Please check out our detailed review of best smart TVs in Malaysia. 
---
1. Fengmi Formovie Dice Smart Projector LED (Global version)
Best Value Home Theater Projector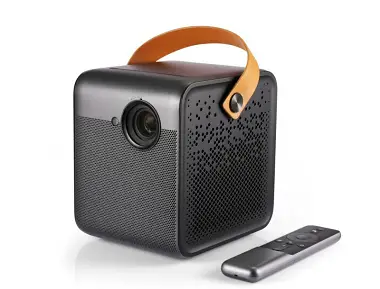 Introducing Xiaomi Formovie Dice, a DLP (digital light processing) projector and also probably the brightest 1080P FHD portable projectors in the market. 
At 155x125x160mm, this is not a super mini projector but still a very lightweight and portable projector. 
Fengmi Formovie Dice Smart Projector Features:
1080P FHD portable projector
700 ANSI Lumen operable during day time
MIUI Android TV system (supports 4000+Apps)
Chromecast built-in
Built-in 16000mAh battery for up to 3 hours running time
Support side projection
Projection screen size up to 200 inches
Instant autofocus
Customer's positive Review:
good buy, sharp image and reasonably brighter. Much better than my previous projector, really in love with this new one. Speakers are also powerful. Great product and service from seller.
Customer's negative review
-None-
This Fengmi projector boasts of an outstanding brightness and clarity with a resolution of 1920 x 1080 pixels and 700 ANSI Lumens power.
And as such, Formovie Dice delivers the highest brightness and sharpest pictures as compared to other similar-sized ones.
Using this projector with a light resistant projector screen guarantees users an immense and enjoyable movie experience.
Additionally, it supports video formats up to 4K UHD. It also provides a ±45° keystone correction. The  45-degree keystone correction works both vertically and horizontally.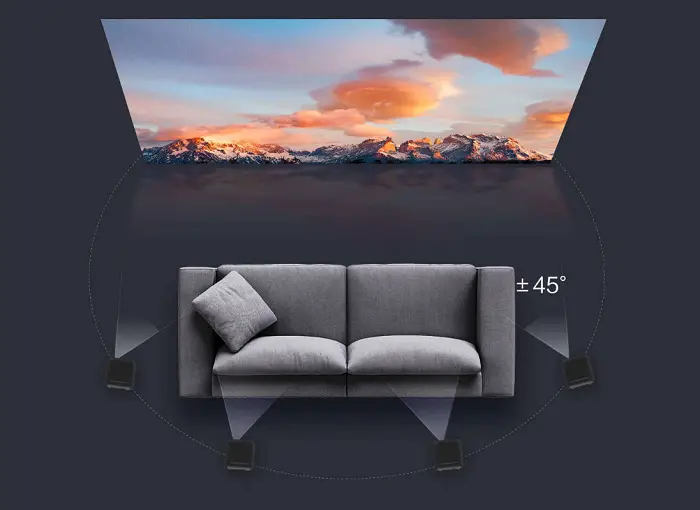 Formovie Dice also supports instant auto-focus functionality. It automatically measures the distance between the projector and the screen and adjusts the focus of the projected image within seconds.
It also gives you an amazing big-screen viewing experience with a projection size of 40 to 200 inches.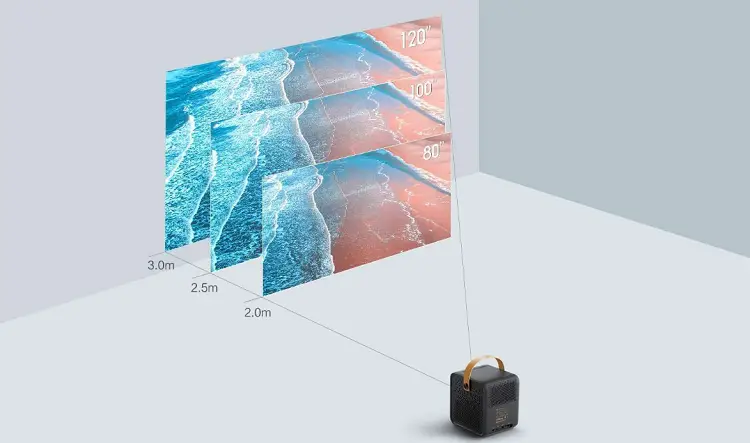 It is advised to keep the screen size between 60-120 inches for the best viewing experience.
Supporting Chromecast built-in functionality, you can easily cast movies, shows and photos from your Android or iOS devices onto your Formovie Dice.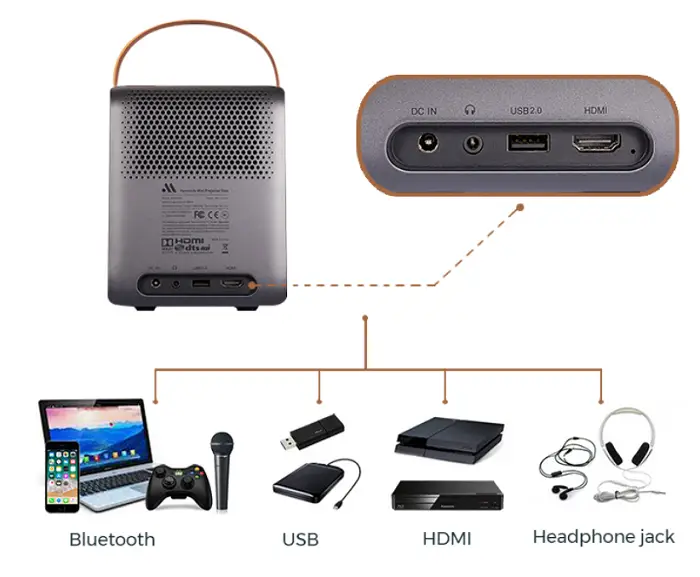 Formovie Dice allows multiple connectivities, via Bluetooth 4.0, 2.4G/5G Wi-Fi, HDMI, USB and headphone jack for numerous entertainment possibilities.
It also can stream media on its own as it comes with MIUI Android TV (with Google Play Store). Users can watch YouTube natively using only the projector itself.
Its Bluetooth remote allows voice search and personalized recommendations via Google Assistant.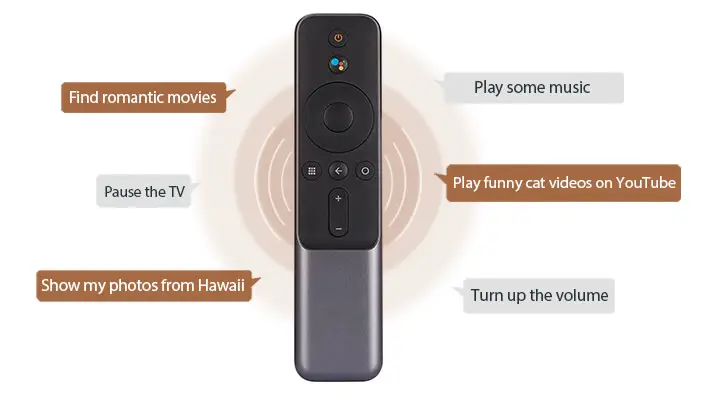 Formovie Dice is equipped with a built-in battery of 16,000mAh that can last up to 3 hours. This along with 16 GB internal memory is great for any movie night out. 
Formovie Dice is equipped with incredible Dolby and DTS audio effects. It also doubles up as an external Bluetooth speaker.
The Xiaomi projector is sturdy and long-lasting because it is designed with a fully sealed optical system that can effectively prevent dust from entering the machine.
It has a LED lifespan of up to 30,000 hours. It means that you can watch up to 8 hours a day with your Formovie Dice for the next 10 years with no worries at all. 
BUT, it's not all sunshine and rainbows. It has a huge downside which it has no local warranty. This can be a huge deal-breaker for many.
Formovie Dice comes with 1 year international manufacturer warranty.
Best deal on Lazada Best deal on Shopee
---
2. Anker Nebula Mars II Pro
Best Smart Mini Projector (720P)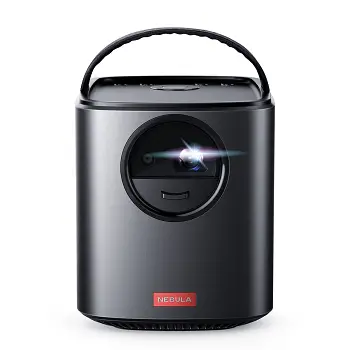 Nebula Mars 2 Pro is the best smart mini projector for people who prefer to buy from an established brand that comes with a local warranty.
However, it doesn't have the same price-performance ratio as Formovie Dice.
Anker Nebula Mars II features highlight:
500 ANSI Lumen
HD 720P native resolution
Battery life for 3 hours of movie playback
2x 10W speakers
Horziontal and vertical keystone
Fast autofocus
Extensive connecitvity
Customer's positive review:
Easy to use, user friendly and intuitive layout, design and built looks premium. The sound is clear and very loud. Heavier than I thought though. Still, love it
Customer's negative review:
-None-
This Anker projector has a similar boxy shape as Formovie Dice. It comes with a handle for easier to carry. 
Rather than conventional LCD, it uses DLP technology for video projection. It can shows content in native resolution of 720P and up to 500 ANSI Lumen.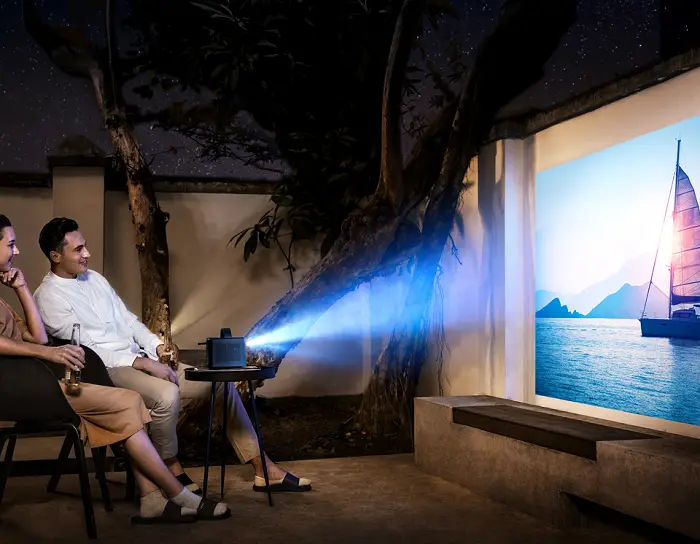 It can project screen size ranging from 30 to 150-inches, making it suitable even for a large crowd.
This is a very portable projector that can work completely on its own. It has a built-in 12,500mAh battery, dedicated USB & HDMI ports, WiFi connection, and screen mirroring.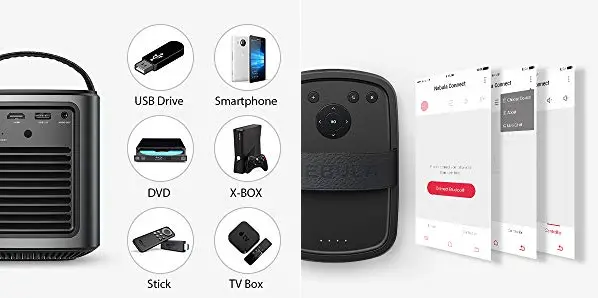 For screen mirroring, Nebula Mars 2 pro uses its own Nebula Connect app. And note that it doesn't support Chromecast.
So, you can easily use it to watch movies or screen mirror from your phone, anywhere, anytime, without the need to search for power outlets.
Anker Nebula Mars II dual 10W speakers sound significantly louder and fuller compared to most projectors in the market. It is enough to fill an average-size living room. 
It can transform any room into a home cinema with its awesome video and audio quality.
Unfortunately, the Mars 2 Pro is running on Android 7.1 Nougat rather than Android TV. So, its user experience will be slightly lacking.
All things considered, Anker Nebula Mars 2 Pro is a very good smart projector in terms of pricing, video & audio quality and portability.
And lastly, it comes with 18months local supplier warranty which gives you peace of mind.
Best deal on Lazada Best deal on Shopee
---
3. Viewsonic M1+ Portable Projector
Best Ultra-Portable LED Projector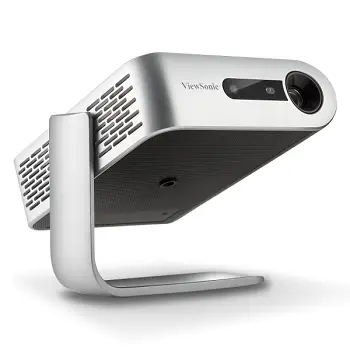 Viewsonic M1+ is an ultra-portable LED projector. It is the ideal portable projector for your entertainment on-the-go and also a great presentation companion.
Viewsonic M1 projector features highlight:
Ultra-portable and lightweight
Built-in battery
Dual Harman Kardon speakers
Native resolution of 854×480
Roughly 140 ANSI Lumens (300 LED Lumens)
MicroSD card slot, USD type A and type C port
Automatic vertical keystone correction
Customer's positive review:
Very satisfied with the visual quality. Sound system is perfect. Worth every penny!
Customer's negative review:
the resolution is a little low, the manual buttons a little unresponsive and the aptoide apps definitely need improvement.
Weighing 750 gram and size of 146x40x126mm, the M1 projector is a truly portable palm-sized projector.
It comes with an integrated stand that provides a simple 360-degree setup so that you will be able to view clearly from different angles.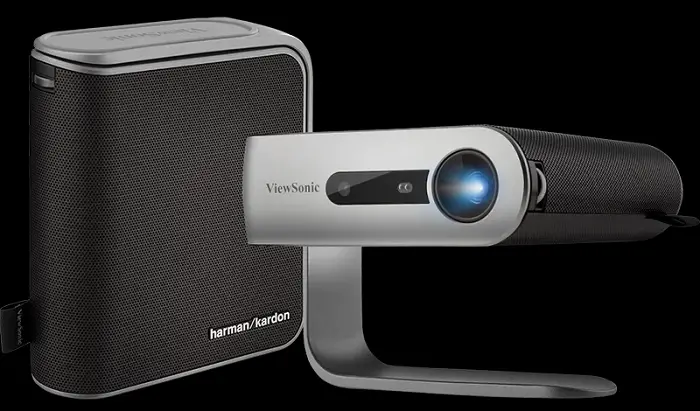 The stand also doubles up as a lens cover. Upon lifting up the stand, the projector automatically turns on.
Viewsonic M1's native resolution is 854×480 (WVGA). It operates on 140 ANSI lumens brightness and has a contrast ratio of 120000:1.
This projector is able to project 100" size images from 2.6 meters away, this means you can easily project large images in small spaces.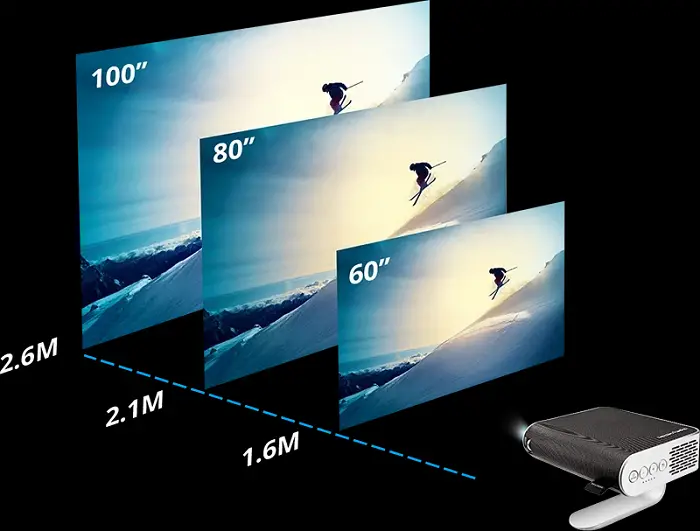 With Harman Kardon Speakers, you get powerful audio performance in this small package. These speakers produce loud and 360 degree sound.
It has quite a variety of connectivity choices, namely a MicroSD card slot, USB Type-A and USB Type-C. This makes the M1 a great option for sharing, playing videos and other multimedia content.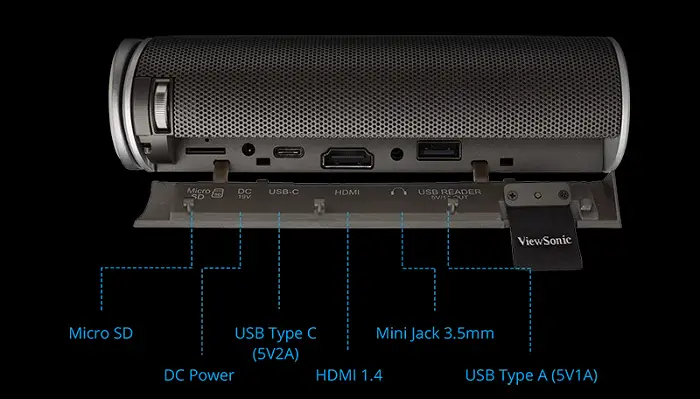 There's no built-in Android system in this Viewsonic M1 projector.
However, you still can turn M1 into a wireless projector by plugging in wireless dongles such as GoogleCast and Amazon Fire TV Stick.
It has a built-in battery that gives you non-stop 6 hours entertainment. It is fitted with a 16GB internal storage, so you can store up to 4,000 songs and up to 4 hours of movies.
It is claimed that this projector has over 30,000 hours of operational life. 
There is also a built-in safety feature that temporarily turns off the lens when it detects objects that are within close proximity. 
Viewsonic M1 projector comes with 2 years local manufacturer warranty. If you really need extreme portability, you may want to check out M1 Mini (pocket projector) with a size of 4"x4", is a small pico projector that can be kept in your pocket.
Best deal on Lazada Best deal on Shopee
---
4. BenQ GV1 Mini Wireless Portable Projector
Best Ultra-Portable Smart Mini Projector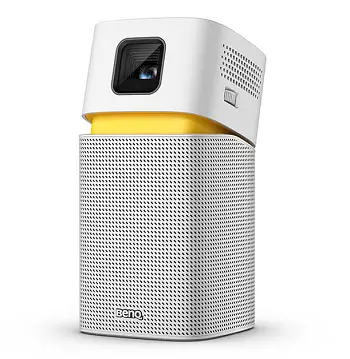 BenQ GV1 is a solid portable projector that you can easily transport anywhere and set up with minimal hassle. 
With built-in WiFi and a built-in Bluetooth speaker, you can literally set up your mini home theatre within mere minutes.
BenQ GV1 Mini Wireless Portable Projector Features:
Portable and Compact projector
200 ANSI Lumen

Built-in 5W Bluetooth Speakers

Built-in Aptoide smart access for Youtube & Netflix
USB-C and HDMI port
Can connect to WiFi
Support Google Cast & AirPlay
Support battery and wire-connected power
Customer's positive review:
A unique projector. The lightweight allows me to bring the projector to different places, and it can run without the power cord. So far, I have not been able to use up all the battery, which is good since cutting off in the middle of the movie is quite annoying. The sound quality was surprisingly pretty good. Though I like to use my external speaker that is much loader and I connected it through the AUX spot.
The real gem of this projector is the Android system. I do not need to plug in my PC to play the contents, and I can watch Netflix without having another operating system. As long as the projector connects to the internet, Netflix, Hulu, or other App are ready to log in and watch."
Customer's negative review:
I was so excited when this thing arrived last night. Spent a good 3 hours trying to set it up. Horrible user interface, does not stay paired with my Galaxy Note 8, stutters on perfect wifi constantly.

Great Form Factor though, and maybe the next generation will be better."
Most portable projectors come as flat slabs. The BenQ GV1 is a mini-tower. It has a dimension of 155 x 80 x 80mm and at 708g. It is lightweight and can operate fully wireless too.
Connecting it with WiFi, and you're ready to watch TV shows and movies.
BenQ G1 users can quickly set up the screen at any distance thanks to its flexible 15-degree tilt that allows you to align the picture vertically on your screen. The best part, it has automatic keystone adjustment to correct the video image into a perfect square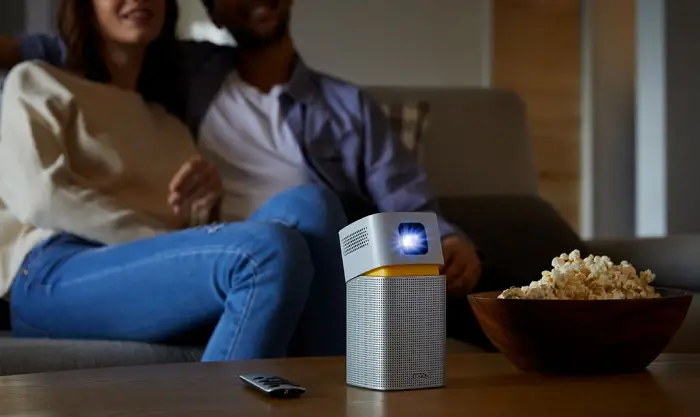 The BenQ GV1 has an 854 x 480 native resolution and is not 4K compatible. Nor is it HDR compatible. These drawbacks are the same for most mini/pico projectors.
Under normal operation mode at the highest power, the LED light source can last for 20,000 hours whereas in the economic mode it's good for 30,000 hours. 
In terms of battery-powered mode, it provides for disconnected operation for up to 3 hours. But it cuts the lumens almost in half in order to save energy.
There are 2 ports at the back; one for a power adapter and a USB-C port (BenQ includes a USB-C to USB-C cable with the projector). Sadly, the GV1 doesn't include a standard USB-A port. Take note that your device needs to support DisplayPort 1.1 at least, in order for the GV1 to detect it.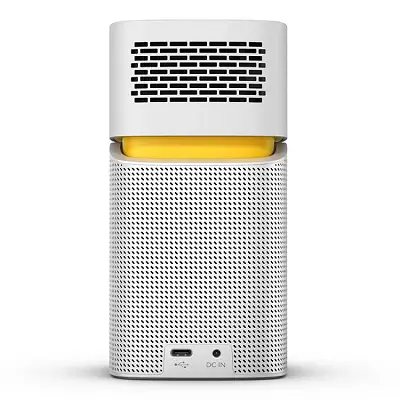 There are 3 ways of feeding signals to the BenQ GV1 projector, namely the USB-C input, internet WiFi connectionor, screen cast from your phone or console. You can easily play Nintendo Switch or mobile games with this projector.
Next, the GV1 runs a modified version of Android, which uses the Aptoide app market rather than the official Google Play store.
Again, this could be a turn-off for some people because the apps available on Aptoide are limited and may not come from official providers. 
The GV1 does come with a slim remote for navigating through the OS as well as changing the required settings.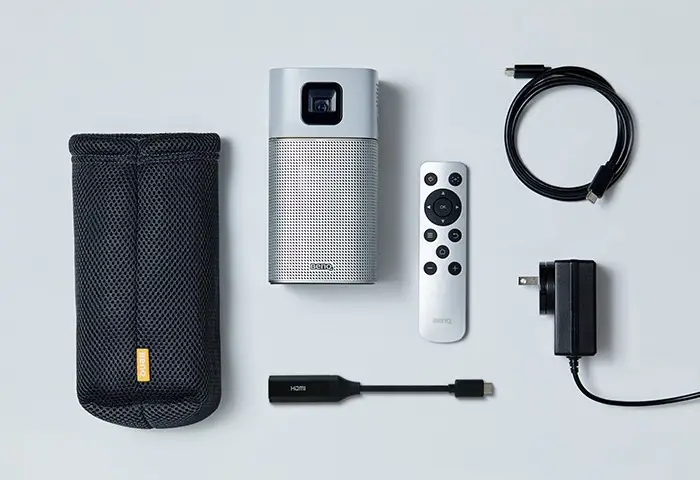 You'll need to carry this around with you as there are no such buttons on the GV1 itself.
Overall, the video quality of BenQ GV1 is satisfactory but slightly behind Viewsonic M1+. GV1 biggest advantage is it comes with built-in aptoide for YouTube and Android.
This projector comes with 2 Years Local Manufacturer Warranty
Best deal on Lazada Best deal on Shopee
---
5. Acer C250i
Best Ultra-Portable 1080P Full HD Projector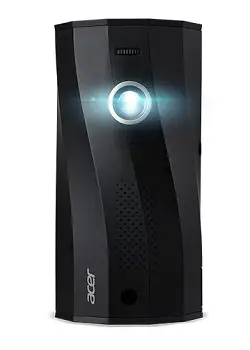 Acer C250i is one of the few battery-powered , ultra portable projectors that are capable of projecting 1080P video quality. 
Acer C250i features highlight:
1080P full HD image quality
Built-in speaker
Battery up to 5 hours of movie playback
Screen mirror
30,000 hours life time
Auto-portrait mode
Customer's positive review:
Good projector, worth the money
Customer;s negative review:
-None-
The Acer C250i is a unique cylinder shaped projector with waves wrap around the body. Each of the curves allows the projector lay flat without rolling and easily change its projection angle.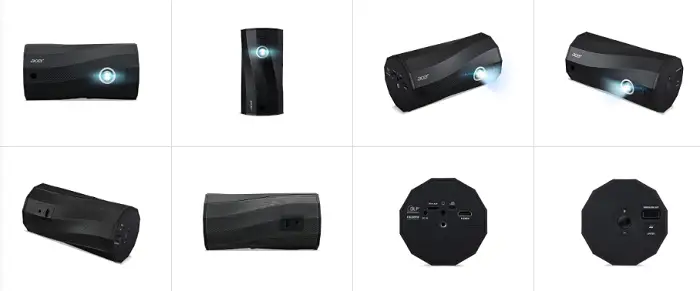 The projector is capable of projecting video up to 300 ANSI lumens, which is 50% stronger than BenQ GV1 200 ANSI lumens. Its images is bright, crisp and well-defined.
It can projects images of up to 100 inches in size and still maintains a good enough image.
Acer C250i comes with a  full set of connectivity features, including HDMI and USB-C video inputs. 
You can play video off USB drives and microSD cards, screen mirroring from a phone or laptop, and even stream songs from the speakers through Bluetooth.
Just a side note that the Acer C250i needs to use a wireless dongle that comes with the package for wireless connection.
This ultra-portable projector has a built-in battery of 9000mAh. Acer claimed that it is good for 5 hours of film watching. And it also could be used as a power bank to charge other smart devices, eg: smartphone,ipads.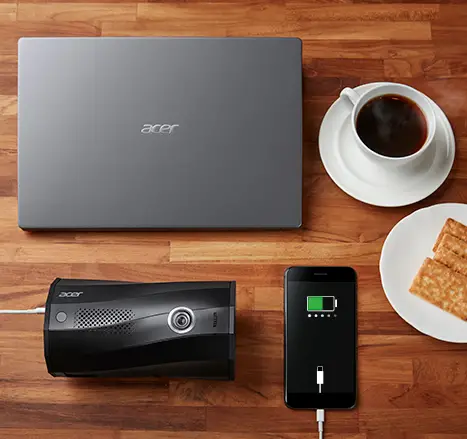 The downside of this projector is it cannot work standalone. It lacks a built-in Android system, so you can't use it as an independent media player.
You will need to connect it with your phones or a harddisk/USB drives that are preloaded with movies.
However, the clear advantage of Acer C250i is its 1080P HD video image projection. Buy this projector if your priority is image quality.
This Acer projector comes with 2 years local manufacturer warranty.
Best deal on Lazada Best deal on Shopee
---
6. Epson EB-S41 Projector
Best Portable LCD Projector for Presentation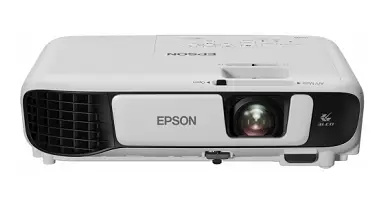 This Epson EB-S41 is an SVGA LCD projector with a 3,300-lumen brightness which makes it great for office and business usage.
With a size of 302 x 237 x 82 mm and 2.5kg, it is definitely the least portable projector on this list.
Epson EB-S41 features highlight:
Portable but not-so-mini
3300 lumen
Up to 300 inches projection  size
3LCD technology
800 x 600 resolution with a contrast ratio of 15000:1
Supports video inputs of USB 2.0, Wi-Fi, VGA, HDMI, Composite and S-Video.
It's 800×600 resolution (4:3 ratio)makes it more ideal for business presentations rather than watching a movie on it.
The images projected are high-quality and exceptionally bright yet colourful with clear distinct details.
However, I want to point out that 3LCD projector is very bright but it compromises picture quality. Eliminating shadow, less saturated colour.
Let's check out the comparison below. Left is 3LCD and right is DLP.

From there, you can clearly observe the limitation of 3LCD technology.
3LCD shines when projecting video under ambient light. With an output of 3,300 lumens, it is capable of delivering a bright and satisfactory picture even during day time.
It is capable to project a maximum screen size of 300 inches.
The lamp life cycle spots an astounding 10,000 hours under Eco mode and 6,000 hours under normal mode.
It has a contrast ratio of 15000:1 and supports video inputs of USB 2.0, Wi-Fi, VGA, HDMI, Composite and S-Video. 
In short, EPSON EB-S41 is a compact traditional 3LCD projector with excellent brightness and image clarity. It has built-in speakers but does not come with any modern smart features.
This Epson projector comes with a 2 years local manufacturer warranty.
Best deal on Lazada Best deal on Shopee
---
Competitions
Mirval K8 and other Mirval projectors- Not recommended
Mirval, one of the best selling projector brand on Lazada & Shopee. To be honest, even Xiaomi which is known for slimmest profit margin in the market, is selling the most basic mini projector Xiaomi Wanbo for RM400+.
I really don't expect much from Mirval projectors.
What anger me is their false advertising tactic that mislead uninformed customers.
All the projectors are being sold using product name/description like wireless, 4K, 1080P, 3000+ lumens. And I am very sure that they don't perform up to their claims
I am totally against in buying products from such dishonest vendor.
VIUIO Y2, VIUIO 8000 and other VIUIO projectors- Not recommended
Similar to Mirval, VIUIO projector is also sold by very sneaky vendor.
All their products are labelled as wireless, 1080P, 4K HD. The projectors actual specification and performance certainly do not match the products title.
For information, 4K projector easily cost from RM5,000 to RM10,000+
My advice is to stay away from all these dishonest vendors.
---
Projector FAQ
What is ANSI Lumens?
ANSI Lumens, defined by American National Standards Institute (ANSI) is commonly used to rate brightness of projector. [1]
It measures the amount of white light output by projector. Higher ANSI lumen value means brighter projection.
3LCD or DLP projector better?
3LCD projector is usually brighter and more bulky in size. Less accurate black colour, suitable for office usage.
DLP projector is usually smaller, produce better contrast, darker blacks but less bright. DLP is usually more lasting than LCD. Suitable as home theatre projector in dark room. [2]