The majority of people, including myself, have a love-hate relationship with non stick frying pans. 
On one hand, non-stick pans have made cooking much easier for beginners. We don't have to worry about the temperature of the oil nor the timing to start cooking.
On the other hand, we are worried about Teflon, PFOA and other harmful chemicals that might go into our foods. 
After going through all nonstick frying pans on Lazada and Shopee, these are the 7 best nonstick pans that are safe and great for cooking delicious meals.
Comparing the top nonstick pans in Malaysia
| Model | Induction Stove | Nonstick Coating | Average Rating |
| --- | --- | --- | --- |
| 54DN Non Stick Pan | Yes | Ceramic | 4.9 |
| Ecowin Non Stick Pan | Yes | Ceramic | 4.9 |
| Xiaomi Taste Plus MOTOMI Wok Pan | Yes | Swiss ILAG Ceramic | 4.9 |
| Tefal Easy Care Pots and Pans | No | PTFE (PFOA-free) | 4.9 |
| Tefal Cook Easy Wokpan | No | Titanium Reinforced PTFE (PFOA-free) | 4.9 |
| Carote Non Stick Pan | Yes | Ceramic | 4.9 |
| Le Creuset TNS Frying Pan | Yes | Le Cresuset TNS | 4.9 |
---
Best Selling Ceramic Non Stick Pan
54DN Ceramic Coated Non Stick Frying Pan
4.9 out of 5.0 stars | 1.1K ratings | Good review ratio: 70 to 1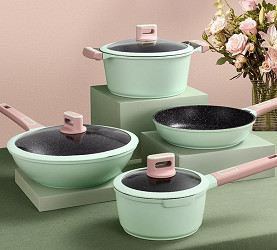 Best deal on Lazada Best deal on Shopee
54DN cookware is beautifully designed with a nordic style. If you checked the user reviews, you will find that "闪闪优品", san san you pin is the actual brand name. It is a China cookware brand that sells stylish kitchenware targeting young customers.
Unlike most frying pans that are only available in black or silver colour, 54DN nonstick pans come in beige, mint green, light pink and brown colours. This handle is made of plastic with a wood grain pattern. Many mistakes it to be a real timber handle.
54DN non-stick frying pan comes in many sizes for selection too, including 24cm, 26cm, 28cm, 32cm and a square steak pan 24cm.
These pans are coated with a nonstick ceramic coating that is free of PFOA and PFOS. It is good for cooking all types of "sticky" food: eggs, fish, pancakes and so on.
You can use these nonstick frying pans on all types of stoves: gas stove, induction cooker, or ceramic hob. And it is claimed that the pan is made perfectly flat so that the heating is even and uniform.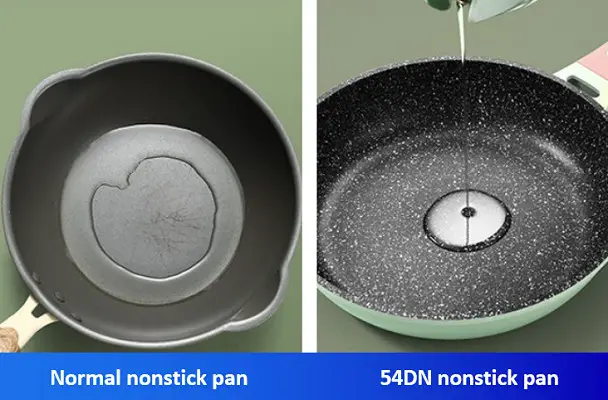 The normal nonstick pan will not be able to keep the oil at the centre since its centre is slightly warping up. On the other hand, 54DN non-stick pan has no such problem
A few reviewers reported that the expensive price tag wasn't justified by the product's quality. In fact, the local sellers are actually selling for very little markup from China's online retail prices.
While this is a Chinese brand, it has sold millions of cookware over the past 8-9 years. You can do a quick search on Google to verify its selling price in China or just visit  jd.com. There are also thousands of positive reviews on jd.com for these nonstick cooking pans.
---
Best Durable Non Stick Pan
Ella Fry Pan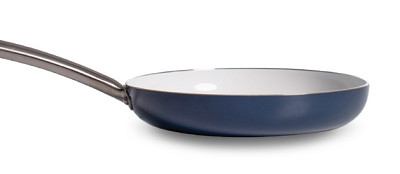 Best deal on Lazada Best deal on Shopee
Ella Cookware has a stylish design and comes in bright colours. Additionally, they are coated with German-made Greblon that is non-toxic and free from PFOA and Teflon.
A complete Ella cookware set includes a frying pan, saucepan, essential pan, and casserole pot.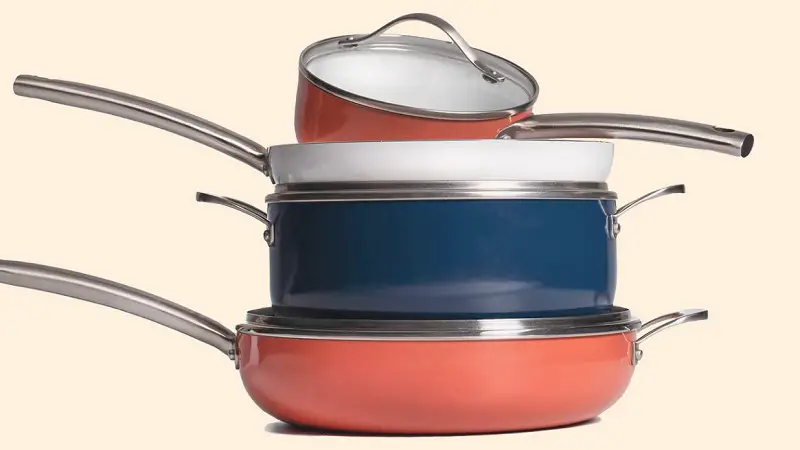 The non-stick Ella Fry Pan measures 26cm in diameter and 5cm in height. It is a good size for a small family of 3~4 people. It is suitable for cooking pasta, frying eggs, grilling steaks, and more.
The non-stick coating works so well that you don't even need to use oil to cook sunny-side up fried up.
A key difference between the Ella Fry Pan and other nonstick pans is its full metal construction including a stainless steel handle.
Due to this, you can directly place this fry pan in the oven, which makes cooking a whole lot easier and more versatile.
This fry pan does not come with a lid, which is my only complaint. Luckily, the casserole pot has a lid that fits exactly for the pan as well.
The Ella Fry Pan has a great build quality overall. Furthermore, the non-stick coating is free of toxic substances and gives you peace of mind when cooking on it.
---
Best Value Non Stick Pan For Induction
Ecowin Non Stick Pans
4.9 out of 5.0 stars | 934 ratings | Good review ratio: 71 to 1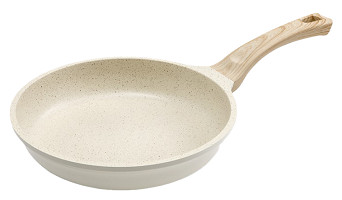 Best deal on Lazada Best deal on Shopee
It is easy to see that Ecowin and 54DN nonstick pans look very similar to one another. Not only that, both brands sell their pans at almost the same price points too.
The biggest difference between these 2 sellers is Ecowin is under Shopee Mall and fulfilment is done by Shopee too.
With its nonstick ceramic coating, you can cook using less oil and there will be less smoke. Ecowin claims that the coating layer lasts more than 50,000 times abrasion tests under their own lab test.
The reviewers of the Ecowin nonstick pan praised its thick, heavy, and sturdy construction, as well as its ability to heat up quickly. Many people also love its elegant design. 
The most common complaint about the Ecowin frying pan is it can be a bit too heavy, not suitable if you're one who likes toss and flips the food while cooking.
There are options for standard sided frying pans, 4.5cm+ as well as high sided frying pans, 9cm+. High sided pans are suitable for Asians, especially Malaysians who cook food with a lot of sauce.
---
Best Non Stick Pan Without Teflon
Xiaomi Taste Plus MOTOMI Wok Pan
4.9 out of 5.0 stars | 162 ratings | Good review ratio: 0 bad review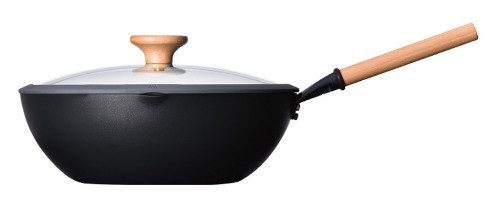 Best deal on Lazada Best deal on Shopee
Xiaomi Taste Plus MOTOMI Wok Pan is my personal favourite non-stick pan on the list.
Despite it being slightly more expensive than Ecowin and Carote, the MOTOMI non-stick pan uses ILAG non-stick coating from Swiss. It is a PFOA-free, 3-layer high-end non-stick coating.
Unlike competitors that cut costs by using wood-patterned plastic, Taste Plus Wok Pan uses real Bavarian Beechwood handles.
Besides that, it has a thermal silicon ring which works as a temperature indicator. When the ring turns to dark red colours, it indicates the pan is at the right temperature to start cooking.
Reviewers said that the pan feels very light on hand, and the quality is superb for its price. And many said that they would buy again or recommend it to their friends and family.
---
Best Non Stick Pan For Gas Stove
Tefal Easy Care Cookware Pots & Pans
4.9 out of 5.0 stars | 18.1K ratings | Good review ratio: 54 to 1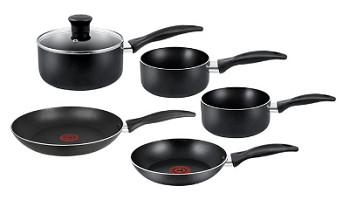 Best deal on Lazada Best deal on Shopee
Every Malaysian should be familiar with Tefal non-stick pans. Tefal Easy Care 5-piece non-stick cookset is the best selling product on the Tefal official store.
The set includes:
20cm fry pan
24cm fry pan
14cm milk pan
16cm saucepan
18cm saucepan
By paying less than RM300, you can almost completely equip your kitchen, so that you can fry food, prepare sauce, and boil soup.
This cooking set is only compatible with gas stoves and ceramic hobs. The induction stove will not work on it.
The nonstick cooking pans come with Tefal's signature red colour thermo-signal at the middle of the pan. Many do not know or realize how to use this feature.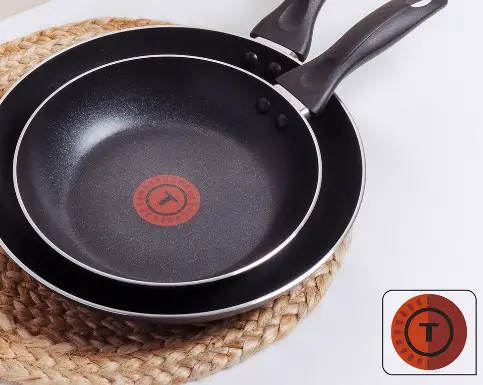 When the outer ring of the thermo-signal turns completely dark red, indicating the pan has reached the ideal cooking temperature.
In this way, you can avoid cooking your food with too much heat. You don't want food that's burned on the outside but soggy inside.
Many customers are happy that they are able to grab this cooking set for RM199 during promotion/sales periods
---
Best Non Stick Wok Pan
Tefal Cook Easy Wokpan
4.9 out of 5.0 stars | 11.8K ratings | Good review ratio: 37 to 1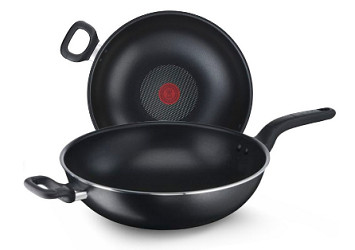 Best deal on Lazada Best deal on Shopee
Tefal Cook Easy Wokpan is another Malaysians' favourite. I guess most Malaysian households still prefer to cook with a wok.
This big wok pan measures 32cm in diameter and 9.4cm in height, 1.1kg. The Cook Easy Wokpan is large enough for cooking for up to six people.
Reviewers love its size and say it can fit two whole chickens, making cooking large meals a breeze.
The main difference between this wok pan and the entry-level Tefal frying pan is its nonstick titanium-reinforced PTFE coating. 
Tefal claims that the titanium coating is 3 times stronger than standard coating and it can resist all cooking tools including metallic spatulas. Still, I would advise against using any metallic cooking tools on a nonstick pan.
The Tefal Cook Easy Wokpan also has the Thermo-Signal and Diffusion Base feature like any Tefal frying pan. Tefal's Diffusion Base allows heat to be distributed evenly throughout the pan for best cooking results.
The wok pan, however, is only suitable to be used on the gas stove and ceramic hob. It is not suitable for induction hobs.
---
Popular Nonstick Pan On Lazada
Carote Non Stick Pan
4.9 out of 5.0 stars | 7624 ratings | Good review ratio: 59 to 1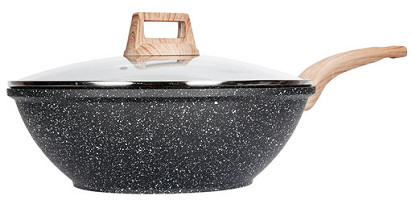 Best deal on Lazada Best deal on Shopee
Carote Nonstick Pan is the best selling nonstick pan on Lazada. It is yet another China cookware brand.
Once again, based on the product photos and description, I cannot tell any difference between the Carote pan and the Ecowin or 54DN pan.
The only difference I can see is it uses full dark grey ceramic coating, which suits a conventional kitchen. Like the other two China brands, it also has a wood pattern plastic handle.
When there is no promotion, Carote pans are generally pricier than Ecowin and 54DN pans.
They are suitable for every type of stove including gas stove, induction stove, and ceramic hob. 
I noticed that there are few complaints from reviewers on the ceramic coating quality. Some said that the ceramic coating turn yellow and brown after a short time of use. For information, yellow stains can compromise the non-stick properties of the pans.
However, do note that this could be an individual case where users are not using the Carote pan correctly.
Given the similarities between Carote and Ecowin nonstick pan, I think Ecowin should be a better purchase as it is cheaper and better value for money.
---
Best Non Stick Pan For High Heat
Le Creuset TNS Frying Pan
4.9 out of 5.0 stars | 43 ratings | Good review ratio: 59 to 1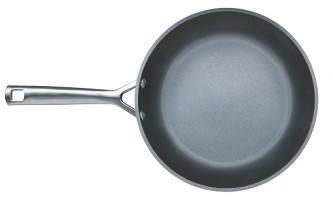 Best deal on Lazada Best deal on Shopee
If you fancy getting a premium European brand frying pan, I present to you the Le Creuset TNS Frying Pan. TNS stands for "toughened non-stick" frying pan.
Le Creuset kitchenware has a great reputation for its premium quality and durability. The TNS Frying Pan features a new 3-layer reinforced non-stick coating that is very durable and resistant to abrasion from metal utensils.
This Le Creuset frying pan is able to withstand up to 260 degrees Celsius. It can be used on any type of stove, including an induction cooker. 
Since the handle is made of stainless steel, this pan is safe to put directly into an oven. 
Le Creuset TNS Frying Pan comes with a 10 years warranty. But please be aware that it does not cover mishandling, misuse and wear & tear. 
If you really want a Le Creuset Pan, it is best to get the original Le Creuset cast iron pan. That is what they are known for. All Le Creuset cast iron pans are made in France and can last a lifetime.
---
Competitions
DESSINI ITALY Granite Aluminium Non Stick Pan Review
Dessini Non Stick 12 Pcs Cookware Set is the most popular nonstick pan set on Shopee. This set is only selling for RM148 which is unbelievably cheap. 
Some customers complained about receiving defective products, late delivery, and missing items. They're also frequent feedbacks on the poor quality finishing, sharp edge at the holder and screw given for pan does not fit correctly.
Nevertheless, I know that some customers are okay with these shortcomings, as long as the price is low.
I am also well aware that all these quality control issues are directly related to its low price. That's why I can't recommend it. A good pot and pan are better than dozens of low-quality pots and pans.
Premium 304/316 Stainless Steel Non Stick Pan Review
First thing, it is totally false to claim that stainless steel non-stick pans use honeycomb patterns to achieve non-stick properties. The black-coloured coating on it is just a layer of the normal non-stick coating. That's how it becomes non-stick.
After prolonged use, this type of honeycomb pan is still prone to wear and tear, as is always the case with all non-stick pans.So, it does not address the main concern of most customers: health and durability problems. 
Reviewers also said that in some cases there are actually more food residuals trapped in between gaps of the honeycomb pattern. I don't recommend this type of stainless steel nonstick pan for its false advertising.
---
Nonstick Pan FAQ
Which non-stick pan is the best in Malaysia?
I recommend buying Tefal non-stick pans in Malaysia. Tefal has long history and reputation in producing and selling non-stick cookware.
Are non-stick frying pans safe?
Yes, the PTFE coating, also known as Teflon has been produced without using PFOA since 2013. Today's nonstick cookware is completely safe to use as long as the PTFE/Teflon coating is still intact.
When should I throw away a nonstick pan?
You should throw away a nonstick pan when the nonstick coating wears off and start peeling off. Or when you have accidentally left a deep scratch on the pan which exposed the inner layer of the pan.
Is ceramic coating better than Teflon?
Yes, for users who are afraid of Teflon. However, ceramic coatings usually lose their non-stick properties faster than Teflon, just about a year or so of normal usage.
What is the best non-stick pan without harmful chemicals?
Ceramic coating non-stick pans are safest. They are free of PTFE and PFOA. 
I consider the Xiaomi Taste Plus Motomi Wok Pan is a good choice as it uses Swiss ILAG non-stick ceramic coating. Other sellers also claim to use ceramic coating but there's no way to verify it.
How to maintain a nonstick pan?
Many people do not realize that nonstick pans need to be maintained and cared for. 
For a new nonstick pan, wash it with detergent thoroughly and then rub a layer of cooking oil over the surface. Then, heat up the pan on the stove for 2-3 minutes. Once it cools down, wipe out excess oil and store it properly.
What nonstick pans do professional chefs use?
Most professional chefs do not use non-stick pans. 
Western chefs prefer cast iron, copper or carbon steel pans which have even heat distribution and almost zero durability issues.
Asian chefs prefer carbon steel wok because it heats up easily and can withstand abrasion from constant frying.