There is a huge surge of interest in bakeries during the covid19 pandemic. And many are looking for the best ovens for baking cake, bread and cookies.
Precise temperature control is the key to baking success. Hence, a good oven should heat up rapidly to the correct temperature and spread the heat evenly and stably.
Here are the top 10 most popular ovens on Lazada Malaysia (sorted from cheapest to most expensive):
Before deciding which oven to buy, lets understand how to choose the right oven for yourself.
How to choose a good oven that best suited for your needs
1. Types of Oven
OTG Oven – It is known as an oven, toaster grill, the three core functions of a traditional oven. We also call it a convection oven.
A convection oven has heating elements both on top and bottom of the oven. And a good oven should allow users to control the heating of these elements separately.
It is best for baking cakes, toast bread, and grilling meat. Cooking is slower compared to a microwave oven.
Microwave oven – Microwave oven uses microwaves to heat food. A modern microwave oven can be used for baking, grilling and quick reheating of food. Since there are absences of heating elements at top and bottom, baking will be less ideal. 
Microwave oven is good for preparing a quick meal efficiently because it heats up very fast.
2. Size of Oven
It is important to choose an oven size that matches your needs and still fits in your kitchen. Don't buy an oversized oven for a small kitchen.
The oven needs a dedicated space. If it is troublesome to set up the space for the oven, it will dramatically lower down your desire to use the oven.
3. Digital Controls
Analog control is great as they almost last forever. However, digital controls in the oven have many advantages over analog control.
The most important one would be precise temperature control. Secondly, an oven with digital control usually comes with a programmable timer which lets users cook in more sophisticated ways.
We strongly suggest users not to go for the cheapest oven available because baking ingredients are usually not cheap. It might end up costing you more if your baking fails.
Lets check our picks and reviews for the best ovens on Lazada Malaysia.
---
1. Panaletrik Electric Oven 12L
Cheapest small electric oven on Lazada
---
Panaletrik Electric Oven 12L is compact and cheap. It is best for beginners who wanna try out bakery for fun.
✔ Cheap
✔ Very small and compact
✖ No individual top and bottom temperature control
---
Panaletrik electric ovens come in a few sizes, 12L, 20L, and 52L. And the 12L variant is the smallest and cheapest one. It has close to 200 good reviews on Lazada Malaysia. There are minor complaints on the oven being too small.

It has a maximum power of 1000W, 60 minutes switch off timer, and auto shut off. Users can control the temperature between 100 to 250-degree celsius. It is a very basic electric oven without any extra features. Just keep in mind that 12L is very small indeed.
Many praise its functioning okay and bake well as long as you set your expectations right.
Panaletrik electric oven 12L comes with 1 year warranty. Buy panaletrick oven now.
2.Pensonic PEO2305 Electric Oven 23L
Another great budget electric oven
---
Pensonic PEO2305 Electric Oven is another great budget choice.
✔ Affordable local brand
✔ Can select whether bottom, top or both heating
✖ Short power chord

---
At 23L capacity, this is our budget pick. Pensonic PEO2305 Electric Oven has earned an outstanding 4.9/5 rating score from more than 1100 reviews on Lazada. It has all the standard functions – toast, grill and bake. Maximum power rating is at 1380W.
Allows adjustable temperature settings of up to 250℃, which basically covers most of your baking needs. It also has a 60 minutes timer.
At 53 × 39 × 37 cm, it is somewhat on the smaller side but is more than sufficient to serve great meals for a smaller-sized family (2-4 people). The control panel, handle and the glass door handle are all stainless steel.
Overall, it is a good enough oven with a below-average price. Buy Pensonic 23L Oven now.
3. Butterfly BEO-5221 Oven 20L
Value for money electric oven
---
Butterfly BEO-5221 Electric Oven is a great value for money choice.
✔ Value for money
✔ Generous accessories
✔ 2 years warranty
✖ Bad apple vendor use misleading photo
---
Butterfly BEO-5221 oven has a capacity of 20 litres and rated 1380W. It comes with a variety of accessories including 1 crumb tray, 2 baking trays and 2 baking racks.

Take note that there is no rotisserie function for BEO-5221. Some vendors are misleading customers by using photo of another Butterfly Oven Model. If you wish to do "ayam golek", then take the BEO-5229 model with rotisserie function.
Butterfly oven has 2 years local warranty. Buy butterfly oven now.
4. Khind Oven OT2800 28L
Most favourited retro-style oven
---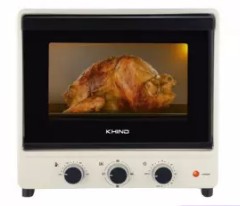 Khind OT2800 is a cute little retro-style oven.
✔ Square shaped, save space
✔ Top & bottom heater selection
✔ Chic appearance
✔ 2 years warranty
---
Khind OT2800 is a 28 litres oven that comes with a modern-vintage look. Many customers have good reviews on it and loved its design. More than 460 reviews are 4 stars and above. And most negative reviews are only on the delivery services.
28 litres capacity is good for a grilling whole chicken or baking a 8" cake. There are separated top and bottom heaters. Users also love its bright oven lamp that lets user check their food with ease.
Quoted one customer: " what matters most is its quality of cooking and this is where this oven really shines with its nice thorough even baking. Cakes, toasts, cookies all turned out extremely nice with that wonderful golden crust.".
Khind OT2800 Oven comes with 2 years local warranty. Buy Khind OT2800 now.
5. Firenzzi TO-3035 Oven 35L
Good medium-sized electric oven
---
Firenzzi TO-3035 is a medium-sized oven with 35L capacities. It also has dual temperature control
✔ Independent temperature control
✔ Good fize for small family
✔ Rotisserie function
---
Firenzzi TO-3035 is a medium-sized oven with 35 litres capacity. It has a maximum power rate of 1500W. There is zero complaint on product quality, product defects, nor delivery problems.
It has individual control for top and bottom heating elements which is great for baking. Accessories included are bake tray, bake rack, crumb tray and rotisserie handle.The built-in light is bright
Firenzzi has only 1 year local warranty. Buy Firenzzi TO-3035 now.
6. Khind Oven OT5205 52L
Best oven for big family
---
Khind OT5205 is huge but not expensive. It even has rotisserie function.
✔ Extra large 52L capacity
✔ Rotisserie function
✔ 2200W heating power
✔ Up to 120 mins timer
✖ No separated temperature control
---
Khind Electric Oven OT5205 has garnered more than 500 positive ratings and reviews on Lazada. Customers rave on its extra-large and spacious 52L capacity.
You can stuff in a huge 3kg chicken for roasting with space to spare. It also has various functions – roast, bake, broil, grill, toast, heat up, all with pre-set timer function of up to 120mins.
At 1800-2200W, this is a powerful convection baker with rotisserie function (360-degrees rotation) and has even heat distribution. So, if you need a value for money large oven, this Khind Electric Oven OT5205 could be the one for you.
This product comes with a 2 Years local manufacturer warranty. Buy Khind OT 5205 now.
7. Elba Oven 6840SS 56L
Cheap built-in oven Malaysia
---
Elba 6840SS is a built-in oven with 56L capacity. It has 8 different cooking functions.
✔ Affordable built-in oven
✔ Triple glazed glass door
✔ 8 different cooking functions
✖ No digital control
---
Elba 6840SS is a 56L built-in stainless-steel oven with dimension of 558 x 580 x 550mm. This oven is more suited for those of you with a more compact sized kitchen and still have heavy cooking needs.

It offers 8 different functions – conventional, bottom heat, half grill, roast, hot air grilling, pizza, full grill (with rotisserie) and defrosting.
Furthermore, the glass door is triple glazed that seal the heat tightly within the oven. Hence, the glass also will be cool to touch externally. The heating temperature can go up to 250°C.
As compared to other built-in ovens, this Elba Built-in Oven 6840SS is less than half the price. It is one of the cheapest built-in ovens in Malaysia.
This product comes with 1 Year local manufacturer warranty. Buy Elba 6840SS now.
8. Beko BIM22100X 71L
Best value European made Built-in Oven
---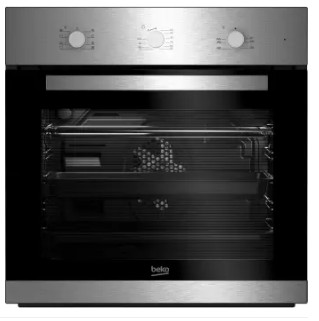 Beko BIM22100X oven is made in Europe. It is built with quality to last. And the price is reasonable too.
✔ Large 71L capacity
✔ Double glazed door
✔ 8 Different cooking functions
✔ 2 years warranty
✖ No digital control
---
Beko is one of the most beloved choice of built-in ovens on Lazada. It is has a 4.9 out of 5 stars rating. And most customers love its appearance.
Beko BOM22100X has 71 litres capacity. It is good for medium to big family food preparation. It can fits up to 4 bakery tray at one go which is a huge time saver if you're into baking cookies.
The build quality and door of this oven is very sturdy. The glass door is double glaze for better heat insulation thus temperature more consistent. The door is made to be extra durable too. It can support loads as much as 22.5Kg so you can rest your hot dishes on the open oven door
This oven has separated top and bottom heat control . And it has a huge fan right at the back of the oven that ensures thorough air circulation within the oven. It cooks perfect grilled fish, chicken and meat cutlets.
On top of that, this oven comes with 2 years warranty. Buy Beko BIM22100X now.
9. Electrolux Built-In Oven EOB2400AOX 74L
Best large built-in oven
---
Electrolux EOB2400AOX is one of the most popular large built-in oven on Lazada.
✔ 72L capacity
✔ Evenly distributed heat with huge fan
✔ Digital timer
✔ 4 layer glass door
---
At a massive 72L, this Electrolux built-in oven can be split into 3 levels, flexible and spacious to cook multiple dishes, at one go. Baking, grilling, roasting becomes easy.
Electrolux's UltraFan Plus technology ensures heat is distributed evenly throughout the oven, so anywhere inside the oven will have evenly distributed heat. Additionally, it has a 4-layered glass door which keeps the heat in for better energy efficiency.
The inner of the oven is coated with smooth enamel coating enables easy and convenient cleaning. Stains and spills easy to wipe as they do not stick.
Although this is on the pricier end, it is still a worthwhile investment to make in the long run especially if you cook a lot and often cater to many.
This oven comes with 1 Year local manufacturer warranty. Buy Electrolux EOB2400AOX oven now.
10. Panasonic Steam Oven NU-SC300BMPQ 30L
Best Premium Steam Oven Malaysia
---
Panasonic NU-SC300BMPQ is a convection steam oven. It can be steam only, convection only or combination of steam and convection mode.
✔ Elegant black colour oven
✔ Hybrid oven with steam and convection function
✔ 30 preset cooking programs
✔ Easy cleaning function
✖ Small capacity 30L
✖ Expensive
---
One of the latest from Panasonic, this oven helps make cooking easy and more convenient. It is known as a convection steam oven. It uses both steam and dry heat to cook. The steam oven is considered as the healthiest way to cook because it can retain moisture, vitamin and minerals in the good.
The size of the oven is 375 mm x 494 mm x 476 mm, 31L capacity. It is good for stew, bake, healthy steam, grill, healthy fry and fermentation. And comes with 30 preset cooking menus.
The superheated steam – fast, easy and thoroughly removes all oil for healthier enjoyment while maintaining the nutrients and juiciness on the inside of the food. There are 3 different steam temperature settings: 120℃ (meat, vegetable, reheating), 150℃ (seafood) and 190℃ (meat, poultry and seafood gratin). It can set to be stewing food up to 3 hours.
This product comes with a 1 Year general warranty. Buy Panasonic SC300BMPQ oven now.

Conclusion
Baking is a healthy, convenient and practical way to have your food cooked while you attend to your other chores.
We hope that the above list that covers the best ovens ranging from premium to budget picks for tabletops and also built-in models would help you decide better.
We also have detailed reviews and recommendations for microwave ovens and air fryers which can help you to shorten your cooking time.