Searching for the best pressure cooker? Pressure cooker is a huge time saver for the modern kitchen. Because pressure cooking can cook food 2 to 5 times faster than normal cooking. The high pressure in the pots allows for higher boiling point to cook food.
Some electric pressure cookers are known as multi-cookers because they can cook multiple types of dishes easily and consistently, quickly and even slowly. Yes, you read it right, slow cooking is just as useful as fast cooking to prepare great food.
The best pressure cookers in Malaysia
1. Midea MY-CH502A Pressure Cooker 5L
Best Cheap Pressure Cooker in Malaysia
Midea pressure cooker MY-CH502A is the best budget pressure cooker in Malaysia. Although it's cheap, it does the cooking pretty well. From RM160.
✔ Cheap
✔ 7 pre-set functions
✔ 10 safety features
✔ Dual non-stick pot
✖ No auto pressure relief
✖ Slightly inferior built

Midea MY-CH502A Pressure Cooker is our choice of budget pressure cooker in Malaysia. It is a 5L multifunctional pressure cooker, that can push the steam pressure up to 40KPa.
Many may not realize that the ever famous Instant Pot brand in western country market is actually manufactured by Midea. Well, in fact Midea is the OEM manufacturer for a bunch of household products for many international brands.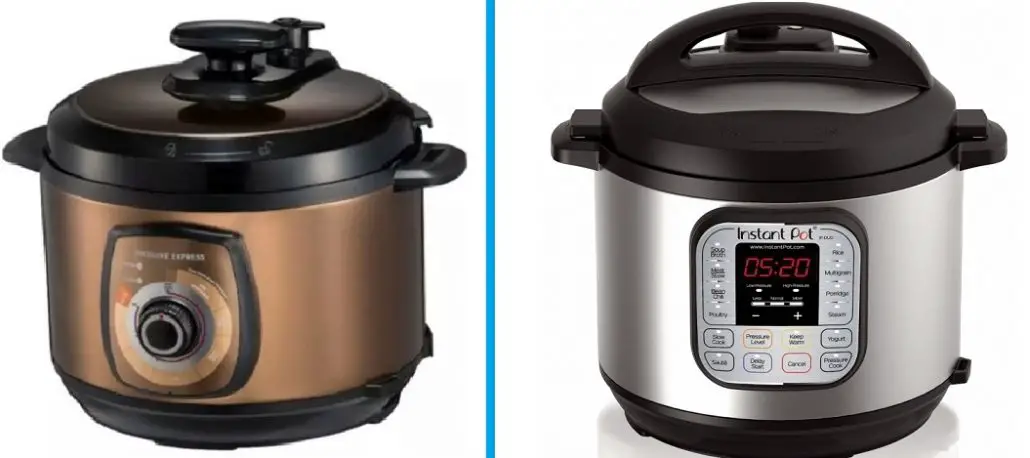 This pressure cooker comes equipped with 2 types of non-stick pots, namely gold pot for rice/porridge and black pot for soups/meat. One of the safety features is that when the safety valve is up, the lid cannot be released unless the pressure is released.
Albeit this is a budget pick, it is filled with 10 awesome safety mechanisms – safety cover protection, anti-blockage protection, pressure limit control, pressure control protection, overheat safety feature, pressure control, overcurrent protection, coverless protection, pressure relief mechanism and no pot protection.
The package comes with two 1.8mm Dual Non-Stick Inner Pots, the appliance, spoon, measuring cup, cable and manual.
There are a total of 7 pre-set functions which includes, cooking fish & vegetables, stir fry, white rice, meat/stew, soup, bean/tendons and roasting.
It only comes with a 1-Year warranty.
P.S.:- If you prefer stainless steel pot pressure cookers, you are recommended to buy the Midea MY-12LS605A 6.0L Stainless Steel Pot Pressure Cooker which costs only an additional of RM30-RM50. A great buy, indeed.
2.Philips Electric Pressure Cooker HD2139 6L
Best pressure cooker for most Malaysia household
Philips HD2139 is a great choice for many with features like 24 hours preset-timer and automatic pressure relief. From RM330.
✔ Easy to operate
✔ 24 Hour Timer
✔ Automatic pressure relief
✔ Cook a large variety of food include baking cake
✖ Undetachable inner lid
✖ Only 1 year warranty

This Philips Electric Pressure Cooker HD2139 is a great pressure multi cooker at a decent price. Its design is well done, with 14 pre-set menu you can choose from. Everything can be automatically configured so you don't have to tinker with the input parameters. You can even bake a cake with it. Quote from one of the customers' feedbacks, it instantly makes you a great chef!
This unit comes with a 6L detachable non-stick inner pot, rice paddle and ladle, measuring cup and manual. Filled with pre-set buttons, made to be as easy as possible for any beginner.
For any pressure cooker, safety is of utmost importance and this HD2139 is packed with many safety mechanisms. Equipped with an automatic pressure-release function, this is great as the pressure is automatically released once the food is done. You won't have to worry about when you need to manually release steam pressure anymore.
There is a twist-lock mechanism in the lid that ensures the device is secured during cooking. It has an auto pressure release safety function which is activated when abnormally high pressure is detected. This is a very crucial safety feature.
Philips HD2139 has a 2-years world-wide warranty. If you prefer stainless steel, you can buy it as an add on.
3. Philips HD2137 Electric Pressure Cooker 6L
Best all-in-one multi cooker in Malaysia
Philips HD 2137 is the upgraded version of HD2139. It comes with additional pre-set menu and slow cook feature.
✔ A complete all-in-one multi-cooker with slow cooking feature
✔ Detachable lid for easy cleaning
✔ 9 safety features
✔ Auto-release steam pressure
✔ Many vendors free additional stainless steel inner pot
✖ Slightly pricey
With a capacity of 6L, Philips HD2137 is the best all-in-one pressure cooker that comes with an informative touch screen digital control panel. Definitely a steal to grab this pressure cooker now. Because Philips HD2139 add on stainless steel inner port(own purchase) already cost about RM500. Now with RM500 you get Philips HD2137 with stainless steel inner port.
Being a multi-functional cooker, it is able to cater for multiple types of cooking methods: slow-cooking (up to 12 hours), fast pressure cooking (via the direct menu buttons) and multi-cooking (baking care, yogurt).
The package comes with a steaming plate, measuring cup, ladle, recipe and manual books. Furthermore, this model has detachable inner lids which make cleaning so much easier.
This cooker boasts of 9 safety features. Steam pressure will be automatically released once cooking is done. And it has a progress bar to show the stages of cooking. So no more second guesses, which is wonderful for many newbie pressure cooker users.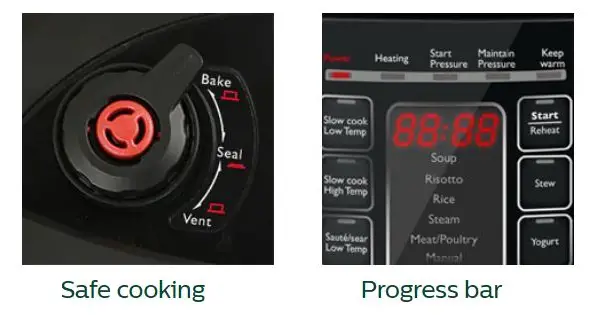 This cooker comes with a 2 years international warranty.
4. Mijia Smart Electric Pressure Cooker 5L
Best smart pressure cooker Malaysia
Xiaomi pressure cooker is smart and Wi-Fi connected. As usual, its design aesthetic is very Xiaomi and definitely stand out in your kitchenwares. It is only recommended for tech enthusiasts. From RM469.
✔ Great OLED display
✔ Wi-Fi connected. Can control with Mi Home app
✔ Automatic Intermittent Pressure Swing
✔ 3.5mm thick non-stick inner pot
✖ Imported from China, no local plug
✖ Everything is written in Chinese
✖ No warranty
First and foremost, Xiaomi pressure rice cooker 5L is the only REAL smart pressure cooker that you can buy in Malaysia right now. Hence, we decided to include it in this list as TechRakyat.com is all about technology and innovation.
This Mijia pressure cooker has a beautiful OLED display. It also has an automatic intermittent pressure swing feature which allows pressure-relief and pressure-hold to oscillate automatically. This removes any need for manual pressure relief adjustments. Furthermore, it has a one-push button to add ingredient when you are in the middle of cooking.
Mijia utilizes an electromagnetic pressure control that is able to adjust accordingly and automatically to obtain the optimum cooking parameters based on the type of ingredients used. Thus, producing a more delicious food texture and feel.
The package comes with a rice and porridge spoon, a measuring cup, a power chord and also a manual. Official claims that this amazing cooker is able to cater to more than 3000 cooking ways.
Mijia pressure cooker uses a 3.5mm thicker inner pot, more durable and also a sturdier top cast aluminium lock structure. Its bottom is a curved oxidised heating plate which is resilient and strong. It is basically the same inner port as Xiaomi smart rice cooker.
Mijia has various safety measures in place – strong and reliable structure, high-temperature seal ring, upper cover sensor, automatic exhaust system, misuse reminder, open unlock indication, power failure protection, multiple protection mechanisms.
You can control this pressure cooker via Mi Home App where you can configure the cooker settings easily and even remotely.
This Xiaomi cooker has no warranty. Buy at your own risk.
5. Butterfly Pressure Cooker 5.5 Liter – BPC-22A
Best gas stove pressure cooker in Malaysia
Butterfly pressure cooker is the best stovetop pressure cooker that we don't recommend. Because it is less convenient compared to electric pressure cooker. From RM89.
✔ Fast heating and fast pressure built up
✔ Can handle and carry with a single hand
✔ Cheap
✖ Not convenient
Butterfly pressure cooker is the best stovetop pressure cooker to buy in Malaysia. We picked this pressure cooker simply because this brand is more common in local market. Thus, its replacement part and warranty should be easier to obtain than other smaller or no brand pressure cookers.
However, we do not encourage modern home users to go for a stovetop pressure cooker because it requires manual intervention and monitoring of the cooking. We think it defeats the purpose of buying a pressure cooker to make preparing food faster and easier. And it also occupies one of your stove spaces.
One important advantage of using a stovetop pressure cooker is that the pressure can be built up really fast compared to an electric pressure cooker. And you can have the old-school manual control of the heat and pressure you wanted when cooking your food. So, only buy this cooker if you really think this is what you wanted and able to handle.
Butterfly pressure cooker is a basic yet functional pressure cooker for your cooking needs.
Competitions
Noxxa pressure cooker aka Amway pressure cooker. Honestly, I dislike 99% of MLM and direct sales product. This cooker is definitely one of those rebranded OEM products from China. If plan to get this cooker, better to buy the Midea MY-12LS605A 6.0L Stainless Steel Pot Pressure Cooker. They are basically the same except Noxxa is slightly bigger with 8L capacity. -Not recommended
Primada pressure cooker aka Goshop pressure cooker. The second type of product I despise is non-branded televised home shopping product. This is the same as many sketchy Facebook livestream shopping channel product. They target innocent housewives who don't know how to research and always create unnecessary urgency of sales to customers. With close to RM400 budget, Philips HD2137 is definitely a better choice. -Not recommended
Russell Taylors pressure cooker. I really admire the founder of Russel Taylors who always brings in China OEM products at very reasonable pricing. Those who are tight on a budget can consider it. The downside of buying a Russel Taylor product is their relatively poorer customer support and warranty claim. -Neutral
Sincero pressure cooker. Rebranded China OEM product with huge mark up? No thanks! Sincero, Sugawa, Vees and … They are all the same, get product from China. Rebrand it, advertise it, set up booth in shopping mall to push sales, sales stagnant, relaunch new brand. -Not recommended.
Tefal Smart Pro IH Multi-Cooker (CY638D). It looks fancy and premium. At the same time, it costs a bomb! Tefal product is usually of good quality and very well-built. But again, Philips HD 2137 is half of its price and slightly bigger too which we think is a better choice for most people. If you have a deep pocket, why not? – Neutral
Conclusion
In the foreseeable future, more people will choose to cook at home for both health and financial reasons. These best pressure cookers above definitely is a worthy investment if it helps you to cook more at home. The money you save from not spending on restaurant easily cover up the cost of the cooker itself.
If you're planning to buy more great kitchen appliances, remember to check out our best rice cooker, best air fryer, induction cookers, gas stoves, ovens, coffee machines and indoor water filters.