Searching for the best pressure cooker? I have checked out more than 20 different pressure cooker brands and models and concluded that the Midea MY-D6004B is the best choice for its price.
A pressure cooker is a huge time saver and a must-have in any kitchen. Using high-pressure cooking can easily cook food 2 to 5 times faster than normal cooking.
What are the best pressure cookers in Malaysia?
To be honest, most pressure cookers ranging from RM150 to RM1,000 are able to cook dishes similarly well.
The more expensive electric pressure cookers usually are more versatile and have better build quality. These premium pressure cookers (multi-cookers) allow you to do a variety of things in one pot, such as slow cook, saute, steam, cook rice, fry, boil soup, and even make yoghurt.
Here are my 5 top pressure cookers in Malaysia:
---
1. Midea MY-D6004B
Best Affordable Pressure Cooker
4.9 out of 5.0 stars | 302 ratings 
Best deal on Lazada Best deal on Shopee
In 2022, the Midea MY-D6004B pressure cooker is my pick for the best budget pressure cooker in Malaysia. My previous pick was Midea MY-CH502A which is without digital display and less function but cheaper by RM50, at only RM150+.
The main reason for the recommendation of the Midea MY-12LS605A pressure cooker is it comes with stainless steel inner pot and a new 8-in-1 cooking function.
You can use it to cook rice, saute, keep warm, boil soup, steam fish, slow cooking, high-pressure cooking, and make yogurt. Many budget pressure cookers don't have the saute feature.
The saute feature in the pressure cooker is it can heat up without closing its lid. So users can fry or saute food in it.
Furthermore, the stainless steel inner pots are inherently more durable than non-stick inner pots as well.
The overall size and capacity of Midea MY-D6004B are larger too. It has a total capacity of 5.7 litres. It has a maximum cooking pressure of 70KPa.
Additionally, there are 15 preset menus on this menu, compared to only 7 preset menus on the Midea MY-CH502A.
The preset menus include meat, poultry, vegetables, steam, saute, slow cook, white rice, brown rice, beans, broth, curry, soup, multigrain, congee and yogurt.
Without the need for an oven or air fryer, you can now even bake a cake with a pressure cooker. Check out the video below:
One more thing, it may come as a surprise to many people that the ever famous Instant Pot brand is actually manufactured by Midea. Instant Pot is often regarded as the best pressure cooker in the United States.
In fact, Midea manufactures many household products for a number of international brands.
Albeit this is a budget pick, it is filled with 9 great safety mechanisms – pressure limiting, anti-clog, pressure leakage protection, open cover detection and protection, temperature limiting, over-temperature protection, pressure control protection and over current protection.
You can buy the Midea MY-D6004B at around RM200 on Shopee and Lazada. But, surprisingly, the official Midea store is selling it for RM459 which is more than double what normal sellers are selling.
---
2. Philips HD2139
Overall Best Electric Pressure Cooker
4.9 out of 5.0 stars | 296 ratings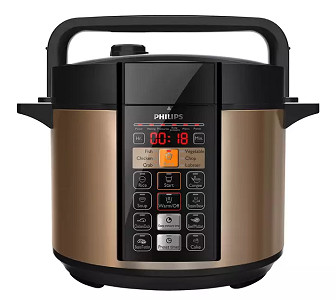 Best deal on Lazada Best deal on Shopee
Philips HD2139 is a great choice for many with advanced features like 24 hours preset-timer and 12 hours keep warm. These features are usually absent in the budget range pressure cookers.
This Philips Electric Pressure Cooker HD2139 is a stylish, 6.0 litres multi-cooker with distinct champagne and black colour design.
It comes with 14 pre-set menus you can choose from. Everything can be automatically configured so you don't have to tinker with the input parameters. 
The preset menus include rice, soup, congee, chicken/duck, beef/mutton, beans/tendons, cake, fish, chicken, crab, vegetable, chop, and lobster.
This unit comes with a 6L detachable non-stick inner pot, rice paddle and ladle, measuring cup and manual. 
For any pressure cooker, safety is of utmost importance and this HD2139 is packed with many safety mechanisms. 
One of the most notable safety features of Philips HD2139 is its automatic pressure-release mechanism. The pressure regulator valve releases steam automatically if there is abnormally high pressure inside the cooker.
Philips HD2139 has a 2-years general warranty. And one last reminder, if you prefer stainless steel inner, you can buy it as an add on.
---
3. Philips HD2137
Best Large Multi Pressure Cooker
4.7 out of 5.0 stars | 1840 ratings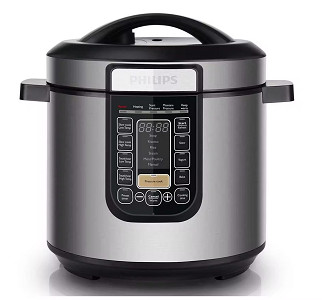 Best deal on Lazada Best deal on Shopee
With a capacity of 6L, Philips HD2137 is the best all-in-one pressure cooker. It is the upgraded version of HD2139. It comes with additional pre-set menus and additional cooking features such as slow cook, saute/sear, and yogurt.
This pressure cooker is actually quite a good bargain, despite being more expensive. 
Considering the Philips HD2137 with stainless steel inner pot costs RM467 whereas Philips HD2139 add on stainless steel inner port(own purchase) already costs almost RM500. 
Check out the comparison for Philips HD2137 vs HD2139
| | | |
| --- | --- | --- |
| Features | Philips HD2137 | Philips HD2139 |
| Capacity | 6L | 6L |
| Inner pot | Nonstick (free 1 stainless steel pot) | Nonstick |
| Saute | Yes | No |
| Slow cook | Yes | No |
| Yogurt | Yes | No |
Being a multi-functional cooker, it is able to cater for multiple types of cooking methods: slow-cooking (up to 12 hours), fast pressure cooking (via the direct menu buttons), multi-cooking (baking care, yogurt), and saute up to 2 hours.
The package comes with a steaming basket, measuring cup, spatula, recipe and manual books. 
This cooker boasts 9 safety features. Steam pressure will be automatically released once cooking if it detected abnormally high pressure. 
And it has a progress bar to show the stages of cooking. So no more second guesses, which is wonderful for many newbie pressure cooker users.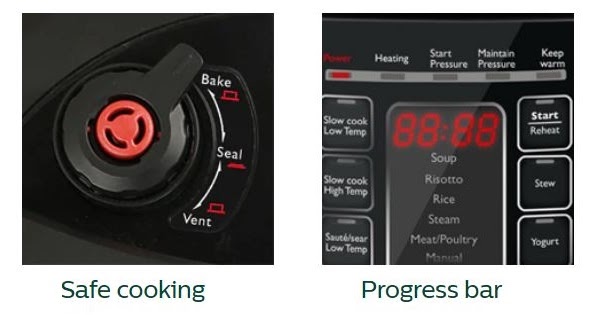 Philips HD2137 comes with a 2 years international warranty.
---
4. Xiaomi Smart Pressure Cooker
Best Mini Pressure Cooker
5.0 out of 5.0 stars | 30 ratings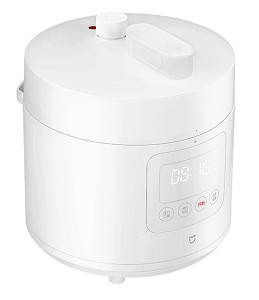 Best deal on Lazada Best deal on Shopee
First and foremost, this is not only a mini pressure cooker but also a smart pressure cooker that you can control through Mi Home App.
If you live in a studio apartment or have a small kitchen, this pot is perfect for you.
The best selling mini 2.5L pressure cooker on Shopee is the Primada Intelligent Pressure Cooker. But I don't recommend buying the Primada Pressure Cooker,
In the first place, the Xiaomi Mini Cooker costs the same as Primada, however, Xiaomi's is the only WiFi-connected smart pressure cooker that you can control with a smartphone.
Second, Xiaomi product always comes with great packaging and high product quality control. That means you are less likely to encounter a damaged or defective product.
And the Xiaomi pressure cooker supports slow cook, normal cook, and high-pressure stewing.
Additionally, it can cook food without closing the lid. Hence, it is great for searing, saute, and even steamboats.
Xiaomi's pressure cooker 2.5L comes with 8 safety features: overheat protection, auto pressure relief, dry heating protection, etc.
It has a unique pressure release button which I think is very considerate. The button is located far away from the pressure valve. So, no worries about accidental burn in order to release pressure.

However, the Xiaomi Pressure Cooker has some shortcomings. 
For example, the menu and manual are available only in the Chinese language. If you can't read Chinese, you will need to use Google Lens or any translator app to translate it.
Also, it uses a Chinese plug. In order to use this cooker, we will need to use it with a plug adapter.
The Xiaomi Pressure Cooker is available in 2.5L and 5.0L versions. The 5.0L version comes with two inner pots instead of one, which makes it a compelling purchase as well.
---
5. Butterfly BPC-22A
Best Stovetop Pressure Cooker
4.8 out of 5.0 stars | 105 ratings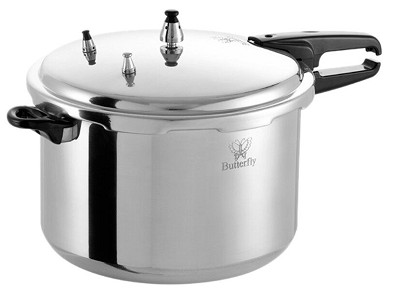 Best deal on Lazada Best deal on Shopee
Butterfly pressure cooker is the best stovetop pressure cooker that we don't recommend. Because it is less convenient compared to the electric pressure cooker. 
The reason we selected this pressure cooker is its reliability and more accessibility. Replacement parts and warranty claims should be more easily accessible.
However, we do not recommend stovetop pressure cookers because they require manual intervention and monitoring while cooking. 
It defeats the purpose of buying a pressure cooker to make food preparation faster and easier. Also, it takes up one of your gas stove spots.
When using a stovetop pressure cooker, you can build up the pressure much faster than with an electric pressure cooker. 
You can also control the temperature and pressure of your food manually, as in the old school way. 
So, I recommend you only purchase this cooker if you are sure you want it and can handle it.
Without a doubt, the Butterfly pressure cooker is a simple yet functional pressure cooker for your cooking needs.
---
Competitions
DESSINI ITALY 10-in-1 Pressure Cooker Review
Dessini pressure cooker is the current no.1 best-selling pressure cooker on Shopee. It is no surprise to see it being the best-seller as it is really cheap at only RM126.
I don't recommend buying this brand though. Because it has a very high rate of damaged items, missing items and defective product complaints in its review.
Going for the Midea MY-D6004B which is a more established brand is a smarter option. It is less risky and saves you troubles from unnecessary warranty claims.
Noxxa Pressure Cooker Review
Noxxa pressure cooker aka the Amway pressure cooker. Honestly, I dislike 99% of MLM and direct sales products. This cooker is definitely one of those rebranded OEM products from China. 
If plan to get this cooker, better to buy the Midea MY-D6004B. They are basically the same except Noxxa is slightly bigger with an 8L capacity. But Midea MY-D6004B is more than three times cheaper than the Noxxa pressure cooker.
Primada 6L PC6010 Pressure Cooker Review
Primada PC6010 pressure cooker aka Goshop pressure cooker. The second type of product I despise is non-branded televised home shopping products. 
This is the same as many sketchy Facebook livestream shopping channel products. They target innocent housewives who don't know how to research and always create unnecessary urgency of sales to customers. 
With close to RM400 budget, Philips HD2137 is definitely a better choice
And the Primada 2.5L Intelligent pressure cooker is also not worth it as it lacks many functions in comparison to Xiaomi Pressure Cooker 2.5L.
Russel Taylor Pressure Cooker Review
I really admire the founder of Russel Taylors who always brings in China OEM products at very reasonable pricing. Those who are tight on a budget can consider it. 
The downside of buying a Russel Taylor product is their relatively poorer customer support and warranty claim. -Neutral
Sincero Pressure Cooker Review
Sincero pressure cooker is yet another rebranded China OEM product with a huge markup? No thanks! Sincero, Sugawa, Vees and … 
They are all the same, get the product from China. Rebrand it, advertise it, set up a booth in the shopping mall to push sales, sales stagnant, relaunch the new brand. -Not recommended.
Tefal Home Chef Multicooker CY601D65 Review
The new Tefal Home Chef Multicooker CY601D65 looks much similar to Philips HD2137. It has a sleek, glossy black colour design and is cheaper too!
This set comes with one stainless steel pot and one non-stick pot which is really great value for money.
It has 15 pre-set programs and 2 special functions, including adjustable cooking time and temperature, slow cook, saute, sous vide, abalone and more.
It also has an easy release button that is further away from the pressure valve, which is great for safety.
We all know Tefal is a reputable kitchenware brand, so I would recommend you to check it out.
La gourmet Healthy Pressure Cooker Review
The prices of La gourmet products are slightly higher than the average market standard. This Healthy Pressure Cooker is no exception.
It is a multicooker similar to Philips HD2137 and Tefal CY601D65. However, this dark black La gourmet pressure cooker is more than twice as expensive as others at RM1199.
It comes with plenty of extra accessories such as a 6L nonstick inner pot, stainless steel steamer, measuring cup, rice spoon, 6L SUS 304 stainless steel inner pot, stainless steel steaming bowl, 24cm tempered glass lid, ceramic pot and stainless steel tong.
It has a one-touch pressure release button at the handle similar to the Tefal pressure cooker.
The La gourmet cooker isn't worth getting unless you like this brand or if you want to cook with a ceramic inner pot (which is hard to find in other brands).
---
Pressure Cooker FAQ
Which brand of pressure cooker is best in Malaysia?
Philips pressure cooker is the best in Malaysia. Midea is the most affordable brand.
Is Philips pressure cooker good?
Yes, the more expensive model Philips HD2137 is a multicooker that can fulfil all your cooking needs. It can slow cook, high-pressure cook, normal cook, open lid cooking, boil soup, baking cake, and make yogurt.
Is Tefal pressure cooker good?
Yes, the Tefal pressure cooker is very well-built and has many safety features. It is a very capable multicooker.
Which type of pressure cooker inner pot is best?
Stainless steel inner pot is the best. Nonstick inner pot is easy to clean but it is not as durable because the coating can be damaged due to wear and tear.
Is Noxxa pressure cooker good?
No, I think it is too expensive for what it offers. The usual brands like Tefal and Philips are better choices.