In Malaysia, wireless broadband has become the only option in many rural areas and newly developed areas that do not have access to fibre broadband. 
In many cases, Unifi and Maxis broadband applications failed due to "Unifi/Maxis ports not available at this time".
Home wireless broadband is the best alternative solution to this problem. 
Let's do a quick comparison and check out the pros and cons of each wireless broadband service in Malaysia.
Which is the best wireless broadband in Malaysia?
The best wireless broadband in Malaysia is Unifi Air which gives unlimited internet data with a speed cap of 20Mbps, at only RM79.
The best home wireless broadband should have unlimited internet data and fast internet speed. Unlike mobile phone internet, home broadband is usually used by multiple devices. As a result, the total bandwidth used will be extremely high.
That is why I put unlimited internet as my top priority and faster internet speed as a secondary priority.
Here are the 2 best wireless broadband for home in Malaysia:
Comparing the top 5 wireless broadband services in Malaysia
| | | | | | |
| --- | --- | --- | --- | --- | --- |
| Plan | Price | Data | RM per GB | Speed Limits | Contract |
| Unifi Air | 79 | Unlimited | – | 20Mbps | no contract, or 24 months (with router) |
| Maxis Home 4G WiFi | 138 | Unlimited | – | – | no contract, or 12 months (with  router) |
| Yes Zoom 4G Postpaid 68 | 68 | 70GB | 0.97 | – | 12 months |
| Celcom Home Wireless Family Lite | 100 | 100GB | 1.00 | | 12 months |
| Celcom Home Wireless Family Ultimate | 139 | 300GB | 0.46 | – | 12 months |
---
1. Unifi Air
Best Unlimited Wireless Broadband

Check on Unifi Check on Shopee
For most Malaysians, Unifi Air is the best wireless broadband because of its cheap pricing and unlimited internet data.
Unifi Air charges only RM79 for unlimited data whereas other wireless broadband services can easily cost more than RM100 and come with limited data.
Although it has a speed limit of 20Mbps, I still think it is the best among all the services available. Because wireless broadband relies on 4G LTE.
4G LTE connection is unlike fibre broadband that can offer consistent and stable internet speed. And many areas in Malaysia will not be able to get a full-speed 4G LTE connection. 
Hence, you may get uncapped speed on paper with Maxis Home 4G WiFi and Yes 4G. But in actuality, the internet speed still depends on your house location and router positioning. 
You may end up with an internet speed of 20Mbps or less.
So, it is not always necessary to go for wireless broadband that offers unlimited internet speed.
In fact, 20Mbps is sufficient to stream 4K video on one device or stream full HD videos on 4 devices concurrently.
As long as you're not always downloading big files or constantly watching 4K video, 20Mbps should be able to cater for most normal internet usage.
Unifi Air also has the advantage that there's no contract if you choose the SIM-only plan that doesn't include a wireless router. So, you can try out the service without being tied up with a contract for 24 months.
In case you're tech-savvy, I highly recommend you source and buy a reliable 4G wireless router on your own.
In case you don't want to mess with all the router setup thingy, then you can just sign up for a free wireless router plan. The contract is for 24 months.
The free wireless router is good for connecting up to 64 devices. So, it is still a pretty capable 4G wireless router.
If you are interested in applying for Unifi Air, make sure to check if your area is covered with the unifi 4G LTE coverage map.
If you're concerned about the 20Mbps speed limit, you should pass on Unifi Air. Instead, go with Maxis Home 4G WiFi.
2. Maxis Home 4G WiFi
Best High-Speed Wireless Broadband Plan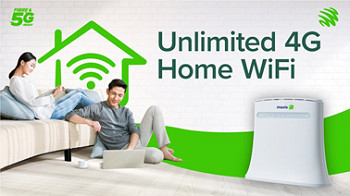 Check on Maxis Check on Shopee
Maxis Home 4G WiFi is the best high-speed wireless broadband in Malaysia. It is formerly known as MaxisONE GO WiFi. Both plans are similar but only with a new name.
The Maxis Home 4G WiFi costs RM138 per month which is almost double Unifi Air's price.
Maxis Home 4G WiFiis advertised as unlimited internet data and unlimited speed. But how true is this statement?

First, let us check out the claim for unlimited internet data. If you read the terms and conditions of Maxis Home 4G WiFi, it stated that:
if your data usage exceeds 300GB in a month, Maxis may at its absolute discretion limit the quality of video streaming to standard definition during peak hours
This means that it only caps the internet speed for watching YouTube, Netflix and other video streaming services. For information, the standard definition is equal to 480P.
Luckily, the speed limit does not apply to gaming, downloading and normal web browsing. So no worries for the gamers.
Check out a detailed user review below:
So, this could be a bothersome issue for some if you frequently watch videos in 4K. . 4K videos use about 7GB of data per hour, according to Netflix.com.
It will deplete the 300GB limit in about 45 hours of watch time. 
Next, you will need to verify the 4G internet speed in your area. For a quick check, you can use the Maxis network coverage map or OpenSignal mobile app to check.
You can buy a hotlink mobile prepaid plan with no speed cap to find out how fast your area's 4G connection can go.
Below is a video of a real user speed test with Maxis Home 4G WiFi.
The speed can reach up to 200 Mbps which is very good. But normally, 4G connection speed in Malaysia should range between 50Mbps to 100Mbps.
Similar to Unifi Air's contract, the Maxis Home 4G WiFi has no contract if you sign up for a SIM-only plan. And if you need the home router, then you can just top up RM1 per month which comes with a 12months contract.
This is a good choice as the 1-year contract is more advantageous because broadband plans in Malaysia change a lot in 2 years.
In my opinion, Maxis Home 4G WiFi is best suited for small households that require high-speed internet. 
Although 300GB of data is plenty, it can be used up really fast when you have multiple family members and multiple devices using the internet daily.
With that, it sums up the pros and cons of Maxis Home 4G WiFi. 
---
Competitions
Yes Zoom 4G Postpaid 68 Review
Yes, Zoom 4G is available in 4 different packages: Postpaid 68, 98, 128 and 148. The cheapest package is Postpaid 68 which charges RM68 for 70GB of data.
And it has an activation fee of RM50. Furthermore, there's a compulsory 12 months contract period.
As you can see above, the Yes wireless broadband package is rather expensive in comparison to Unifi Air and Maxis Home 4G WiFi.
And Yes 4G also has a poorer network coverage than a few other wireless broadband service providers.
So, I don't recommend Yes Zoom 4G wireless broadband plan.
Celcom Home Wireless Family Ultimate Review
Celcom Home Wireless 4G is available in 2 packages: Family Lite 100GB and Family Ultimate 300GB package. These plans cost RM100 and RM139 respectively. 
Without a doubt, the Celcom Home Wireless Family Ultimate is a better deal. But it comes with an 18 months contract while the Celcom Home Family Lite comes with a 12 months contract.
One good thing is it has a 7 days return policy. So you can try it out and return it immediately if it doesn't suit you.
Compared to Maxis Home 4G WiFi, the Celcom Home Wireless Family Ultimate is less preferred as it has a longer contract period and a hard limit on data usage.
However, this plan remains a good alternative to Maxis Home 4G WiFi for those who need high-speed internet but are not covered under the Maxis network and Unifi Air.
Celcom Home Wireless XL Review
Celcom Home Wireless XL costs RM150 for 150GB of data and 1TB video walla streaming data. This plan is great for those who watch online videos a lot.
But it is no longer available on the official Celcom website.
Digi Postpaid Infinite 150 Review
Digi Postpaid 150 costs RM150/month and gives 85GB of data. It is upgradable to unlimited internet with a free add-on.
But it isn't a dedicated wireless broadband plan. It is a mobile phone package. Some users use this plan with a 4G wireless router for home broadband.
But it seems that this plan is no longer available for new registration as well.
---
Wireless Broadband FAQ
Is wireless broadband good?
Yes, wireless broadband is good for normal web browsing, working, video and online conferences. It is less ideal for gaming as its latency is unstable in comparison to fibre broadband.
Which is the fastest wireless broadband in Malaysia?
According to my findings, Maxis Home 4G WiFi has the fastest internet speed. Its speed ranges between 50 to 200 Mbps. Actual performance varies according to location.
Which is the best wireless broadband in Malaysia?
Unifi Air is the best wireless broadband in Malaysia because it is the only truly unlimited wireless broadband plan in Malaysia. It has a speed cap of 20 Mbps