In recent years, many flagship smartphones including iPhone 13 and Samsung S21 have removed the headphone jack. 
Wireless earbuds is no longer optional but a necessity for earphone lovers. True wireless stereo earbuds or TWS earbuds are awesome because there's no wire dangling around you all the time. 
Both wireless earbuds and smartwatch have become the must-have gadgets for modern days fitness geek.
Even if you're just a casual user, wireless earbuds provide a better listening experience.
However, it difficult to pick the right wireless earbuds when their price varies greatly, from RM50 to RM1,000+.
So, here we have shortlisted the 7 best wireless earbuds for Malaysians :
---
Important notes: 
If you're Apple iPhone owners and don't have an issue with AirPods price tag. I believe AirPods and AirPods Pro give the best overall user experience in terms of sound and microphone quality for iPhone.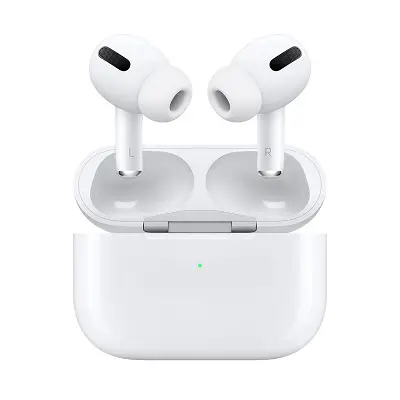 Check price on Lazada Check price on Shopee
---
---
1. Galaxy Buds Plus
Best all-rounder Bluetooth wireless earbuds
The Samsung Galaxy Buds Plus are an upgraded version over the original Galaxy Bud. They are the perfect AirPods alternative for Android users. It is simply the best all-around earbuds, though it doesn't have active noise cancellation.
Samsung Buds Plus Features Highlight:
Balanced and neutral sound profile
Battery Life: Up To 11+11 Hours (Earbuds+Charging Case)
Water splash-proof
Qi Wireless Charging
Spotify integration
Customer's Positive Review:
The product is good for its price point. The pocketable size and type-c port are definitely the plus point of this product. Suitable for people who prefer to travel light
Customer's Negative Review:
Sound quality is just ok. phone call quality sucks.DO NOT use this for phone call. No one can hear me from the other side.
Equipped with the new dual-driver system (tuned by AKG), each of the Samsung earbud contains a dedicated woofer and tweeter, thus producing an impressive, consumer-friendly sound with minimal distortion.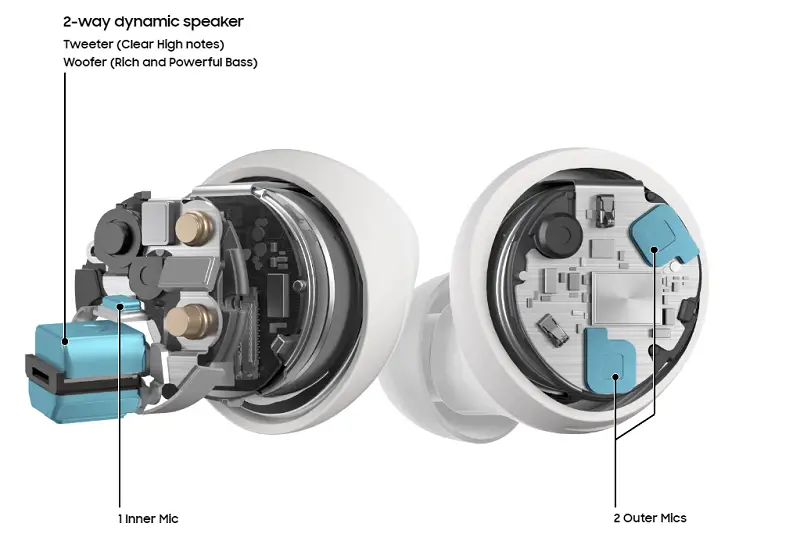 The sound quality is incredible with clear and crisp details. They offer a neutral and balanced sound profile that is suited for different genres of songs and content.
In terms of phone call sound quality, Samsung Galaxy Buds Plus built-in with a three-microphone array: two outer and one inner microphone which work in tandem for clearer voice transmission. 
These earbuds are 6.3 g each and 39.6 g for the charging case. They are rated IPX2 for splash resistance. Within the box, there are 3 sizes of eartips & wingtips.
Compared to other wireless earbuds which last 6-8 hours, the Samsung Galaxy Buds Plus battery life is amazing because it lasts around 11 hours and 44 minutes.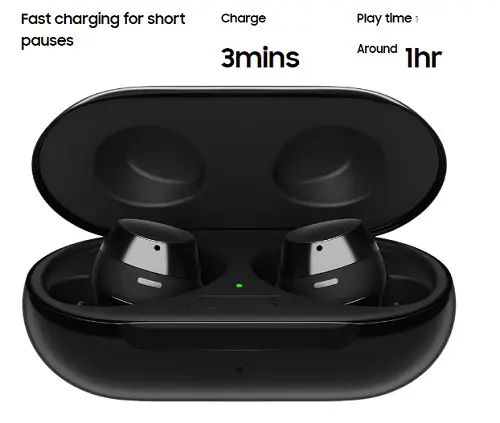 However, its charging case only provides a single extra charge cycle, which isn't great. But it is the trade-off we make when getting such a compact case. 
The charging case is Qi-certified which can be charged through wired or with wireless charging pad.
A highlighted feature is that all Samsung Galaxy Buds support one-touch Spotify playback with Android smartphones.
For Samsung smartphone owners, there's a gaming mode in the Galaxy Wearables App which is supposed to reduce latency or sound lag while playing games.
Within the app, there are a bunch of customizations that can be done for the Samsung earbuds too.
Galaxy Buds + Plus is the best wireless earbuds for most people for its versatility and pricing. There's just one thing to take note, it has not active noise cancellation.
Due to high volume of counterfeit earbuds in the market, it is advisable to only buy wireless earbuds from LazMall or ShopeeMall merchant. It comes with 1 year local manufacturer warranty.
Best deal on Lazada Best deal on Shopee
---
2. Jabra Elite 75T
Best premium low latency wireless earbuds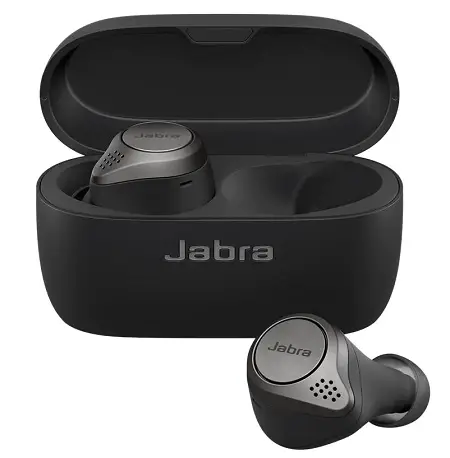 Hailing from Jabra which is well known for its audio gear, this Jabra Elite 75T is our best full-featured AirPods pro alternative. It is the improved and upgraded version of the popular Jabra 65T model.
And it is the one and only non-Apple earbuds that support multipoint connectivity. You can connect it with different devices like laptops, smartphones of the different manufacturer without breaking a sweat.
They are light at 5.5g each and 35 g for the charging case.
Jabra Elite 75T Features Highlight:
Lightweight and premium-built
IP 55 rating, splash-proof
Rich and well-rounded sound
Good equalizer customization in Jabra Sound+ app
HearThrough Mode
Passive & Active Noise-Cancellation
Battery Life – Up To 7.5 + 28 Hours (Playtime + Charging Case)
Customer's Positive Review:
Jabra product is quality assurance either for sound or earpiece itself. Jabra Elite Active 75t is the best in-ear earbud I used compared to other famous brand products.

Sound is terrific superb and it is very light. Easy and convenient for daily or sports activity. Worth to buy it. I became a loyal customer after trying it.

For those who hesitate, just give it a try and you will experience a real user friendly and quality product experience
Customer's Negative Review:
-None
First of all, it offers an excellent sound quality as you might expect. The sound is both rich and well balanced, and the bass is incredible for a pair of earphones that are so compact.
The microphone works well for phone call too.
However, it does pick up a fair bit of background noise just like any other earbuds. It is an unavoidable common problem for all wireless earbuds.
The Jabra Elite 75T has a good fit with rubber-like grips and is extremely comfortable to wear. The earbuds feel well-made and durable.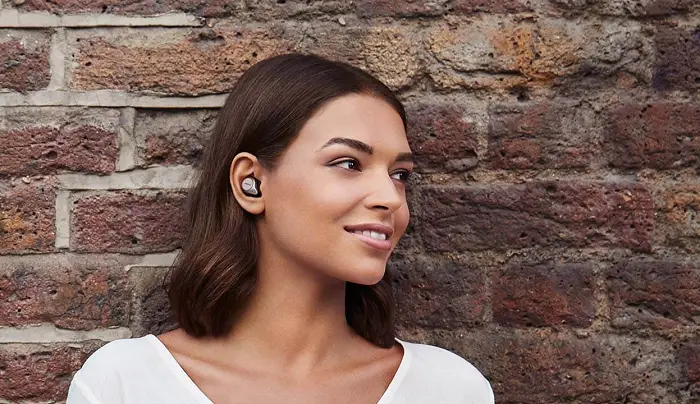 It is rated IP55 and designed to be sweatproof, water-resistance, and workout-proof using the latest technology. 
Jabra Elite 75T uses physical button control for volume, answer calls, play music and so on. Personally, I think this is a plus point compared to the usually finicky touch control.
Its battery has been upgraded and the earbuds can now last for up to 7.5 hours. Along with the charging case, you've got a total of 28 hours of battery usage.
Jabra Elite 75T uses Bluetooth 5.0 that would take care of audio drop-outs and interruptions for a seamless experience. It supports up to 10 meters range. (Source: rtings.com )
The Bluetooth latency for Android and iOS connection is very impressive, both at below 100ms. So, it is good for watching videos or even gaming on phone.
However, the connection latency to the PC is a bit high at 280ms.
Jabra earbuds come with HearThrough mode which can be turned on and lets you hear surrounding sounds through the earbuds while you are wearing them.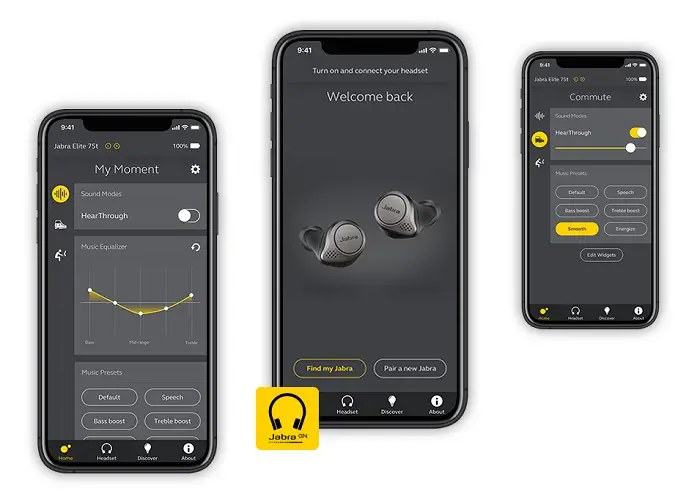 The Jabra Sound+ App allows you to customize the audio settings accordingly; supports iOS and Android too. And there is digital active noise cancellation (ANS) too.
I personally recommend picking up Jabra Elite 75T rather than the Elite 85T, since it's cheaper at RM699 versus RM1099. A whopping RM400 or 70% price increase.
Jabra Elite 85T is slightly improved in almost every aspect and has hybrid ANC. But it has a poorer IPX4 rating, which means it is not tested for dust-resistance. 
All Jabra wireless earbuds comes with 2 years warranty from local manufacturer.
Best deal on Lazada Best deal on Shopee
---
3. Sony WF-1000XM3
Wireless earbuds with best sound quality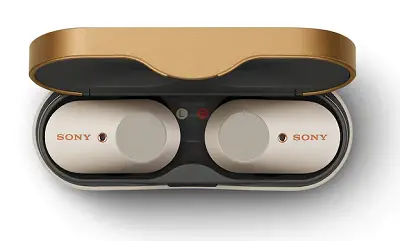 Sony means business when it comes to headphones and earphones. Sony WF-1000XM3 is no exception which an audiophile should not miss.
Sony WF-1000XM3 Features Highlight:
Well-balanced sound profile
Battery Life: Up To 6 + 24 Hours (Playtime + Charging Case)
Digital Noise Cancelling feature
Quick Attention function
Customer's Positive Review:
nicely packaged, next day delivery 👍

Probably the best wireless noise canceling earphone, especially for vocal, and instruments separation. 🎧

Sound quality is much better than Galaxy Bud and Airpods Pro. Also, great Bluetooth connection, very stable and great range. MADE IN MALAYSIA !!
Customer's Negative Review:
Poorer connectivity with the iPhone. Heavier and chunkier, and so not recommended for exercising.
The Sony brand is always equivalent to premium quality and solidly-built products. Sony WF-1000XM3 is deemed as one of the best true wireless earbuds in the market.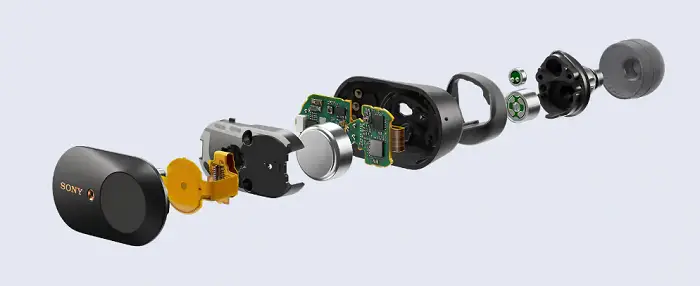 They have a powerful 6mm driver, delivering high-quality audio that is rich and captivating. The sounds delivered are of the quality of high-resolution audio.
It uses DSEE HX sound enhancement engine which upscales compressed digital music files, bringing them close to HD Audio quality.
The ergonomic fit of the earbuds gives great comfort wearing and also helps isolate background noise at bay.

Basically, it means you get clear and rich sounds without having to turn on active noise cancellation.
However, these are chunkier and heavier at 8.5 g each and 77g for the charging case.
One thing to note that this earbud has no official IP rating. Hence, I will not recommend getting a Sony WF-1000XM3 for work-out purpose.
Sony WF-1000XM3 has one of the best-in-class wireless noise-cancelling performance.
The noise-cancelling capability with HD Noise-Canceling Processor QN1e and Dual Noise Sensor Technology help capture the ambient noises and cater to the best noise-cancellation scenario for each situation. 
The phone call performance is adequate but not amazing. Caller on the other end may have a hard time to hear you when you're calling from a crowded place.
This Sony WF-1000XM3 has a battery life of up to 32 hours – 6 for the earbuds and around 24 for the case – practically lasting more than one whole day.
Sony WF-1000XM3 is compatible with Sony's Headphone Connect app, which lets you customize lots of audio options as well slider for the noise cancelling and ambient sound control.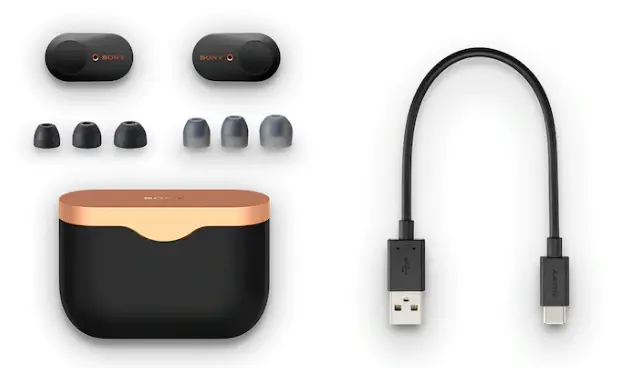 In the box, they included 3 sizes of triple comfort earbuds and long hybrid silicone rubber earbuds as well as USB-C cable.
Sony WF-1000XM3 is a solid true wireless earbuds which spots well-balanced sound profile and premium design.
Best deal on Lazada Best deal on Shopee
---
4. Sudio TOLV
Best wireless earbuds with graphene driver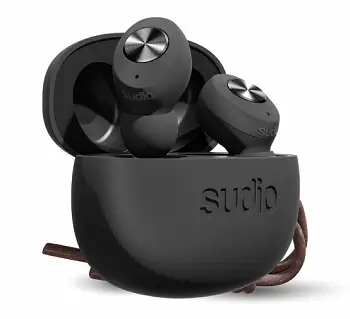 Sudio TOLV is another great pair of earbuds worth paying attention to. It is a Swedish brand known for making elegant minimalistic audio gear, particularly wireless earbuds and headphones.
Sudio TOLV Wireless Earbuds Features Highlight:
Battery Life – Up To 7 + 28 Hours (Playtime + Charging Case)
Good Wireless Range – 15 m
New graphene driver – enhance audio capabilities
Customer's Positive Review:
Everything is good. The sound is good, I like it very much. Most importantly It's very handy. I'm very satisfy with it. 👍🏼👍🏼👍🏼
Customer's Negative Review:
Poor microphone quality. Cannot hear anything when talking on call.
Each TOLV earbud weighs 4.5g and spots a wireless range of approximately 15m, running on Bluetooth 5.0.
They are compatible with all iPhone and Android devices. The pairing is straightforward; remove the earphones from the case and search for nearby devices on Bluetooth.
The earphones fit very well in the ears, and are very comfortable. The built-in microphone on each earpiece allows them to function as Bluetooth headsets for calls. 
Sudio claims to provide 7 hours of playtime, along with the charging case, you get a total of 35 hours of battery life.
Fitted with a new graphene driver, which unlike the usual neodymium driver, it was noticed that there was a big improvement in terms of its audio capabilities. The sound was fuller, more dynamic and louder. 
The Sudio TOLV does not overpower low and high frequencies and emphasizes slightly on mid-frequency ranges. However, the sound struggled a little on the higher frequencies. 
Unfortunately, these earbuds do not come with APT-X support. And there's no active noise cancellation feature with this Sudio earbuds.
One more thing, its bad microphones could be a deal-breaker for many. Voice call often sounded distorted and callers would not be able to hear clearly.
The Sudio TOLV Wireless Earbuds are perfect for anyone who wants graphene earbuds at a reasonable mid-tier price.
It comes with 1 Year Local Supplier Warranty.
Best deal on Lazada Best deal on Shopee
---
5. Tronsmart Spunky Beat
Affordable & convenient true wireless earbuds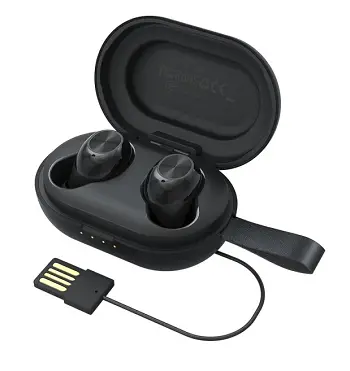 Tronsmart has long been in the market for its audio devices. The Tronsmart Spunky Beat earbuds are light at 4.8g. They are very compact and even smaller than the Redmi Airdots. 
Tronsmart Spunky Beat Features Highlight:
Very compact design with built-in charging wire
IPX5 rating
Detailed sound with a good amount of bass
Quick charging – 1 Hour playtime after charging for 5 mins
Battery Life – Up To 7 + 24 Hours (Playtime + Charging Case)
Three Decoding Modes – aptX, AAC, and SBC
Customer's Positive Review:
I just tried it out for a couple of hours since it arrived and the sound quality is amazing, I have not tried many earphones but I could tell I did not waste my money buying this.

The sound quality was clear, the bass is nice, it even has mono/stereo pairing, the battery lasts for a few hours then need to be charged (just put it back in the case if it is already charged up) and the earphones are magnetic and stick to the case!
Customer's Negative Review:
1)The Bluetooth transmission is not really very stable; you will get the occasional annoyance of lost connection for a split second. Not sure if my set is faulty as I can't go out and return the unit for a replacement due to the covid 19 lockdown.

2) Because they are so small and the touchpad are sensitive, I keep giving all kinds of unintended command while trying to insert them into my ear.
Tronsmart Spunky beat has surround sound that is detailed with strong and deep bass. So, for the mid and high frequencies, the sound is great and natural.
The sound stage is wide and pretty impressive.
However, the Tronsmart Spunky Beat can sound harsh at higher volumes.
Although these earbuds claimed to comes with clear voice capture (CVC) noise cancellation, the microphone quality was found to be average.
They are rated IPX5, which makes them resistant to water splashing. A small but clever addition is the integrated charging wire with a USB-A connector at the bottom of the case. So, you can easily charge it with a powerbank or your laptop.
These Tronsmart earbuds spot the Qualcomm QCC3020 chip and aptX audio technology. Therefore, connection via Bluetooth 5.0 would be a breeze. It has fast, stable and low latency connection for up to 15 metres
The wireless earbuds have a good battery life. At maximum volume, the earbuds worked for about 5 hours and 45 minutes and up to 24 hours with charging case. Also, Tronsmart Spunky Beat's 5-minute charge lasts for over an hour at 50% volume.
It feature responsive touch control which has has a wide functionality. Users can use it for turn on/off, activate voice assistant, answer calls, playing music, next track and so on.

Overall, Tronsmart Spunkybeat is a pair of good affordable mid-range earbuds. It should be adequate for most people. Take note that this earbuds do not come with active noise cancellation.
This comes with 1 Year Local Supplier Warranty. 
Best deal on Lazada Best deal on Shopee
---
6. Edifier TWS200
Best Airpods-like alternatives with great call quality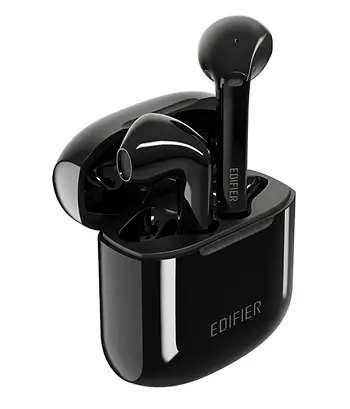 Edifier TWS200 is a great Airpods-like earbud with amazing call quality. It is also known as Edifier Lolipod.
Edifier TWS200 Features Highlight:
Qualcomm aptX Audio Decoding 
IPX4 Dustproof and Waterproof
CVC 8.0 Dual-Mic Noise Cancelling
A3DP, AVRCP, HFP, HSP
Battery Life – Up To 6 + 18 Hours (Playtime + Charging Case)
Customer's Positive Review:
So far selepas guna lebih sminggu, overall is okay.

Calling experience is great 9.5/10. Music experience not so great but acceptable 8/10. Bass 6.5/10. About latency when playing game, so far i didn't notice any latency, it is great gaming experience 9/10. Same goes to when watching movies, no latency.

So, overall is it good/ worth buying below RM200 budget.
Customer's Negative Review:
At first i thought it was great. But it turned out to be just OK, after several usage. Kadang2 kalau dengar lagu, bunyi tersangkut2. kejap dengar, kejap tak. kalau jogging lagi stress. Music on-off.

So, for the price I paid, 2 stars would suit it benefits. if it retails at a lower price, 3 star might be possible.
The charging case looks similar to Apple Airpods but is a little shorter, with a micro-USB plug on the bottom. Thumbs down for the micro-USB port though.
It lasts for about 6 hours for a single charge and the charging case can support up to 3 full charges. It takes about 90 minutes to charge the earphones.
These earbuds sit snugly outside your ears and thus will not block your ear canals. This gives a less stuffy feeling. For some, they may prefer this. You'll still be able to hear sounds from your surrounding.
With a 13mm dynamic driver and Qualcomm QCC3020 inside of it, the sound quality is pretty much true-to-life with good depth and surround.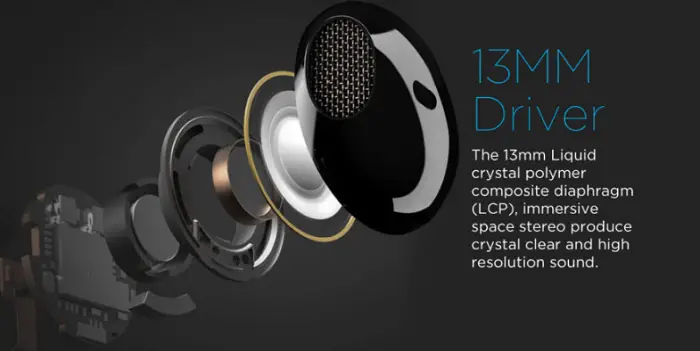 Bass is there with good mids and highs. But there are reviews that complain the bass could be a bit too overwhelming.
Sound latency is a known issue, no problem for watching video or listing to music. It could be obvious when playing FPS mobile games.
Edifier TWS200 has an extended microphone stem, which brings the microphone nearer to your mouth so this allows a clearer and better call quality. The call quality is overall better than many in-ear earbuds.
If call quality is a priority, TWS200 is a good earbuds for that purpose. This comes with 1 Year Local Manufacturer Warranty.
Best deal on Lazada Best deal on Shopee
---
7. Xiaomi Haylou GT1 XR Bluetooth Wireless Earphones
Best cheap true wireless earbuds Malaysia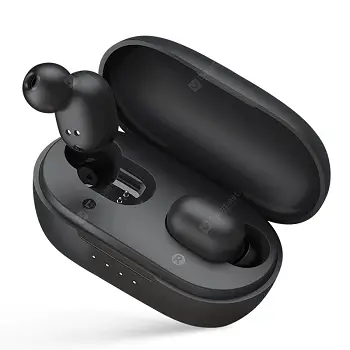 The Xiaomi Haylou GT1 XR is without a doubt the best cheapest wireless earbuds. Fitted with a new Qualcomm chip, these earbuds offer lower latency audio with less lag. 
Xiaomi Haylou GT1 Features Highlight:
Lightweight and compact
aptX+AAC suported
Lower latency audio with less lag
Battery Life – Up To 5 + 31 Hours (Playtime + Charging Case)
Customer's Positive Review:
So far im really love this product. It delivered all my expectations. Build quality, sound quality, mic quality, all is good. One of the best mic compare to my other wireless earbuds. Check vid for mic quality.
Customer's Negative Review:
Agak kecewa dengan built quality… Material nampak murah..buka tutup case mcm x best… Tak mcm case edifier x3… Sound ok… Selesa pakai… Cuma design earbuds ni mcm x menarik sgt… Function semua ok… Percuma cover case yg smart
So, if you're into gaming but with limited budget and watch videos often, this may be the one for you. Its price is around the same as the Xiaomi Redmi Airdots. Its transmission distance is pretty good at 10m (barrier-free). 
The Xiaomi Haylou GT1 is very compact and weighs just 4g. They fit nicely into your ears and they do hide out of sight pretty well.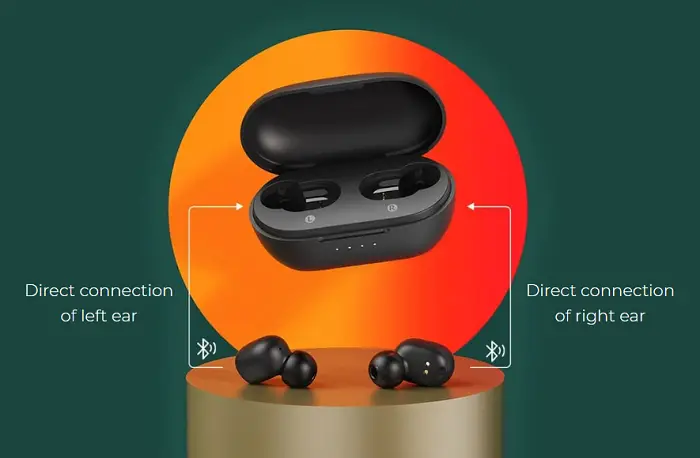 It is rated IPX5 so it is suitable for workout, jogging seesion..
Despite it having a smaller built-in Li-Ion battery, you can get about 5 hours of playtime and 36 hours in total if you include the case battery.
And the new updated charging case comes with battery level indicator, taking out the guessing game of balance of battery power.
For the very affordable price, this is a good buy, excellent for your workouts as well as office use too.
This comes with 1 Month International Seller Warranty. Unfortunately, they don't provide a local warranty.
Best deal on Lazada Best deal on Shopee
---
Competitions
Edifier X3 – Recommended
Edifier X3 is highly recommended among various online reviews. They are selected as the best ultra-cheap wireless earbuds by scarbir.com that specialized in revewing TWS earbuds under USD 100. Price-wise, it is more expensive than Haylou. You may grab it if it is onsale.
Oppo Enco W51- Recommended
Oppo Enco W51 is an excellent pair of wireless earbuds for everyday use, even with a few minor issues with controls. It adopts an Airpod-ish design. The sound is great.
The two biggest strength of W51 are its solid active noise cancellation (ANC), and maybe the best call quality you can find on earbuds of this price range.
Samsung Galaxy Buds Pro- Neutral
If you like Samsung brands and the Samsung Ecosystem, Galaxy Buds Pro is great and even comes with active noise cancellation. However, given the similar price point, Jabra Elite 75T is a better buy.
Anker Soundcore Series TWS Earbuds- Recommended
Most of the Anker Soundcore Earbuds are built of great quality. They sound amazing, comfortable to wear, and has a consistent & stable connection with little dropout. Soundcore Liberty Air 1 is many people's favourite Anker earbuds.
Ugreen Hitune- Neutral
Ugreen Hitune boasts a 7 hours of playtime which is ahead of its competitor like Xiaomi. The sound of the Ugreen HiTune is pleasant but doesn't really stand out. Only recommended if play time is a concern.
QCY Earbuds- Recommended
QCT, the ever famous audio gear brands that is known for its super affordable price, yet comes with superior audio quality. Most QCY earbuds are really value for money. The only gripe is no local warranty support.
Aukey EP-N5 wireless earbuds – Recommended
Aukey EP-N5 is the cheapest wireless earbuds with moderate Active Noise Cancelling feature . But keep in mind that the ANC feature is entry-level and not comparable to higher-end ANC earbuds.
The sound quality is good in overall.
Miscellaneous no-name brand- Not Recommended
There're tens or hundreds of different TWS earbuds brand popping up every now and then. But always remember that you pay what you get. And most of the time good stuff isn't cheap. Better to allocate some budget to get a wireless earbuds from established brand mentioned in thie article.
---
TWS Wireless Earbuds FAQ
What is an IP rating for earbuds?
Chart from taotronics.com above clearly explains IPX0 to IPX8 rating. And IP55 rated earbuds means they have been tested for dust and water resistance capability.
What is the best wireless earbuds in Malaysia 2021?
Samsung Galaxy Buds Plus is the best all-round in-ear earbuds.
What are the best wireless earbuds for money?
Xiaomi Haylou GT1 XR is the best wireless earbuds for money
---
References:
Scarbir.com
Rtings.com
Phiaton.com