Coway and Cuckoo are the most well-known water filter brands in Malaysia.
With thousands of agents and regular advertising campaigns featuring popular actors and actresses as ambassadors, it is impossible for anyone to not hear about these brands in Malaysia.
Coway is most well-known for its reverse osmosis (RO) water filter system, which can eliminate all kinds of impurities and contaminants from water. It lets users drink clean water without any worries.
But is it worth spending a few thousand ringgit on these Coway water filters? Let's check it out.
---
Coway Water Filter Price and Rental Price
The article will only cover Coway water purifiers for residential use and will exclude all floor-standing models, including Lucy Plus, Harry, and Core. And also exclude outdoor water filter models.
| | | | |
| --- | --- | --- | --- |
| Coway Water Purifier | Monthly Rental | Contract Period | Buy Outright |
| Cinnamon | 69 | 60 months | RM2490 |
| Neo Plus | 85 | 60 months | RM3640 |
| Glaze | 119 | 60 months | RM3900 |
| Kecil | 99 | 60 months | RM3590 |
| Villaem 2 | 120 | 60 months | RM3900 |
| Ombak | 140 | 60 months | RM4300 |
| Inception | 184 | 60 months | RM7070 |
| Ferry -discontinued | 66 | 60 months | RM2260 |
| Mate -discontinued | 65 | 60 months | RM2200 |
There is a complimentary 5-year service offered to customers who subscribe to any of the monthly rental plans.
---
Coway Water Filter Specifications and Comparison
We will compare these water filters on the type of filtration, tank capacity, and temperature options.
| | | | | | | | | |
| --- | --- | --- | --- | --- | --- | --- | --- | --- |
| Coway Water Purifier | Neo-Sense Filter | Nanotrap Filter | Plus Inno-sense | RO Membrane | NF Membrane | Antibacterial filter | Tank Capacity | Temperature |
| Cinnamon | Yes | – | Yes | Yes | – | Yes | 5.0L | Ambient |
| Neo Plus | Yes | – | Yes | Yes | – | Yes | 5.8L | Hot, cold, ambient |
| Glaze | Yes | – | Yes | Yes | – | Yes | 3.5L | Hot, 2 cold, ambient |
| Kecil | – | Yes | Yes | – | – | – | 1.35L | Hot, cold, ambient |
| Villaem 2 | Yes | – | Yes | Yes | – | Yes | 11.3L | Hot, cold, ambient, warm |
| Ombak | Yes | – | Yes | Yes | – | Yes | 13.5L | 6 hot, cold, ambient |
| Inception | Yes | – | Yes | – | Yes | Yes | 5.2L | Hot, cold, ambient |
Each of the Coway water filters has its respective pros and cons, so you prioritize your needs and easily pick one based on the chart above.
---
Best Water Filter We Like Other Than Coway
Other than Coway water filter, there are many other water filter brands in Malaysia like 3M, Aquasana, Bacfree and more. I have handpicked the best water filter in Malaysia that is cheaper to use and own.
Check out the best water filters in Malaysia 
---
Coway Cinnamon Review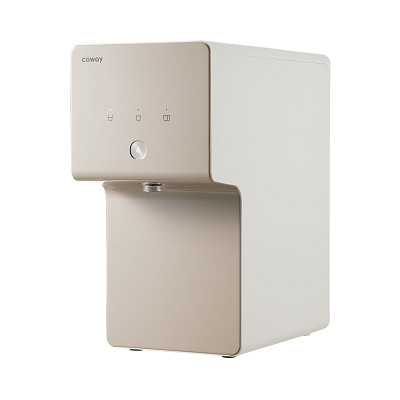 Coway Cinnamon is the most basic water purifier and its only function is only RO filtration. There is no hot water or cold water. It can only dispense ambient-temperature water.
The design is simple and minimalist, so it will fit in with any kitchen environment.
On its touchscreen panel, there are three choices for volume control: 250ml, 500ml, and 1000ml.
Coway Neo Plus Review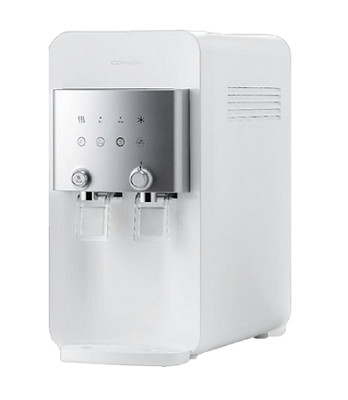 The Coway Neo Plus is the most popular water filter model among Malaysians because it is one of the most affordable models while having all the essential features of a RO water purifier.
Neo Plus comes with a few additional features, including Eco Mode, Child Lock, and 3 water temperature settings.
Coway Glaze Review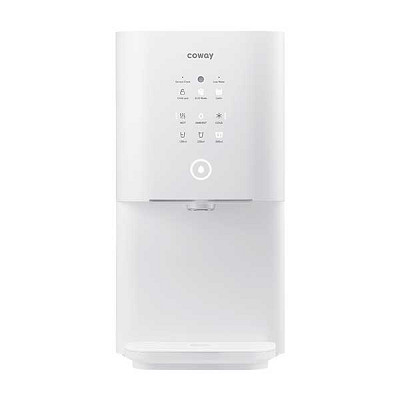 Coway Glaze is a RO water purifier with 4 temperature options – hot, warm, cold and ambient water.
Coway Glaze's digital touchscreen panel and modern and minimalist design distinguish it from Coway water filters.
The touchscreen panel allows users to control the temperature and volume of water. It is clear and intuitive.
It's claimed to be able to provide the coldest water because it has a dedicated cold water tank separate from the ambient water tank, which keeps it cooler than other water dispensers.
Coway Kecil Review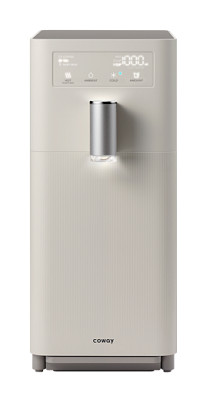 In line with its name, one of the most appealing features of the Coway Kecil is its compact and slim design. It is most suitable for small kitchens.
It is able to achieve such a small size because it is fitted without a hot water storage tank. Instead of constantly reboiling the water, direct heating is used. 
Coway Kecil Water Filters use nanofiltration instead of RO. It can remove heavy metals, microbes as well as any harmful organic chemicals.
In addition, it comes with 5 temperature selections, which are: 3 hot water choices, ambient water and cold water.
Coway Villaem 2 Review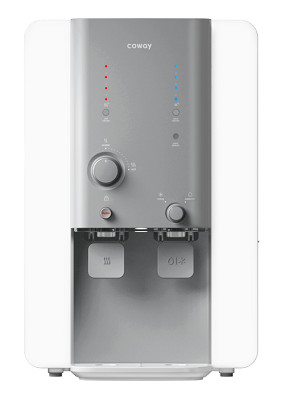 The Coway Villaem 2 is a RO water purifier that is best for medium-sized families with 5-9 members, and it is easy for children and older adults to use.
It features four temperature options including hot, cold, warm and ambient water, which can be easily adjusted with the use of a knob. 
The water purifier has a child lock button to keep kids from accidentally pressing it and dispensing hot water, giving users peace of mind. 
Coway Ombak Review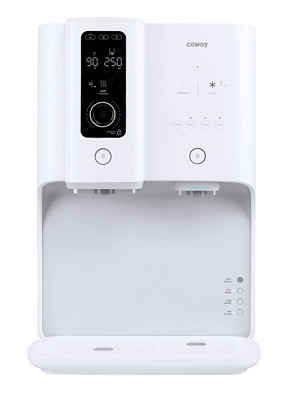 Coway's Ombak water purifier is designed for medium to large families. For households that use a lot of hot water, it is particularly useful because users can set the desired temperature and water volume based on personal preferences.
You can adjust the temperature between 40 and 90 degrees Celsius, which makes it extremely convenient for preparing baby milk formula.
Moreover, it uses UV sterilization to prevent the growth of microorganisms.
Coway Inception Review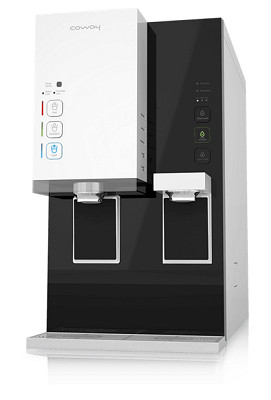 Coway Inception is Malaysia's first 2-in-1 Nano Filter and Alkaline ionized water. 
The water system uses five filters tested and certified by the Water Quality Association. It can remove dirt, impurities, heavy metals, bad odours, and microorganisms in the water.
One of its unique features is that it comes with a button that dispenses alkaline ionized water. Users can choose from three alkaline levels.
Other than that, it has three water temperatures, intelligent power-saving mode, automatic cleaning function and an optimized electrolysis system.
This makes it the most expensive Coway water filter model. Some people do feel the benefit of drinking alkaline water but a report by guardian.com suggest that the health benefits of alkaline water are not supported by any scientific evidence and we simply can't change our blood pH by just drinking alkaline water.
Coway Ferry Review – discontinued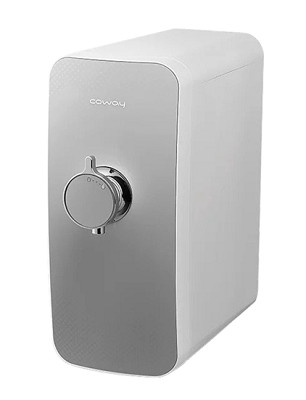 Coway Ferry is the new RO water purifier which does not require electricity because it does not dispense hot or cold water. 
Consequently, it is cheaper and more environmentally friendly since no electricity is wasted to maintain the water temperature.
There is an airtight tank inside with a capacity of 3.5L. Hence, the tank is not susceptible to secondary contamination such as dust or bugs.
Coway Mate (Tankless) Review – discontinued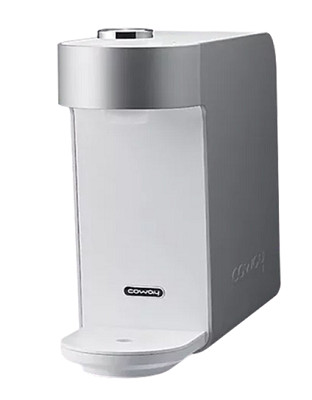 Coway Mate is another Coway water purifier that does not require electricity. Different from the Coway Ferry, it is a tankless water filter that uses nanofiltration.
The design is sleek and minimalist. But still, it is still a tabletop water filter which will waste much of kitchen counter space. 
If you're looking to save kitchen space, check out Aquasana's under-counter water filter which is featured on my list of best water filters in Malaysia.
---
Coway Water Filter Pros and Cons
Coway water filter is advertised as an easy solution for everyone to enjoy clean drinking water. The company will provide routine service and maintenance so there are no problems, such as forgetting to change the filter.
Let's look at the various pros and cons of buying or renting a Coway Water Filter.
Pros of Coway Water Filter
Professional maintenance team that handles service and maintenance if you're renting from them.
RO water filtration is the purest and cleanest method of water purification.
Coway has both Halal and SIRIM certificates.
It is more convenient as hot and cold water are always available
Cons of Coway Water Filter
Service interval is as frequent as every 2 months, which can be irritating.
Coway water filters are very expensive.
The monthly cost of renting a Coway water filter can be excessive and becomes a financial burden 
Early termination of a contract is subject to a penalty
Users need to subscribe service membership after the complimentary free service period ends.
---
Conclusion
If you don't mind paying a premium for convenience, then the Coway water filter could be a good option for you. Upon signing up for their monthly rental program, you will be obligated to pay a monthly fee for a long period of time.
Generally, I recommend buying water filters that you can own once you have paid for them. Most importantly, the users should have the option to buy and change their own filter cartridges.
---
Coway Water Filter FAQs
Is Coway RO water?
Yes, most Coway water filters use RO water filtration. But there are also models which only use nanofiltration.
Is Coway water good for health?
Drinking clean water regularly is generally beneficial to your health. There is no scientific evidence that RO water or alkaline water has any health benefits.
Can Coway filter chlorine?
Yes, Coway water purifier can filter chlorine with its Neo-sense filter and Plus Inno-Sense filter
How to terminate Coway contract?
In order to terminate your rental agreement with Coway before the end of the contract period, you will need to fill out a rental termination form. It is available from the Coway agents. Users will also have to pay a penalty.
What is the penalty for early termination of Coway contract?
Users will be charged for half of the remaining months in the contract.
What is the Coway HQ contact number?
Coway customer service hotline is 1-800-888-111.