In February, Creative introduced the Outlier Free, a unique set of wireless bone-conduction headphones. These innovative headphones combine high-quality audio playback with open-ear listening so that users can still clearly aware of the surroundings while wearing it.
I've used Creative Outlier Free for one whole month, and I'm ready to share my experience with you.
---
Overview
Best deal on Creative Best deal on Lazada
Creative Outlier Free is different from the usual wireless headphones and earbuds because it uses bone conduction technology. Not only that it features cutting-edge Bluetooth 5.3 connectivity, IPX5 water resistance, and up to 10 hours of battery life. 
The best part, it has multipoint connectivity which can only be found on premium earbuds/headphones from brands like Apple, Jabra and Sony.
This headphone is designed for people who want to stay connected to music and still be aware of their surroundings. It is also great for those who don't like the feel of clamping wireless headphones. And I know some who experience ear pressure pain from wearing bluetooth earbuds would like it too.
Pros: 
Open-ear listening for improved situational awareness
Comfortable and secure fit
Impressive battery life
Multipoint connectivity
Bluetooth 5.3 
IPX5 sweatproof and water-resistant
 Cons: 
Audio quality may not be as immersive as traditional in-ear headphones
Limited bass response due to bone conduction technology
No built-in memory
Creative Outlier Free Specifications: 
Technology: Bone Conduction
Bluetooth: 5.3
Multipoint Connectivity: Yes
Water resistance: IPX5
Battery Life: Up to 10 hours
Charging: Magnetic charging cable
Total Weight: Not specified
Voice Assistant: Siri/Google Assistant
Price: RM370+ (80 USD)
---
What's in the box
The Creative Outlier Free comes in a clean and compact white box. Inside, you'll find:
Creative Outlier Free Bone Conduction Headphones
Charging cable
Earplug
User manual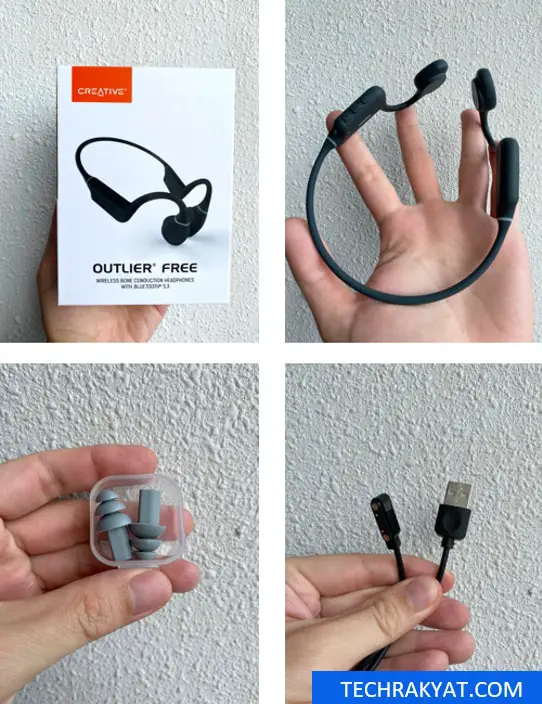 ---
Design and Build Quality
The Creative Outlier Free is made from lightweight silicone and titanium memory alloy, the Creative Outlier Free is both comfortable and durable.
Its unique ear-hook design ensures a secure fit while keeping your ears open to the surrounding environment.
The right side of the earpiece contains three buttons: plus (+), minus (-), and M. 
The M button is used to turn the earpiece on and off. Pressing the M button once will turn the earpiece on while pressing it again will turn it off. 
The plus and minus buttons are used to adjust the volume, with the plus button increasing the volume and the minus button decreasing it. 
The headphones are IPX5 certified, which means they are sweatproof and splash-proof. This makes them perfect for workouts and outdoor activities, even in the rain.
Comfort and Usability
One of the standout features of the Creative Outlier Free is its open-ear design.
By using bone conduction technology, the headphones relay sound directly to your inner ear bones via vibrations through your cheekbones.
This allows you to stay aware of your surroundings while still enjoying high-quality audio.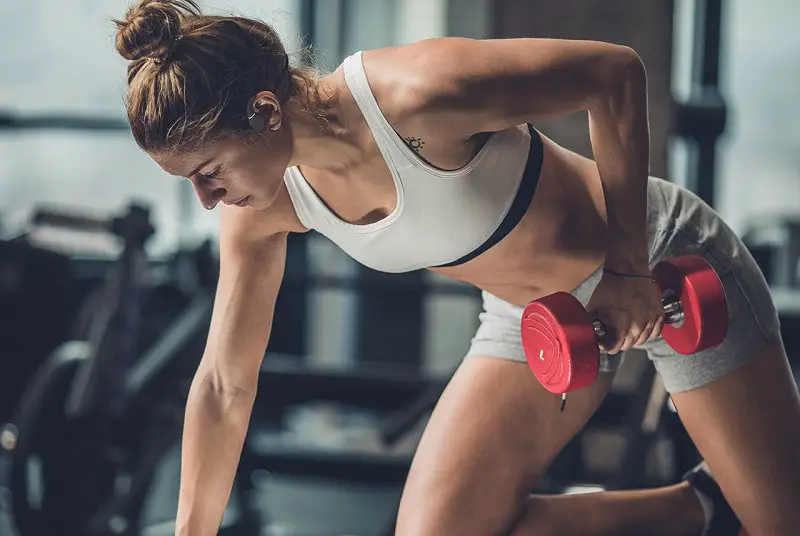 The ergonomic design and secure fit make the Outlier Free suitable for various activities, including running, cycling and gym sessions. 
I feel that it's even better than Bluetooth earbuds if you're primarily using it for workout sessions.
However, if you plan to watch movies and listen to music while lying down on a pillow, the Outlier Free is not suitable.
Since the neckband of these headphones is rigid, when you lie down, the headphones will push forward and out of place, making it impossible to listen properly.
Audio Quality
As a bone-conduction headphone, Creative Outlier Free's audio quality might not be as immersive as traditional in-ear headphones.
However, it still delivers a very clear and enjoyable sound.
The bass response may be limited due to the nature of bone conduction technology, but this is a minor drawback considering the added situational awareness the headphones provide.
I know well that bone-conduction audio can't beat in-ear or over-ear headphones in terms of audio quality, so the lack of bass isn't a huge problem for me after all.
After using it for so long, I realized its only drawback could be that it isn't loud enough when in a noisy environment.
When you crank it to the maximum volume, you may begin to feel the vibration from the headphones, which can be distracting.
Thus, Creative provided users with earplugs that blocked out surrounding noise and allowed them to hear better through bone conduction.
However, I think that would defeat the purpose of using bone-conduction headphone like Creative Outlier Free.
Connectivity and Battery Life
 With Bluetooth 5.3 and Multipoint connectivity, the Creative Outlier Free allows for smooth and uninterrupted audio streaming. 
You can connect up to two devices simultaneously, making it easy to switch between your phone and laptop or to answer calls while listening to music.
The built-in microphone enables hands-free calling and voice assistant support, so you can access Siri or Google Assistant with just a press of a button.
Battery life is another strong point of the Creative Outlier Free. The headphones offer up to 10 hours of playback time, which should be more than enough for most users. 
Charging is super easy with the magnetic charging cable, and a full charge takes just 2 hours. Plus, a quick 10-minute charge will give you up to 2 hours of listening time.
---
Conclusion
Those who wish to enjoy high-quality audio without losing touch with their surroundings will enjoy Creative Outlier Free's practical design and features.
Outdoor enthusiasts and fitness enthusiasts will love these headphones because of the open-ear design, comfortable fit and IPX5 rating.
The IPX5 water resistance and 10-hour battery life make them suitable for various weather conditions and prolonged use. While the audio quality may not be as immersive as traditional headphones, the added situational awareness and safety benefits more than makeup for it.
If you want to use it while swimming or doing water activities, you should check out the Creative Outlier Free Pro which has an IPX8 rating and built-in 8GB memory capacity.