Nowadays, wireless headphones and earbuds are more common and cheaper. However, it is not easy to find ANC headphones with decent battery life at a fair price.
Creative has been producing affordable audio gears for many years and recently launched the Creative Zen Hybrid ANC headphones.
Let's check out a detailed review of the Creative Zen Hybrid headphones below.
---
Overview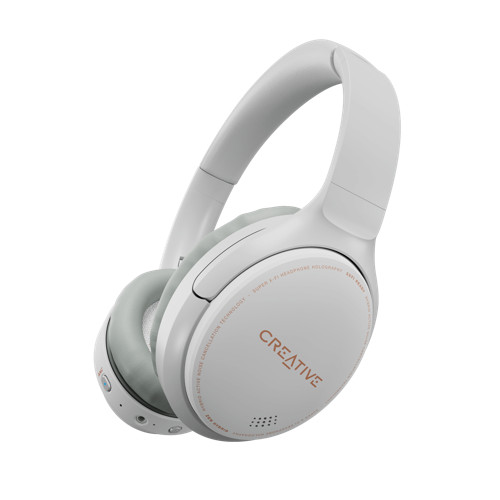 Best deal on Creative Best deal on Lazada
The Creative Zen Hybrid headphones are light and comfortable on your ears and head. The sound quality is great for music, movies, and games, and the latency is very low. It also features ANC and Ambient mode.
This wireless headphone boasts an impressive 37 hours of battery life and quick-charge technology so you don't have to worry about running out of charge.
Creative Zen Hybrid specifications:
Driver: 40mm Neodymium Driver 
Battery Life: Up to 37 hours, 27 hours with ANC
ANC: Yes
Ambient Mode: Yes
Waterproof: No
Weight: 271g
Colours: White
Connectivity: Bluetooth: 5.0, 3.5mm AUX-in
Audio codecs: SBC, AAC
Price: RM430+ (98 USD)
---
What's in the box
The Creative Zen Hybrid comes in a surprisingly small package. But it packs all the necessary accessories for these headphones. You get the following items:
Creative Zen Hybrid headphones
Grey colour drawstring pouch
80cm USB-A to USB-C charging cable
1.2m 3.5mm AUX cable
User manual
---
Design and Build Quality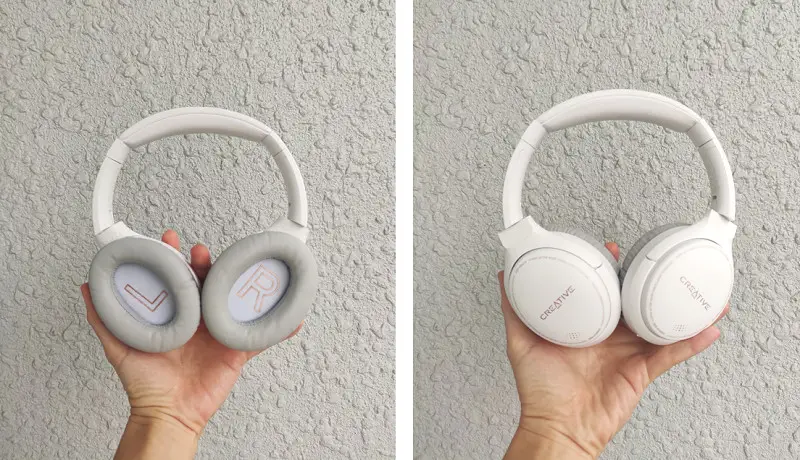 The Creative Zen Hybrid features a rather conservative design similar to the older Sony WH-1000XM3. The headphone is mainly made from plastic with a matte finish. And the steel headbands are padded with synthetic leather cushions for better comfort.
The ear cups are padded with a soft memory cushion and the ear pads are pretty cushy too. The headphones can be folded into a really small package that you can easily throw into your backpacks.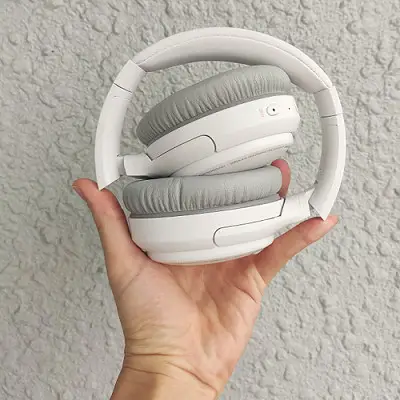 Personally, I think the headphones will look sleeker without heavy branding and logos. The current design approach is completely different from the likes of Sony XM5 and Airpods Max which strive for maximum minimalism.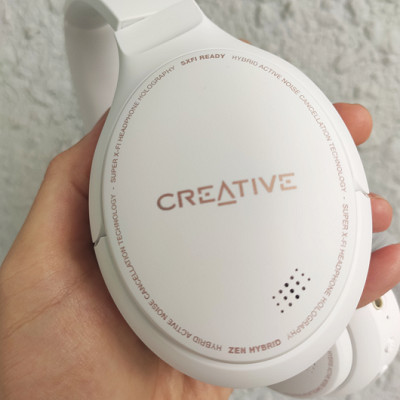 Comfort and Usability
While the headband brace is made of steel, it is lightly padded and can be adjusted to fit different head sizes. When worn, it doesn't feel too compressed, thanks to the soft memory foam ear cushion.
The weight of the Creative Zen Hybrid is only 271 grams, which makes it comparable to 250 grams of Sony WH-1000XM5 and much lighter than 386 grams of Airpods Max.
All of the controls for Zen Hybrid are located on the right ear cup, and they are analogue buttons. There is an ANC button, a 3.4mm audio jack, a power button, and a volume rocker.
In my opinion, analogue control is much better and more intuitive than touch control because it is less prone to false commands.
And the charging port is located at the left ear cup. Do note that you can't use the headphones while you're charging though, regardless of whether you're using Wired or Bluetooth mode.
Audio quality
These headphones provide a hybrid of passive and active noise cancellation, as their name Zen Hybrid suggests.
When you put on the headphones, you will immediately notice that ambience noise is being cut down significantly. If you need stronger noise isolation, just turn on the ANC mode. 
The ANC mode works well in reducing low-frequency sound but not so much on high-frequency sound. 
For example, I turn the ANC mode on while my dryer machine is running. And I notice the tumbling noise from the dryer is reduced significantly. 
Additionally, the Ambient mode can be activated by double-clicking the ANC button. With Ambient Mode on, you can hear what happens in your surroundings. However, Creative over-intensifies it, which I find artificial and unpleasant.
In terms of audio performance, the Zen Hybrid features a very clear and polished sound signature. It is powered by a pair of 40mm Neodymium drivers.
The bass is slightly lacking and therefore, it is less suitable for bass-centric music. Still, the headphones are great for listening to the usual pop music, watching YouTube and listening to podcasts. It is definitely a set of very capable headphones for average users and gamers.
However, the Zen Hybrids sound profile is inconsistent when connected using the 3.5mm headphone jacks. The volume certainly becomes louder but sounded compressed. Hence, I prefer to use the headphones in wireless mode.
The microphone quality on the Creative Zen Hybrid is really good considering it doesn't have a microphone stem. It sounds clear and only picks up little ambient noise. You can safely use it for phone calls and Zoom meetings 
Connectivity
The Creative Zen Hybrid supports both Bluetooth 5.0 and 3.5mm audio jack connections. The Bluetooth connection works really well based on my personal test.
Although I am 10 metres apart from it and have no direct line of sight, the Bluetooth connection will not drop or skip.
For codec support, it is only compatible with SBC and AAC. It doesn't support aptX, aptX HD, or LDAC. But it isn't much of a problem for average users.
Battery life
The long battery life is really where the Zen Hybrid Shines. These headphones can last for a whopping 37 hours. You can use it for multiple days without charging. Even with ANC turned on all the time, users still can use it for about 27 hours.
And it also supports quick charging. A quick 5-minute charge can last for 5 hours of listening while a full charging cycle will take about 1.5 hours.
Its long battery life and quick charging time set Zen Hybrid apart from its competitors.
I enjoy using Zen Hybrid without having to worry about running out of battery juice, which is a situation I often encounter when I am using wireless earbuds.
Miscellaneous
SXFI
Creative advertises that Zen Hybrid supports SXFI. SXFI stands for Super X-Fi sound. It claims that it can deliver a multi-speaker studio experience without you upgrading your headphones
But users will need to install the SXPI app on smartphones to enjoy this feature. And it only works on local files which are rather troublesome to use. So, I don't think it adds much value unless you're a true audiophile who has a huge collection of original hi-res music files.
APPS
Unfortunately, there's currently no official app support for the Zen Hybrid other than the SXFI app.
TIPS
For users who want to squeeze more performance out of the Zen Hybrid, you can install FxSound on your Windows machine to get volume boost feature and other preset equalizer settings.
When used with FxSound, the Zen Hybrid sounded much louder and better. It also helps to improve the bass and clarity of the headphones.
---
Verdict
The Zen Hybrid ticks a lot of boxes, including a well-rounded sound stage, long battery life, lightweight, a great microphone, good passive noise isolation, and a reasonable price.
It's hard to beat the Creative Zen Hybrid at only RM400 for people looking for decent wireless ANC headphones.
Several improvements can be made to the Zen Hybrid headphones, including the design and hopefully a dedicated system-wide equalizer app. 
In comparison with top-of-the-line models from Sony, Bose, and Apple, the ANC performance is mediocre but still performs well. It can reduce a lot of ambient noise to help you focus on what you are doing.