If you're here, you're most likely uncertain whether to subscribe to TIME Fibre or Unifi Broadband for your home. 
There are pros and cons to both broadband services, so it really depends on what you're looking for. 
To find out which is a better fit for you, I am going to compare both TIME Fibre and Unifi Broadband in terms of coverage, speed, price, contract and more.
Overview
If your main concern is price and internet speed then Time Fibre will be your best choice.
Time Fibre offers unlimited broadband plans that come with the lowest price per Mbps in Malaysia! 
Check out the brief overview of comparison between Time Fibre and Unifi Broadband.
| | | |
| --- | --- | --- |
| | Time Fibre | Unifi Broadband |
| Coverage | Poor | Best |
| Speed | Best | Good |
| Price | Cheap | Average |
| Contract | 24 months, no contract | 24 months |
| Customer service | Good | Average |
Apply Time Fibre Apply Unifi Broadband
Coverage
Time Fibre is primarily available in city areas, like KL and Selangor, for condominiums and apartments. So their coverage is indeed very limited.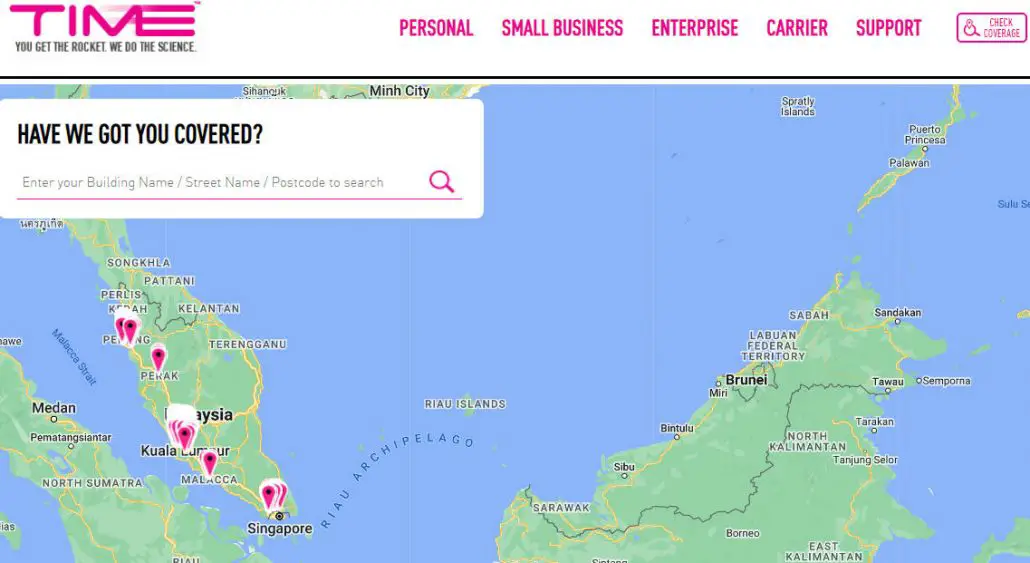 As you can see above, time fibre is only available in 5 states and 2 Wilayah Persekutuan of Malaysia, which include Penang, Perak, Kuala Lumpur, Selangor, Cyberjaya, Melaka and Johor.
Unifi Broadband, on the other hand, has the widest coverage as well as the largest user base among all the broadband service providers in Malaysia, making them the most popular choice among Malaysians.
Speed
Time Fibre offers three straightforward and simple fibre broadband packages, which are, 100Mbps, 500Mbps, and 1Gbps. No fluff, no TV, no add-ons.
Unifi Broadband offers many different broadband packages that can be confusing for consumers at times, some of which include Unifi TV and some do not.
And Time Fibre offers 1Gbps high-speed broadband plan while Unifi Broadband's best plan is only 800 Mbps.
Let's check out all broadband packages available from Unifi and Time.
| | | | |
| --- | --- | --- | --- |
| Time Fibre | Price | Unifi Broadband | Price |
| n/a | n/a | 30Mbps w/o Unifi TV | RM89 |
| 100Mbps | RM99 | 100Mbps w/o Unifi TV | RM129 |
| n/a | n/a | 100Mbps + Unifi TV | RM159 |
| n/a | n/a | 300Mbps + Unifi TV | RM199 |
| 500Mbps | RM139 | 500MBps + Unifi TV | RM249 |
| n/a | n/a | 800MBps + Unifi TV | RM349 |
| 1Gbps | RM199 | n/a | n/a |
| n/a | n/a | n/a | n/a |
Price
Time Fibre is cheaper than Unifi Broadband in terms of ringgit per Mbps. 
If you compare the two 100Mbps plans, Time Fibre is only RM99, which is RM30 cheaper than Unifi 100Mbps, which costs RM129.
Working out the price per Mbps for both highest tier plans, the Time Fibre 1Gbps plan is at RM0.19 per Mbps. And the Unifi 800Mbps is at RM0.43, two times more expensive than Time Fibre.
It might suit users who wish to have a free Unifi Plus Box and a free Unifi TV Ultimate Pack. 
Alternatively, you can get Time Fibre, buy a TV box, and subscribe to Netflix or Disney+ separately, which will still be cheaper than Unifi Broadband bundles.
Contract
Time Fibre offers two contract options: "no contract" and "24-month contract".
For no contract option, users will need to pay a one-time fee of RM400 and subscribers are not entitled to any kinds of promotions.
For 24-month contract, users are bound to a 24-month contract and must pay an RM500 penalty fee if they cancel within the period.
Unifi Broadband only offer one contract option which is "24-month contract"
In the case of a 24-month Unifi contract, you will be charged a penalty for the remaining months, which can amount to a huge amount if you terminate early.
Considering contract terms, Time Fibre is clearly the winner since it has "no contract" option and the early termination penalty is also lower.
Miscellaneous
Free equipment vs loan equipment
Time Fibre broadband plans come with a free modem and  WiFi router, so users don't need to return the equipment if they no longer want to subscribe to their services.
Unifi Broadband provides both modem and WiFi router on loan terms, which users need to return the equipment upon termination of service.
Customer service
Time Fibre offers slightly better and faster customer service than Unifi Broadband. 
The reason could be that they have a smaller customer base, making inquiries and complaints easier for them to handle.
However, customers rarely need to contact customer support except for initial setup and termination.
If you're users who frequently need assistance from customer support, then Time Fibre will be a better choice. 
Ease of termination
Getting your subscription terminated from Unifi Broadband can be a real hassle. Because it requires the user to return the modem and router to TMpoint. 
So, you have to visit the nearest TMpoint to submit the termination form and return the equipment.
Conclusion
To conclude, I will recommend users get Time Fibre Broadband if it is available at your place because it is cheaper, faster and more convenient. 
Unifi broadband with Unifi TV is added value for the service but it is also more expensive. It is still a great choice for families who would like to watch local TV programmes.