The Android TV box is gaining popularity in Malaysia these days. Malaysians are constantly looking for ways to cut expenses and save money during this difficult and slow economic situation.
In comparison to Astro service, which costs hundreds of ringgit, TV Box is definitely a cheaper alternative.
A large number of brands are available on online shopping sites such as Lazada and Shopee. What are the best Android TV boxes to suit your needs? Some of them come pre-installed with lots of apps and channels, and others only sell the original device.
I will advise you to be careful and avoid those with pre-installed apps, which may be illegal, to begin with.
In order to find the best tv box in Malaysia, I have done extensive research and come up a detailed TV box buying guide
Best Android TV Box Malaysia
---
How I pick
In my opinion, there's no point in having a bad TV box that has thousands of crappy channels. For me, the best streaming device is one that supports playback with the highest video and audio quality from popular streaming services, paid or free.
Primary criteria
Compatibility with popular media apps:
The TV Box must work with locally popular media apps like Astro-on-the-Go (AOTG), iFlix, Netflix, Youtube, Kodi and various live tv channel that stream local tv shows.
Video Playback Performance:
Supports 4K and HDR streaming with minimal or no framerate issues. It is important that video and audio formats such as Dolby Vision, HDR 10, Dolby Digital, Atmos, DTX and so on are compatible.
Secondary criteria
Storage:
Having a large enough internal storage space is essential for installing apps. Media storage is mostly handled by secondary storage devices like external hard drives and memory cards.
UI and UX:
It should feature an easy-to-understand user interface (UI) and smooth control systems.
Additional features:
Built-in voice controls, gaming-ready, and other value-added features like AI upscaling will also be considered.
Non-essential criteria
Build quality and design:
Since Android TV boxes are usually small and unobtrusive, especially next to a 60-inch LCD TV, these factors are not crucial.
---
Best Budget Android TV Box
Xiaomi Mi Box S 4K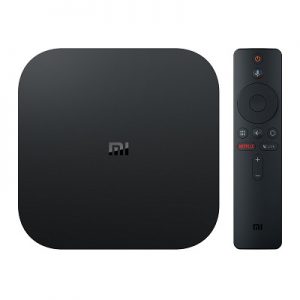 Xiaomi Mi Box S is priced competitively at RM229 while still providing insane value. This global edition Mi Box was launched back in 2018.
But it is still a great bargain because it supports a wide range of video formats and apps, and most importantly it can stream up to 4k @60fps. This Lazada deal even comes with a free HDMI cable.
| | |
| --- | --- |
| Pros | Cons |
| Smooth performance, still going strong in the year 2021 | No LAN connection readily available |
| Official android TV OS 9.0 | Mi Box S remote control cannot control TV |
| Google Assistant and Chromecast built-in | |
| 4K Youtube and Netflix out of the box | |
SPECIFICATIONS:
Output Resolution: 4K (3840 x 2160)
CPU: Cortex-A53 Quad-core 64bit
GPU: Mali-450
RAM: 2GB DDR3
Storage: 8GB eMMC
Operating System: Android 8.1
I strongly recommend getting something easy-to-use, solid, and capable of playing Netflix/YouTube right out of the box if you're new to Android TV boxes.
A good option would be to buy the Xiaomi Mi Box S. With its good streaming performance, user-friendly UI, and simple setup, the Mi Box S is a good way to turn your old TV into a smart TV without spending a fortune.
Credit: techhive.com
Design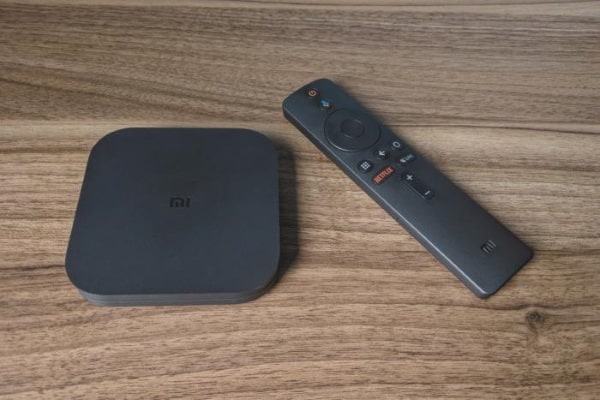 Design-wise, it's a simple black box with two additional ports. There is only one HDMI port and one USB-A port, which allows you to connect your external storage device and watch any video clips stored in it on the TV.
Mi box S mainly relies on WIFI for internet connectivity. A simple controller is also included to control Mi box S but not your TV. It's a letdown for some users since you still need to use your TV remote control to turn on the TV and adjust the volume.
Performance
Software-wise, the biggest advantage of Mix Box S is that it supports Netflix playback at a 4K UHD resolution, and it is one of the VERY FEW Android TV boxes that can do so (please note that 4K streaming requires at least 30Mbps internet speed).
Mi Box S used to be able to run Astro Go. Unfortunately, Astro has decided to stop the use of Astro Go on Mi Box as of today.
Fortunately, Mi Box S can be installed with Kodi (limited plugin support). Therefore, a lot of customization is still possible. If you're Unifi broadband users, you can install Unifi TV app on it too.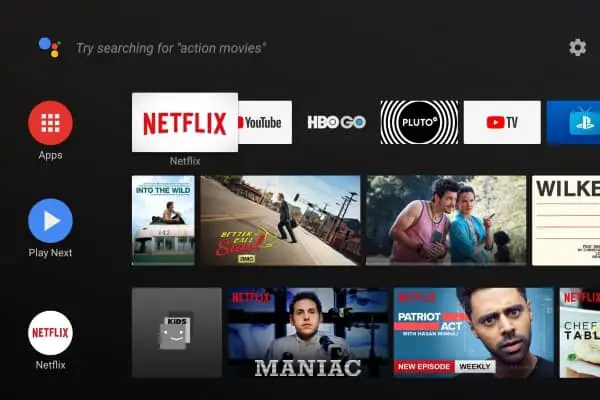 New released Mi boxes S will run on Android 9 TV OS after 2020. Those who have Android 8.1 can upgrade to Android 9 as well.
The device is Google Assistant-enabled and Chromecast-ready. Chromecast allows you to stream video from your smartphone to your TV. It's a nice extra feature to have.
However, this device is not without its own shortcomings. 4K playback has been reported as being too demanding for the Mi Box S and causing lag. The easiest way to solve this problem is to make streaming in 1080p the default display resolution.
You can also upgrade to our recommended upgrade pick-Nvidia Shield TV for the best viewing experience.
The other major downside is that there is no ethernet port, so you have to use WiFi. I highly recommend using a USB to ethernet converter to achieve a more stable LAN wired connection. You won't regret it.
Conclusion
With Mi Box S's affordable pricing, all of those compromises are quite reasonable. Hence, Xiaomi Mi Box S is our best cheap Android TV Box, which cost under RM300.
---
Best Premium Android TV Box
NVIDIA Shield TV
For Malaysians who own a 4K TV or a home theatre system, the NVIDIA Shield TV is the perfect Android TV Box. It can play 4K video smoothly and support Dolby Atmos audio output. It also has an impressive Nvidia's AI which can upscale HD videos to 4K.
If you're ready to splurge on the most powerful Android TV box, you can get the Shield TV Pro instead.
| | |
| --- | --- |
| Pros | Cons |
| AI upscaling technology | Expensive |
| Clean and responsive interface with no advertisement | |
| 4K Youtube and Netflix out of the box | |
| Can serve as an Android gaming device | |
SPECIFICATIONS:
Output Resolution: 4K (3840 x 2160)
CPU: NVIDIA Tegra X1
GPU: NVIDIA Maxwell 256-core GPU
RAM: 2GB DDR3
Storage: 8GB eMMC
Operating System: Android 9
The Nvidia Shield TV is a completely redesigned device that offers a new design, a lower price, and an improved remote control. The AI upscaling feature alone is enough to justify the high price of the RM899 of Nvidia Shield TV.
Design
Shield TV features a brand new form factor, which is a small, round, ergonomic stick instead of a sharp, angular box. It is intended to be the discreet android tv streaming device that is hidden from sight.
On both ends of the stick are inputs and outputs. One end of the cable has a power supply and a 1GBPS LAN port, and the other end has a HDMI port & Micro SD card slot.
The new TV stick's redesigned remote control is another noteworthy improvement. It now has buttons for power, volume, rewind, fast forward, Netflix, voice search and IR control to control your TV volume and power with the same Nvidia remote. Credit:techhive.com[/caption]
Performance
A great TV Box is distinguished from a good TV Box by how it renders the video content.
Shield's unique AI upscaling technology is the real gem. Many of the video content available today is still streamed in 720p or 1080p. Users were not able to fully utilize the 4K TV they purchased.
Using Nvidia's AI upscaling, HD video is made sharper, more refined, and less blurry than it was before.
It excels at making HD content from the last 20 years look like it was shot earlier this year with a 4K video camera.

Techradar.com
But, it does not support AI upscale for 60 fps video.
The Nvidia Shield's user interface and user experience (UI/UX) are unmatched. Its fluidity and responsiveness are unmatched by any other Android TV Box.
The experience of switching between apps and closing and opening apps is buttery smooth and almost instantaneous, making watching TV shows with it a delight. Apple TV4K is the only streaming device that offers a comparable experience.
In terms of video format compatibility, the Nvidia Shield TV is 4K HDR-compatible. It also supports Dolby Vision HDR and HDR10 content. Audiophiles will appreciate its support of Dolby Digital, Dolby Digital Plus, Dolby Atmos, and DTS-X.
As of right now, there is no competitor on the Android box market that supports such a wide range of video and audio formats except Amazon Fire TV Cube 4K (which isn't so user-friendly in Malaysia).
You may not understand all the terms above as a beginner and common user.
It simply means Nvidia Shield TV serves up the highest quality video streaming experience you can get today. The reason for this is that many boxes marketed as 4K ready on Lazada and Shopee actually do not work with Netflix in 4K.
The majority of them support only 480P playback in Netflix.
Gaming
Shield TV is an Android box that is gamer-centric. You can use it as a second gaming device in your living room. You can run any Android game from the Google Play Store. And you can purchase Nvidia Shield TV game controller as an add-on.
On top of that, it offers GeForce NOW, a unique cloud gaming service platform that lets you play console games on your TV! In other words, you can stream the whole gaming session through the cloud.
Conclusion
Those who seek the best of the best cinematic experience can definitely appreciate it should definitely get Nvidia Shield TV.
Best Plug-and-Play Smart TV Box Malaysia (But don't buy it)
TX6 Smart Android TV Box
TX6 costs only RM190 and comes with thousands of channel, working, non-working, free and paid. For users who wants convenience, it can be a good choice. Personally, I don't recommend users to buy it.
| | |
| --- | --- |
| Pros | Cons |
| Plug and play | Thousands of non-working channel |
| Ethernet LAN port available | Lots of advertisement |
I am aware that many Malaysians are not tech-savvy or geeky enough to set up their own television box. A the same time, most people do not wish to pay extra for Netflix either and prefer to just watch some local TV channel or Chinese/Malay dramas.
I attempted to verify whether this particular TV box is actually legal in Malaysia, but could not find any evidence or statements on the subject.
As such, I can only assume that TVBox2u.com is legal since it is operated by Hericaine Sdn Bhd and no legal actions or penalties have been taken against them when they have operated for years.
Techrakyat by no means, endorse any kind of illegal activity. Again, I don't recommend users getting this type of TV box that comes with pre-installed third part TV apps.
TX6 is a standard black coloured Android TV box with 4GB RAM and 64GB hard disk storage. This selected model supports both 2.4Ghz and 5.0Ghz WiFi signal, allowing you to assess Wifi speed at any time. You will require a strong 5Ghz WiFi signal if you are unable to connect the TV Box to an ethernet cable.
The box comes pre-loaded with over 10,000 channels. As far as I have read the reviews online, there is a mixed opinion with this TV Box. The negatives ones would be the thousand channel are mostly not working or require a subscription.
Even worse, some channels are flooded with TV advertisement. So, try it at your own risk.
---
Other TV Boxes I Like
Google Chromecast with Google TV review
Launched in late 2020, the redesigned Chromecast includes Google TV OS. Now it isn't just a simple dongle that mirrors your phone screen, but also a full-featured streaming device.
This device supports many major streaming services and supports 4K HDR video (including HDR10, HDR10+, and Dolby Vision formats) and Dolby Atmos audio for the best video and sound quality.
Unlike other Android boxes, Google TV groups all your recently watched shows and movies together as well as your watch list of preferred content, which allows you to find content more quickly.
Mecool KM2 review
Mecool KM 2 is an Android box released in 2021 that is Netflix 4K-certified. It runs the latest Android TV 10 operating system. In order to stream Netflix 4K, manufacturers must pay a licensing fee to Netflix. That is why many Android boxes can't stream Netflix in 4K.
Its hardware is slightly more powerful than the Mi Box. It is equipped with the Amlogic S905X2 SoC, 2GB of DDR4, and 8GB of internal storage.
In case you prefer to have more I/O ports, the MECOOL KM2 provides two USB ports, an SD card slot, an Ethernet port, and SPDIF optical output.
Tivo Stream 4K review
TiVo Stream 4K is an excellent 4K Android box under RM300. It has an Android TV platform that works smoothly. Techhive.com tested and reported that it runs smoother than Mi Box S.
Similar to Google Chromecast, it has an integrated menu that allows you to search through all your favorite shows from Netflix, Disney+, Amazon Prime, and others.
As it is so similar to Chromecast, you may want to consider getting Chromecast 2020 instead.
Apple TV 4K review
Apple TV 4K comes with an A12 Bionic processor. This easily makes it the most powerful streaming device on the market.
The device can deliver 4K video at 60 frames per second with HDR. Dolby Atmos is also supported.
When you purchase an Apple TV 4K, you get one year of Apple TV+ for free. The subscription is worth about RM240.
We all know Apple products are built to a high standard and feel premium. Ideal for those who have a high budget.
The Competition
Mi TV Stick review
Xiaomi's Mi TV stick is highly portable and supports streaming in 1080p, as well as Chromecast-supported. It is disappointing that it still uses the same processor as Mi Box S, which was launched three years ago. There is also only 1GB of memory in it.
There were many complaints that the performance was sluggish. Increase your budget a bit and you should just get the Mi Box S 4K. If you're constantly travelling, this device can help you easily turn any normal tv into smart TV.
Amazon Fire TV Cube (2nd-Gen) review
The Amazon Fire TV cube is great, powerful, and supports Netflix in 4K. There have been many positive reviews internationally. The device also includes Alexa, which the TV box can serve as a simple automation smart hub.
In Malaysia, however, I wouldn't recommend getting Amazon Fire TV Cube due to the lack of local support.
Long TV review
For its price at RM399, LongTV hardware is poor and an outdated smart TV box. Many third-party sellers preload this device with illegal apps that stream pirated content.
While I don't recommend purchasing one of these, I know there are many older users who enjoy using them.
Beelink GT King Pro review
Beelink GT King Pro is a very powerful Android box that has all the bells and whistles. Featuring AMlogic S922X, Mali-G52MP6 GPU, 4GB RAM, and 64GB internal storage.
In terms of performance benchmark, few android boxes can compete with it.
The device does not run on Android TV OS and costs a lot. The Android box is designed for hobbyist users who want to customize it to their heart's content.
Other Android boxes review
EVpads, SVICloud 3 and a bunch of Android boxes claim to have thousands of TV channels. Most of these channels are streamed via torrents from illegal sources, apk or android app. Many channels are only available in 720P or even 480P.
Ironically, the "good" or "watchable" channels require a subscription to another illegal video streaming service. Therefore, please do not support them
---
Final Thoughts
I firmly believe that in order to have a satisfying IPTV experience, a subscription to a major streaming service paired with an Android PC is absolutely necessary.
You can choose from Viu, DimSum, Netflix, iflix,Disney+ and so on, depending on your preferences. Viu for those who like Korean drama. DimSum for Asian dramas. And Netflix for newest western video content as well as Netflix original series.
Remember that a good Android box and streaming subscription are only half the story, you also need a stable and fast broadband plan and a fast WiFi router to ensure a smooth viewing experience.
If you TV box is too much hassle, the you should directly check out the the best smart TV in Malaysia.