Unifi Plus box is the official TV box/Android box for users who subscribe to Unifi TV Streaming Services. The service enables customers to watch various TV shows over the internet, also known as IPTV service.
The first generation Unifi Plus box was launched in 2020. Starting from 1st May 2022, new customers will receive Unifi Plus Box (2nd Gen), which runs on Android TV 10 and has better hardware specifications.
---
Unifi Plus Box 2022 Specifications
The updated Unifi Plus Box 2nd gen's specifications are shown below:
Processor: Quad-core Cortex-A53 chip
GPU: OpenGL ES 2.0
RAM: 2GB DDR4
Storage: 16GB eMMC
WiFi: 2.4 and 5.0Ghz
Connectivity: Bluetooth 4.2, HDMI 2.1
System: Android TV 10
Digital Right Management: Widevine L1, Microsoft PlayReady 3000
The new Unifi TV Box can stream online video with 4K resolution at 60 fps. It supports H.265 HEVC and VP9 video codec. It also supports Dolby Vision, HDR10, HLG as well as Dolby Atmos.
---
Unifi TV Box Price
To get the new Unifi Plus Box, users will have to subscribe to Unifi Home Broadband with Unifi TV. This package includes an Ultimate pack subscription that has more than 70 premium channels. 
Please note that Unifi TV incurs a monthly fee. Depending on the broadband speed package, the price of Unifi TV varies. 
Please refer to the table below for a detailed Unifi TV Box Price:
| | | | |
| --- | --- | --- | --- |
| Broadband Speed | Unifi Broadband  and Unifi TV | Unifi Broadband only | Cost of Unifi TV Box, per month |
| 800Mbps | RM349 | RM299 | RM50 |
| 500Mbps | RM249 | RM209 | RM40 |
| 300Mbps | RM199 | RM159 | RM40 |
| 100Mbps | RM189 | RM129 | RM60 |
| 30Mbps | RM149 | RM89 | RM60 |
 Source: https://unifi.com.my/anytimeanywhere
With only RM10 more per month than the 100Mbps package, the 300Mbps package is the best Unifi Broadband Plan if you wish to subscribe to Unifi TV. So, choose your subscription plan wisely.
---
Unifi TV Channel List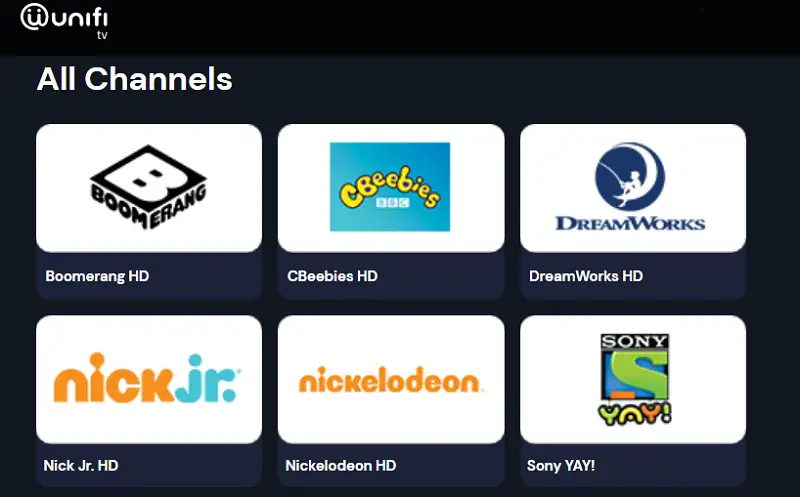 Unifi TV plan comes with an Ultimate Pack subscription that has more than 70+ premium channels. Video on Demand and radio are also available.
And in 2022, the Unifi Plus Box support 8 more additional streaming apps too. Unfortunately, there's still no official support for Netflix.
The complete Unifi channel list is shown below:
Boomerang HD
CBeebies HD
DreamWorks HD
Nick Jr. HD
Nickelodeon HD
Sony YAY!
Animax HD
Arirang TV HD
AXN HD
CCTV-4 HD
GEM HD
HITS HD
K-Plus HD
ROCK Entertainment HD
ROCK Extreme HD
tvN HD
Warner TV HD
CCM
Celestial Movies HD
Cinema World HD
Colors Cineplex
Dunia Sinema HD
HITS MOVIES HD
Paramount Network HD
tvN Movies HD
ZEE Thirai
beIN SPORTS 1 HD
beIN SPORTS 3 HD
beIN SPORTS 4 HD
SPOTV HD
SPOTV2 HD
unifi Sports 1 HD
unifi Sports 2 HD
unifi Sports 3 HD
unifi Sports 4 HD
ABC Australia HD
Al Jazeera HD
BBC World News HD
Bernama TV
CNA HD
CGTN HD
DW English HD
Euronews
France 24 HD
NHK WORLD – JAPAN HD
Parlimen Malaysia
WION
BBC Earth HD
BBC Lifestyle HD
Love Nature HD
LUXE.TV HD
MTV Live HD
Travel Channel HD
TechStorm HD
DEGUP HD
Inspirasi HD
Sensasi HD
SIAR HD
LAKU Mall HD
Pesona HD
Salam HD
TV AlHijrah HD
Colors Tamil HD
now Jelli HD
SETI
TV1
TV2
TV3
DidikTV KPM
8TV
TV9
Video on Demand list:
BBC First HD
Catch Up On Demand
Radio list:
988 FM
Suria FM
Unifi TV Video Compatible Streaming Apps:
Disney+ Hotstar
beIN Sports Connect
SPOTV NOW
BBC Player
LIONSGATE PLAY
VIU
iQIYI
playTV unifi
---
How to Set Up Unifi Plus Box
During broadband installation, Unifi installers or technicians will help you set up everything properly. So, there's no need to worry about setting up the Unifi Plus Box on your own.
In case you really have to DIY to set up the Unifi Plus Box, please refer to the video below:
Here is the step-by-step guide to set up Unifi Plus Box:
Connect HDMI cable to Unifi Plus Box (UPB) and TV
Turn on the box by pressing the power button at the back of the box.
LED indicator turns blue means it has finished booting up.
On the TV, it will prompt Android TV First Time Installation Wizard
Follow the steps and connect the TV Box to your current WiFi network
Alternatively, connect the ethernet cable to port 4 of Unifi Router
Then, log in to your Google account.
Finally, log in to Unifi TV app with your Unifi PlayTV ID and password
Everything is set and you're ready to watch all your favourite programme
---
Unifi Plus Box FAQ
Can the Unifi Plus box connect using WiFi or Ethernet Cable?
The Unifi Plus Box supports both WiFi and Ethernet cable connections.
Is the price of Unifi Plus Box 2nd Gen same as before?
Yes, there are no changes to Unifi TV's subscription price.
Can I use the Unifi Plus box without a Google account?
Yes, you can skip the configuration of Google account. But it is recommended to log in to Google account to enjoy a better user experience because apps like YouTube require Google account to keep a record of your viewing history.
How do I watch Unifi TV on Unifi Plus Box?
Find the Unifi TV app and launch it. Then, log in using Unifi PlayTV ID and password.
Can I watch Astro Go on Unifi Plus Box?
No, Astro Go is not supported on Unifi Plus Box.
Can I watch Netflix on Unifi Plus Box?
No, Netflix is not supported on Unifi Plus Box.
Can I watch HBO Go or HBO MAX on Unifi Plus Box?
No,both HBO Go and HBO MAX are not supported on Unifi Plus Box.
Can I watch YouTube on Unifi Plus Box?
Yes, you can stream 4K videos on Youtube with the Unifi Plus Box.
How do I reset my Unifi plus box?
Go to Settings, select App, and then select Info. relaunch the app. (press OK). Then, relaunch the app and log back in
What is included in unifi TV?
Unifi TV includes Ultimate Pack with 70+ channels, radio, and 8 video streaming apps. Detailed channel list is as shown above in the article.
Who can I contact if I need assistance with Unifi TV service issue?
You can reach Unifi Customer Support at  unifi.com.my/chat or myUnifi app, tweet to @helpmeunifi, message at facebook.com/weareunifi or walk-in to any nearest TMpoint.
Can I sideload apps on Unifi Plus Box?
No, users are not allowed to sideload apps or install 3rd party apps on Unifi Plus Box
Souce: lowyat.net, unifi.com.my/plus-box