If you're new to affiliate marketing in Malaysia, you need to know the two biggest local affiliate networks, AccessTrade and Involve Asia.
There are few other CPA networks available for local market but I believe these two are the most reliable.
My first advice for you today is don't even bother to try other affiliate networks than Involve and Accesstrade.
It is going to save you lots of time, money and energy!
My background
Before we jump into our topic, let me briefly introduce myself. I am Kai, blogging on Techrakyat.com that writes about product reviews that save your money and some occasional money-making tips.
I am lucky enough to generate some extra income with this small blog.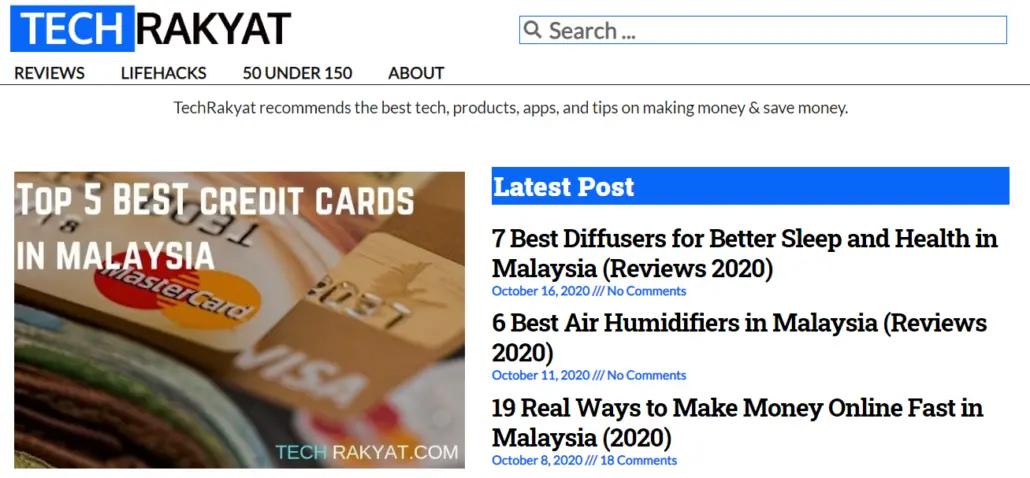 And I am no way a big shot affiliate marketer so I believe my experience should be more relatable to other beginner bloggers or young marketers in Malaysia.
The reviews below for Accesstrade and Involve Asia are solely my personal experience.
Other bloggers and influencers may have different experience with them, so take it with a pinch of salt. It does not represent the overall picture
Today, I will breakdown my analysis based on criterias below:
Quick Overview for Accesstrade and Involve Asia
Dashboard and Reporting: Tie
Accesstrade Dashboard
Accesstrade dashboard feels abit outdated in general. However, you still can get a quick glance over your earnings, clicks, conversion rates, and EPC (earning per click) once you logged into the dashboard.
Accesstrade's report is updated in real-time. This is very helpful for both beginners and advanced marketers.
Advanced marketers are very concern about conversion especially if they are running paid traffic to promote the offers. A real-time report update is a must-have feature for them.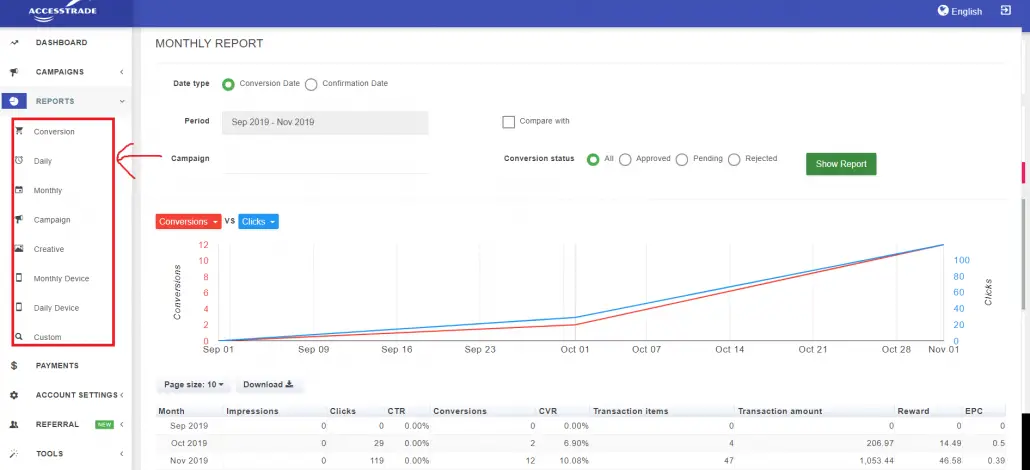 Accesstrade has many sub-section in the reporting format.
There are daily report, monthly report, device report, conversion report and campaign-specific report. It is extremely handy and there's always a nice graph shown that give you a quick overview.
Involve Asia Dashboard
Involve Asia dashboard is slightly more polished after the recent update. It shows the withdrawal threshold, daily statistics, new offers.
Don't mind the poor earning in the screenshot below. I actually have stopped promoting Involve offers for quite some time.

On the reporting part, Involve Asia only split into two major categories, which are performance and conversion report.
Users can choose to see which type of report they want, and then fine tune the date, campaign, etc.
Involve Asia report is updated real time too. . They are able to produce detailed report similar to Accesstrade but it is less convenient because lacking of quick device report and daily report.
Advertisers and Offers: Involve Asia Wins
Accesstrade Offers
Accesstrade has just landed in Malaysia in 2019. They have limited offers on their platform right now.
I counted all of the offers manually and come up to only 55 offers in total (as of date of this article published).
Nonetheless, Accesstrade team have been working hard to constantly add new offers.
But frankly, the speed of adding new deals are not that fast either.
At the end of the day, the quality of deals is what matters. You're not going to able to promote all of the deals but only a few of the good ones.
Involve Asia Offers
I must applaud Involve Asia in terms of vendors and advertisers that they are able to bring on board. And they also have more International and South East Asia deals.
So, if you're targeting worldwide audience, Involve Asia could be a good fit to you.
The speed of adding new offers is pretty impressive too. The team constantly bringing in new deals almost every single week.
But beware that some of these advertisers may come and go in matter of weeks or months.
If you plan to promote them with blogs, you must be alert and move quick. And check out a the video below that this guy lost RM2,000 because what he planned to promote suddenly paused.
There is some short term offers on Involve which are more suitable for influencer instead of the traditional content marketing (blog or YouTube).
This is because Instagram Influencer can do a simple shoutout to promote any deals. It usually will not take more than few hours to come up with a photo an creatives.
On the other hand, awesome blog and video content take days, if not weeks to produce.
So, you must be careful about where you focus your effort.
Offers Performance: Accesstrade Wins
I mainly promote Shopee affiliate offers on my site. And both Accesstrade and Involve Asia have Shopee as their advertiser.
I am not an expert but I have done a few rounds of testing by switching the affiliate link between these two platforms. (with the help of thirstyaffiliate WordPress plugin)
And my results show that Accesstrade constantly outperforms Involve Asia.
The conversion rate is always higher when I use Accesstrade. It is higher by 30-40% (rough estimation).
I want to emphasize again, this is not a huge set of A/B data testing. It is purely personal observation. It could be coincidents or anything.
I have no clear idea as well.
Commissions: Accesstrade Wins
Accesstrade being the new kid in the town is more generous in sharing their revenue with publishers like us.
In fact, for Shopee offers, Accesstrade takes 0% commission. Publishers get the full commission.
I totally understand that this is their strategy to attract more publishers to come over to their platform.
So, we as a smart marketer should ride on this wave and maximize this advantage.
Let's try out Accesstrade today! It's free for anyone to register.
Besides, most of the offers on Accesstrade are giving publishers a bigger cut of commission in comparison to similar offers on Involve Asia.
If you are concern that you may not find the right offer to promote, then just sign up with Involve Asia too. It is free to sign up too!
Payment: Accesstrade Wins
I had received payment from both Accesstrade and Involve Asia punctually without any problem, as long as I meet the withdrawal threshold.
Accesstrade has a minimum payment request at RM60. (More beginner friendly)
Involve Asia has a minimum payment request at RM80.
HOWEVER,
At Involve Asia, I have encountered an unpleasant experience. I have pending payment issue with certain offers for very long time, as much as 6 months and above.
So, I decided to drop an Email to my account manager to enquire about it and got the reply as below.
My account manager further explained that the advertisers had not paid them so they not able to pay us
Thus, I have no choice but wait…
This is a lesson for all of the fellow affiliate marketers to diversify and don't depend on a single income stream.
And a miracle happens exactly today when I am writing this article, exactly one year after I promoted the offers. (Oct 2019 promote, and receive payment Oct 2020)
Suddenly, it is shown that I can collect my payment, amounting to RM1729.01.
I didn't hesitate and immediately requested for withdrawal of the fund and it is under process now.
As you can see from my dashboard, there is still more than RM1,000 pending approval and collection.
Just to clarify that I did not promote any hotels or air ticket offers because those offers will only pay out after the consumer has consumed it.
Example: Customer book a hotel for next year June 2021, so the offers are only considered valid after the customer stay into the hotel by June 2021. Then, advertiser will release the payment.
But this is not my case, my promoted offers are consumed but pending payment from advertisers.
Publisher Support: Accesstrade Wins
In terms of support, I personally think Accesstrade offers a higher level of support to publishers. It could be due to their publisher sizes are smaller or they just prioritize in ensuring the success of publisher.
Accesstrade often organize different online training and workshop for publisher to improve their marketing skills, which in turns able to make more money.
Besides that, Accesstrade account manager is more pro-active to engage with me. He will personally nudge me through my Facebook Page to remind that there's any suitable offers for my website.
There's an ocassion that one of their offers tracking temporarily goes down. The account manager also immediately update to me through Facebook Messenger.
On the other hand, Involve Asia approach is more passive.
Any new offers or paused offers only will be updated through Email which often goes into the "promotion" tab in Gmail.
Sometimes you may not notice an offer had been paused when the notification Emails slipped through your Email Inbox.
And the communication with account manager is usually through Email. I have also chatted with a senior account manager on Skype before.
Conflict of Interest
Accesstrade
As far as I know, Accesstrade (or Interspace.my) do not involve in any kind of activity that is directly competing with publishers. Their core business is only running the Accesstrade CPA affiliate network.
Involve Asia
For Involve Asia, you may or may not know that they actually own productnation.co and shopcoupons.my.
To be honest, I personally have no problem with it because I just do my own stuff.
But I think this is a fair disclosure to fellow publishers to be aware that they will be competing with a Giant in the room if you go down the content marketer route.
Let me know how do you think?
In conclusion, I am more inclined to promote Accesstrade offers nowadays. I still have an account with Involve Asia, definitely will hop in when there're good offers.
I do like healthy competitions between these networks because we as marketers can benefit from it.
I would love to hear opinions and experience from other bloggers or influencers.
If you're still struggle make any money online, check out some of my other articles: