Do you suffer from poor indoor air quality? Looking for the best air purifier? An air purifier can be of great help to asthma and allergy sufferers.
Malaysia has always been plagued by haze and air pollution due to wildfire. An air purifier is a direct and effective way to improve the quality of indoor air immediately.
From brands including Sharp, Philips, Panasonic, Xiaomi, Coway, Honeywell, Blueair, and Dyson, we have reviewed and handpicked the 4 best air purifiers for most Malaysians.
Top 5 best air purifiers Malaysia
Summary of air purifiers airflow rate and noise level.
| Brand | Model | Coverage Area (m2) | Airflow (cfm) | Max Noise (dB) | Min Noise (dB) |
| --- | --- | --- | --- | --- | --- |
| Sharp | FPJ30LB | 23 | 106 | 9 | 23 |
| Sharp | FPF40LW | 30 | 141 | 49 | 21 |
| Xiaomi | PRO H | 48.7 | 353 | 57.5 | 34.1 |
| Dyson | TP07 | 27 | 614 | 64.4 | 42.3 |
Note: CADR rate is not used in this table. Because there is no official data for Sharp and Dyson's air purifier models.
---
Best Budget Air Purifier For Bedroom
1. Sharp Air Purifier FPJ30L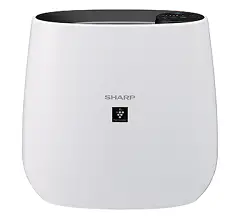 The Sharp air purifier FPJ30LA is small, modern, compact, quiet but powerful enough to filter the air within a small bedroom. 23m2 of coverage area.
| Pros | Cons |
| --- | --- |
| Powerful air suction and efficient airflow – ensures optimum working | When working at its maximum, can be a little noisy due to the fan. |
| HEPA filter. | No air quality indicator |
| Sharp Plasmacluster | |
| Silent night mode | |
Best deal on Lazada Best deal on Shopee
There are many options available, but we have narrowed down our search to Sharp Air Purifier FPJ30LP. This compact appliance packs quite a punch! While the coverage area is comparatively smaller, it will suffice for a 23m2 space like a bedroom.
In addition to mechanical filtration, Sharp's air purifiers use Plasmacluster Ion technology. 
Plasmacluster releases both positive hydrogen and negative oxygen ions, compared to a conventional ionizer air filter that releases only negative ions.
A negative ion ionizer could produce Ozone particle in the process and it can harm our health. 
On the other hand, Plasmacluster ion will attach to bacteria and allergen turning them into harmless water vapour. A 2006 study conducted by the Malaysian Ministry of Health confirmed that Plasmacluster ions degrade pollutants almost instantly[1].
They are also independently certified by ahamverifide.org-http://ahamverifide.org/. Which specializes in air filtration standard.
From a price point of view, this Sharp model makes a great deal for the money spent since it utilizes a HEPA filter. It can reduce airborne microbes, dust mites, pollen, remove mould, allergens, static electricity, and clean clinging odours as well.
The air purifier has a maximum airflow rate of 180m3/hr, which is equivalent to 106 cfm  (cubic feet per minute). It has a maximum noise level of 44 dB and a minimum noise level of 23 dB.
This is a super-quiet air purifier! Hence, Sharp FPJ30L air purifier is highly recommended to be used in the bedroom.
---
Best Value For Money Air Purifier
Sharp Air Purifier FPF40LW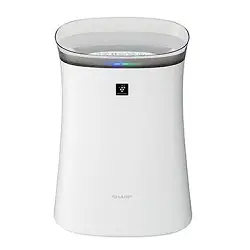 As far as price goes, Sharp's FPF40LW is almost twice as expensive as the smaller model. There is an air quality indicator on the unit (not available on the smaller model) and it can cover an area of 30m2.
| Pros | Cons |
| --- | --- |
| Greater coverage area – 30m² | Slightly pricey   |
| Deodorized filter | Coverage area increase not much |
| Air quality indicator | |
| Dust sensor | |
Best deal on Lazada Best deal on Shopee
Despite researching through multiple brands, Sharp still emerged as our pick for the best value for money air purifier. the victor. It has all the necessary convenient features of a quality air purifier and without the unnecessary bells and whistles.
Sharp's air purifier uses a pre-filter, HEPA filter, deodorizing filter, and Plastercluster ion technology to deliver the best air filtration. 
This is why it is no doubt capable of reducing and removing effectively airborne microbes and viruses. With the deodorizing carbon filter, it is more effective at removing odours such as cigarette odour, pet odour, ammonia odour, mold odour, cooking odour, and so on.
This air purifier has a maximum airflow of 141 cfm and operating at 21 to 49 dB noise level. It is good for a middle-sized room.
In comparison to the cheaper Sharp model, this unit has dust sensors and an air quality indicator, making it a more convenient device for users. The air purifier will automatically adjust the fan speed based on the amount of dust it detects. 
Additionally, users are able to easily monitor the indoor air quality with the indicator.
Featuring all the convenient features you'd expect from a good air purifier, Sharp's FPF40LW is the perfect choice for most households.
---
Best Smart Air Purifier
Xiaomi Smart Air Purifier Pro H
The Xiaomi Air Purifier Pro H is Xiaomi's newest air purifier. Xiaomi is practically the cheapest smart air purifier available on the market. You won't find a similar package from any other brands.
| Pros | Cons |
| --- | --- |
| 3 stages filter with HEPA | Have to avoid China version that use China plug |
| Internet-connected, control with smartphone | Only using  H11 HEPA filter |
| OLED indicator panel | |
| Air quality sensor by Sharp | |
| Stylish minimalist design | |
Best deal on Lazada Best deal on Shopee
Xiaomi Air Purifier Pro H's price tag of less than RM1,000 makes it one of the best smart air purifiers for your living room. This machine is incredibly powerful and is capable of covering a space of up to 48m2, which is more than 500 square feet.
Xiaomi's mi air purifier is designed differently than conventional air purifiers. As opposed to a single directional air blower and suction, this device utilizes 360-degree air suction and an open-top blower.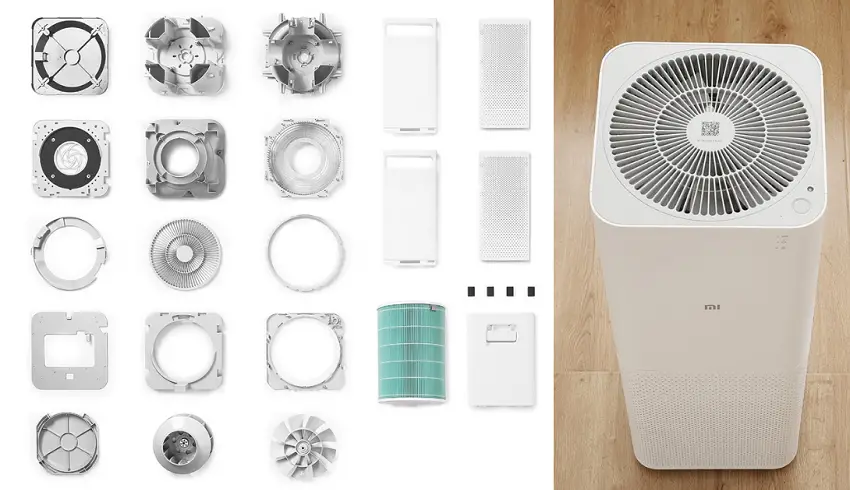 In fact, even the filter is a cylindrical shape rather than the usual flat-shaped filter found on other air purifier brands.
With a maximum airflow rate of 353 CFM, the Xiaomi air purifier Pro H is incredibly powerful. It also filters the air with a triple-filter system in which the first layer is a pre-filter, the second layer is coconut activated carbon filter, and the third layer is a HEPA H11.

I just wanted to remind everyone that HEPA H11 is not a true HEPA filter. True HEPA filters should be H12 and H13 or higher. (For more information on HEPA classification, visit http://en.wikipedia.org/wiki/HEPA)
It is a little compromise that we must accept. There is really no other air purifier at such price point that offers features like WiFi connectivity, an OLED display, and dedicated phone apps, along with powerful airflow.
On the touch-sensitive OLED panel or through its dedicated app, users can check the air quality in real-time.
Xiaomi Air Purifier Pro H might not have the highest HEPA grade filter. However, it has been proven to effectively remove secondhand smoke, furniture formaldehyde, and other air pollutants.[2]
---
Best Air Purifier with Fan
Dyson Pure Cool Air Purifier Tower Fan TP07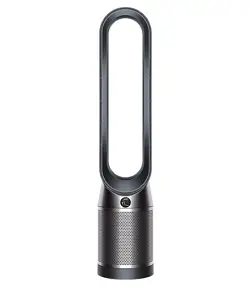 This Dyson air purifier tower fan is great for those who like to keep their home appliances minimal and clean. It works as both an air purifier and a Dyson tower fan. Though it's a bit pricey at RM2800.
| Pros | Cons |
| --- | --- |
| True HEPA 13 filter | Very costly |
| Smart sensors and WiFi connected | Expensive replacement filters |
| Digital LCD display | |
| Control with a smartphone. Dyson Link app | |
Best deal on Lazada Best deal on Shopee
Before you continue, you're advised to purchase this Dyson air purifier only if you really like Dyson bladeless Dyson. That's because this is an expensive appliance and probably not the most cost-efficient one.
Considering that even the much older Dyson single-function bladeless tower fan is priced at around RM1,400 and up, then RM2,800 seems reasonable (for Dyson) when you factor in the air filtration function.
It is also a smart air purifier like Xiaomi's. It is also equipped with more smart sensors, and it connects to the internet and can be controlled with Alexa and Dyson Link app.
The Dyson airflow rate is as high as 614 cfm. The reason for this is that it is in fact a fan. The wind is definitely much stronger than its competitors. The fan oscillates at 350 degrees, so the air is circulated throughout the entire room. And the air purification process is more thorough.
Due to Dyson's bladeless design, users can choose to have the fan blow forward for cooling effect or backward for only circulation and filtration.
Dyson air purifier uses their in-house POLAR test instead of CADR test. It claims that their combination of strong wind blows with HEPA 13r is more efficient than a normal air purifier which tends to only filter the air within a localized position.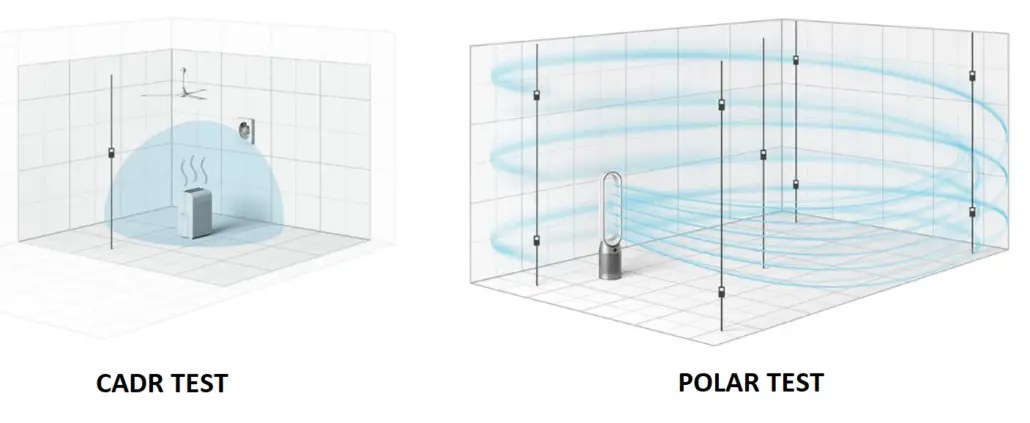 Dyson's HEPA air purifier is shown to remove airborne particles such as pet dander, mold spore, dust mites, VOC, Benzene, Nitrogen Dioxide, Formaldehyde and other harmful particles.
The maximum noise level of the Dyson air purifier fan is 63dB, and the quiet mode is less than 45dB.
The fan can be controlled by the smartphone Dyson Link app and its own remote control. The Dyson link app displays your room air quality, temperature, humidity, VOC level, pollen level, and more.
With the Dyson Link app, you can also set up multiple timers and schedules.
Before you decide to purchase this air purifier fan, be aware that its replacement filter is quite expensive as well. The system comes with an indicator of filter life to remind users when the filter needs to be changed.
This Dyson air purifier fan is a good choice if the price is not an issue for you.
---
Other Air Purifiers that I Like
Philips Air Purifier Review
There are few models of phlips air purifiers, namely series 3000 and series 800. 
Instead of rectangular boxes, this new design is cylindrical.
The Philips series 3000, AC3033 covers up to 135m2, while the Philips series 800, AC0820 covers up to 49m2. They are able to filter 99.99% of ultra-fine particles and also remove up to 99.99% of viruses, including the Covid-19 virus from the air.
Get Philips' series 3000i air purifier if you prefer smartphone control. Other than that, Phlips AC0820 will work just fine.
---
Previous Best Air Purifier Picks
Xiaomi Air Purifier 3H Review
The Xiaomi air purifier 3H remains one of my favourites. But the Xiaomi air purifier Pro H global version is a better purchase at this time. In case you don't need a big air purifier like the Pro H, you could purchase the smaller Xiaomi 3H air purifier.
Philips AC 3259 Air Purifier Review
Previously, this model was selected for its large airflow capacity and coverage area. Philips has since introduced a newer and better air purifier for big rooms, the Philips AC3033.
Philips' newest air purifier features a new design, smartphone app control, and WiFi connectivity. Therefore, I would not recommend purchasing the old Philips AC 3259 any longer.
Blueair Joy S Air Purifier Review
Blueair Joy S was recommended earlier due to its good international reputation and its good design. 
Having carefully considered my recommendation, I no longer recommend Malaysians buy this air purifier since its price is simply too high. It is also very expensive to replace the filter.
The Dyson air purifier tower fan is a better value for money if you are willing to spend that much money.
Non-branded/OEM Air Purifier Review
Never buy a non-branded air purifier. If you insist, make sure you consult the buyer on its filter quality. Due to the fact that many vendors sell "fake HEPA" air purifiers. Furthermore, the average user does not have any means of verifying their claims. 
---
Competitions
Blueair Classic 405 Review
In terms of air filtration, Blueair Classic series filters are highly regarded and perform exceptionally well in lab tests. 
In terms of CADR, it measures about 300 cfm, which is considered to be fairly good. In addition, its air purification abilities are very good regardless of whether the fan speed is high or low.
Unfortunately, most Malaysians cannot afford it.
Cuckoo Air Purifier Model C Review
The Cuckoo air purifier covers only 37m2 and costs as much as RM2400. A financial savvy consumer should also avoid renting an air purifier. The rental program can allow you to own a unit for a very low initial cost, but it can put a big dent in your pocket over time.
Honeywell Air Purifier Hac 30 Review
Honeywell HAC 30 is another great option for RM950 with a 42m2 coverage area. The build quality is excellent and it feels premium. It is also well-known for its top-notch air filtration quality. It is not the best value for money when compared to Sharp's air purifier.
---
Air Purifier FAQ
Is an expensive air purifier better than cheap air purifier?
No, in a test done by the Shanghai Consumer Protection Bureau Test. The Sharp air purifier ranks number one in the test cleaning 99% of pollutants in the air, followed by the Blueair air purifier. However, Sharp air purifier cost only half of Blueair's air purifier.
Do air purifier really works?
In many kinds of research and studies, an air purifier is found to be effective in removing harmful particles in air. Malaysia's Ministry of Health conducted a research on Sharp Plasmacluster ion and found that it indeed remove bacterias and viruses[1].
How to choose a good air purifier?
When choosing an air purifier, we should pay attention to airflow, CADR, size, noise level and HEPA filtration. I have a detailed guide on how to choose an air purifier that explains more on this topic.
Do I need an air purifier?
It is advisable to get a good air purifier if you suffer from allergies or asthma. Many noticed a significant improvement in their breathing and health after using one.
Can air purifier help with COVID19?
Yes, air purifiers with HEPA filtration efficiently capture particles the size of (and far smaller than) the virus that causes COVID-19. United States Environmental Protection Agency, EPA now recommending the use of air purifier whenever possible to reduce possible airborne transmission.
Sharp vs. Philips air purifier, which is better?
In my opinion, Sharp air purifier is better than Philips because it has Plasmacluter ion technology. For anyone who doesn't like or don't need this Plasmacluster ion, may go for Philips air purifier.
Is Ozone air purifier bad?
Yes, high concentration of Ozone can be harmful to human body. They can damage the airways and make the lungs more prone to infection.
Last words
There's no need to overspend on the air purifiers. Sharp air purifiers are very capable yet affordable at the same time. The money you save can be used to buy an air conditioner, air cooler, air humidifier, or even a portable air conditioner.
References: