Malaysia's tropical climate can be a blessing and a curse. Despite not having to endure the cold season in the winter, Malaysia's hot weather can be quite challenging.
When a ceiling fan is not enough to cool down a room, portable air conditioners and wall-mounted air conditioners are the answers. You can use portable aircon comfortably in your home or office, without any kind of permanent installation required.
We'll explore everything you need to know about portable air conditioners in Malaysia, including their pros and cons, features, and buying tips, so you can stay cool and comfortable all year long.
What is the best portable air conditioner in Malaysia?
The best portable air conditioner in Malaysia is the Hisense AP12NXG because of its 1.5HP cooling performance, affordable price, versatility, innovative auto-evaporative system, and use of more eco-friendly R32 refrigerant. 
It has a cooling capacity of 12000 BTU/h and can be easily moved by a healthy man, making it perfect for small living rooms and bedrooms.
Here are the top 4 best portable air conditioners in Malaysia:
---
Hisense AP12NXG
Best Portable Air Conditioner Malaysia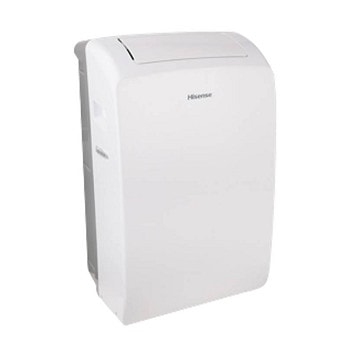 Best deal on Lazada Best deal on Shopee
The Hisense AP12NXG is a 1.5HP portable air conditioner with a cooling capacity of 12000 BTU/h. Considering its weight of about 25kg, it isn't really very portable. However, it can still be carried around easily by a healthy adult.
This Hisense portable air conditioner can function as an air conditioner, a regular fan, and a dehumidifier.
With a cooling capacity of 12000 BTU/h and an air circulation of 360 m3/h, it is adequate for a small living room and bedroom.
The Hisense AP12NXG has a jet mode for rapid cooling and an auto-cool mode for automatic temperature adjustments.
At the back of the unit is an exhaust fan. For a room to be effectively cooled, exhaust ducts must be properly installed. It comes with an extendable hose and casing for mounting onto a windowsill. 
The Hisense AP12NXG uses a very innovative auto-evaporative system that does not require water draining. The compressor system recycles water to deliver cool air. 
Furthermore, this Hisense portable air conditioner uses R32 refrigerant, whereas other cheaper portable air conditioners use R410a.
Overall, the Hisense AP12NXG portable air conditioner is a solid choice for anyone looking for an efficient and powerful air conditioning unit for medium-sized rooms. Its energy efficiency, quiet operation, and smart features make it a great investment for beating the heat in the summer months.
---
Midea 1.5hp MPF-12CRN1
Powerful Portable Air Conditioner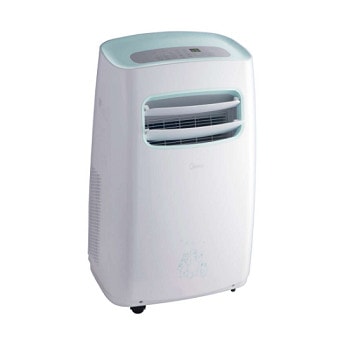 Best deal on Lazada Best deal on Shopee
The Midea 1.5hp MPF-12CRN1 Portable Air Conditioner is an excellent choice for Malaysians who want a powerful, easy-to-use, and efficient portable aircon unit. With a cooling capacity of 12,000 BTU and a temperature range of 17-30 degrees Celsius, this unit is suitable for medium-sized rooms.
One of the standout features of this aircon is its ionizer function that produces anions, which create fresh and healthy air. It also has a biofilter and silver ion filter, which help to provide cleaner air. 
It has a self-evaporation feature which means there is no need for the users to drain the unit manually, as water condensation evaporates on its own.
The Midea MPF-12CRN1 comes with several useful features, including auto self-diagnosis, auto protection, and sleep mode, which helps to save power and ensures great comfort. 
This fan has an automatic vertical fan swivel, which distributes air evenly around the room.
The unit comes with a 2-year warranty from Midea Malaysia and a 5-year warranty on the compressor. It is easy to install and use, although the hose is a little short, and the indoor noise level is relatively low at 55 dB.
Overall, the Midea 1.5hp MPF-12CRN1 Portable Air Conditioner is a great value-for-money option for Malaysians looking for a portable aircon unit that is powerful, efficient, and easy to use. Its standout features, such as the ionizer function and self-evaporation feature, make it an attractive option for those prioritising clean and fresh air in their homes.
---
Acson Moveo
Best Portable Air Conditioner with WiFi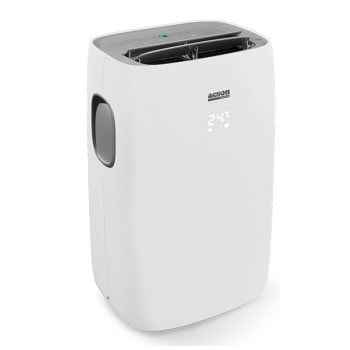 Best deal on Lazada Best deal on Shopee
Acson Moveo portable air conditioners are perfect for people who want flexibility in their air conditioning needs. The unit is small, compact, and equipped with caster wheels. So it can be moved around easily.
Two different Acson Movei models are available, ASPA10C at 10,000 BTU and ASPA15D at 12,000 BTU. Larger rooms will require more BTU, so users can choose according to their needs.
Acson's portable air conditioner uses silver ion technology to eliminate bacteria and other pollutants.
The model comes with a touchscreen panel and a remote control. It is very easy for users to adjust the temperature and fan speed.
One cool feature of the Moveo A5PA15D model is that it can connect to WiFi. Therefore, users can control it using their phones and switch it on remotely. It is a nice feeling to return to a cold and comfortable home after a long day at work.
However, the Acson Moveo is using R410A refrigerant which has a higher global warming potential than R32 used by Hisense AP12NXG
Another thing is that its price is on the higher side compared to some other portable air conditioning units in the market.
Overall, the Acson Moveo is a great choice for people who need a portable air conditioner that is small, compact, and easy to use. However, if you need a more powerful air conditioning unit, you may want to consider other options.
---
Midea MPH09CRN
Best Budget Portable Aircon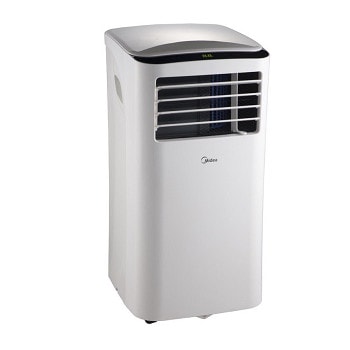 Best deal on Lazada Best deal on Shopee
The Midea MPH09CRN1 Portable Air Conditioner is a great value for money 1.0HP model that offers a range of useful features. The silver ion filter and self-evaporation system are two of the features that make this unit stand out. 
This 1.0HP Midea aircon is easy to use and install, making it a perfect choice for small room sizes ranging from 10-14m2. 
One notable feature of the Midea MPH09CRN1 is its silver ion filtration system. The nanosilver attached to the filter releases silver ions, which are highly effective in eliminating bacteria, ensuring the air you breathe is healthy and clean. This feature is a definite plus.
This portable air conditioner also has a Sleep Mode function that automatically increases the cooling power for the first two hours, then stabilizes the temperature for the next five hours, and finally shuts off on its own, thereby conserving electricity. 
It also comes with a 1-year full warranty from Midea Malaysia, as well as a 5-year compressor warranty.
Overall, the Midea MPH09CRN1 Portable Air Conditioner is a good choice for those looking for a cost-effective air conditioning solution for their small rooms. Its range of features, including silver ion filtration and sleep mode, make it an excellent value for money.
---
Portable Air Conditioner Price
The price of a portable air conditioner is between RM799 – RM1699 in Malaysia.
The price of a 1.0HP portable air conditioner starts at RM799 and can go up to RM1199. 
Then, the price of a 2.0HP portable air conditioner starts at RM1099 and can go up to RM1699.
Hisense and Midea are two brands which are selling portable air-cond at affordable prices.
---
Portable Air Conditioners vs Wall-mounted Air Conditioners
Wall-mounted AC is more effective in cooling down a room faster, making it a popular choice among Malaysian users. There are portable ACs that can function just as well as wall-mounted ones, but they are likely to be much more expensive.

The advantage of portable ACs is that they are more mobile and flexible, as their name implies. It's important to note, however, that hot air venting requires a hose. 
In most cases, it is channelled to a separate space or through the windows to the outdoors. There is a certain amount of restriction to mobility here. Still, it's easier to move than a wall-mounted one!
Hoses need to be as straight as possible since kinks could reduce their effectiveness.
While portable ACs have some downsides, we still believe that they are excellent alternatives to wall-mounted ones since they are in general cheaper and do not require complicated installations. 
Hence, portable air conditioners are much more convenient (plug and use), which means fewer headaches.
---
Should I get a portable air conditioner?
Most offices and restaurants have central air conditioning units. Despite being more expensive, they are effective at cooling large spaces. 
There may be times when a space like this is not fully occupied, and therefore running a central air conditioning unit may not always be economical. 
Therefore, you may be able to supplement your cooling needs with a portable air conditioner.
Moreover, some people live in places where wall-mounted air conditioners can't be installed due to restrictions, so in such cases, portable air conditioners may be the best option. 
In case you do not have the budget to buy a portable air conditioner, you might want to consider an air cooler, which is a fan that is slightly cooler than a normal fan.
---
What to consider when buying portable air conditioners?
Horsepower 
A portable AC must have enough horsepower (HP/BTU) to effectively run in that space.
In the first place, you should take a good look at the intended coverage area. You would only waste electricity if you bought one with a very strong capacity for a really small space. 
Getting one that is too underpowered will leave you paying through your nose for electricity and you still have a warm room.
Installation Location
Next, you must also consider where the unit will be placed – whether you have a suitable space that is also near a window, etc … all these are important factors to take into account.
---
Competition
Morgan Portable Air Conditioner MAC-091 is the closest competitor to Midea portable air conditioner. It has the same 1 year warranty and 5 years compressor warranty. It is even slightly cheaper than Midea's. I would like to praise Morgan's installation manual which really guides users through the whole installation process. However, Midea and Hisense are preferred for their expertise in manufacturing air conditioner products. Midea's air-cond looks slightly more modern too.

Gree CUTEE Portable Air Conditioner is produced by Gree, another well-known China air-cond product manufacturer. However, its high price tag which is equivalent to 1.5HP Midea's model makes it an easy pass. It also has only 3 years warranty on compressors compared to 5 years warranty on Morgan and Midea.

ELBA EPAC-D3910 1HP PORTABLE air conditioner is also very expensive. Plus, air-cond products are not their focus appliance range.
---
FAQ
Should I buy a mini portable air conditioner?
No, you should not buy a mini portable air conditioner. Although some vendors may market mini air coolers as mini air conditioners, there is a significant difference between the two. Air coolers are essentially fans with evaporative cooling technology. So, don't waste money on a mini portable air conditioner.
What are the disadvantages of portable air conditioners?
The biggest downside of a portable air conditioner is it has poorer cooling performance than a wall-mounted air conditioner due to its smaller size. Compared to wall-mounted air conditioners of the same horsepower, its price is also higher.
Is there a portable air conditioner without a hose?
No, all portable air conditioner needs a hose for venting out hot air. When you don't use a hose, you're blowing out not only cold air but also hot air into the room at the same time, wasting electricity and not keeping the room cool. 
Do portable air conditioners require permanent installation?
No, portable air conditioners do not require permanent installation. Users can always shift the portable air conditioner from one place to another.
Are portable air conditioners energy-efficient?
No, they are not energy efficient compared to the wall-mounted air conditioners.
Can portable air conditioners cool large rooms?
No, we only have 1.0hp and 1.5hp portable air conditioners in Malaysia. They are generally suitable for small to medium-sized rooms. However, they are not powerful enough for large rooms.