Aromatherapy has been known to improve breathing, overall mental and physical health, as well as emotional well-being.
There are many different types of aroma diffusers available: ultrasonic diffusers, nebulizing diffusers, reed (stick) diffusers, evaporative diffusers, and candle diffusers.
The most common types of diffusers you see in Malaysia are ultrasonic diffusers and reed diffusers.
My top pick is the Deerma F300 Aroma Diffuser and Air Humidifier. It comes with a good 2.5L tank size and has a flexible rotatable 360 degrees mist outlet.
Here is our complete list of the best aroma diffusers in Malaysia:
---
1. Deerma F300 Aroma Diffuser and Air Humidifier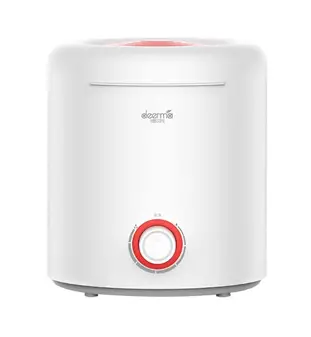 At 20cm x 20cm x 22.4cm, this Deerma F300 diffuser is a medium-sized aroma diffuser. It is rated 4.8/5 from more than 120 customers' ratings.
It is easy to carry around and can be placed on the work desk, living room, kitchen, anywhere you wish. It is practical and easy to use.
Deerma F300 Aroma Diffuser features:
Mist outlet is 360° rotatable (manual)
Anti-Corrosion PP Material
Water Shortage Automatic Power Failure Protection function
Quiet operation
Adjustable mist control
Customer's positive review
Really good quality and efficient. It emits cold air which is really good! Easy to clean and really affordable. Recommended!
Customer's critical review
Really no recommend for this product , which is very big and Inconvenient to use .
Bear in mind that this diffuser is not really super-compact size, it can be too huge for some small bedside tables.
Adding water is done at the top without the need to lift up the water tank. The mist outlet is rotatable 360 degrees, making it easy to blow the aroma in any particular direction.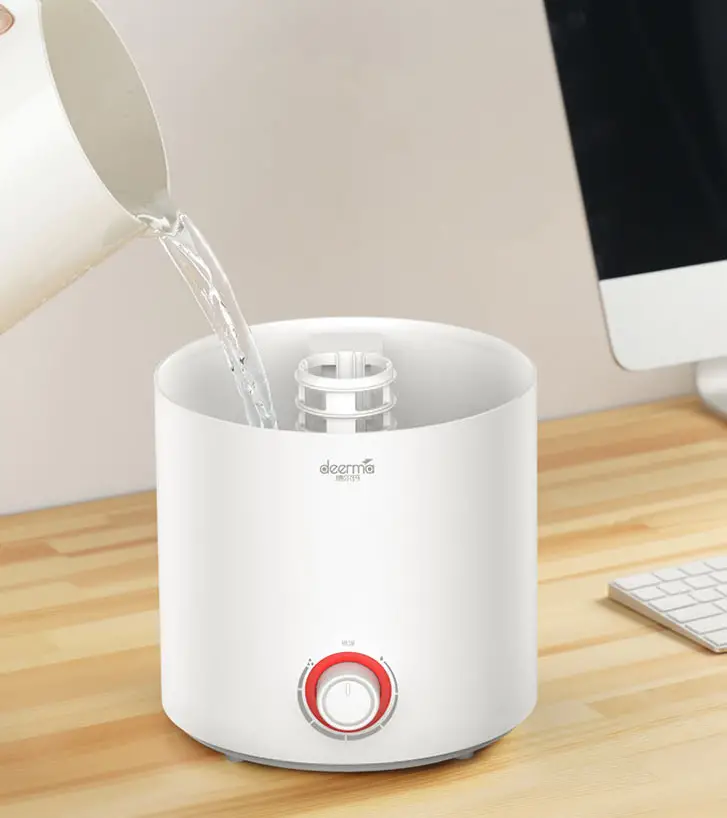 Many have concerns with the ABS material used by most devices when putting in essential oils, for fear of corroding the material.
This water tank is made of Anti-Corrosion PP Material, not ABS thus making the water tank more resistant to corrosion and any high temperature.
The best part of this diffuser is users can add aromatherapy essential oils, fruits, flowers directly into the tank.
Some ultrasonic diffusers are not capable of doing so, it can spoil the machines.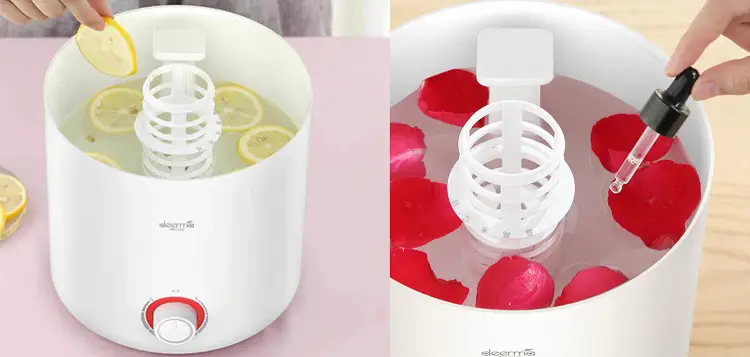 There is a Deerma Ring Shaped Spray System that uses a turbine air duct circulation method so that the mist can reach farther. The coverage area is estimated to be 16-20m².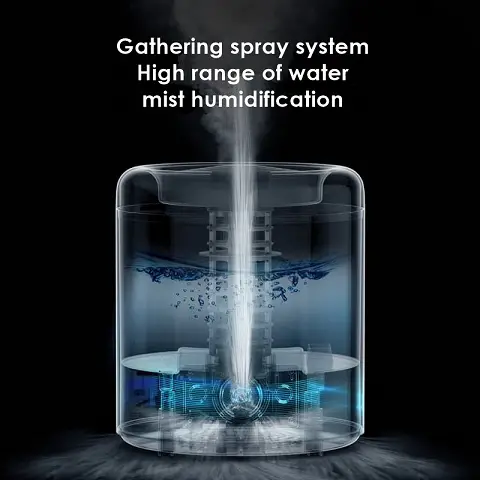 It also has a safety system within the diffuser, where the water level is closely monitored. When the water level is low, the power is automatically cut off.
This model comes with a 3-month local manufacturer warranty.
Best deal on Lazada Best deal on Shopee
---
2. Muji Ultrasonic Aroma Diffuser 80x140mm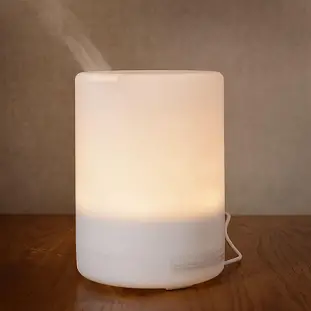 At 80 x 140mm, this MUJI Aroma Diffuser uses essential oils and warm light to create a soothing ambience for the surroundings.
MUJI diffuser features:
Minimalistic design
Light and compact size
Powerful aroma diffuser
Built-in timer function
Night light – 2 levels of brightness adjustment
This aroma diffuser is light and compact. It is very portable and easily placed anywhere. The body is made of PP Resin.
Its water tank size is 350ml. The mist emitted an hour is around 25-30ml. You can use it for up to around 3 hours.
Despite its small and compact size, this is a powerful aroma diffuser. With just a drop of essential oil, this was enough to fill out an average-sized room. It is an effective aroma diffuser.
It is equipped with 12 LED lights and has a 2-stage brightness adjustment.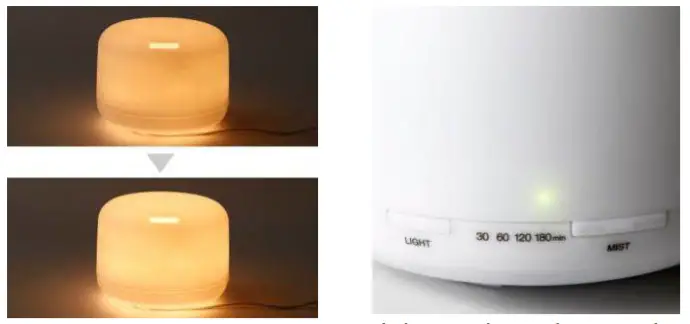 There is also a built-in timer function that allows you to set to 30, 60, 120 and 180 mins. Upon reaching the set time, the device will turn off.
To clean it, all you need to do is wipe the insides periodically. Pay more attention to the vibrating plate as dust can build up and affect its function.
Best deal on Lazada Best deal on Shopee
---
3. ACSON Ultrasonic Aroma Diffuser Lamp with Bluetooth Speaker (AAD20B)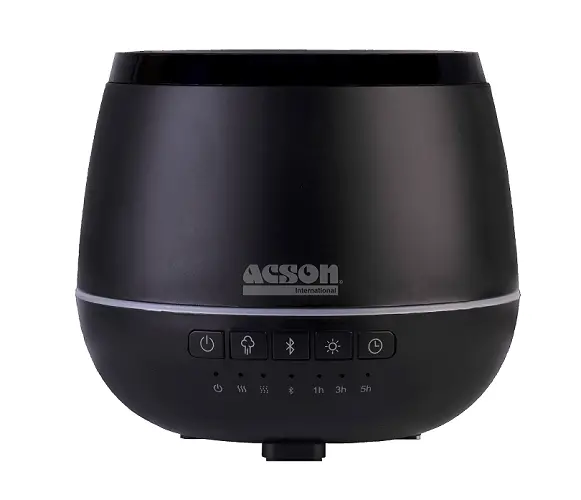 At 133 x 150 x 150mm, this little ACSON ultrasonic aroma diffuser can also be used as a humidifier to retain the moisture in the air. It also comes with a speaker which is very handy.
Acson Aroma Diffuser main features:
4 in one device – ultrasonic aroma diffuser, humidifier, night light and Bluetooth speaker
As humidifier – 2 mist modes
Night light –light can be configured
Low water level protection mode
Water splash protection mode
Timer function
With a 200ml water tank, it has 2 mist modes to help hydrate the air. It can continuously emit mist for 4 hours or switch to emitting mist in intervals, up to 8 hours.
On top of this, it can triple up as a night light where you can control the light it emits.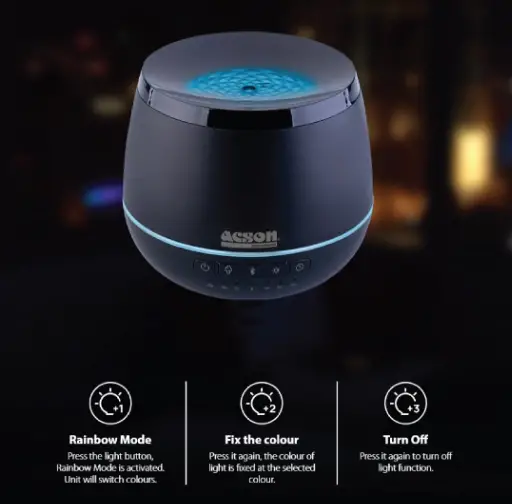 The most interesting part of this Acson diffuser is that it is also a Bluetooth speaker.
You can connect it to your phone and stream the playlist of your favourite songs, anytime and anywhere.
Combining with a diffuser and night light, it can create a very soothing ambience to rejuvenate your mind and body.
It is equipped with safety measures such as low water level protection mode where the device will automatically shut off when the water level becomes too low and water splash protection mode.
There is a double layer protection cover to prevent water from flowing out from the water tank.
It also has a timer function for you to configure when it will shut off at 1/3/5 hours.
It comes with a 1 Year Local Supplier warranty.
Best deal on Lazada Best deal on Shopee
---
4. GRANULAR 400ml Aroma Essential Oil Diffuser – Wood Grain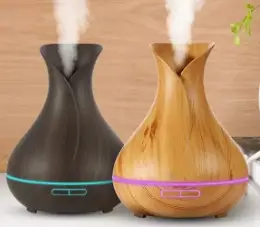 This particular GRANULAR aroma diffuser has over 500 combined ratings on Lazada(4.8 out of 5) and Shopee (5.0 out of 5). It looks like a rebranded China OEM product but with so many positive reviews. It can't be too bad right.
GRANULAR wood grain 400ml diffuser feature:
Humidifier function
4 Timer settings
2-stage mist output
7 changing mood lights
Safe material
Auto shut-off function
Customer's positive review:
This is my 3rd time buying a diffuser from Granular. Really good quality at reasonable prices. Super worth it!!
Customer's critical review:
Diffuser okay but don't expect the mist to be strong. It doesn't cover the living room. I barely smell the scent. Maybe if put in small bedroom abt 300sqf will do the trick. Delivery wise is fast.
As per one review pointed, this compact aroma diffuser is only suitable for small rooms.
It has a 400ml water storage capacity. There are 4 timer settings that users can set to 1/3/6 hours or continuous spraying.
The 7 changing mood lights are pretty and looks nice in dark.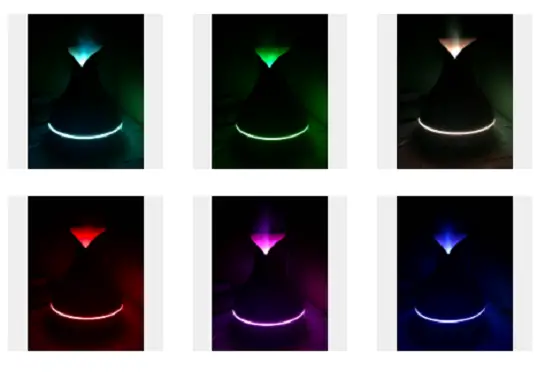 It also has an auto shut off safety system that the diffusers will shut off when there's no more water.
One thing worth mentioning is that there are many customers who praise the product quality from the GRANULAR brand.
And many returns to purchase 2nd or 3rd time with them. So it speaks a lot about their service and product.
These GRANULAR diffusers come with a 1-year warranty (1-to-1 replacement) for manufacturing defects.
Best deal on Lazada Best deal on Shopee
---
5. Xiaomi Mijia URALLIFE Portable Shell-Shaped Waterless Aroma Diffuser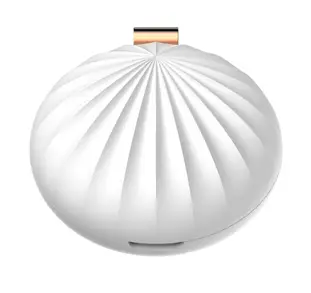 This URALLIFE Portable Shell-Shaped Waterless Aroma Diffuser is super light akin to the weight of an egg and is a portable Aroma Diffuser. This is also perfect as a car aroma diffuser.
As mentioned before in our air humidifier reviews, I can't verify that this brand is really under Xiaomi ecological brand and products.
So, do take note of it. But it does have quite many positive reviews.
URALLIFE Waterless Portable Diffuser features:
Super light
Portable Aroma Diffuser
Suitable to be used in car
Built-in rechargeable 500mAh battery
Quiet operation
Stylish shell shape design
Customer's positive review:
I love it! Small and elegant. Looks like a compact powder. I bring this with me to the office and in the car for soft and slight hint aromatherapy.

At first, I thought to flip the shell like a compact powder, but u actually have to twist the top cover open to reveal the inside.
Customer's critical review:
Not easy to open and close due to the shape.
Given the cheap pricing, this diffuser is neither a nebulizing nor an ultrasonic diffuser. It actually works by using a fan to blow through the refill pads to get the smell out.
It is fitted with a rechargeable lithium-ion battery; a 500 mAh battery that allows you to run it wirelessly. It is great for travelling or even at home. It does not need water so there's no worry of water spillage when moving it around.
It is claimed that this little device can run up to 10 hours of continuous use.
The operation is quiet and its stylish shell shape design can also double up as a decorative item too. Turn it clockwise to turn it on and counter-clockwise to turn it off.  
Moreover, most mobile phone USB charging cables can be used to charge this diffuser too. So, it is very convenient.
This product comes with 6 months International Seller Warranty.
Best deal on Lazada Best deal on Shopee
---
6. doTERRA Petal Diffuser 2.0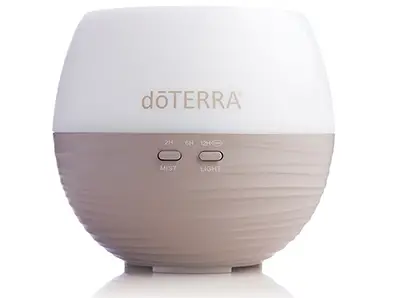 doTerra Petal Diffuser 2.0 is a slightly higher-end aroma diffuser with premium pricing. It is great for aromatherapy sessions for you and your family.
doTerra Petal Diffuser 2.0 features:
Compact aroma diffuser
Powerful fine mist spray
2 mist settings
Night light
Modern design
Customer's positive review:
Happy purchase 😄😄😄 very satisfied with the genuine product and the doterra diffuser is really different from other brand diffuser!

The lavender essential oil helps migraine 👍🏻👍🏻👍🏻 definitely will purchase again from thus seller! Oh ya the packaging was really nice and secure the product ! Fast delivery !!
Customer's negative review: None
This diffuser basically consists of 3 separate pieces which you need to put together. It's quite simple actually.
Despite its compact and little size, it is quite powerful as it can spray fine mist up to 330 sq. ft.
You can select between 2 mist settings. Either you prefer to have a continuous spray (2 and 6 hours) or 12-hours in 5 mins on and off intervals.
It works perfectly with essential oils and you can pre-set the diffuser to function at specific times.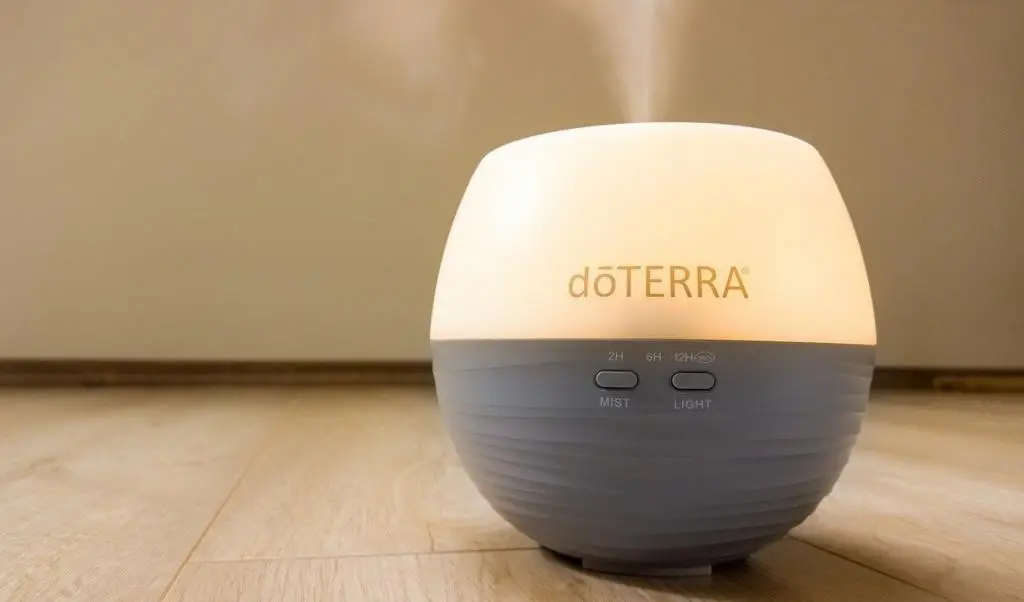 This can also work as a night light. You have the choice to turn this night mode off.
It comes with a 1 Month Local Supplier warranty.
Best deal on Lazada Best deal on Shopee
---
7. Daiso Aroma Diffuser (Stick Type)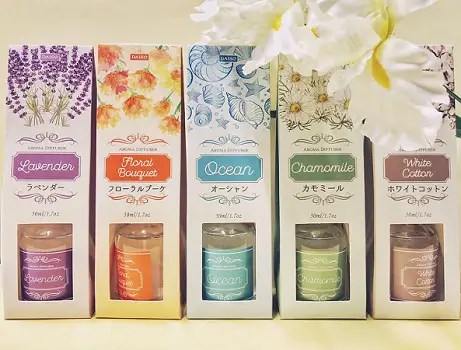 For beginners with aromatherapy, you may want to try out the cheap and affordable Daiso Aroma Diffuser.
Unlike all the other diffusers above, it is a stick diffuser that does not require electricity, fan or fire. It is completely environmental-friendly.
So, expect the scent to be mild and lighter compared to ultrasonic or candle diffuser.
Daiso Aroma diffusers features:
Extremely small footprint.
Natural way to provide aromatherapy
Mild scent
Customer's positive review:
Barang sampai dalam keadaan baik, terima kasih 😊 seller, bau chamomile Wangi sangat sangat sangat, saya beli 2 terus Lepas ni boleh repeat order lagi tq
Customer's negative review: None
There are multiple fragrances to choose from including rose, ocean, lavender, chamomile, cotton candy-lavender and floral.
For less than RM10, it is no harm to try out something new that might improve your health and also your sleep quality.
Best deal on Lazada Best deal on Shopee
---
Common Essential Oil Diffuser FAQ
What are diffusers good for?
There are many benefits of using an aroma diffuser:
– safe scent
– relieve stress
– improve sleep quality
– curb appetite
– eradicate bacteria
– nasal decongestion
– mosquito repellant
– relieve migraine/pain
– improve cognitive function
Which type of diffuser is the best?
We recommend ultrasonic diffusers as they are safe, fast and effective to cover a large area.
Can I sleep with the diffuser turned on?
Yes, you can. It is safe and able to improve your sleep quality through the effect of aromatherapy.
If you enjoy this article, check out our other articles too.
Source:
Healthline.com – https://www.healthline.com/health/how-to-use-essential-oils
Webmd.com -https://www.webmd.com/beauty/news/20180813/essential-oils-promise-help-but-beware-the-risks
Aromaessential.com – https://aromessential.com/best-oil-diffuser/benefits