This article is inspired by and tributed to blacktubi.com, which has been the forerunner of reviewing router in Malaysia. He also frequently answering everything related to routers in Lowyat forum. If you're into every nitty-gritty of router, feel free to visit and support his site.
For your information, every standard broadband installation in Malaysia comes with a modem and a router. 
To put things short, the modem connects to the internet. So, you can't the change the Unifi Modem (most of the time even Maxis is using an Unifi Modem)
The router establishes local area network either through LAN or WiFi. And the router that Unifi/Maxis give to the customer for free is an entry-level router. This makes sense for them to save cost. And high-end users can replace the existing router on their own for better internet experience.
We have handpicked the best WiFi router for Unifi & Maxis as below:
How we pick the best Unifi & Maxis router
Price – A good router can cost from RM300 to RM2500. And we feel that routers above RM1000 are overkilled and gives a diminishing return. If you would like to have the lowest latency and fastest speed, go for LAN. If you need very big coverage and range, just go for a mesh WiFI router.
Good Range – Router should be able to cover a small condominium or single storey terrace without any issue.
Good Throughput – It should support maintain a reasonably fast internet speed on both 2.4Ghz and 5Ghz.
WiFI 6 – Also known as 802.11ax. It improves on current 802.11ac, better range, faster speed, and more concurrent connection. However, there's a limited range of products support it now. For example, iPhone 11 and Samsung S10/S20 do support WiFi 6.
Mesh-WiFi – Another popular WiFi term recently. Multiple routers work together to form a better and bigger WiFi coverage network. Don't confuse Mesh WiFi with a range extender or repeater. Range extender only repeats the signal while multiple mesh WiFi routers are work as one entity.
Best Router for Unifi 300Mbps
1. TP-Link Archer AX10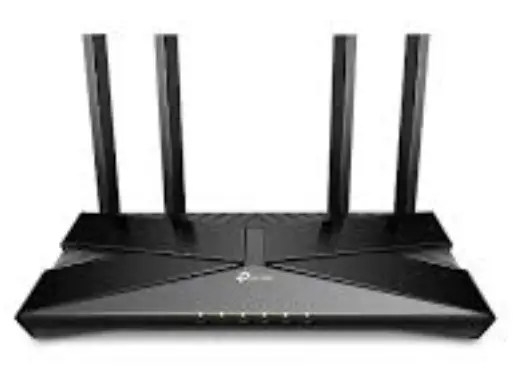 TP-link archer AX10/AX1500 is the best budget router we should love. It is the brand new AX range TP-link product that supports WiFi 6. It has decent coverage, maximum 300Mbps speed at 2.4Ghz and 1.2Gbps at 5Ghz and also comes with 4x Gigabit LAN port. The best of all it priced at less than RM350.
Best deal on Lazada Best deal on Shopee
TP-Link Archer AX10 also know as AX1500 in the western market. It sells at only RM350, easily one of the cheapest Wi-Fi 6 in the market right now.
Similar to a smartphone or any new tech products, there's really no reason to go for an older model when you're shopping for a router. A newer router usually comes with better hardware and more optimized software.
Despite you may not own any WiFi 6 product right now, you should get this router instead of the older TP-Link Archer C7 modem.
TP-Link AX10 has 4 nos of Gigabit Ethernet LAN ports and 1 no of Gigabit Ethernet WAN Port. There are also 4 antennas and beamforming technology which helps to improve a better and faster WiFi connection.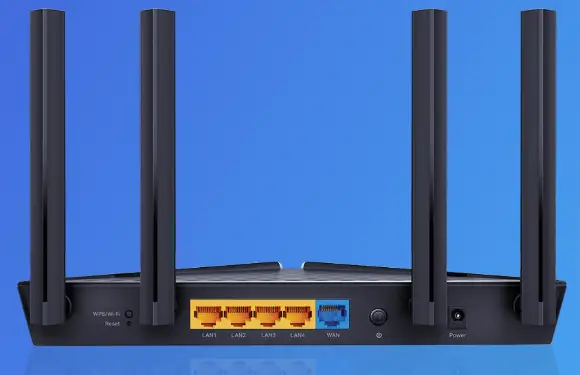 TP-Link has WiFi connectivity as shown below. And its 300Mbps limit for 2.4Ghz WiFi is the reason we only recommend it if you're using 300Mbps or below Unifi/Maxis fibre package. For higher internet speed, you would need to get a better router.
| | |
| --- | --- |
| Wireless 2.4Ghz | Up to 300Mbps (2X2 40Mhz) |
| Wireless 5Ghz | Up to 1201Mbps (2X2 80Mhz) |
| Wireless Features | RangeBoost, OFDMA, MU-MIMO, Beamforming |
This router is powered by a Broadcom BCM6750 1.5Ghz Triple-Core CPU with 256MB RAM. Faster processor and bigger RAM size are important when handling multiple concurrent connections. It is particularly useful when you have a lot of smartphone, smart device and smart home appliances that connect to this router.
TP-Link Archer AX10 WiFi performance is stable and reliable. To be precise, it is even better than some of the higher-end models which cost more than it.
TP-Link Archer AX10 is no doubt the best Unifi router for 30Mbps, 100Mbp and 300Mbps. It comes with 3 years local warranty.
Pros:
Cheap! Value for money
Improved user interface for the router setup
WiFi 6 compatible
Cons:
Nil. Except that its 300Mbps cap at 2.4Ghz WiFi. But it's totally understandable for its price.
Best router for Maxis Fibre 500Mbps
2. TP-Link Archer AX50

TP-Link Archer AX50/AX3000 is the upgraded version of TP-Link Archer AX10. They look exactly identical at a glance. But it is slightly more powerful, supports maximum 573Mbps speed @ 2.4Ghz and whopping 2.4Gbps @5Ghz. It currently priced at RM539.
Best deal on Lazada Best deal on Shopee
TP-Link Archer AX50 is our upgrade pick for Maxis Fibre 500 Mbps. Unfortunately, Unifi has stopped offering 500Mbps for home users as of the date of this article
There are 4 external non-removable antennas and LED status. The Archer AX50 is powered by Intel AnyWAN GRX350 SoC combined with Intel WAV654 for the 5Ghz radio, with 256MB RAM.
It has one Gigabit Ethernet WAN port and 4 Gigabit Ethernet LAN ports. This router has a single USB 3.0 port, so you can do file/printer sharing.
| | |
| --- | --- |
| Wireless 2.4Ghz | Wireless AX up to 574Mbps (40Mhz) |
| Wireless 5Ghz | Wireless AX up to 2402Mbps (160Mhz) |
| Wireless Features | OFDMA, MU-MIMO 2X2, Beamforming |
Through OFDMA and MU-MIMO technology, you can have simultaneous transmission to more devices, theoretically as many as 256 devices.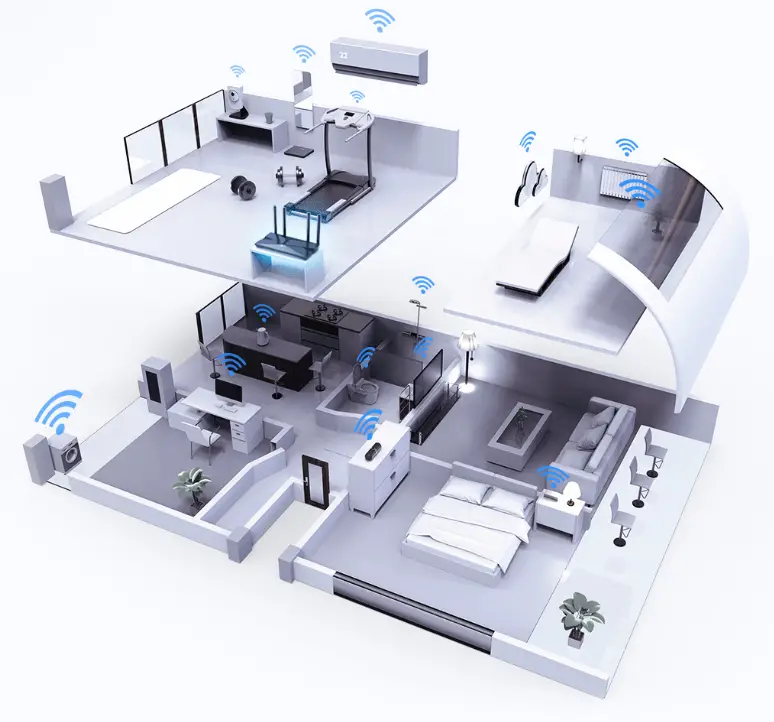 TP-Link claims that this router has ultra-low latency, which able to reduce up to 75% in latency enabling a smoother experience in gaming and video chatting.
In short, TP-Link Archer AX50 is our best Maxis router for 500Mbps internet. This model also comes with 3 years warranty.
Pros:
WiFi 6 ready
160Mhz channel for compatible device
Great coverage
USB port for printer
Cons:
Best router for Maxis 800Mbps & Time 1Gbps
3. TP-Link Archer AX11000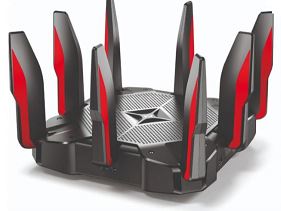 TP-Link Archer AX11000 is the best top of the line TP-Link router you can get in the market now. It is a tri-band Wi-Fi router with a single 2.4Ghz network and two 5Ghz networks with a max speed of 4804Mbps. We don't recommend average users to get this router because most will not utilize it to its full potential.
Best deal on Lazada Best deal on Shopee
Realistically, it is very difficult for WiFi to maintain such a high speed unless you're in close range to your WiFi router. It is more practical for you to connect through a Gigabit LAN port if you really need such a high speed.
Many brands like TP-Link, Asus, Netgear, D-Link branded this top line-up of routers as a gaming router. Their features are usually overkilled for normal users.
In fact, we, techrakyat.com don't really advise anyone getting a single router that cost more than RM1,000.
But if you're after the ultimate performance router and have spare cash around. We would recommend you to buy TP-Link Archer AX11000 because we think it is the best value for money high-end router.
Let check out a speed test carried out by hardwarezone.com.sg which I have tabulated as below:
TP-Link Archer AX1100 may not be the fastest of them all but it is definitely fast enough and more stable compare to Asus ROG GT-AX11000. And we cannot deny it is so much cheaper compared to the other two brands WiFi 6 router.
This WiFi router has 2.5 Gbps WAN port and eight Gigabit LAN ports and one USB-A as well as one USB-C port. Its WiFi speed is also over the top:
Wireless 2.4Ghz
Wireless AX up to 1148 Mbps
Wireless 5Ghz
Wireless AX up to 4804 Mbps +4804 Mbps
(dual 5Ghz network) 160Mhz
Wireless Features
OFDMA, MU-MIMO 4×4, Beamforming
Best Mesh Wi-Fi router for Unifi 300Mbps
4. TP-Link Deco M4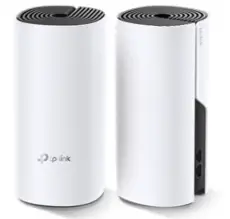 TP-Link Deco M4 is the best mesh Wi-Fi router for Unifi 300 Mbps. Its Wi-Fi connection has a maximum speed of 867 Mbps at 5Ghz and 300Mbps at 2.4Ghz. Practically, you're buying two routers at RM200 each. I would say it is a great bargain.
Best deal on Lazada Best deal on Shopee
As mentioned earlier, mesh WiFi routers work in several units, to form a significantly wider coverage area, to reach far corners in all parts of your house. Comparing to the conventional Wi-Fi repeaters, which perform poorly (no integration with the Wi-Fi router), a mesh Wi-Fi system comes with software & hardware that consolidates and manages a single seamless network.
TP-Link Deco M4 is the most affordable mesh Wi-Fi kit in the market now, under RM400 and comes in a pack of 2 units. They are identical and functions to increase the Wi-Fi coverage area. One unit remains connected to the ISP modem and the other can be placed anywhere to expand the coverage area (up to 3,800 square feet).
Mesh WiFi router is usually more expensive and cost upwards of RM300 for one simple reason. You're getting two or even three routers
If you need to expand even further, just add more Deco router in the network. It also supports MU-MIMO and beamforming.
Mesh WiFi router works best when you actually have Ethernet backhaul, which means each of the routers being hooked up with LAN cable. You can rely only on wireless backhaul buts its overall performance will be significantly affected. Nonetheless, it's still much better than wireless repeater or wireless extender.
Deco M4 has a maximum WiFi speed of 867Mbps at 5GHz and 300Mbps at 2.4GHz. Its biggest shortfall is only having 2 LAN port.
We believe that TP-Link Deco M4 is the best mesh Wi-Fi for most Malaysians for its affordable pricing and solid performance.
Pros:
Affordable mesh Wi-Fi
MU-MIMO
Beamforming
Cons:
Only 2 LAN ports. Not suitable for users who need multiple LAN connections like PS4, Smart TV, and gaming laptop/pc.
Bonus pick- Best powerline network adapter for Unifi (LAN only)
5. TL-PA4010 KIT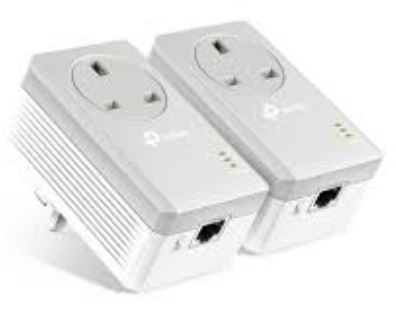 TL-PA4010 KIT is a powerline adapter has decent powerline internet speed of 500Mbps. It also comes with socket point on top of it which is very convenient as it frees up the socket point for appliances.
Best deal on Lazada Best deal on Shopee
What is powerline network adapter? I believe many have never heard of it before. Let's check out the diagram below.
Powerline adapter is able to transmit data through your existing electrical network without the needs of direct ethernet cable connection. Its performance no doubt will be poorer in comparison to direct LAN cable extension but in many cases, it works better than a Wi-Fi. Just be cautious that not all electrical wiring is done equal. So, some may say it is a perfect solution while some may curse over its poor performance.
We recommend one to try out TP-Link TL-PA4010PKIT AV500 Nano Powerline adapter starter kit. It is able to extend up to 300m at a maximum speed of 500Mbps. Just plug the 2 adaptors into the power sockets in your house, then connect a LAN cable from the router to the powerline adapter.
Press pairing and viola~ You get another LAN port at hundred of a meter apart. A practical use case is for old double-storey terrace houses that only have router at the ground floor. You can easily create another LAN port through this method in your upstairs master bedroom. So now, you can play PS4 or watch Netflix smoothly and comfortable in your bedroom.
Pros:
Cheap
Support up to 500Mbps
Plug & play setup
300 meters range
Comes with socket point on top
Cons:
possible interference by other electrical appliances that will affect its performance. But this condition is equal for all powerline network adaptors.
Bonus pick- Best powerline adapter for Unifi (LAN and WIFI)
6. TL-WPA7510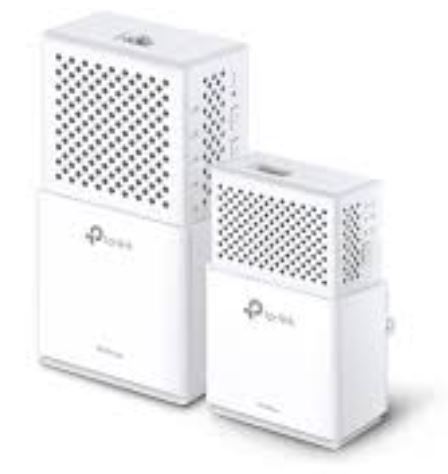 TL-WPA7510 is a great powerline adapter for those who are using Maxis 800Mbps or Time 1Gbps broadband plan. By paying an extra RM100. You get powerline internet speed up to 1Gbps. It can also set up a 2.4Ghz and 5Ghz Wi-Fi networks.
Best deal on Lazada Best deal on Shopee
TP-Link TL-WPA7510 is our choice of best powerline adaptor with LAN and Wi-Fi.
It works similar to TL-PA4010PKIT. Yet, it is more powerful and comes with Wi-Fi function. This adaptor supports wired transmission up to 1000Mbps. Furthermore, it has a maximum Wi-Fi speed of 300 Mbps on 2.4 GHz and 433 Mbps on 5 GHz.
It also will automatically sync to an existing Wi-Fi network name and password. So, it will be easy for anyone including non-techie to set up this powerline network adaptor on their own.
Competitions
There are plenty of networking device juggernauts in the market.
Premium brand – Google, AmpliFi, Netgear
Popular brand – Asus, Netgear, D-Link, Linksys, Huawei, TP-Link, Synology
Budget brand -Tenda, Xiaomi
Although this article may seem extremely bias towards TP-Link, we just really think that TP-Link is the best Wi-Fi router brand at the moment. There is a reason for it to be the world's number one provider of Wi-Fi products from the year 2012 to year 2018.
Its consistent performance and competitive pricing make it a go-to brand when I want to purchase a Wi-Fi router.
Conclusion
There is always another more powerful router in the market. Knowing what's your broadband plan maximum speed and your priority usage are important to determine the right modem for you.
And finally, if you like this article and wish to see more similar content. Remember to support me by clicking any of the lazada/shopee link listed on the site before you make any purchase. And like our Facebook page too.