In Malaysia, a standard broadband installation includes both a modem and a router, and that's true for both Unifi and Maxis fibre broadband. The modem is directly connected to the optic fibre to get us the internet, so we can't change the Unifi/Maxis Modem aka ONU.
But we can upgrade the router unit because the router provided by Unifi is only an entry-level router. This saves them money, but at the cost of poor WiFi coverage and performance. We should upgrade the WiFi router to make full use of our fibre broadband subscription.
I researched more than 45 different WiFi router models in Malaysia, including TP-Link, Asus, Huawei, Netgear, Linksys, Huawei, Synology, Mercusys, Totolink, and many others, to compile this list of the top 7 WiFi routers.
What is the best WiFi router for Unifi?
The best WiFi router for Unifi is TP-Link AX73 because it has excellent coverage and amazing data throughput. It is a powerful AX5400 router equipped with a 1.5 GHz triple-core CPU and 512MB RAM. Aside from that, the TP-Link app is easy to use, and setting it up is a breeze.
Check out the complete list of the 7 best WiFi routers in Malaysia:
---
1. TP-Link AX73
Best Wifi 6 Router Malaysia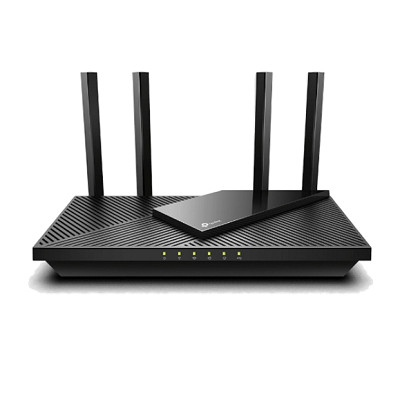 Best deal on Lazada Best deal on Shopee
The TP-Link AX73 is one of the best WiFi 6 routers that won't break the bank. It is an AX5400 Dual-band Gigabit WiFi 6 router that boasts superior performance and features, which can compete with WiFi routers twice its price.
First, it is a fully featured WiFi 6 router that comes with 4T4R structures, high-power FEM, 6x Antennas and beamforming to provide maximum WiFi coverage and internet speed. 
In a throughput test performed by blacktubi.com, the AX73 can maintain 500Mbps download speeds when users were two walls away from the router. Hence, it is highly recommended for people who live in a double-storey terrace house.
With its 5Ghz band, it can support 4.8Gbps ultra-fast connections. Users can stream multiple 8K videos through it without lagging.
There is no slouch in the 2.4Ghz Wireless network either; it can support up to 574Mbps.
With OFDMA and MU-MIMO, TP-Link AX73 can handle up to 200+ devices at the same time, which is incredible! This router is perfect if you're planning to turn your house into a smart home.
It is also compatible with TP-Link's OneMesh extender, which is one of the few WiFi extenders that actually works. Users can easily extend the coverage of this AX73, making it a future-proof WiFi router.
Lastly, don't forget that the Archer AX73 is powered by a powerful 1.5 GHz triple-core CPU and 512MB RAM. It runs cool all the time and won't have overheating issues. This router is best for Unifi 500Mbps, 300Mbps and 100Mbps.
Pros
Amazing throughput performance
Incredible WiFi 6 coverage and speed
Affordable price
Stable and easy-to-use software
Cons
Must use TP-Link mobile app and login account for advanced features
---
2. Asus RT-AX86U
Best Wifi 6 Router For Unifi 800mbps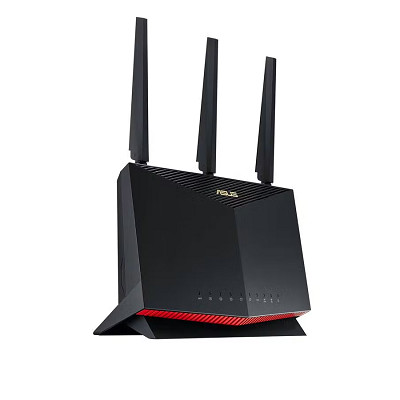 Best deal on Lazada Best deal on Shopee
Asus RT-AX86U router is almost two years old, but it remains one of the best high-end routers on the market. It is an AX5700 Dual Band WiFi 6 Gaming router which is compatible with PS5 and other gaming consoles.
The Asus RT-AX86U has a similar throughput performance to the TP-Link AX73. It can maintain a 500Mbps connection speed with 2 walls apart.
This router is so expensive because it is powered by a Broadcom 1.8GHz Quad Core CPU and 1GB RAM. Other than that, it comes with 2.5Gbps WAN/LAN ports. It can aggregate true 2Gbps WAN connections, which TP-Link AX73 cannot.
Inside its ASUS router app, there's a dedicated Mobile Game Mode that claims to be able to reduce lag and latency for gaming on smartphones. There are also other special mode options like Media Steaming, Work from Home, Learn from Home, and Web surfing mode
Users can expand the RT-AX86U WiFi coverage using the AiMesh feature. A proper mesh WiFi network can be created by linking another Asus AiMesh router.
If you want to harvest the absolute best internet performance from your Unifi 800Mbps subscription, then the ASUS RT-AX86U is a solid choice with powerful hardware.
Pros
2.5G WAN port
AX5700 router
Gaming mode
AiMesh 
Lifetime security software
Cons
Poor band steering "SmartConnect" feature
---
3. Mercusys MR80X
Best Budget Wifi 6 Router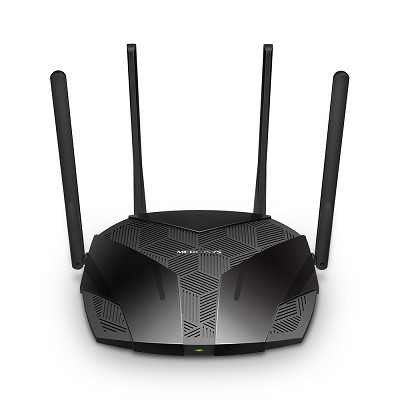 Best deal on Lazada Best deal on Shopee
Mercusys MR80X is the best cheap WiFi 6 router which you can buy for only RM200. For those who may not aware, the Mercusys brand is actually owned by TP-Link.
Being from TP-Link, it gives a lot of assurance about the quality and performance of the product. It shares similar great features and technology with the TP-Link routers.
It has OFDMA, 160 MHz Channel, MU-MIMO, 1024-QAM, BSS Coloring, and Target Wake Time (TWT) technology.
Whether inside a bedroom or in line of sight with the router, the Mercusys MR80X delivers fast and stable internet speed. It is as capable as the TP-Link AX55 which costs RM100 more.
The downside of this Mercusys router is its poor 2.4 GHz throughput performance. The connection speed will drop substantially if you're connecting it through a 2.4 GHz WiFi network.

Luckily, this is not a huge problem because most gadgets like smartphones and laptops support a 5Ghz connection. Some smart home devices that only support 2.4Ghz like security cameras or TV boxes, may buffer a bit when loading videos.
Nonetheless, the Mercusys MR80X is surprisingly cheap for its stable and fast internet WiFi speed. This router is highly recommended for small condos and apartments.
Pros
Awesome speed for its price
Qualcomm dual-core CPU
Cons
Bare minimum design, no LED indicator
Slightly poor 2.4Ghz throughput performance
---
4. TP-Link Deco XE75 
Best Mesh Wifi 6 Router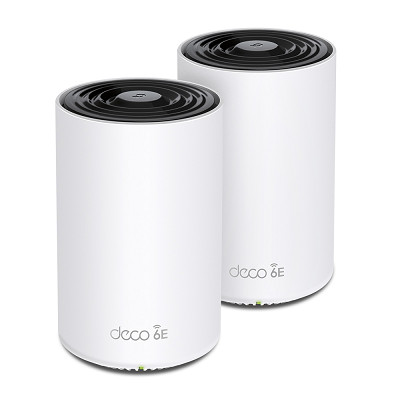 Best deal on Lazada Best deal on Shopee
Technically, the TP-Link Deco XE75 is known as WiFi 6E mesh router. WiFi 6E is the next-gen WiFi protocol after WiFi 6 that offers an ultrawide 6Ghz band. 
Users will benefit from a faster WiFi connection because the WiFi 6E's 6Ghz band is free of interference from WiFi 5 and WiFi 6. So, the mesh router can connect to each other better. 
Currently, most smart devices only support 2.4Ghz and 5Ghz bands, so you will still use those networks, not the 6Ghz band.
According to tests, this TP-Link Deco XE75 WiFi 6e router is 50% to 100% faster than WiFi 6 routers, in situations where users are far from the router or separated by a thick wall.
For a single wall throughput, it consistently sends data at nearly 90-95% capacity. You can easily get 700 to 780Mbps if you're using an 800Mbps Unifi package.
The only downside of this router is the lack of a 2.5Gbps WAN/LAN port. In Malaysia, I don't think this is an issue for most users. 1Gbps is more than enough unless you frequently transfer multi terabytes of data over LANs.
The TP-Link Deco XE75 is a great bargain as it is one of the most advanced and capable WiFi 6 mesh routers. For other less expensive mesh WiFi router recommendations, you can check out my review on the top 5 mesh wifi routers in Malaysia.
Pros
Affordable
Great throughput performance
WiFi 6E network
Excellent roaming feature
Cons
No 2.5Gbps LAN/WAN port
No 3-mesh packs option is available.
---
5. TP-Link Archer AX11000
Best Unifi Router For Gaming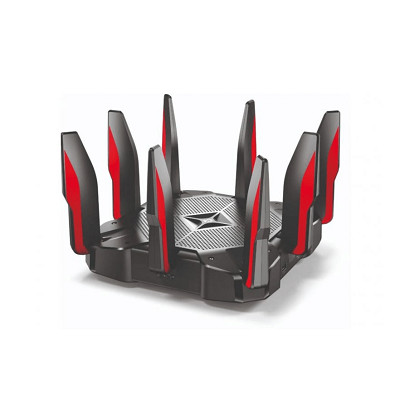 Best deal on Lazada Best deal on Shopee
The Archer AX11000  is designed for those serious and competitive gamers. With various optimizations, this high-speed tri-band Wi-Fi 6 gaming router offers incredible speed, bandwidth, and low latency.
Hardware-wise, it includes eight 1GbE LAN ports, a 2.5GbE WAN port, and a couple of USB ports.
Besides that, it offers a number of game-enhancing settings, including one-click bandwidth priority, a game accelerator, game diagnostics, and a game protector dashboard for parental control and virus protection.
In my opinion, TP-Link Archer AX11000 is the best gaming WiFi router to buy in Malaysia. Although some people may prefer the Asus ROG Rapture GT-AC5300, I believe the old WiFi 5 technology is already outdated and not worth spending thousands of ringgit on it.
---
6. TL-PA4010 KIT
Best powerline network adapter for Unifi (LAN only) – Bonus pick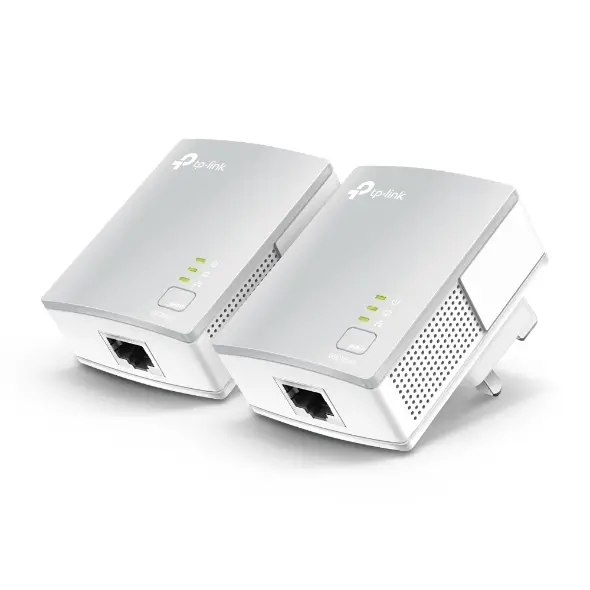 Best deal on Lazada Best deal on Shopee
The TL-PA4010 KIT is a powerline adapter with a decent powerline internet speed of 500Mbps. Also, it comes with a socket point on top, which is very handy since it frees up the socket point for other appliances.
What is a powerline network adapter? I believe many have never heard of it before. Let's check out the diagram below.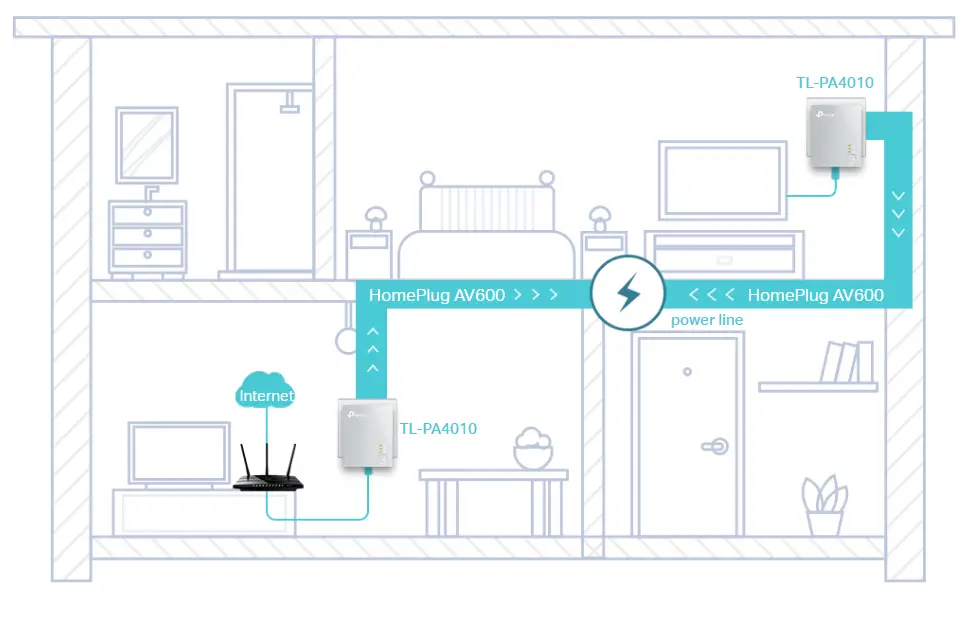 By using a powerline adapter, you can transmit data over your existing electrical network without the need for a direct ethernet cable connection. 
The use case of this technology can be applied to old double-storey terrace houses that only have a router on the ground floor. Using this method, you can easily create another LAN port in your upstairs master bedroom. With it, you can watch your favourite movie on your smart TV or work on laptop without lag. 
Despite its poorer performance compared to LAN, it is often more effective than a standard Wi-Fi network in many cases. And it is also more economical than upgrading to a mesh WiFi network.
Performance may vary depending on the existing electrical network routing. Some users say it is a perfect solution, while others may curse its poor performance.
Regardless, the TP-Link's TL-PA4010 remains one of the best solutions for those who suffer from poor internet connection due to a poor WiFi router or being too far from the router.
Pros:
Cheap
Support up to 500Mbps
Plug & play setup
300 meters range
It comes with socket point on top
Cons:
Other electrical appliances may interfere with its performance. 
---
7. TL-WPA7510
Best powerline adapter for Unifi (LAN and WIFI) – bonus pick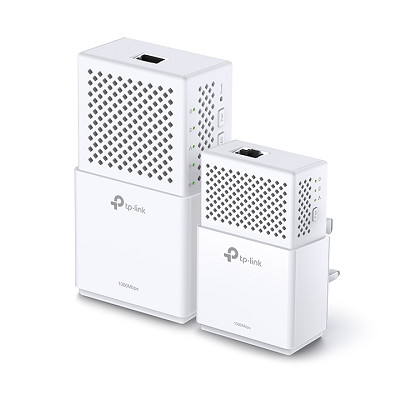 Best deal on Lazada Best deal on Shopee
TL-WPA7510 is a great powerline adapter for those with Unifi 800Mbps or Time 1Gbps plans. You get powerline internet speed up to 1Gbps with this kit. It can also set up a 2.4Ghz and 5 GHz Wi-Fi networks.
Hence, the TP-Link TL-WPA7510 is our choice of the best powerline adapter with LAN and Wi-Fi.
It works similarly to TL-PA4010PKIT. Yet, it is more powerful and comes with a Wi-Fi function. 
This adaptor supports wired transmission up to 1000Mbps. Furthermore, it has a maximum Wi-Fi speed of 300 Mbps on 2.4 GHz and 433 Mbps on 5 GHz.
TL-WPA7510 also will automatically sync to an existing Wi-Fi network name and password. So, it will be easy for anyone including non-techie to set up this powerline network adaptor on their own. No more buffering problems when watching YouTube on the tablet.
---
How do we pick the best WiFi router
In order to pick the right router for your home, you should pay attention to 5 things as shown below:
Price – A good router can cost from RM300 to RM2500. We believe routers over RM1000 are overkill for normal users and provide diminishing returns. Choose LAN if you want the lowest latency and fastest speed. Get a mesh WiFI router if you need a very wide coverage and range.
Good Range – Router should be able to cover a small condominium or single-storey terrace without any problem.
Good Throughput – Able to maintain good data throughput in a 1-wall and 2-wall throughput test
WiFI 6 – Also known as 802.11ax. It improves on the current 802.11ac, has better range, faster speed, and more concurrent connection.
Mesh-WiFi – Another popular WiFi term recently. A WiFi network is formed by multiple routers working together to provide better and wider coverage. 
---
Competition
TP-Link Archer AX10/AX20/AX23 Review
TP-Link Archer AX10 was our previous top pick, but now Archer AX50 and Mercusys MR80X are very affordable. I don't see any good reason to purchase these older TP-Link WiFi router models.
TP-Link Deco E4/M4 Review
TP-Link Deco E4/M4 are great entry-level mesh WiFi routers. It is highly recommended for people living in big houses but only using slower Unifi plans like 30Mbps, 100Mbps or 300Mbps. Despite using AC/WiFi 5 networks, the mesh WiFi system mitigates the poor range problem of normal WiFi networks.
Additionally, there are a number of other WiFi router brands on the market, such as:
Premium brands – Google, AmpliFi, Netgear
Popular brands – Netgear, D-Link, Linksys, Huawei, Synology
Budget brands -Tenda, Xiaomi
At equivalent specifications, these brands are usually more expensive than TP-Link WiFi routers. Tenda routers are cheap but the quality is not that great. And Xiaomi routers can be hard to configure correctly.
---
WiFi Router FAQ
Which WiFi router is best for home in Malaysia?
TP-Link AX73 is the best WiFi router for average home users in Malaysia. It has powerful hardware and superior performance compared to TP-Link AX50/AX20/AX10.
Which is the best WiFi router brand in Malaysia?
TP-Link is the best Wi-Fi router brand at the moment. Its consistent performance and competitive pricing make it my go-to brand for Wi-Fi routers.
Which WiFi router is the fastest in Malaysia?
The fastest router you can buy in Malaysia is the Asus ROG Rapture GT-AX11000. It can transfer up to 1148Mbps over the 2.4Ghz band and 4804Mbps over the 5Ghz band. But this router is very expensive, selling at more than RM2000.
What is the best mesh WiFi router in Malaysia?
The best mesh WiFi router is TP-Link Deco XE75 which comes with WiFi 6E technology and it is very affordable too.