There are so many Ecommerce platforms available in the market. It is difficult for beginners to decide which platform to use. We have shortlisted the 7 best Ecommerce platforms in Malaysia and analyse their core strength for you.
The overall best ecommerce platform in Malaysia is Sitegiant. If you're targeting international audience and plan to do dropshipping, then Shopify is without a doubt the winner. 
Here's our recommended top 7 Ecommerce platforms for beginners in Malaysia.
We compared and reviewed these ecommerce platforms on a few factors including user-friendliness, core features and functions, strength and weaknesses, and price.
1. Sitegiant
Best local Ecommerce platform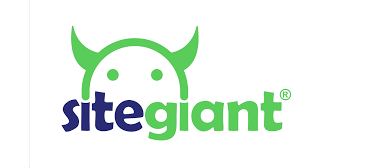 Sitegiant is the leading Ecommerce platform in Malaysia with more than 3500 active merchants and 1.5+ billions GMV.
Sitegiant pros and cons:
✔ Hands-on training
✔Drag-n-drop website builder
✔ Facebook shop, Instagram shop integration
✔ Multi sales channel (marketplace sync)
✔ UNICART SME plus is no-brainer choice
✖ Only yearly plan, huge upfront commitment
✖ Lack of thirds party add-ons/plugins
It is our best overall local Ecommerce platform because it is affordable, user-friendly and feature-packed. We think it is a great choice for startups with a small budget.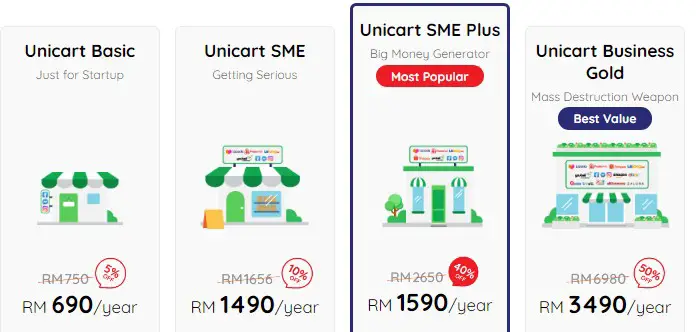 Unicart SME Plus which has Shopee and Lazada sync feature is adequate for most small businesses in Malaysia. And it only cost about RM130+ per month.
Let's find out the distinct features of Sitegiant.
Hands-on approach
SiteGiant provides free real-life training workshop for anyone who signs up an account with them. And if you can't pick it up within the first training. You can join the training again for no charges.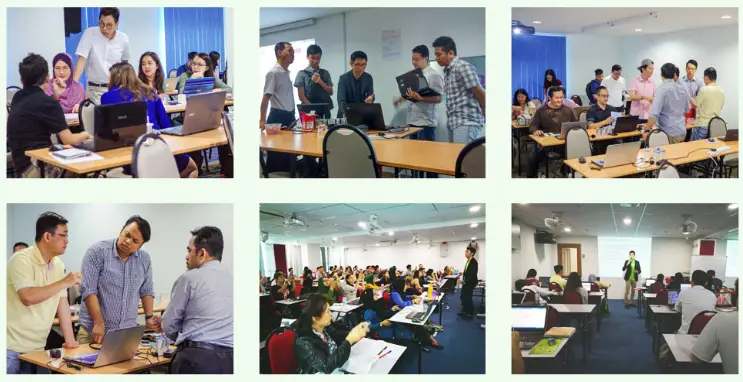 The training will guide customers on how to properly set up their webstore, implement payment and shipping options, webstore designing as well as how to sync product to various marketplaces.
It is very rare for digital services business to provided offline/real life training. If you have done some researched, you will find out most of its competitors only provide online training and support.
Drag and Drop Layout builder
Sitegiant comes with a drag-and-drop layout builder. It is not really that special. Online website builders like Wix and Squarespace have such function.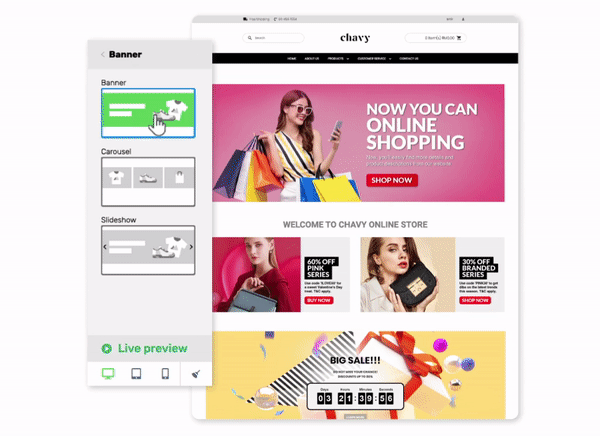 However, this feature is absent in other local ecommerce platform. For example, EasyStore doesn't come with a drag-and-drop layout builder at the moment.
This feature is extremely beneficial to startups and small business owner who usually don't have any programming knowledge. And I understand that most of us can't afford an in-house developer when starting out.  So, this feature is a huge time and cost saver.
It is extremely easy to use and responsive. 
Marketplace sync
Sitegiant can sync to almost every known marketplace in Malaysia. It is simply the best in terms of marketplace syncing feature.

Local marketplaces including Lazada, Shopee, Zalora, Qoo10, Prestomall, Lelong.my are all covered. At the same time, users also can sync to overseas marketplaces like eBay and Amazon.
This is a very powerful feature because there are Sitegiant users reported 20% to 300% of sales increment after implementing marketplace sync.
Besides, inventory/stock count is automatically synced across all platforms. Store owners also can customize product pricing individually on different marketplaces if needed.
This allows business owners to have an easy bird-eye view over their online business. So, bosses can have peace of mind.
Zero transaction fees
For information, big players like Shopify actually charge 0.5-2.9% for any sales made through your store. It is such a big profit sucker if you're selling low-profit margin products.
Fortunately, there is no transaction fees charges on Sitegiant.
Verdict
Sitegiant is a very versatile webstore but it has only yearly subscription plan. And there is no free trial. It could be a huge turn off for many potential customers. However, interest buyer can schedule a free consultation session with their sales team.
2. EasyStore
Cheap and flexible local Ecommerce platform

Easystore is another great choice for beginners looking to set up their first online store.
EasyStore pros and cons:
✔ Very affordable monthly plan, starting at RM59/
✔ Professional modern template
✔ 0% transaction fee
✔ Integrated many local services: payment gateway, delivery services
✔ UNICART SME plus is no-brainer choice
✖ Rigid website builder
✖ Cheapest plan features are limited
EasyStore is part of Exabytes group. So signing up with EasyStore gets you many other Exabyte's freebies and offers like cheap new domain registration and discount on EasyParcel etc.
Let's check out the best features of EasyStore.
Low monthly cost
EasyStore has a simple 3 price tiers, RM53.10, RM139.30 and RM249.50. It is relatively cheaper and faster than building your own website from scratch. Building a website takes a bit of learning curve and there are many additional costs like a good web host, premium plugin and premium theme. All of these can add up pretty quickly. If you plan to hire a developer to build it, it can cost a few thousand ringgit easily.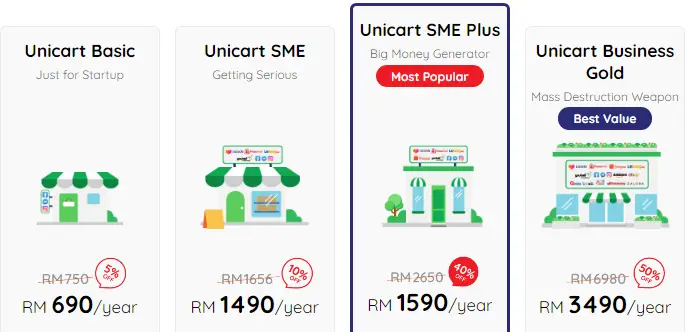 EasyStore is not only cheap but they also don't force any long term lock-in contract (Sitegiant only allows 1 year subscription). Users can choose to subscribe to monthly or yearly plans, totally up to the users' preference.
As we have explained many times, things change rapidly in the internet business. It is best to try out the platform for a short period of time then only commit yourself to a long term contract if you're satisfied with the services.
Free apps and integration
EasyStore has the most outstanding local payment (40+ vendors) and shipment services (60+ logistic solution) integration.

Furthermore, there are literally hundreds of features and integration can be made on the tip of your finger with EasyStore's App.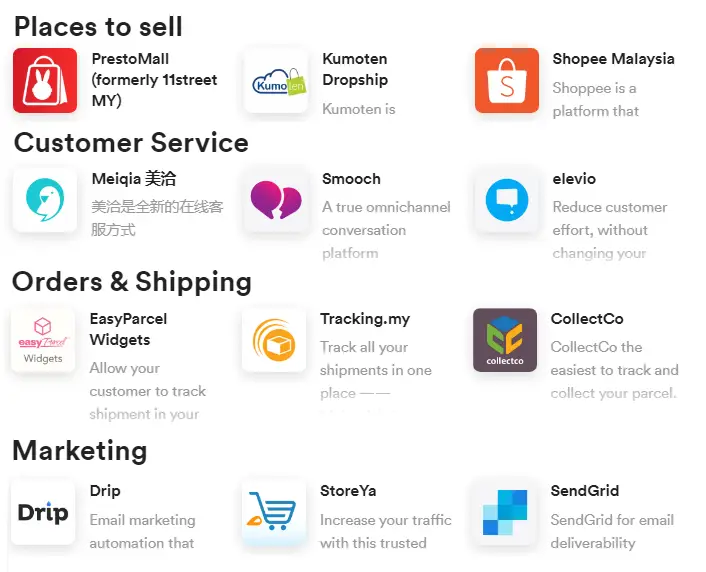 There are apps for syncing your product to other market places, apps for order & shipment like tracking.my as well as marketing apps with email marketing services and many more. These apps or add-ons are very useful for newbie marketers and also advanced marketers.
Zero transaction fees
Similar to Sitegiant, EasyStore don't charge any transction fees with their built-in payment gateway. Thumbs up!
Verdict
Easystore is a very well-built Ecommerce platform with strong support from Exabytes group. I think it is only matters of time that they will bring the drag-and-drop site builder feature on it.
Try EasyStore now!(14 days free trial)
3. Shopify Malaysia
Best ecommerce platform for dropshipping
Shopify is without question the best international Ecommerce platform. I believe many are aware that it is also well-known for its dropshipping features.
Shopify pros and cons:
✔ Features cater to international sellers/buyers
✔ Great for dropshipping with China products
✔ Sleek iOS and Android app
✔ Easy to use
✔ UNICART SME plus is no-brainer choice
✖ Lack of local (Malaysia) service integration
✖ Expensive (everything charge in USD)
✖ Transaction fees
✖ Many useful add-ons need to be purchased
Wide range of themes
Due to the dominance of Shopify in the international Ecommerce space, Shopify has a vast collection of free and premium themes.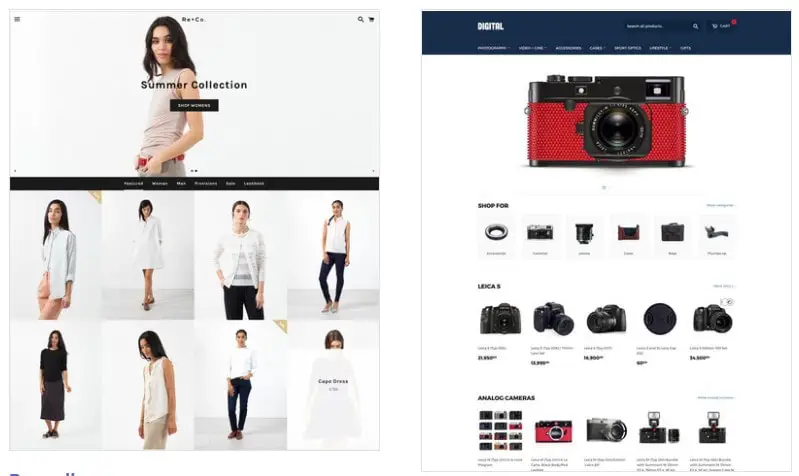 There are many elegant and stylish free themes available on Shopify. The free ones most likely can fulfill your needs. It is incredibly simple for non-techies to set up their own store and start selling.
Big collection of online learning resources
Again, Shopify is the biggest Ecommerce player in the western and international market. There are literally hundreds and thousands of guides and tutorial readily available for users to kickstart their online ventures.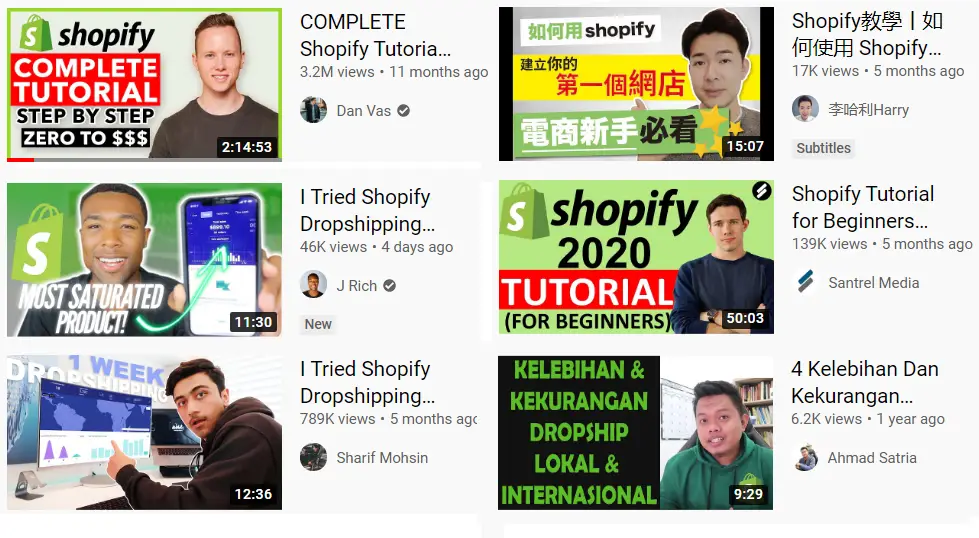 These online learning resources are one huge advantage of Shopify that its competitor will be next to impossible to match it. You can find these tutorials in the form of video or written format. And also in multiple languages, be it English, Chinese, Malay, or Spanish.
Shopify App/Add-Ons/Plugins
There are tons of useful apps on Shopify's appstore. Apps are plugin or add-ons for your themes to expand extra functions and feature.
Similar to Apple Appstore, Shopify Appstore is full of incredible apps because there is a huge demand and earning potential. If you can't afford the premium apps, just start using the free apps because there are many good ones around for beginners.
Verdict
If you're targeting international audience, then go for Shopify. And their iOS and Android apps are simply awesome for checking your daily revenue.
Try Shopify now!(14 days free trial)
4. Shopee and Lazada
Best Ecommerce marketplace in Malaysia
Shopee and Lazada are the two "big brothers" of Ecommerce in Malaysia. They are both free to list so there's no reason you don't list your products on both platforms.
Shopee & Lazada pros and cons:
✔ Free to list
✔ No commission is taken from sales
✔ Large existing customer base
✔ Easy to use
✖ Cannot build brand loyalty
✖ Product becomes commodity 
✖ Price becomes the biggest determinant
Although Lazada and Shopee are very similar, there are few distinct differences between them. Let's check out a side by side comparison for Lazada and Shopee.
As you see, one key difference between them is that Lazada is strictly for a legally registered business entity only while Shopee and Lazada are free for anyone to become a seller right now. Lazada used to only allow SSM registered to list on it. However, it has updated recently and opened for individual sellers too. Just note that there is also no staff account on Shopee which can be inconvenient.
While Shopee is good for its huge customer traffic, you can't ignore that the price competition from other merchant is equivalently worse too. It resulted that Shopee sellers usually have to sacrifice profit margin in order to boost the sales.
Verdict
Lazada and Shopee are both great for commodity products. Just to take note that sellers on these marketplaces are also bound to their respective rules and playbooks. Similar to any big platform, whether Facebook or YouTube, you don't actually have full control of your account on these platforms.
Also, be reminded that this kind of ecommerce marketplace is not good for building up brand loyalty. Example, if you want to sell your personal branded cosmetic product. It is best to have your own webstore which set up through Sitegiant or Easystore.
Sell on Shopee(free) Sell on Lazada (free)
5. Facebook Live/ Facebook Marketplace/Facebook Shop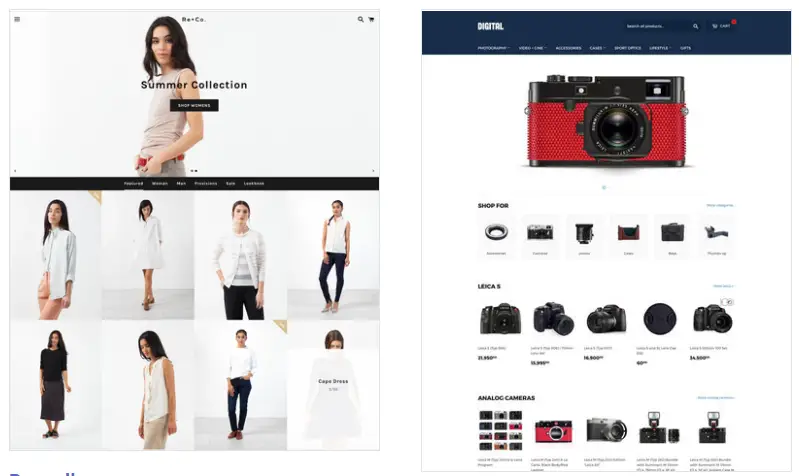 Facebook live is the hottest and fastest-growing sales channel in Malaysia. It is known that some merchants are doing 4 to 6 figures of sales in a single livestream session.
Selling on Facebook pros and cons:
✔ Easier to convert
✔ Viral effect
✔ Huge potential customer base
✔ Anyone can start selling anywhere, anytime
✖ Active selling mode
✖ Rampant with bogus sellers and buyers
Facebook live is extremely powerful and most suited for the extrovert. If you're a natural-born performer, don't miss out this once in a lifetime opportunity to build your personal brand.
One of the most successful examples is Wang Lei who rose to fame thanks to Facebook livesream during the MCO lockdown period. His livestream often brings in few hundred thousands of views and engagement. It has without a doubt become a very good source of income for him.
Facebook Marketplace is where everyone can list their product to sell locally for free. The current state of FB marketplace is in a bad condition where scammers and fraudster are rampant. Hence, most are reluctant to shop there.
The advantage of FB marketplace is its large audience base and Facebook actually make it a default shortcut too. So it is very good for small businesses who want to gain exposure to provide services or sell products locally.
Facebook Shop is where Facebook Page owner can turn their FB page to a mini webstore. FB page owner can list and sell products to their followers directly. Customer support and enquiry also can be done immediately through FB messenger. So, you would expect better interaction with customers.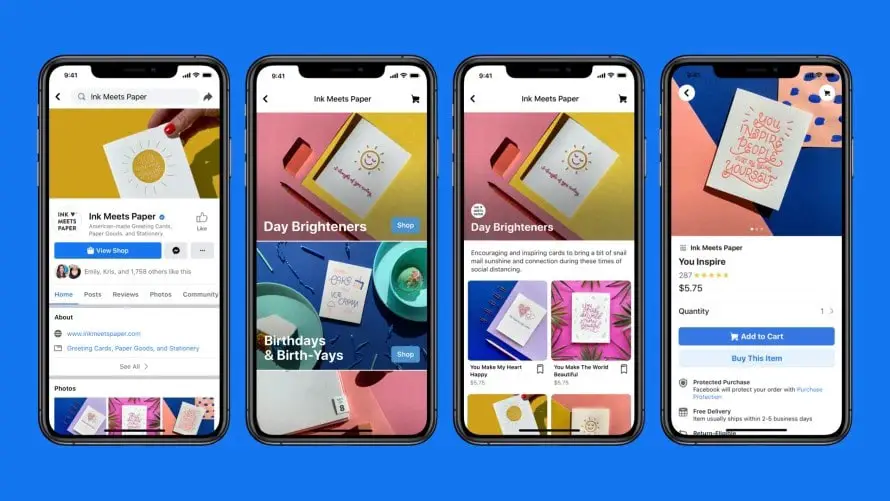 Verdict
Facebook live is the rare opportunity that happens once in a long while. If you're no camera-shy, don't wait and start selling on Facebook today!
6. Onpay
Best Ecommerce platform for micro-entrepreneur in Malaysia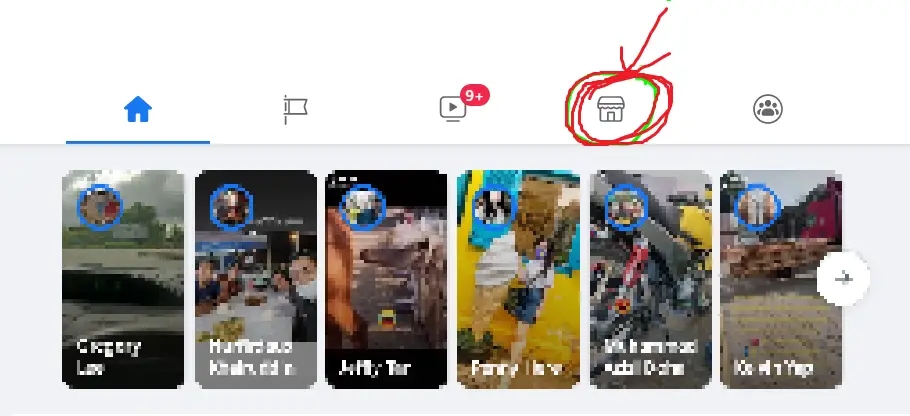 Onpay is our Malaysian home gown landing page builder. This particular platform is strategic for micro-business owners who need a simple landing page cum check out page. The whole Onpay solution is actually a subset feature of what Sitegiant and EasyStore offer. Sitegiant and EasyStore are similar to a complete toolbox and Onpay is like a hammer inside of a toolbox.
Onpay.my pros and cons:
✔ Very affordable, from RM15/month
✔ Simple and straight forward
✔ Integrated payment gateway and shopping cart
✔ Built-in dropshipping, agents, shipment, coupon features
✔ 3-months free trial
✖ Limited features
✖ Designs are slightly outdated
For information, Onpay.my has been operating since 2014 and growing with more function. It has more than 19,000+ users and transacted more than RM500 mil+ GMV. It shows that this sale system does work and working very well.
Although it is not as sophisticated as other ecommerce platform, it has all the necessary features like integrated payment gateway, courier platform, custom domain, affiliate, dropship feature and many more.
And Onpay has a generous 3 months free trial for its basic package. So there's zero low risk and you may generate enough income to cover the yearly subscription fee in this 3 months!
Verdict
Onpay's landing page can perform incredibly well, especially when you' are only selling a single product like eBook, slimming products, digital course. If you're selling multiple products, it is best to set up a proper web store with other platforms as recommended above.
Limited offer: 30 seats only!
Use coupon code: techrakyat to receive 10% discount for any subscription package.
Try onpay now!(3 month free trial)
7. Yezza
Best social commerce platform Malaysia

Yezza.io is one of the uprising ecommerce platforms in Malaysia. Yezza introduced itself as the social commerce platform. It is a basically shopping cart system which tailored made for WhatsApp.
✔ Superfast set up process
✔ Mobile oriented design
✔ Payment gateway included
✔ Inventory and order management built-in
✔ Affordable starting price, RM37/month
✖ Agent, accounting system are still pending.
There's no doubt that WhatsApp is the no.1 chat app in Malaysia. Yezza biggest selling point is how it is built specifically for Whatsapp. It has a WhatsApp form for buyers to place and send orders to sellers.
Yezza makes selling on WhatsApp intuitive and effortless.
Every information and sales record will be automatically recorded in the customer database. So, in future sellers can reach out to customers and upsell them for other products. On top of that, FB pixel and Google pixel can be integrated into it for business owners to run retargeting advertisement.
Yezza..io also comes with Yezza store, a lightweight webstore which lets sellers list a large number of products with multiple categories.
Verdict
Personally, I think Yezza has a lot of potentials. Currently, it is a good supplement to your main sales channel.
Try Yezza now!(14 days free trial)
Common Ecommerce Platform FAQ
How to choose an Ecommerce platform?
The number one factor for beginners to decide on an Ecommerce platform will always be targeted audience Then, followed by price and the last factor is features.
If you're targeting customers who only hang around on Facebook, no point to sell on Lazada or Shopee. Similarly, don't expect to sell your digital course on Lazada or Shopee.
Why do I need an Ecommerce website?
Here are the top 5 reason to own a Ecommerce website:
Increase brand visibility
New source of customers
Building brand loyalty
Avoid price wars on the marketplace like Lazada and Shopee
Total control on your online properties
Is it better to sell on Shopee or Lazada?
Shopee is slightly better as of the date of this article is written because it has a larger audience and customers base. But ultimately, you should just list your product on both of the Shopee and Lazada because they are both free to list.
Can Ecommerce worth it in 2020?
Yes, definitely and Ecommerce is the future. The key to Ecommerce success is building a brand and take action today. Selling non-branded or commodity products will only drag you into endless price wars. So don't wait, and act immediately to start your make money online journey while working it as a side hustle from home.