Have you run out of space in your fridge and you need a reliable freezer to store all your frozen foods? 
Most Malaysians mixed up fridges and freezers, thinking they are the same appliance.
In fact, they are slightly different, whereas the fridge is typically made up of 2 compartments the refrigerator and freezer.
On the other hand, freezers only have 1 compartment which operates between 0 to -30ºC, which is ideal to store frozen meat, ice cube, frozen vegetable and more.
What are the best freezers in Malaysia?
In general, most freezers are quite reliable with their cooling performance, and their operation is very simple. Thus, you can buy any freezer model or brand without much worry. 
I still recommend staying with well-known freezer brands such as Berjaya, Hisense, Midea, Sharp, and LG.
Generally, there are two types of freezers in the market: chest freezer and upright freezer.
Chest freezers have a larger footprint, are less expensive, and have a lift-up door. They are most commonly used by restaurants, food vendors, and other commercial establishments due to their large size and unattractive design.
Upright freezers have a smaller footprint, are more expensive, and have a front-opening door. They are more suitable for household kitchens as they occupy less space, easier to access and spot a sleeker design.
Here is my review of the top 7 best freezers in Malaysia:
---
1. Hisense Chest FreezerFC125D4BW
Best Freezer for Home Use
4.9 out of 5.0 stars | 1.2K ratings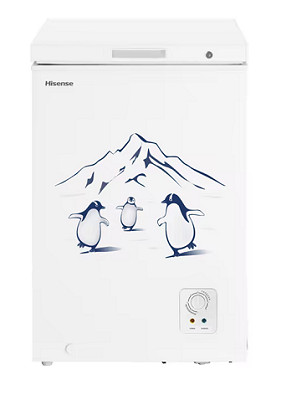 Best deal on Lazada Best deal on Shopee
The Hisense FC125D4BW 128L Chest Freezer has a dimension of 549 x 479 x 854 mm. It is slimmer in taller in comparison to Berjaya BJY-CFSD100A-R6 Freezer.
The slimmer and smaller footprint makes it a better choice for normal household usage.
Take note that most chest freezer model codes only indicate their gross capacity. Hisense freezer is no exception. While the model may show 128 litres, the actual capacity is only 96 litres.
The Hisense FC125D4BW is rated as a 4-star rating in energy efficiency (MS ISO 7371). It has a maximum cooling temperature range of up to  -30 degrees celsius. You can use it to store frozen meat, fish, vegetable, and more.
This slim chest freezer has an ultrathin hinge that allows the freezer to be placed close against the wall, providing more space in the kitchen.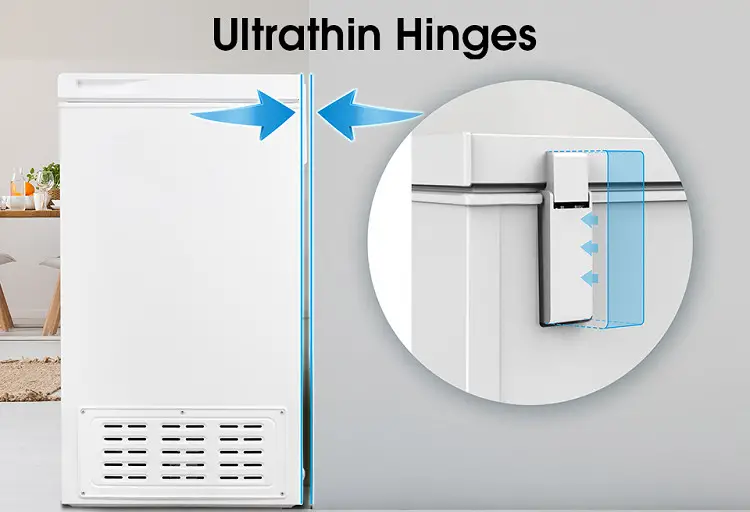 Other extra features in this freezer include:
Built-in LED lighting
Door that can be opened between 30 and 60 degrees, without the need to hold it by yourself 
360-degree full cabinet cooling
Removable basket
Convenient drain hole for cleaning
An improved insulation door seal allows the freezer to stay at 0 degrees Celsius for as long as 135 hours after powering off
Adjustable feet
Recessed Handle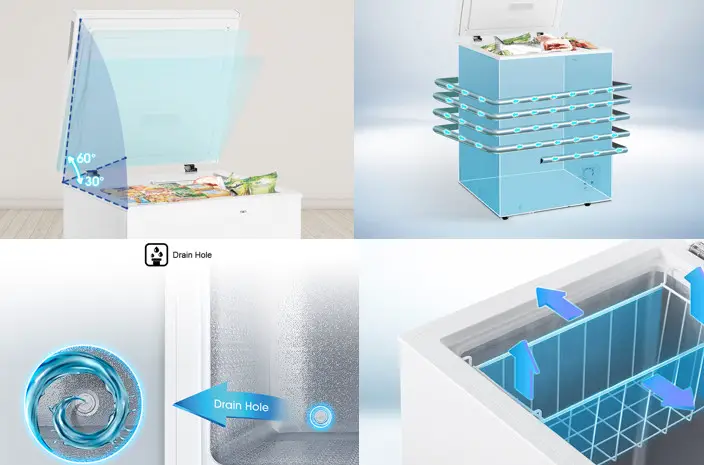 The Hisense FC125D4BW has only adjustable feet but not caster wheels. So if you plan to move around the freezer frequently, then this freezer may not suit you.
Overall, the Hisense FC125D4BW Freezer is great for average households. It comes with 5 years compressor plus a 1-year general warranty.
---
2. Berjaya Premium Chest Freezer BJY-CFSD100A-R6
Best Freezer for Most Malaysians
4.9 out of 5.0 stars | 3.5K ratings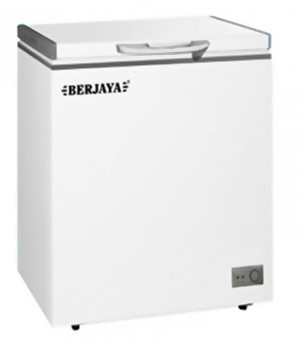 Best deal on Lazada Best deal on Shopee
Berjaya Steel Product is the most established brand for commercial kitchen equipment in Malaysia.
The Berjaya BJY-CFSD100A-R6 model is an economical and heavy-duty chest freezer.
It has a net capacity of 100L and uses CFC-free polyurethane insulation. It is powered by a 110-watt compressor.
The chest freezer's interior is made of pre-painted white aluminium. And the exterior is made of pre-painted steel. It has caster wheels for easy movement.
This Berjaya freezer has a cooling temperature range of 0 to -25 degrees Celsius. It uses R600A refrigerant which has lower Global Warming Potential (GWP) and is popular among light commercial refrigeration units. 
Standing at 545 x (605+45) x 825 mm, this Berjaya freezer is designed to maximize storage space. It comes with a wire storage basket too.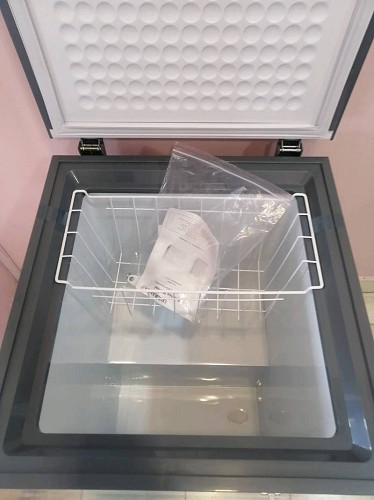 Berjaya Chest Freezer comes in bigger sizes too, which include:
| | |
| --- | --- |
| Model | Net Capacity |
| BJY-CFSD200A-R6 | 154L |
| BJY-CFSD300A-R6 | 194L |
| BJY-CFSD400A-R6 | 279L |
| BJY-CFSD500A-R6 | 383L |
| BJY-CFSD600A-R6 | 474L |
| BJY-CFSD700A-R6 | 545L |
| BJY-CFSD1000A-R6 | 916L |
This freezer comes with a 1-year general warranty and a 5-year warranty on its compressor. 
---
3. Morgan Dual Function Chest Freezer MCF-0958L
Affordable Freezer for Breast Milk Storage
4.9 out of 5.0 stars | 139 ratings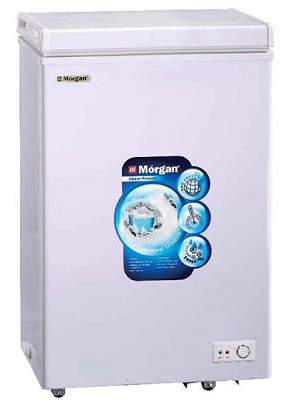 Best deal on Lazada Best deal on Shopee
Morgan's MCF-0958L could be a great choice if you're looking for a small freezer specifically for storing breast milk. This is one of the most affordable freezers, available priced at RM400+.
It is a relatively compact freeze with a size of 532 x 455 x 588 mm. The capacity indicated is 60L (not able to verify whether it is gross or net capacity).
It is a dual-mode freezer that you can use as a fridge or a freezer by adjusting its thermostat.
Fridge temperature: 0ºC ~ 10ºC
Freezer Temperature: -1ºC ~ -20ºC
With its quick and deep freezing feature, this small chest freezer will keep breastmilk fresh for a very long time. 
This Morgan Freezer uses a high energy-efficiency compressor that could save you money on your electricity bill. 
Also, check out our mini-refrigerator review which is great for storing breast milk in short term.
---
4. Sharp DUAL Function Chest Freezer SJC168
Best Large Dual Function Freezer
4.7 out of 5.0 stars | 153 ratings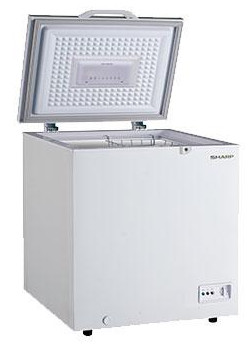 Best deal on Lazada Best deal on Shopee
If you prefer to stick with the usual household appliances brand name, you can check out Sharp Freezer.
Sharp offers the 160-litre SJC168 chest freezer, which is a great addition to any medium, medium-large family kitchen.
This freezer's net capacity is 140L, which is enough to store frozen food for weeks, if not months.
Sharp Chest Freezer SJC168 has a dual switch setting and operates with a voltage range of 160V to 260V. 
It has dual temperature settings which:
Chilling temperature: 0 to 10ºC
Freezing temperature: 0 to -15ºC
Quick freezing temperature: -18ºC
It has a built-in LED door light, safety lock and comes with two wire baskets for easy storage.
The safety lock is great if you need to secure the freezer so your kids can't just open it and spoil the food by accident.
---
5. Khind Chest Freezers FZ708
Cheap Large Capacity Freezer
4.9 out of 5.0 stars | 105 ratings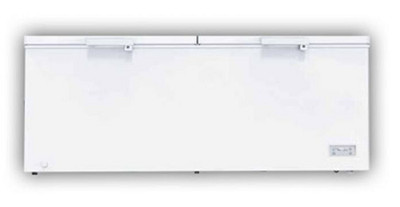 Best deal on Lazada Best deal on Shopee
The Khind Chest Freezers FZ708 is one of the cheapest largest freezers in Malaysia with an incredible capacity of 708L. The freezer is currently being sold at RM1800+.
It has a dimension of 1905 x 820 x 865 mm and weighs 82kg. So it is obvious that this type of large chest freezer caters for commercial use rather than home use.
Due to its large size, it uses as much as 305W so it is almost double the power of small and medium chest freezers.
For a large chest freezer like this, it uses R290 refrigerant instead of R600a. It can reach a maximum freezing temperature of -18ºC.
It comes with 2 doors and has a built-in LED light. However, it has only 1 wire basket.
The handle has a lock and key so that it keeps the food inside safe from others.
There are a total of 8 wheels on the freezer, so it can be moved around easily despite its large size.
Khind provide on-site service, and a 1-year general warranty as well as 5 years compressor warranty.
---
6. Midea Upright Freezer MUF-208SD
Cheap Upright Freezer
4.8 out of 5.0 stars | 711 ratings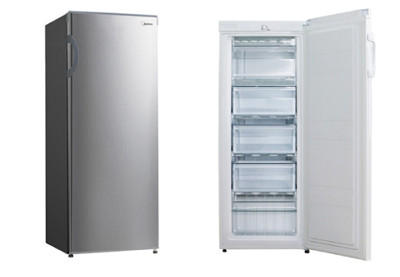 Best deal on Lazada Best deal on Shopee
Many people dislike the aesthetics of chest freezers, as well as the fact that they must be defrosted manually.
If you have a larger budget, I recommend buying an upright freezer/vertical freezer for house use.
Midea MUF-208SD is one of the cheaper upright freezers available in the market.
While this freezer may seem expensive at first glance, but it has a gross capacity of 188L and 157L net capacity, which means it has almost double the capacity of the smallest freezer on this list, Morgan MCF-0658L.
This Midea MUF-208SD has a dark grey exterior and a versatile compartment inside.
And it only uses as little as 61W of power, which means you could save up abundantly over the long term.
Not only that, the door is reversible which users can choose to open whether is left-to-right or right-to-left.
On Midea Malaysia official webpage, it actually indicated that this freezer comes with 10 years warranty on the compressor. But Shopee sellers only indicate 5 years warranty.

So make sure to double-check with the seller prior to placing an order.
---
7. LG GN-304SHBT Vertical Freezer With Smart Inverter (171L)
Best Upright Freezer
4.8 out of 5.0 stars | 711 ratings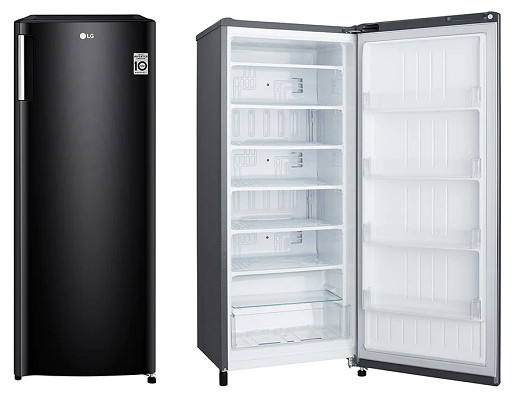 Best deal on Lazada Best deal on Shopee
LG refrigerator brand is popular amongst consumers. If you're looking for a premium freezer, make sure to check out the LG GN-304SHBT Vertical Freezer With Smart Inverter Compressor.
You can see that the LG freezer has a full glossy black exterior, which is trendy and stylish.
The net capacity of the freezer is 165 litres. It has six shelves and one drawer. Moreover, there are 4 layers of racks on the freezer door for storing thin or small items.
All of your frozen food can be kept neatly and separately with this freezer. It is significantly easier to access your food items in the LG vertical freezer than in a chest freezer.
The LG GN-304SHBT features direct shelf cooling which has a cooling coil embedded in each of the shelves for the fastest cooling performance.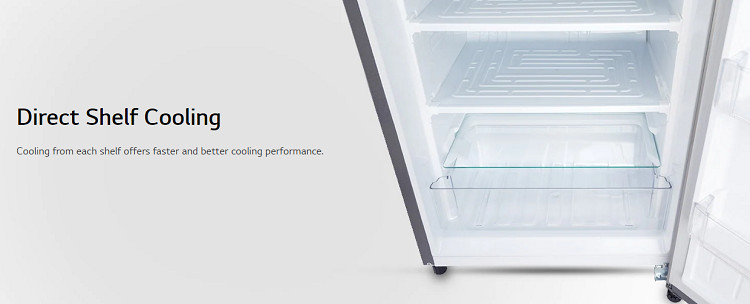 The core difference and advantage of buying this premium LG freezer is that it uses a smart inverter compressor. It operates super silently and uses less energy compared to a non-inverter freezer.
The last thing to note is that this freezer still requires manual defrost. For freezers with automatic defrost function, their size usually will be bigger and also more expensive, costing almost RM2,000 or more.
---
Competition
Haier Breast Milk Freezer BD-88DEM
This is a dedicated breast milk storage freezer. It has 3 drawer storage compartments for you to store different baby food, breast milk and frozen puree. 
As a result, baby food would not be mixed together causing mixed odours.
It has a soft freezing mode which is only at -7ºC which is ideal for speedy defrosting without compromising food's nutrition.
Furthermore, it has digital touch control on top of the fridge door. You can quickly tune to breast milk storage milk which will drop the freezer temperature to -20ºC.
Haier Breast Milk Freezer BD-88DEM has a 2-year general warranty and a 5-year compressor warranty, which is a great feature. Having an RM800+ price tag is one of the biggest drawbacks of this product.
---
Freezers FAQ
Which brand of the freezer is the best in Malaysia?
Midea and Hisense are the best and affordable freezer brands in Malaysia.
Berjaya Chest Freezer, one of the top commercial chest freezer brands, comes highly recommended too.
Other recommended and well-known freezer brands are LG, Sharp, and Toshiba.
Are freezers worth it?
Yes, if you tend to keep a lot of frozen meat and food. New mothers should have a dedicated freezer that stores only breast milk, so the breast milk does not mix with other frozen meat and food in an enclosed space.
Is chest or upright freezer better?
The chest freezer is cheaper, less organized, and more energy-efficient. The upright freezer costs more, is better organized, and is less energy-efficient.
Do all chest freezers need to be defrosted manually?
Yes, most chest freezers need to be defrosted periodically. This is because frost can decrease the cooling effect. It is recommended to defrost if frost thickness reacher 5 to 7mm.
What should I consider when buying a freezer?
Important factors to consider when buying a freezer include size, cost, energy use, inverter compressor, warranty, noise level and blackout performance.
Do upright freezers use more electricity?
Yes, upright freezers use more electricity. According to U.S Environmental Agency, the average upright freezer uses 586kWh a year whereas, the average chest freezer uses 361kWh a year.