The refrigerator has evolved greatly over the years. Now various types of refrigerator models are available including single-door, double-door, french doors, mini refrigerators and smart refrigerators. 
Today, there are smart refrigerators that come equipped with touchscreens and cameras, so users can easily check the contents of the fridge from anywhere.
To find the best refrigerators in Malaysia, we have researched many refrigerator top brands such as Panasonic, Midea, Toshiba, Midea, Hisense, Samsung and LG.
What are the best refrigerators in Malaysia?
The best refrigerator in Malaysia is Toshiba GR-AG66MA because it has a very large capacity, practical, and has a sleek design that matches modern homes. 
Furthermore, it is a 5 stars energy-saving refrigerator. It is equipped with an inverter compressor that has 12 years warranty.
If you don't like top-freezer refrigerators, check out the full list of the 10 best refrigerators in Malaysia below:
---
1. Toshiba GR-AG66MA
Best 5 Star Energy Saving Refrigerator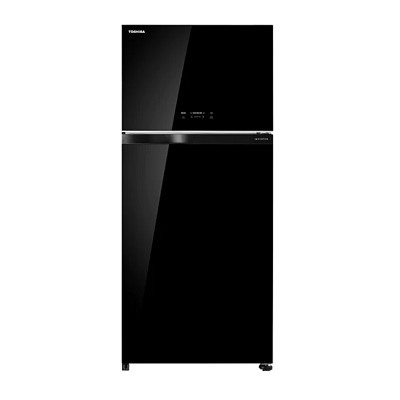 Best deal on Lazada Best deal on Shopee
Toshiba GR-AG66MA is the best overall refrigerator in Malaysia. It has an enormous net capacity of 609 litres. It is powered by an inverter compressor and also has 5-star energy efficiency.
The glass front door adds an elegant, warmer feel compared to stainless steel. Also, it can withstand grease and smoke stains in the kitchen.
Toshiba GR-AG66MA is the most conventional top freezer refrigerator, which means the bottom shelf is a chilling compartment for groceries and the top shelf is a freezer compartment.
Other unique features of this fridge include a touch panel temperature controller and a convenient auto ice maker. 
Additionally, this model is an inverter refrigerator that has been rated 5-stars energy saving by Suruhanjaya Tenaga. You can save more electricity by using the eco mode too.
Toshiba uses Ag+ BIO Deodorizer in its freezer compartment, a system that contains biocatalysts that suppress the growth of bacteria and germs. Inside the bottom shelf, a photocatalyst filter is used to counteract odour molecules and turns harmful VOCs into harmless ones.
Toshiba GR-AG66MA provides a 1-year general warranty and a very long 12 years compressor warranty.
Pros:
Ag+ Bio Deodorizer
Touch panel temperature control for freezer
ECO mode
12 years warranty
Inverter compressor, 
5-stars energy saving
Modern dark tempered glass front door
Auto ice-maker
---
2. Panasonic 422L 2-Door Bottom Freezer
Best Bottom Freezer Refrigerator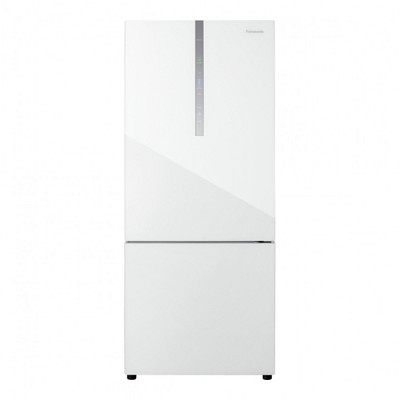 Best deal on Lazada Best deal on Shopee
Panasonic home appliances are always very popular amongst Malaysians. The Panasonic NR-BX421WGWM is a 422-litre refrigerator with a bottom freezer. Black and white glass door models are available
This Panasonic Refrigerator uses Econavi Sensors which is similar to the one used on their air conditioners and ceiling fans. Together with its inverter compressor, it is said to use 40% less energy than non-inverter refrigerators.
This fridge has a special PrimeFresh+ compartment. It can freeze meat and fish faster at an ideal temperature of -3 degrees celsius. It is known as soft frozen. Food kept at these temperatures should maintain its freshness for about 7 days without defrosting.
Using silver ion, Ag Clean deactivates 99.9% of bacterial growth in the refrigerator and eliminates unpleasant odours.
 The Panasonic NR-BX421WGWM refrigerator comes with 1-year general warranty and 12 years compressor warranty.
---
3. Midea 2 Door Fridge Refrigerator (200L) MDRT268MTB28
Best Budget 2-Door Fridge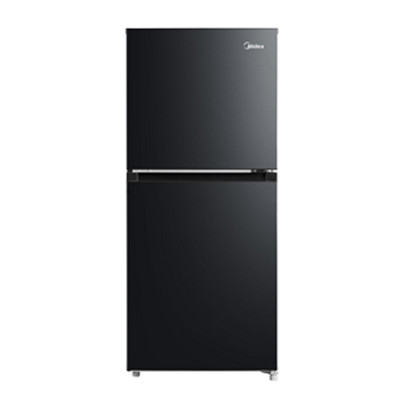 Best deal on Lazada Best deal on Shopee
If you are finding a budget 2-door fridge, then you need to check out the Midea MDRT268MTB28. It is a 200L (net capacity 179L) inverter fridge with a top freezer.
It uses Inverter Quattro technology, which ensures stable cooling and efficient energy consumption. Even though it uses an inverter compressor, it is only rated as 4 stars energy-saving.
The most interesting feature about this Midea Refrigerator is the door can be reversible. The door can be installed to open to the left or to the right.
Best of all, the Midea MDRT268MTB28 is selling for less than RM900, which is probably the cheapest inverter 2-door refrigerator in Malaysia.
---
4. Toshiba GR-A28MU
Best Budget Inverter Refrigerator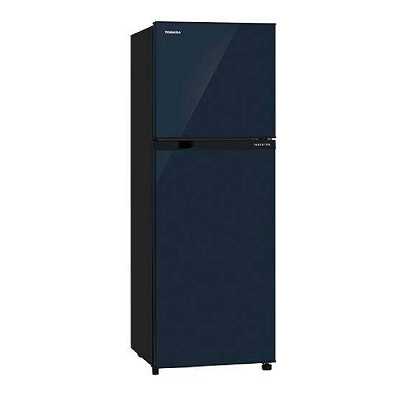 Best deal on Lazada Best deal on Shopee
Toshiba GR-A28MU is my top choice for the best budget inverter refrigerator. The front door is decorated with a darkened tempered glass panel. It looks elegant at first view.
This Toshiba 2-door refrigerator is rated as 5-star energy saving, better than the Midea MDRT268MTB28.
Not only that, but it is also bigger than Midea and has a larger net capacity of 233L.
In its bottom cooling compartment, there is a chiller box for storing meat and fish. In this box, there's a direct chilling blower that keeps meat and fish fresh, but not frozen.
This Toshiba GR-A28MU refrigerator offers a one-year general warranty and twelves years compressor warranty.
---
5. Hisense Side by Side Fridge 620L Refrigerator RS666N4ACN
Best Side by Side Refrigerator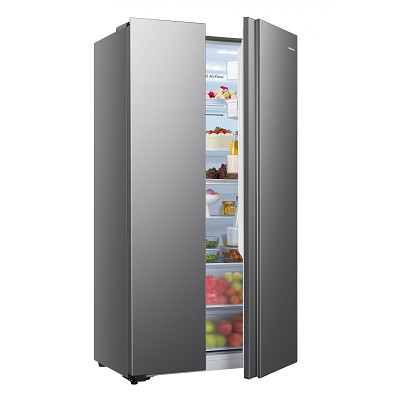 Best deal on Lazada Best deal on Shopee
The Hisense Side by Side 620L RS666N4ACN is a large refrigerator with a total gross capacity of 620 litres and a net capacity of 516 litres. It is one of the most affordable side-by-side refrigerators.
Having a side-by-side refrigerator gives you easier access to both the freezer and chilling compartments. Also, some people think it's more stylish and modern than a top-freezer or bottom-freezer refrigerator.
It has a more balanced storage capacity for the freezer and refrigerator compartments, which are 177 and 339 litres each. 
The shelves are very large, so you can easily store all your groceries on them.
One weakness of this refrigerator is that it does not use an inverter compressor.
Considering the refrigerator's large size and large capacity, I think this shortcoming could be accepted.
Lastly, Hisense Side by Side 620L RS666N4ACN has 2 years general warranty and 12 years compressor warranty.
---
6. Toshiba Inverter Refrigerator With Auto Ice Dispenser GR-RS637WE
Best Refrigerator with Ice Dispenser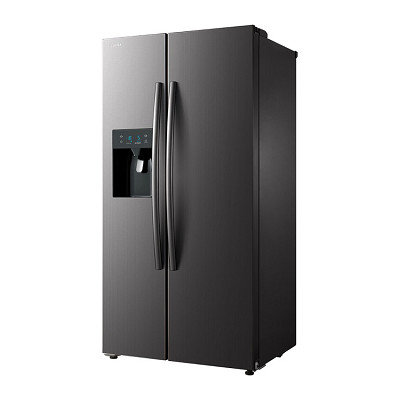 Best deal on Lazada Best deal on Shopee
If you have a budget of around RM3000, you should check out the Toshiba GR-RS637 side-by-side refrigerator with an automatic ice dispenser.
While it is more expensive than Hisense RS666N4ACN Refrigerator, it has several advantages, including an inverter compressor and automatic ice dispenser.
Additionally, its blower fan is powered by an inverter motor. As a result, Toshiba refrigerators are able to cool much faster and use much less energy.
Furthermore, there's a smart control on the door panel. There is no need to open up the refrigerator to adjust the temperature of different compartments.
Overall, the Toshiba GR-RS637 refrigerator has a lot of important and advanced features that make it well worth the price.
---
7. SAMSUNG 660L SIDE BY SIDE INVERTER family hub FRIDGE RS62T5F01B4
Best Big Smart Refrigerator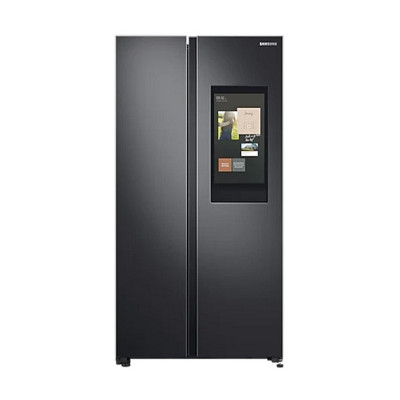 Best deal on Lazada Best deal on Shopee
Samsung Family Hub RS62T5F01B4 refrigerator will fit perfectly in your smart home if you're looking to furnish your entire place with smart appliances.
This is a side-by-side Samsung refrigerator with a very big capacity, which is 628 litres net.
The most important feature of this Samsung fridge is its Family Hub feature. Users can check what's in the fridge using a smartphone.
Furthermore, you can play music on it by streaming YouTube and Spotify.
The biggest downside of this fridge is its expensive price. It is selling for more than RM6700, about double the price of the Toshiba GR-RS637 refrigerator.
Samsung offers a very long warranty for this refrigerator, 2 years general warranty and 20 years compressor warranty.
---
8. LG GC-X257CSES
Best French Door Refrigerator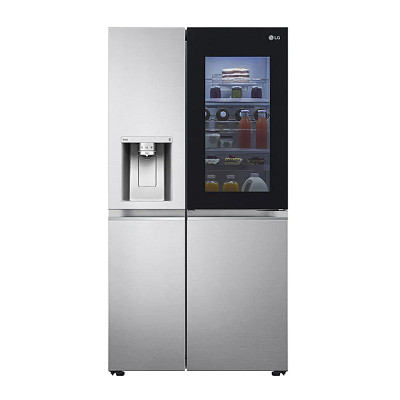 Best deal on Lazada Best deal on Shopee
The LG GC-X257CSES is a french door refrigerator with a modern twist. It has a unique Instaview feature. 
Users can reveal what's inside the fridge by knocking on the glass panel. Therefore, it is also called the LG knock-knock refrigerator.
This LG refrigerator is very energy-efficient due to its French door design and inverter linear compressor. Hence, it is rated as 5 stars energy saving.
Additionally, it has the LG Door Cooling feature that is blowing cool air from the door to make the fridge cool faster and more evenly.
The LG GC-X257CSES also features an ice dispenser function. This refrigerator can dispense both cube ice and crushed ice, which is unique since most refrigerators can only dispense cube ice
---
9. Midea 1-Door Refrigerator MDRD229FGD42-MY
Best 1-Door Refrigerator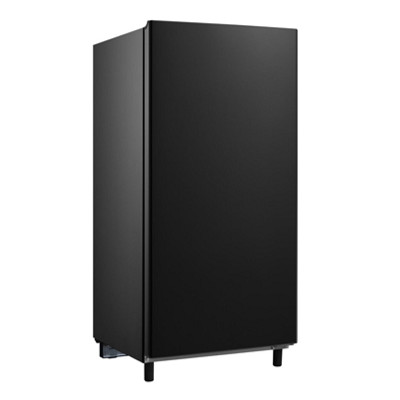 Best deal on Lazada Best deal on Shopee
Midea 1-Door Refrigerator is the best single-door refrigerator. This is one of the larger single-door models with a gross capacity of 163L and a net capacity of 158L.
This Midea MDRD229FGD42-MY fridge is the right size for a small kitchen, office, or hostel.
The freezer compartment is very spacious for a single-door refrigerator of this type.
Maintenance of the freezer compartment is quite easy too because it comes with semi-automatic defrosting features. Users can just twist the knob to "defrost" to start defrosting the excess frost.
---
10. Hisense Fridge 60L Mini Refrigerator
Best Cheap Mini Fridge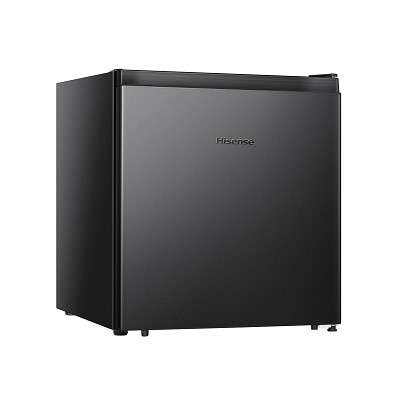 Best deal on Lazada Best deal on Shopee
Hisense 60L Mini Bar Fridge is the best cheap mini fridge. On Shopee, it is the top-selling mini fridge.
The compartments are very practical. It is ideal to keep canned drinks, drinking bottles, and snacks for the bedroom or dorm room.
But there's no interior LED lighting on this Hisense mini fridge.
---
How to choose the best refrigerator?
To choose the best refrigerator that fits your needs, you need to pay attention to four important factors below:
Types of Fridge – Top freezer, bottom freezer, french door, single door and side-by-side refrigerator are the 5 main types of refrigerators.
Fridge capacity – If you're not cooking often, chances are that you don't need more than 300 litres. It is estimated that we need 100 litres of fridge volume for every household member.
Fridge size – Fridge size matters, especially since many condominiums provide free built-in kitchen cabinets in Malaysia. Then, you would have no choice but can only use a fridge that fits into the cabinet space.
Features – Keep it minimal. Less feature, less chance of failure component. End of the day, refrigerators are meant to keep your groceries cold and make ice cubes.
---
Conclusion
We have chosen the best refrigerator for different needs and designs. Always keep in mind that durability and reliability are the key factors when it comes to choosing a fridge.
Check out our reviews on the best mini refrigerators and best freezers to buy in Malaysia too.
If you're shopping for your new kitchen, do check out our kitchen appliances series that covers the best gas stoves, ovens, induction cookers, rice cookers and pressure cookers.