Refrigerators have come a long long way. From mini, compact single door to premium high-tech models that are so futuristic as if it only exists in a sci-fi tv show. Now, there are smart fridges with touch screen and built-in cameras for users to check what's in the fridge at the tap of your finger, remotely.
But the thing is, average consumers don't need such high-tech features, their main concerns are mostly in getting a good and solid refrigerator that is energy efficient, reliable and most of all, that has enough storage space to keep everything you need. And last but not the least, at a reasonably good price indeed.
We handpicked the best refrigerators in Malaysia as below:
How to choose the best refrigerator?
Types of Fridge – Top freezer, bottom freezer, french door, single door and side-by-side refrigerator are the 5 main types of refrigerators. There are mini fridges too which we have further covered that topic in our best mini refrigerators review.
Fridge capacity – If you're not cooking often, chances are that you don't need more than 300 litres. It is estimated that we need 100 litres of fridge volume for every household member.
Fridge size – Fridge size matters, especially many condominiums provide free built-in kitchen cabinet in Malaysia. Then, you would have no choice but can only use a fridge that fits into the cabinet space.
Features – Keep it minimal. Less feature, less chance of failure component. End of the day, refrigerators are meant to keep your groceries cold and make ice cube.
Best Refrigerator for Small Family
1. Toshiba GR-A28MU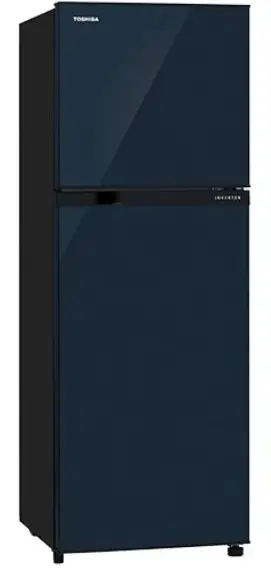 Toshiba GR-A28MU has a very conventional design with a modern twist. The front door is decorated with the darkened tempered glass panel. It looks elegant in the first view.
This fridge is 5-stars energy rated by Suruhanjaya Tenaga and uses an inverter compressor.
It offers a one-year general warranty and twelves years compressor warranty.
Best deal on Lazada Best deal on Shopee
Having gone through so many popular brands in the market, namely Hitachi, Sharp, Samsung, Panasonic, Electrolux and many more, we have chosen Toshiba GR-A28MU as the best refrigerator for a small household. We have set an RM1,000-ish budget for the refrigerator and this model fits it well.
Having a good size of 545 x 623 x 1545mm, this 2-doors top freezer refrigerator has a net capacity of 233L. It is Toshiba's new A-series collection that boasts of classy design with a modern twist. It has an elegant darkened uni glass front door.
First off, this fridge runs on inverter compressor and is graded as 5-stars energy saving by Suruhanjaya Tenaga. It is indeed impressive.

For a 5-stars rating refrigerator, it means that the fridge saves more than 25% of electricity compared to the average energy consumption of fridge available in the market. This in turns helps the fridge owner save hundreds of Ringgit over a year.
This refrigerator uses Ag+ Bio Deodorizer that functions mainly to eliminate germs, bacteria and also to remove any unpleasant scent & odour. Thus, Food can be kept for a longer period of time.
In its bottom shelf, there is a chiller room compartment that meant for keeping meat and fish. This compartment has a direct chilling blower that helps keep the meat fresh but not frozen up like the freezer.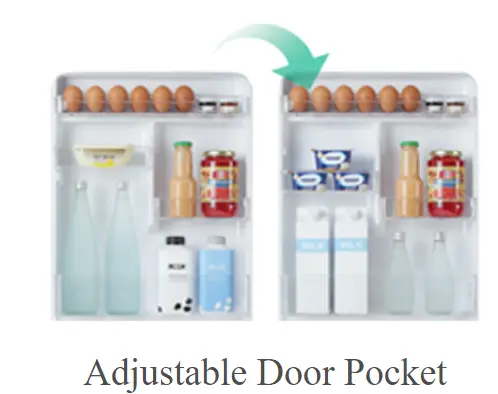 Also, Toshiba has adjustable door pockets, so that you can adjust in accordance with your storage needs, which is very handy.
Toshiba GR-A28MU top freezer has a capacity of 61 litres. It comes with a "twisting" type ice maker. And without a doubt that it has a no-frost design.
Lastly, one really impressive move by Toshiba is they give as much as 12 years while other brands only give 10 years or less. And it comes with one-year general warranty.
Pros:
Ag+ Bio Deodorizer
Chiller room compartment
12 years warranty
5-stars energy efficiency, inverter compressor
Modern dark tempered glass front door
Upgrade pick – Best Top Freezer Refrigerator for Big Family
2. Toshiba GR-AG66MA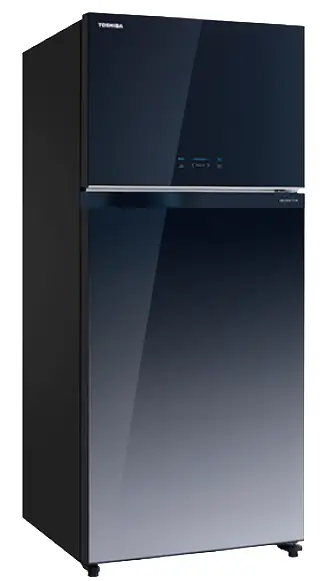 GR-AG66MA is an upgraded version of the Toshiba GR-A28MU refrigerator. It has a gigantic net capacity of 609 litres.
It is powered by an inverter compressor and also 5-stars energy efficiency
There are two unique features with this fridge. One of them is a touch panel for freezer temperature control in its front door. Another is the super convenient auto ice-maker.
It comes with 1 year warranty and an awesome 12 years compressor warranty.
Best deal on Lazada Best deal on Shopee
I, personally being nostalgia, still feel that top freezer refrigerator is the best refrigerator design. Hence, our best big family fridge pick would be Toshiba GR-AG66MA.
With a size of 803 x 739 x 1848mm, this gigantic 661L(net capacity 609L) 2-doors top freezer will be sufficient for a big family. It carries the same design language as Toshiba GR-A28MU. The glass front door makes it elegant, warmer feel compared to a stainless steel finish. And it can definitely stand up to smoke and grease stain in the kitchen.
This model is also an inverter refrigerator that gets a 5-stars rating from Suruhanjaya Tenaga. For this premium model, it gives users finer control on the temperature setting and has an eco mode. Speaking of convenience, it has a touch panel for controlling the freezer compartment temperature.
Similar to its cheaper range, the bottom shelf comes with a chilling room compartment for keeping meet. Its top shelf (freezer room) uses Ag+ Bio deodorizer and its bottom shelf uses LED hybrid deodorizer.
Toshiba uses Ag+ BIO Deodorizer in its freezer room, a system that has biocatalyst that suppresses the growth of germs and bacteria. As for the bottom refrigerator room, it uses a photocatalyst filter which is effective in breaking down odour molecule and able to turn harmful VOC chemical to harmless.
There is one unique auto ice maker in this fridge too. It is quite rare that a top freezer refrigerator comes with auto ice maker. It is very convenient for those who consume lots of ice.
As you can see, the water tank will automatically pump the water up from the refrigerator room to the freezer room, to make ice automatically and continuously until the water is completely used up. It is indeed very convenient and there's no worry of spilling out water when carrying out the conventional ice tray.
Toshiba provides a 1-year general warranty and 12 years compressor warranty.
Pros:
Ag+ Bio Deodorizer
Touch panel temperature control for freezer
ECO mode
12 years warranty
Inverter compressor, 5-stars energy efficiency
Modern dark tempered glass front door
Auto ice-maker!
Best Budget Refrigerator
3. Electrolux ETB2302H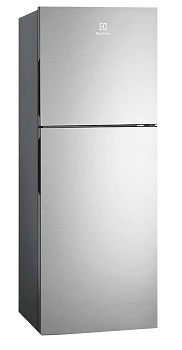 Electrolux ETB2302H is cheap and affordable. Although there is no fancy appearance or additional features like its competitors, it is a rock-solid fridge for keeping food cold and fresh.
For less than RM1,000, you get an inverter refrigerator with 5 stars energy rating is basically a great bargain.
Electrolux fridge has a 1-year general warranty and 10-years compressor warranty.
Best deal on Lazada Best deal on Shopee
The best cheap fridge is Electrolux 2 Doors ETB2302H refrigerator. With a compact size of 540W x 1405H x 615D mm, this guy is value for money. It is suitable for one who has limited space. It has a net capacity of 210 litres.
Similar to the recommended Toshiba fridge, Electrolux has a chiller room which has a slightly lower temperature, that makes it ideal for meat products that need to be kept fresh.
Electrolux Flexstor storage system for its door shelf is highly customizable and can be adjusted for multiple ways of storage needs. Honestly, it works better than the Toshiba design.
Electrolux claims they use NutriFresh® Inverter, 360 cooling which is responsible for sustaining and maintaining a consistent and stable temperature. It also comes with Tasteguard feature that removes 99.8% bacteria and odour.
Electrolux provides a 1-year general warranty and 10-years compressor warranty.
Pros:
Cheap and affordable
Inverter compressor
Good for tight space
5-stars energy rating

Best Bottom Freezer Refrigerator
4. Panasonic Bottom Freezer Refrigerator NR-BX418XSMY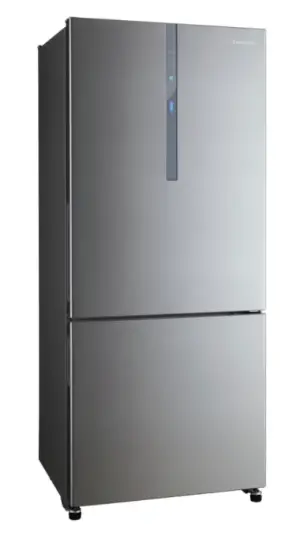 Everyone is familiar with Panasonic home appliances in Malaysia. Panasonic NR-BX418XSMY bottom freezer refrigerator is designed in such a way that allows users the easiest way to access their most frequently used item.
It has 5-stars energy rating and runs on inverter compressor as well.
And it has net capacity of 504 which is good for medium-sized family.
Panasonic gives a 1-year general warranty and 12 years compressory warranty
Best deal on Lazada Best deal on Shopee
We recommend the Panasonic 2-door bottom freezer fridge as our top choice. It measures at 775x741x1846mm and has a net capacity of 504L, which is slightly smaller compared to Toshiba's.
This fridge is powered by an inverter compressor. It is 5-stars energy rated as well. Not only that, just like every energy-saving Panasonic home appliance, this fridge equipped if Econavi Technology. It uses additional sensors that monitor surroundings. It will automatically decrease power when lights are switched off because it expects less open/close of the fridge.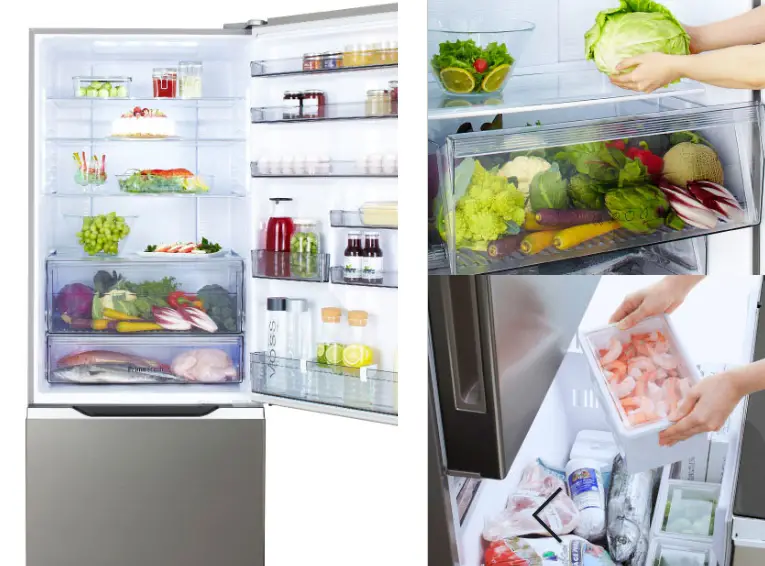 The main reason for anyone who purchases a bottom freezer is to easily reach the items which we consume often at an upright position, without having to bend down our bodies. This fridge is designed for easy access in mind so that users can see everything clearly and quickly. Its bottom freezer uses a drawer-type compartment so everything can be organized neatly.
Panasonic adopting similar filter system like Toshiba, that use Ag (silver) for disinfecting bacteria and stop the growth of mold.
Panasonic offers a 1-year general warranty and an impressive 12 years compressor warranty.
Pros:
Easy access to daily use items
Drawer type bottom freezer
5-stars energy rated, Panasonic Econavi
Elegant touch panel for control at the front door.
12 years warranty period
Best French Door Refrigerator
5. HITACHI R-WB850P5M GBK 700L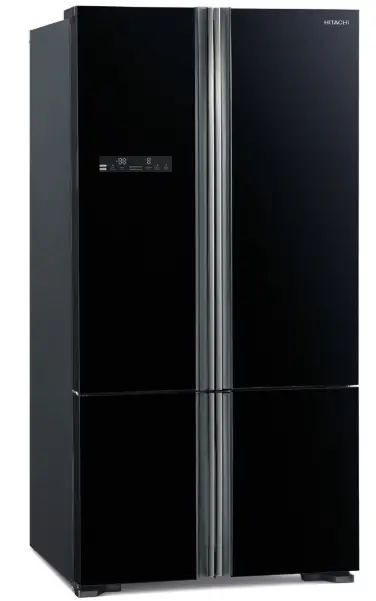 HITACHI R-WB850P5M is french door fridge with bottom freezer. We recommend users to buy this type instead of top freezer plus french door design.
We don't really advise users to buy this fridge because we believe that more doors are not necessarily beneficial to users. And it is very expensive.
It is suitable for anyone with a narrow kitchen but still wanted a large fridge.
It uses the inverter compressor and obtains 5-stars energy rating.
Best deal on Lazada Best deal on Shopee
Hitachi-WB850P5M GBK 700L is the best french door refrigerator in Malaysia which we do not recommend to buy. French door may look good and feel modern but those extra doors make it harder for one to search for items in the fridge. You can get a quick glance of the whole storage area with normal 2-doors refrigerator. And more importantly, their premium price tag is hard to swallow for many.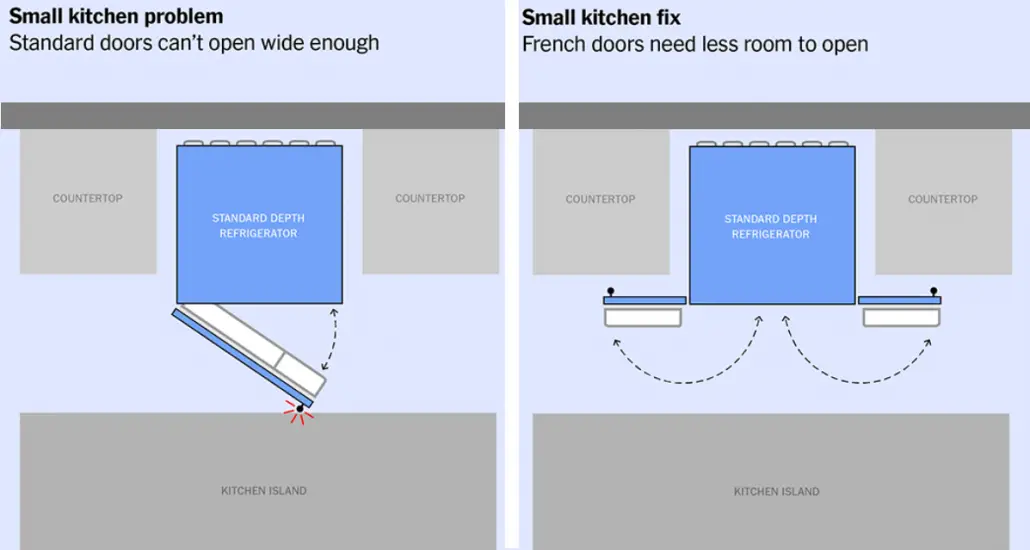 French door and side-by-side refrigerator are recommended for those with a narrow kitchen. This is because the door swing will occupy much less space to help to solve a tight kitchen problem. And if you really want a french door fridge, we advise going with the bottom freezer french door model.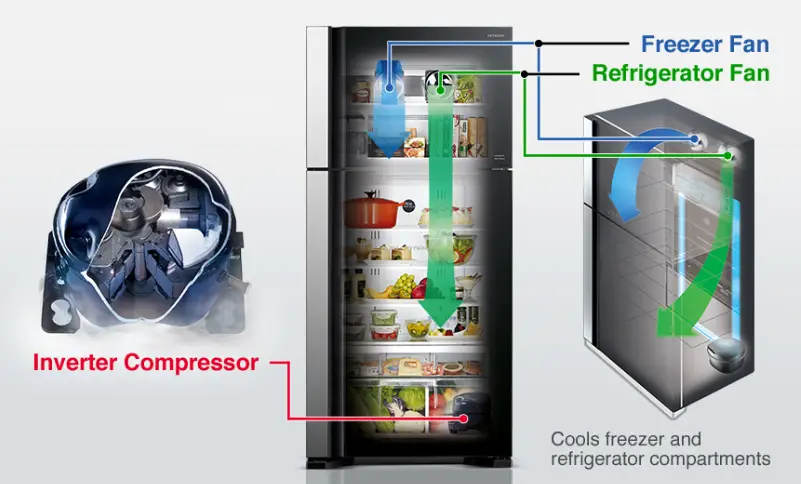 This fridge is 5-stars energy rated and runs on an inverter compressor. It has this unique dual-fan cooling system. One dedicated fan for each compartment, so chilled air can be delivered independently.

It has a touch panel display which keeps users aware of the fridge condition, which is pretty and convenient.
Storage-wise, this fridge is as generous as it can be. It has an extra-wide interior and both sides of doors are also used for storage. No ice or water dispenser here, which is a plus point. Because I believe we as Malaysians seldom use those features and they always tend to spoil. Malaysians are generally more used to water purifier dispenser for hot & cold water.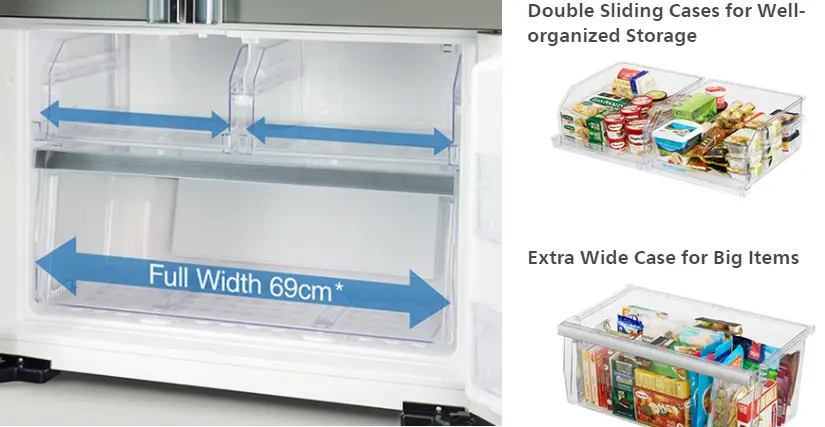 All of the shelves are made of tempered glass which can take up to 100kg. Its bottom freezer compartment comes with three plastic sliding case for easy access.
Overall, it is a great refrigerator with a great premium to pay. Hitachi gives 1-year general warranty and 10 years compressor warranty.
Pros:
Huge storage capacity
5-stars energy rated
Full tempered glass shelves
ECO mode
Dual cooling fan
Competition:
Samsung refrigerators – in fact, they are quite reasonably priced and pack tons of features. But the problem lies within their premium range refrigerator and its rich features. The premium range uses a twin cooling system, or sometimes a tri-cooling system which have multiple compressors. More components equal more breaking parts in the future.
There are also multiple online reviews that mentioned the Samsung fridge leave them in a very bad position and cost a lot to repair.
LG refrigerators – Another Korean brand fridge. First, they are very pricey. Second, they have durability issues as reported by multiple online sources. Although they could be all good in the beginning, a fridge is something that we want to last decades. So, we would advise users to buy the top refrigerator brand which I have recommended above.
Conclusion
We have chosen the best refrigerator for different needs and designs. Always keep in mind that durability and reliability are the key factors when it comes to choosing a fridge.
Check out our reviews on the best mini refrigerators and top freezers to buy in Malaysia too.
If you're shopping for your new kitchen, do check out our kitchen appliances series that covers the best gas stoves, ovens, induction cookers, rice cookers and pressure cookers.
And finally, if you like this article and wish to see more similar content. Remember to support me by clicking any of the lazada/shopee link listed on the site before you make any purchase. And like our Facebook page too.