The use of a laptop stand makes working on a laptop easier and more comfortable. It is important for maintaining a proper posture while using a laptop. 
You could suffer neck, back, and shoulder pain from hunched over a laptop and working for long hours. In the worst-case scenario, you could suffer long-term injuries like permanent spine pain.
What are the best laptop stands in Malaysia?
Laptop stands are mainly divided into two main categories:
Portable laptop stand – Provide a small inclined angle for the laptop to promote ventilation and improve laptop cooling performance. Lightweight and portable.
Permanent laptop stand – To be fixed on a desk. Raising the laptop screen to eye level. For best results, use an external keyboard and mouse together.
The best portable laptop stand is the Baseus foldable laptop stand as it is light, discreet and blends perfectly with the laptop. 
And the best permanent laptop stand is the llano adjustable laptop stand. It is flexible, sturdy, stylish and has a stepless angle adjustment without the need of a wrench or a spanner.
Check out the top 8 laptop stands in Malaysia 2022:
---
1. Baseus Foldable Laptop Stand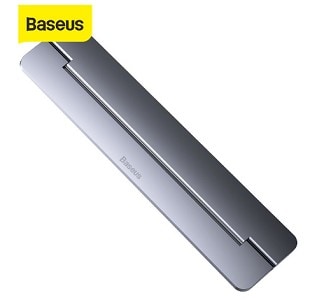 Best deal on Lazada Best deal on Shopee
The Baseus Laptop Stand is made with aluminium alloy that is sturdy and solid. It comes in silver grey colour which would match perfectly with most modern laptops like the MacBook and Dell XPS.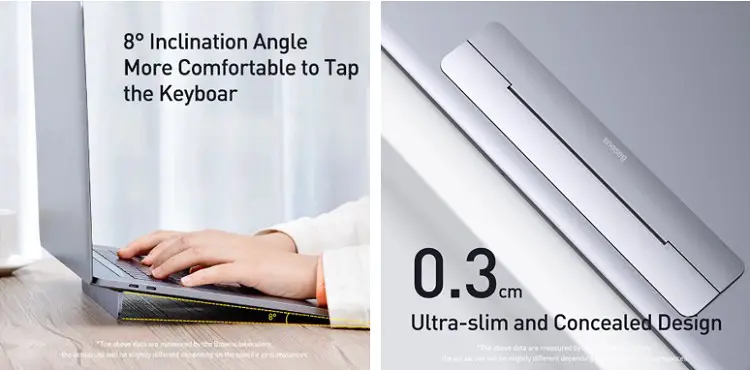 The size of the Baseus laptop stand is 227 x 50mm with a thickness of 3mm. It gives a small 8 degrees inclined angle that promotes airflow below your laptop. The slope isn't too steep so it won't strain your wrist while typing.
The build quality of this laptop stand is great. It is very solid and doesn't shake when you type on it.
The best part of it is you just stick the Baseus Laptop Stand on the back of your laptop. 
You don't have to carry the laptop stand separately, which we all know is cumbersome to pack in and out of various stuff from the laptop bag every day.
The Baseus Ultra Slim Invisible Laptop Stand is great for students who often need to bring their laptops to school.
---
2. UGREEN X-Kit USB C Hub Laptop Stand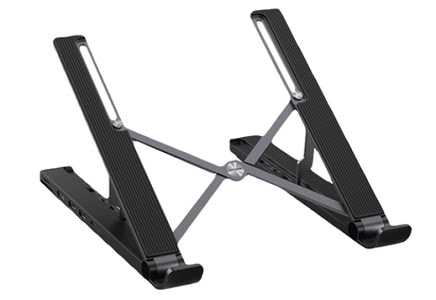 Best deal on Lazada Best deal on Shopee
UGREEN X-Kit is the most innovative laptop stand that comes with a USB-C hub. This multi-function UGREEN laptop stand received the 2021 Red Dot Award.
Year after year, laptops like the MacBook and Dell are getting smaller and lighter. At the same time, ports available on these ultrabook or ultraportable laptops are very limited.
The UGREEN X-Kit is designed to be both a laptop stand and a USB-C hub, killing two birds with one stone. 
It comes with USB-C, 4K HDMI, TF/SD and two USB 3.0 Ports. All hub ports can work simultaneously, a small yet powerful laptop stand.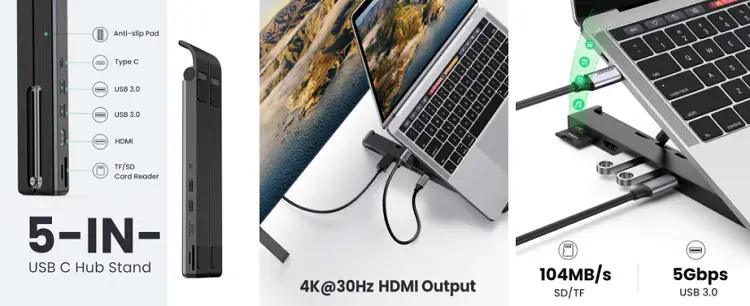 The UGREEN X-Kit can be folded into a very compact stick form factor so that it can be easily kept in a laptop bag. 
It has 4 adjustable angles. The lowest angle allows you to work directly on the laptop. And the highest angle raises the laptop to eye level. It is best used with an external keyboard at the highest angle.
The laptop stand hub supports most devices from 10 – 15.6 inches like Macbook, ThinkPad, Surface, Chromebook, iPad Pro, etc
---
3. Wooden Laptop Stand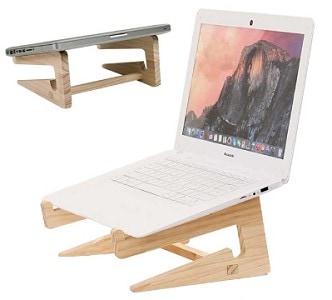 Best deal on Lazada Best deal on Shopee
The wooden laptop stand is one of the best-selling laptops stands on Shopee. It has been sold for more than 33,000 units and received almost 20,000 ratings. It averages 4.9 out of 5 stars.
Most importantly, it is selling for only RM9.49.
Just be aware that this is a very basic laptop stand with no adjustable height or angles. 
The timber material is also quite light which most likely will not be able to withstand heavy load. 
Overall, the wooden laptop stand is a good and functional laptop riser to fix poor sitting ergonomics when working on a laptop.
---
4. NUBWO Shiron Laptop Cooler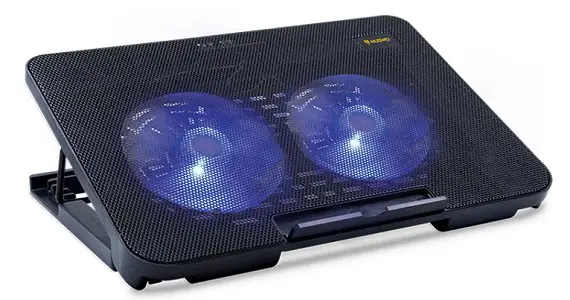 Best deal on Lazada Best deal on Shopee
The NUBWO Shiron Laptop Cooler is a great option for those who have problems with overheating laptops.
It is an adjustable laptop cooler that can be used as a laptop stand. You can adjust the feet to six different angles to find the perfect viewing and typing angles.
And the top surface of the laptop stand is made of metal mesh to provide maximum airflow for the laptops. 
It also has two big silent fans blowing from bottom to top to keep your laptop cool at all times.
The NUBWO Shiron laptop cooler is great for people who use laptops for video editing since it can keep the laptop cool while rendering video.
---
5. SSKY Adjustable Laptop Stand P10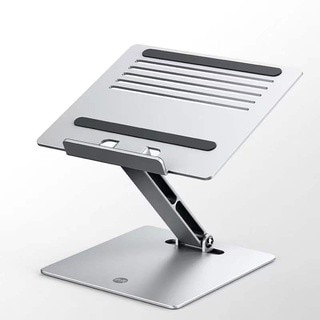 Best deal on Lazada Best deal on Shopee
The SSKY P10 laptop stand is multi-angle adjustable, firm, sturdy, and very well-built.
It is made of aluminium alloy and weighs about 750 grams. The size of the laptop stand is 250 x 210mm and can be folded into a flat sheet so you can easily pack it into a laptop bag.
This laptop stand comes with a spanner that can be used to adjust the tightness of the folding mechanism. It can withstand up to 10kg without sagging. 
When fully extended, it can reach a maximum of 300mm height. So, you should be able to find your ideal height without many issues.
The surface of the SSKY laptop stand has a non-slip mat so that it won't scratch your laptop.
It is suitable for laptops, iPads, tablets and even can be used as a book reading stand.
---
6. llano Aluminium Alloy Laptop Stand Z25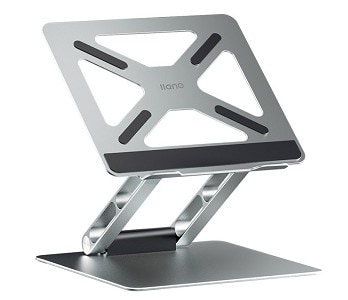 Best deal on Lazada Best deal on Shopee
Llano laptop stand Z25 is a more sturdy and premium version of the SSKY laptop stand. 
A few key upgrades on this laptop stand are:
Dual support and thicker holder for more rigid holding strength
Carbon steel and aluminium alloy body give it a total weight of 2.1kg for better stability.
A strong custom-designed, spring steel shaft that does not require manual tightening with a spanner but still remains stable
There's an optional upgrade for the llano laptop stand that includes a phone holder so you can place your phone side by side to the laptop.
The llano laptop stand has thickened non-slip silicone strip that protects laptops from scratches.
The lifting bracket can be adjusted freely from 30 to 285mm.
The perfectly flat base plate allows you to place your wireless keyboard directly beneath your laptop screen, saving much space. As such, you can use it on a narrow desk as well.
The llano laptop stand is great for gaming laptops that easily overheat or video editor who often needs to use their laptops for video rendering.
---
7. Laptop Stand for Sofa & Bed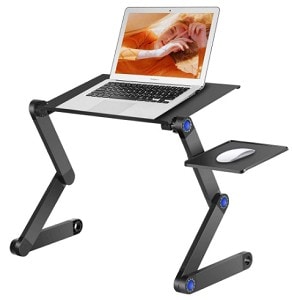 Best deal on Lazada Best deal on Shopee
This is a very versatile laptop stand that can be folded into multiple angles and positions to suit different conditions.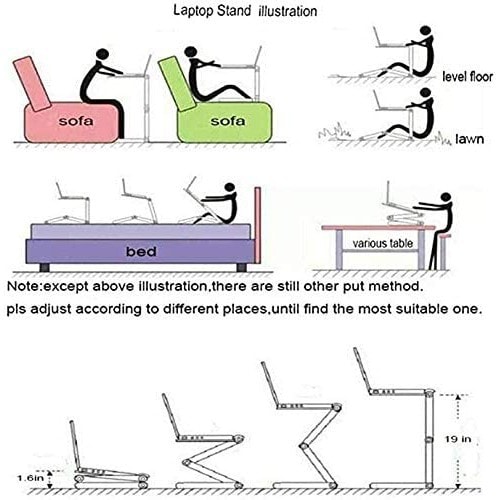 In addition to using it on a table, you can use it on the sofa, floor, or bed depending on how you fold it. It can be used as a laptop tray.
It can be adjusted from 4 to 48 cm. This laptop stand is made of aluminium alloy and its adjustable auto-locking joints are made of ABS.
The design of this laptop stand is indeed very flexible, but it could become very unstable when fully extended because of its many joints. 
Laptop Stand for Sofa & Bed will be shaky and wobbly when you're typing on it. Due to this, it is not suitable to work on this laptop directly. 
It is more suitable as a laptop riser or just working on it for a short period.
---
8. Vaydeer Vertical Laptop Stand Holder (Honourable Mention)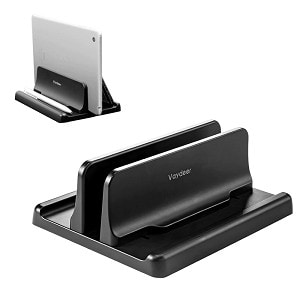 Best deal on Lazada Best deal on Shopee
Vaydeer vertical laptop stand is not the usual laptop riser or ergonomic laptop stand. This type of vertical laptop stand serves more for aesthetic purposes. 
Vertical laptop stands are popular amongst workspace setup addicts as they use them to keep the desk clean and neat. 
At the same time, you will be able to showcase your laptop vertically.
Vaydeer vertical laptop stand can fit for laptops with thickness from 1.4 to 4.0 cm. It is made of high-quality ABS material which is light but sturdy.
For people who mainly use an external monitor, using a vertical laptop stand is a great way to keep your laptop vents remain unobstructed. As such, the laptops will be able to dissipate heat better.