Finding the best gaming laptop before you enter college or university? If you were like me, I dreamed of having a gaming laptop which can double as a student laptop when I was in my freshman year. I thought it is best to have one reliable laptop capable of both school project and gaming purposes.
Being a former student. I totally understand that we all have a tight budget. My mission today is to help you to pick the best "value for money" gaming laptop for every budget in Malaysia.
After spending countless hours researching the different laptops in the market now, covering different brands like Acer, Asus, HP, MSI, Dell, Lenovo, Gigabyte, Alienware, Razer, XiaoMi, Illegear and Level51. I found the best bang for buck gaming laptop for each price range as below:
Gaming laptop or gaming pc or ultrabook?
Before we start, let's understand what really fits your needs.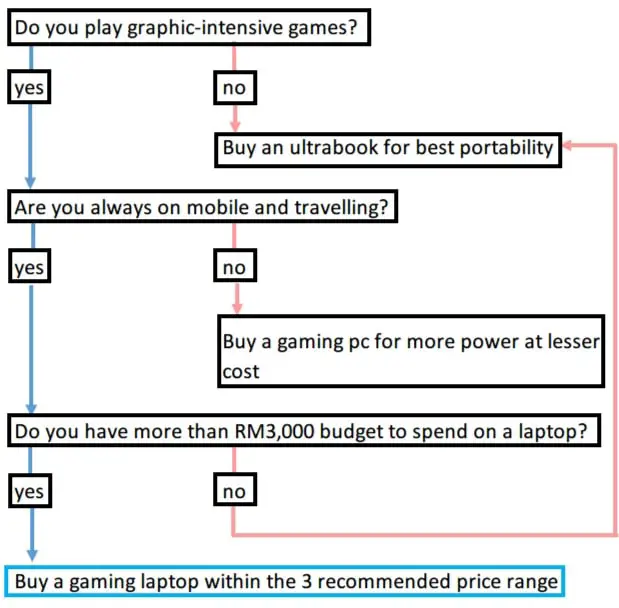 Laptops are meant for working or in this case gaming on mobile. If your usual working style is quite stationary, you should always get a gaming pc instead of a gaming laptop.
I also don't recommend anyone with a limited budget to get a gaming laptop. Gaming laptop needs dedicated GPU and Nvidia GTX 1050 is the very minimum. Dedicated GPU increases the cost of a laptop significantly. You can't really find many good gaming laptops priced below RM3,000.
How I picked
Primary criteria:
Performance– GPU, CPU and RAM is the top three component I prioritize. In my opinion, GPU is the most important chip in a gaming laptop,
Price – Laptop should be reasonably priced
Storage– SSD is a big plus for modern days laptop as I have explained previously in my post of productivity hacks.
Secondary criteria:
Portability– I only focus on 15-inch laptops because laptops should be portable and easy to be carried on a day to day basis. I never realize how beneficial is an ultra-lightweight portable laptop until one day I purchase a 1KG+ ultrabook. Since that day, I never look back to a 3.0KG laptop.
Display– Laptop display must be capable of 1080p full HD. Thin bezel and 120Hz refresh rate are secondary but good to have.
Speaker– Speakers should be adequately loud and not distorted for basic media consumption.
Warranty– 24-month warranty is the basic requirement when you pay so much on a laptop. The longer warranty period is better for the purchaser.
Non-essential criteria:
Battery Life– Heavy gaming takes away a lot of battery power. I never expect to game on a laptop without wire. A gamer should always be prepared with its laptop charging brick.
Aesthetic/Design/RGB– If you have read my other articles, you should now realize I am more of a function than design guy. Aesthetic and RGB on a laptop does not bother me at all as long as I can play my game with ultra high settings and no lags.
Best Gaming Laptop Under RM3500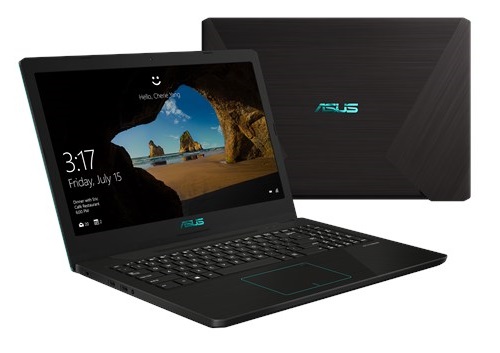 Asus x570z is your ideal budget gaming laptop. It is freshly released in 2019, comes with i5 processor, GTX 1050, 128GB SSD plus 1TB HDD, and only as light as 1.9KG!
Asus X570Z is the best gaming laptop under RM3500, to be exact it is only RM2899, slightly under RM3000. It is the hidden gem that gives you most bang of bucks right now. Check out my comparison table as below, highlighted in green colour indicates good features:

It is also the world first laptop with AMD Ryzen processor that pairs with Nvidia graphics card. This laptop itself is a very solid laptop that capable of delivering 1080p gaming experience on most of the popular e-sport game titles.
Asus x570z technical specifications:
OS – Windows 10 Home
Processor – AMD Ryzen 5 2500U Processor
Graphics – Nvidia GeForce GTX1050 4GB GDDR5 VRAM
RAM – 4GB DDR4 2400MHz
Storage –  128GB SATA 3.0 M.2 SSD + 1TB 5400 rpm SATA HDD
Display –  15.6″ (16:9) LED-backlit FHD (1920×1080) 60Hz Anti-Glare Panel
Audio – Dual Stereo Speakers
Battery – 3 Cell 48Wh Battery
Connectivity – Wireless AC, Bluetooth 4.2, Gigabit Lan
Ports – 2x USB 2.0, 1x USB-A, 1x USB-C, HDMI 1.4, LAN, mic/earphone, microSD card reader
Dimension – 374.6 x 256 x 21.9 mm (WxDxH)
Weight – 1.9kg
Asus X570z overall performance review
Pros
extremely lightweight for its price and power
comes with SSD
Runs silently under low load
Decent sound quality
Cons
slightly flimsy plastic build
only has a single fan, will be hot under heavy load
difficult to service and upgrade
First, let us look at the overall performance of x570z to see whether it fits as our best budget gaming laptop.
This laptop has an AMD Ryzen 5 2500U processor and Nvidia GTX 1050 graphics card. Although both of these are of entry-level and older version chips, they are still capable of delivering a 1080p experience for Dota 2, League of Legends, Fortnite and even notorious PUBG on a lower setting.
Bear in mind that Asus X570Z is only a basic budget gaming laptop, you can't expect it to run VR gaming. It is more suitable to run those few popular e-sport titles that I have mentioned and could run the modern AAA gaming titles on lowered settings.
The key difference between this model and its competitors is the AMD processor. Ryzen 5 2500U no doubt has a slower clock speed compared to i5-8300H. But, its 15W power consumption is 67% lower than i5-8300H, 45W.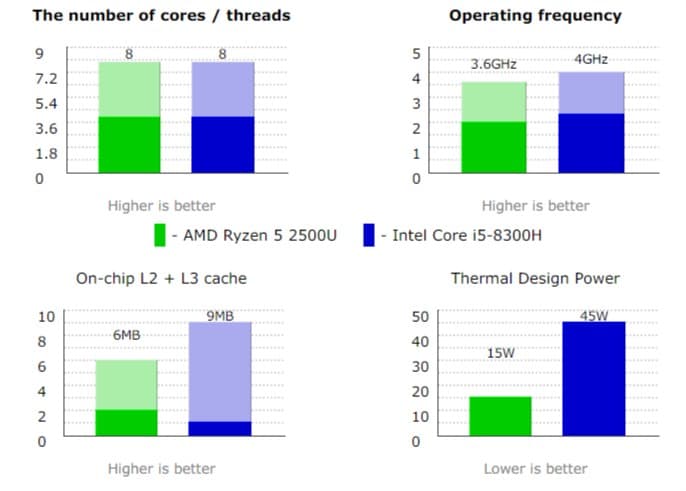 As mentioned in "how I pick" guide, CPU is only second priority to GPU when it comes to gaming. The processor of AMD Ryzen 5 2500U is considered sufficient in this case. Most importantly, Asus able to further lower down their laptop pricing by adapting the AMD processor.
Next, we check on GPU and there are three GPU models that commonly seen in laptops below RM3,500. There are GTX 1050 Ti, GTX 1050 and RX 560x. These 3 GPUs perform almost equally in real-world performance. However, Nvidia is the preferred graphics card on most games and "Ti card" has a better edge over "non-Ti card". Thus, I rank the performance of these cards in such order that:
  GTX 1050 Ti > GTX1050 > RX560x.
Lastly, this model also has an SSD+HDD combo setup that ensures a speedy experience for your daily computing task other than gaming. Gaming itself doesn't rely that much on hard disk read/write speed.
So, normally the operating system (OS) is installed on the SSD for optimum system speed and a large capacity 1TB HDD serves as the storage drive for your game collection.
All models in my comparison list share the same amount of RAM which is 4GB DDR4.
Display, Audio and Heat Management
The official specification shows that Asus x570z uses an LED-backlit display panel and what I have found online which in fact it is just another entry-level IPS screen. It is an average 15.6″ screen with a standard 60Hz refresh rate. It is good enough for most conditions except for working directly under sunlight.
Audio is nothing fancy but two stereo speakers with Asus SonicMaster technology. It is reviewed that the two speakers sound good for its class with clear audio and no distortion.
Asus only provide a single fan to cool the laptop. It is expected to be hotter than any laptops with two fans when under loads.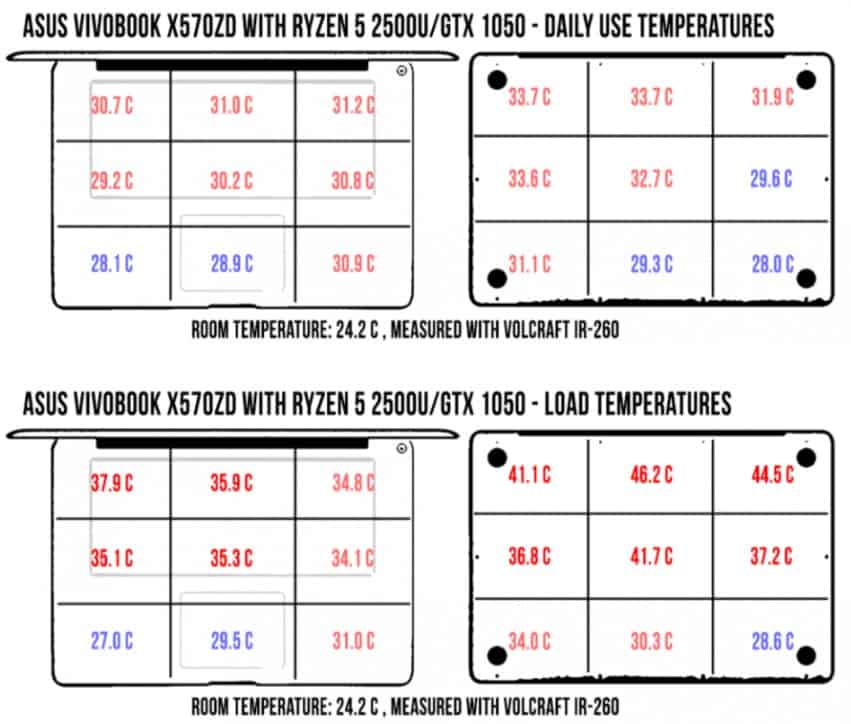 According to ultrabookreview.com, the top surface of laptop range from 28 to 31 degree Celcius under normal daily usage and rake up to 36 degree Celsius during their test on playing Far Cry 4.
Design and portability
Personally, I prefer gaming laptop with more subtle design like x570z instead of screaming "gamer in the house" with shiny RGB colours. This unit comes in a dark grey colour with light blue lining. Its casing is made of plastic material and overall average build quality.
It still has the thick bezel measuring around the screen like an older laptop. The power button is integrated into the keyboard layout and it has a dedicated number pad section.
The keyboard travelling is only 1.4mm which may feel uneasy for some people. It is not a big deal because people eventually get used to any keyboard when they use it long enough. The trackpad is of average sized that comes with Precision drivers (various gestures control).
The most notable feature of this laptop is its weight. It only weighs 1.9Kg and it is lightest in its class, 17% lighter than Dell-G7 and Lenovo Y530 and 30% lighter than Acer Nitro 5. The lightweight could be largely due to its plastic body casing.
I would say it is a very portable budget gaming laptop and easy to carry daily to class or occasional gaming session at a friend's place.
Conclusion
Asus x570z is the complete package affordable gaming laptop. It packs a punch for its very competitive price. It comes with Ryzen processor, GTX 1050 graphics card, reasonable build quality, two stereo speakers, and very lightweight compared to others.
The only thing is 4GB RAM is too little for modern day computing. Slap in another 4GB ddr4 RAM gets you a very snappy cheap gaming laptop.
Best middle range gaming laptop under RM5000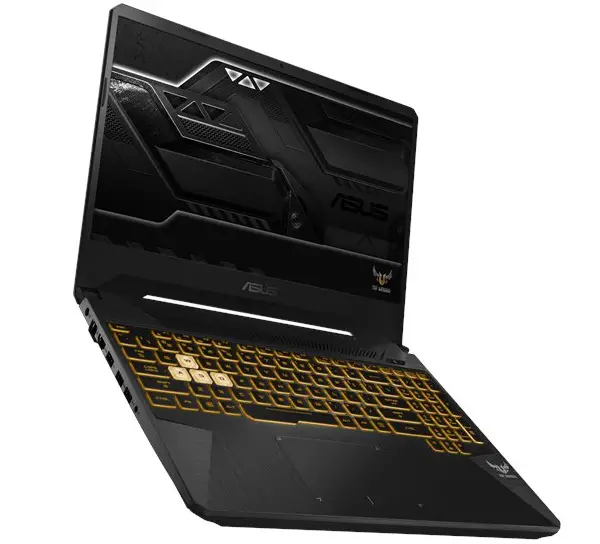 Asus FX505G is the best pick for mid-range gaming laptop mainly for its GTX1060 GPU, narrow bezel full HD 144Hz display and i7 processor. It is also the lightest laptop in its class.
The key component I am expecting for RM5000 laptops is an Nvidia GTX 1060 graphics card and optional Intel 8th generation i7 processor. RM5000 is a lot of money and it should be at least virtual reality (VR) gaming ready. With these criteria in mind, there are only two models that make the cut and FX505 being a better deal.
Check out the comparison table below:

Apparently, Asus FX505G is the only model that comes with both i7-8750H processor and GTX 1060 graphics card. It also has a 144Hz thin bezel IPS screen for optimum gaming experiences.
There is one "secret gem" model that is cheaper but comes with even better specification than Asus FX505G by a large margin. The difference in specification could cost you at least additional RM700. Unfortunately, I could not recommend it because it is out of stock at the moment and no known date for restocking yet.
For those who interested to know what model it is and want to add it into your wishlist, check out below:
Asus FX505G technical specifications:
OS – Windows 10 Home
Processor – Intel Core i7-8750H processor
Graphics – Nvidia GeForce GTX1060 6GB GDDR5 VRAM
RAM – 4GB DDR4 2400MHz
Storage –  128GB PCIe SSD + 1TB 7200 rpm SATA HDD
Display –  15.6″ (16:9) LED-backlit FHD (1920×1080) 144Hz Anti-Glare Panel
Audio – Dual Stereo Speakers
Battery – 4 Cell 48Wh Battery
Connectivity – Wireless AC, Bluetooth 5.0, Gigabit Lan
Ports – 1x USB-A 2.0, 2x USB-A 3.0, 1x HDMI, 1x combo audio jack
Dimension – 360 x 262 x 25.8 mm (WxDxH)
Weight – 2.20kg
Asus FX505G overall performance review
Pros
i7 processor and great GTX 1060 6GB
Thin bezel 144Hz screen
Military grade toughness
Easily Upgradable
Cons
Lack of SD card reader and USB C
Awkward arrow key position
Surprisingly, Asus again managed to offer the best value for money in this category. This time it is Asus TUF gaming laptop series which dedicated to the mainstream audience at an affordable price range.
The main reason F505G is your best choice for a mid-range gaming laptop is that all of its non-upgradable components like processor and 144Hz display are already near the top of the line. It assures you for another few good years of gaming.
What considered as non-upgradable components or not user-friendly to upgrade in a laptop? These are the top 3 feature that you should take note in your future laptop selection:
CPU a.k.a processor
GPU a.k.a graphics card
Screen (FHD or 4K, refresh rate, brightness, etc)
With so much power in its shell, FX505G is no doubt able to run all the e-sport titles as smooth as butter. It is also reported to run most AAA titles comfortably at high graphics setting. Check out the gaming benchmarks below from beebom.com: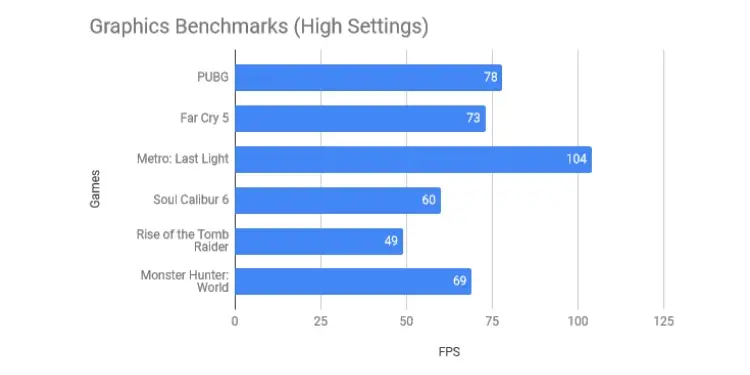 The performance shown is not bad at all. You can simply switch to medium-high settings or play around with the video settings to get better frame rates to utilize the 144Hz screen refresh rate.
I would highly recommend anyone who buys this laptop to add on another 8GB DDR4 ram so you get total of 16GB ram in order to unleash the full potential of this laptop.
Display, Audio and Heat Management
FX505G has a 15.6 inches narrow bezel IPS panel with 144Hz refresh rate. Asus claims the screen achieves a 100% sRGB colour gamut and wide-view angles. Overall, it is a truly good display given its pricing. It should serve you well for both gaming and creative design works.
This laptop has an average dual stereo speaker. It is quite loud but lacking bass. However, this small disadvantage should not affect your gaming experience at all. We all know a true gamer always use a gaming headphone.
When high-performance graphics card like GTX 1060 has to be squeezed into one compact laptop,  heat is always an issue. Our very own Malaysia tech review website tech-critter.com has found extremely high temperature on CPU and GPU when you push the laptop to its limit in a gaming session.
It is not entirely bad news because at least the CPU and GPU doesn't thermal throttling. Thermal throttling is a self-protection mechanism introduced by manufacturers to slow down the CPU/GPU when they hit high temperature. It helps to prevent the chips from overheat and damage the laptop at the cost of poorer performance.
To be precise, most CPU and GPU easily cross 90 degree Celsius when they are being pushed to the limit. Instead, we should pay attention to the area where our body will be in contact when we are playing games. In this case, it is the WASD cluster as well as left-hand side palm rest near the touchpad.
As you can you see from the heat map provided by laptopmedia.com. Asus has strategically dissipated the heat to the "P" key area so that users will not directly feel the uncomfortably hot temperature.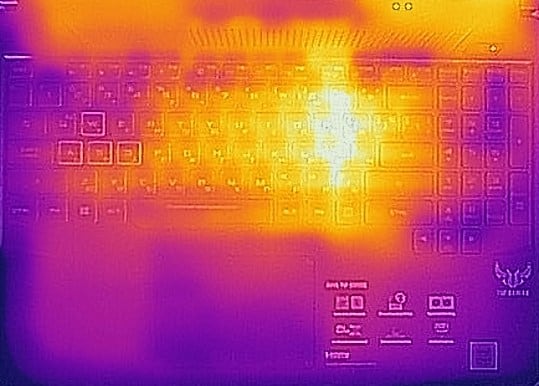 Design and portability
TUF actually stands for The Ultimate Force, it is Asus laptop series which is tougher and more durable as they have to undergo numerous military standard testing.
The model recommended in this article is in gold metal colour and there is a red colour variant available too. The design of the laptop is a bit more gamer-ish compared to x570z and feels more rugged.
If you pay attention to its size, FX505G is about 2cm narrower than x570z thanks to its thin bezel screen. It weighs slightly less than 2.2kg and it is the lightest among other laptops in this price range.
Conclusion
Asus TUF FX505G is the best bargain mid-range laptop that comes with all the latest computer tech one could wish for, 144Hz display, i7 processor, GTX 1060, RGB keyboard and narrow bezel.
It will be the perfect laptop if only Asus could accommodate a Thunderbolt and USB C port and improve the keyboard layout.
Additional note:
I always like to recommend and support local blogger/vlogger, so do check out KLGadgetGuy's high-quality video review.
Best high-end gaming laptop in Malaysia
Illegear Onyx packs a tons of horsepower to fulfil gaming obsession. It has the latest Nvidia RTX 2060, i7-8750H process and still being incredibly compact and light with only 1.95KG.
To sum up my findings, I found that Illegear's Onyx is the best gaming laptop below RM7,500 for its outstanding price-performance ratio. It has 15.6″ FHD 144hz screen, i7-8750H processor, RTX 2060, 480 GB SSD, 16GB DDR4 and kryonaut thermal paste for optimum cooling performance.
Frankly, I face some difficulty to choose the best high-end gaming laptop for Malaysia's consumer. Because I wasn't sure what price range is considered as high-end for the mass market. In the end, I have set the price cap at RM7,500 because spending beyond that price point gives you very little improvement in performance for the premium you have to pay. I also somehow think that anyone who can afford a laptop that cost RM10,000 or more most likely doesn't need my opinion on their choice.
Throughout my search of the best gaming laptop below RM7,500, I found that the core upgrade from RM5000 to RM7500 laptop is the GPU. Thus, I have set the minimum GPU to be Nvidia GTX 1070. Then, in the process I also discovered that there are already laptops comes with the latest Nvidia RTX 2060 in 2019 market. Detail comparison is shown below:

However, please note that Nvidia RTX 2060 has only 6GB VRAM as compared to GTX 1070 8GB VRAM. So, does it mean RTX 2060 perform poorer?
One word: Depends.
Although RTX 2060 has less VRAM, it outperforms GTX 1070 in most condition when the VRAM requirement does not exceed 6GB according to a detailed study done by rockpapershotgun.com. From their test results, RTX 2060 has a better frame rate in ALL OF THE GAMES they tested on 1080p video setting.
Other than that, techspot.com VRAM allocation benchmark also shows that RTX 2060 is sufficient in most cases.
Hence, I conclude that GPU performance to be as below and pick Illegear Onyx as the best high-end gaming laptop in Malaysia:
RTX 2080 >GTX 1080 > RTX 2060 > GTX 1070> GTX 1060.
Illegear Onyx technical specifications:
OS – Windows 10 SL (SL stands for single language equivalent to windows 10 home)
Processor – Intel Core i7-8750H processor
Graphics – Nvidia GeForce RTX 6GB GDDR6 VRAM
RAM – 16GB DDR4 2666MHz
Storage –  500GB PCIe SSD
Display –  15.6″ 144Hz 100% SRGB
Audio – Dual built-in speaker
Battery – 4 Cell 62Wh Battery
Connectivity – Wireless AC, Gigabit LAN
Ports – 1x USB-C, 2x USB-A 3.0, 1x HDMI, 2x mini display, 1x headphone jack, 1x mic jack
Dimension – 359 x 240 x 19.9 mm (WxDxH)
Weight – 1.95kg
Illegear Onyx's background:
Before we jump into Onyx's performance, I would like to briefly explain the background of Illegear and its laptop line-up. Illegear is a local boutique desktop computer/laptop builder. They craft the best possible performance PC according to the customer's needs.
Have you ever wonder how a local player like Illegear able to build their own laptop? The fact is they don't really build these laptops from scratch. They get their supply from OEM laptop manufacturer. In this case, it is TongFang who is supplying barebone chassis of Onyx to resellers like Illegear.
For your extra knowledge, Illegear is not the only one who sells a rebranded OEM laptop. Many other boutique pc builders do it as well. Just to name a few vendors who are selling the Onyx laptop model, there are Origin PC from USA and Aftershock from Singapore who is currently selling this model under the name of EON15-s and APEX-15 respectively.

In my opinion, it is crucial for consumers to know what they are buying, hence the reason I share this little extra knowledge with any uninformed readers.
Illegear Onyx overall performance review
On the performance side, there is no review available online now for the latest RTX2060 model. And I also have no means to get my hand on a review unit at the moment. However, there are plenty of reviews available online for both 2018 version Illegear Onyx and Aftershock Apex-15.
The previous 2018 Onyx model has received quite some rave reviews around the internet. I would like to quote our local tech reviewer Eiraku from technomadica.com on his real-world gaming test on 2018's Onyx, as below:
Ghost Recon Wildlands – 38 FPS average (1080P, Ultra Settings)
Wolfenstein 2: TNC – 60 FPS (1080P, Mein Leiben Settings, Limited by VSync)
Far Cry 5: 75 FPS average (1080P, Ultra Settings).
Bear in mind that 2019's Onyx will certainly be more powerful than 2018's because RTX 2060 is claimed to perform as much as 30% better than GTX 1060.
You may argue that RTX 2060 is newer and definitely better than GTX 1060. But how does it compares to GTX 1070 that has 8GB VRAM? Recently, Techspot.com had done a thorough study to determine whether 6GB VRAM is enough for 1440P gaming.
They have tested 37 PC games and found that only 10 titles allocating between 5-5.5GB while the other games only use up to 4GB or less.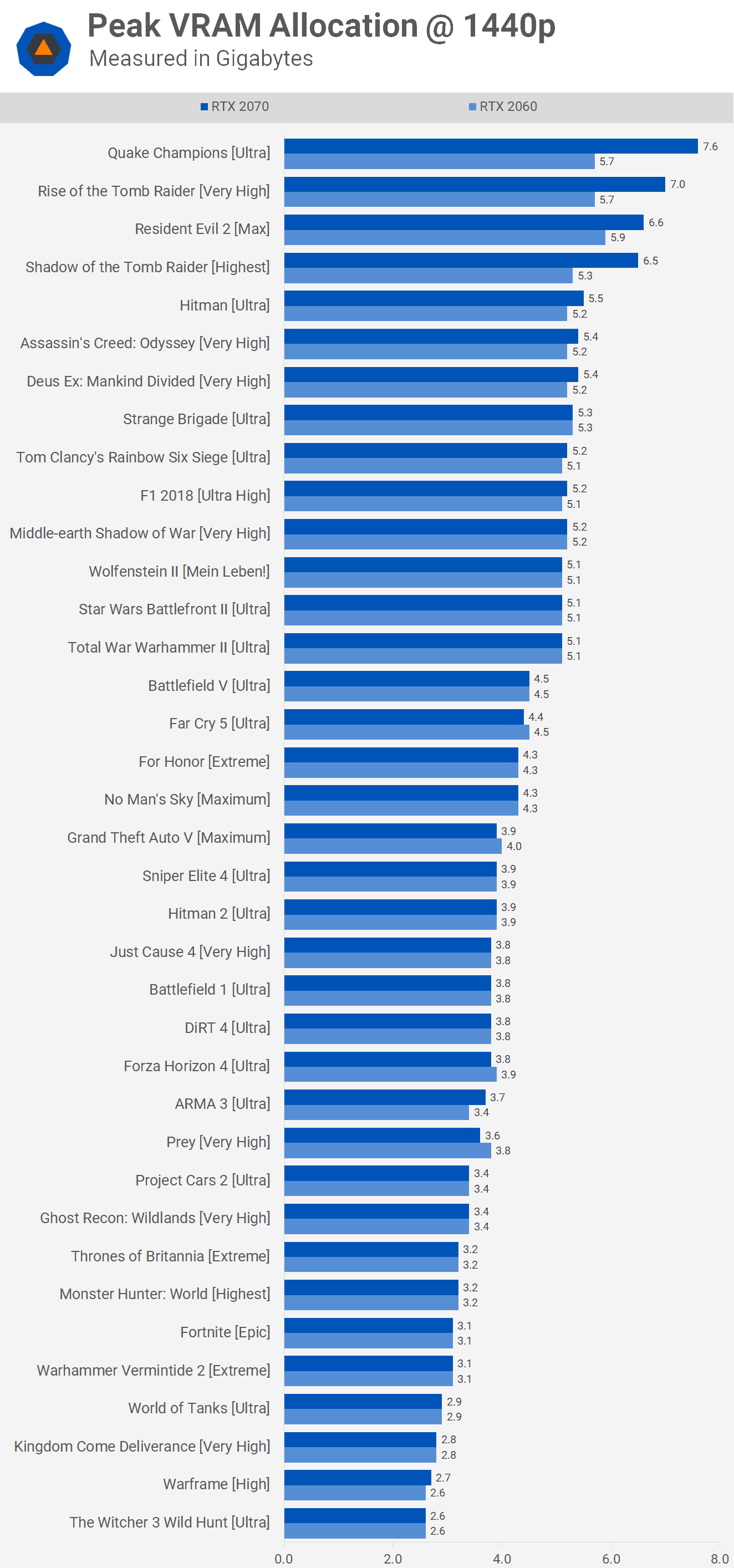 Also, you should not forget that the above study is based on 1440p resolution gaming. In reality, most laptops' screen in the market including Illegear Onyx only supports up to 1080p resolution. So, it is very safe for us to say RTX 2060 on Onyx has no problem at all to run modern AAA gaming titles on 1080p.
In order to further convince you that RTX 2060 is really better than GTX 1070 in 1080p gaming performance, we can refer one more study done by rockpapershotgun.com that found that RTX 2060 gives a performance boost on frame rate in every game titles they tested. Check out the chart below: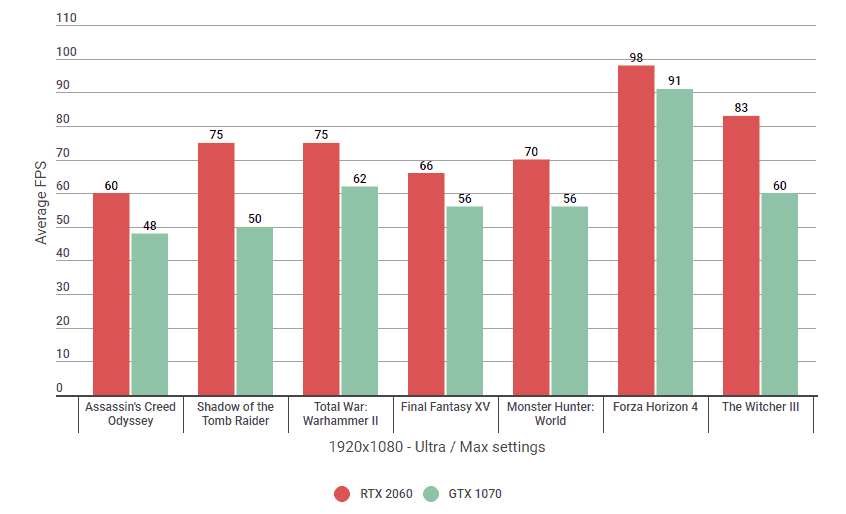 You may rest assured that you get a beast for the best laptop gaming experience with Illegear Onyx.
Display, Audio and Heat Management
Onyx's display is narrow bezel sRGB 100% IPS panel with 144Hz refresh rate. 144Hz refresh rate will definitely improve your fast pace gaming experience especially for first-person shooter titles like Fornite, Overwatch and PUBG.
The built-in speaker is average and facing downwards. You can always use a gaming headphone to overcome this small shortcoming.
Technomadica.com had carried out "torture test" on 2018's Onyx and generated the laptop surface heat map as shown below. The temperature was measured by using an infrared thermometer.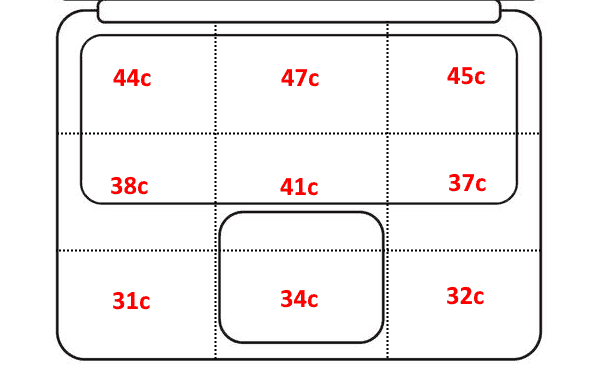 We can see that laptop surface temperature around the palm resting area is 30-ish degree Celsius and keyboard area can go upwards to 47 degree Celsius. We can expect 2019's Onyx to be roughly similar to the 2018's or maybe slightly hotter due to RTX 2060.
We certainly cannot deny and have to bear with the heat issue. It is a common problem for any thin and light portable gaming laptops.
Design and portability
This laptop is built of an anodized aluminium body with 19.9mm in thickness and 1.95KG in weight. It comes in black colour and gives an executive look from the outside. The laptop does feel strong and rigid.
One only may tell it is a gaming laptop when they see the RGB keyboard. The RGB keyboard is also a mechanical keyboard with a 2mm travelling depth that delivers good tactile feedback.
Given its compact size, light weight and tons of horsepower, I would call Onyx an "ultra-portable high-end gaming laptop".
Conclusion
It is a steal to buy Onyx right now with my recommended specification. You will not be able to find another laptop in the market that offers a so much feature at this price point. If you already have your own windows copy, then don't tick the windows 10 option will save you a total of RM250 that bring the price down to RM6120.
Additional note:
You may check out local youtuber, Tekgila video review on 2018 Illegear Onyx.
I have spent weeks of sleepless nights and put in an insane amount of efforts to churn out this post.
Every comment and share helps to keep me moving forward.
If you're a serious gamer, you might want to check out my Unifi router recommendation article for undisrupted internet connect. And we do reviews for the best gaming smartphones and gaming chairs too.