Bluetooth speakers are the new favourite among music lovers. This is not surprising as they're portable, durable and packed with fantastic sound quality. 
Bluetooth speakers can connect to your phone (or other smart devices) in seconds and start playing your favourite music. Some even have voice assistants like Alexa and Google Assistant. 
There are plenty of choices to choose from. On one side, we have rising China brand like Xiaomi and Anker. On the other hand, we have long time speaker makers like Bose and JBL. And lastly, we have Google and Amazon that make smart speakers that double as smart hub.
However, today, we will focus only on portable Bluetooth speakers that are suitable to move around at home and bring along outdoors.
We handpicked the best portable Bluetooth speakers in Malaysia according to their audio quality, portability and size.
---
1. Anker SoundCore2 Bluetooth Speaker
Best value for money portable Bluetooth speaker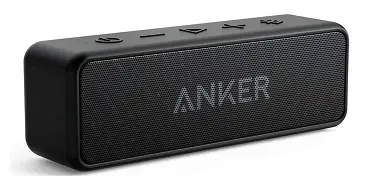 Anker SoundCore 2 is the best value for money portable Bluetooth speaker. It is compact at 16.5 x 5.3 x 4.5cm but sounds unexpectedly loud.
Best deal on Lazada Best deal on Shopee
---
Anker SoundCore2 Bluetooth Speaker Features Highlight:
No Wi-Fi 
Has speakerphone function
Has voice assistant 
Battery Life at 24 hours
Compact & Rugged Build
Has IPX7 rating
Built-in microphone
Customer's Positive Review:
The sound is very warm compared to other brands in the same range such JBL and Tribit.
Awesome product the sound quality for the price is unbeatable.
Sound louder than expected and really worth my money
Customer's Negative Review:
Do you really want a loud beep to play over your music when you change the volume? I didn't think so. Do you want a loud beep notifying you that you can't turn up the volume any more because you're at the maximum volume already? No, of course not. Only a moron designing a speaker would think you'd want that.

So: despite rugged hardware, a good battery life, and good range, this is a HORRIBLE PIECE OF TRASH. Don't waste your money OR TIME!
This Anker Bluetooth speaker has a rugged build with a grippy matte black rubber material coating. It comes in standard black, vibrant blue and red colours.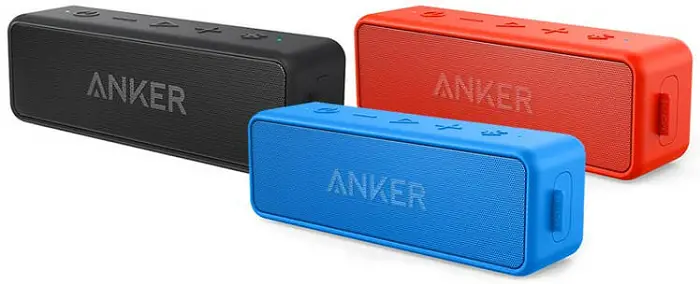 The SoundCore 2 is rather curvy around the edges and looks like a pencil case. There are 5 raised control buttons across the top that are pretty self-explanatory.
Its 5200mAh Li-ion battery can last for an awesome 24 hours of music playback. I believe this is great for those of you who use it as a work out companion. You don't have to charge it every now and then.

At such affordable pricing, this little powerhouse also has an IPX7 rating which means it can survive being fully submerged in water at a depth of 1m for at least 30 minutes.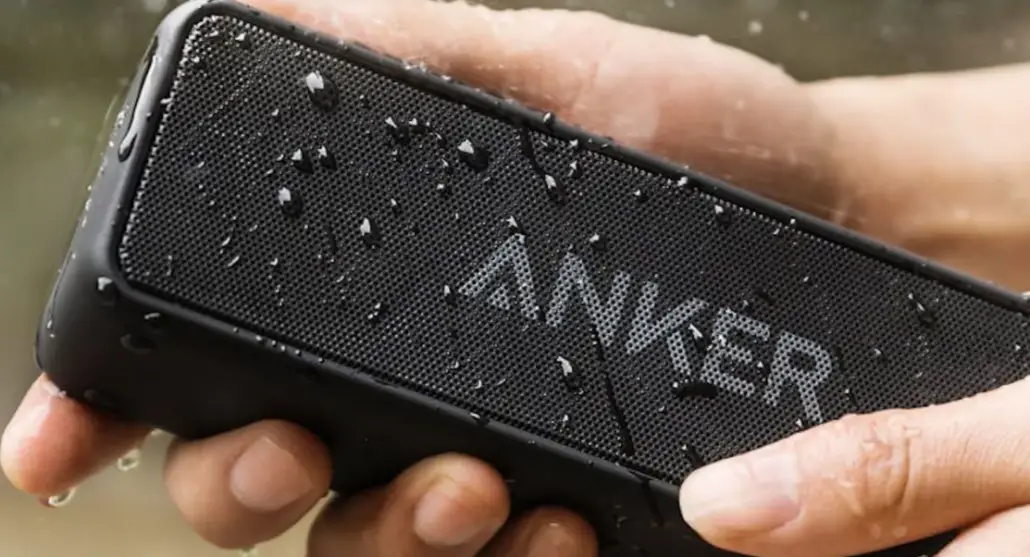 If you're a fan of listening to podcasts, you'll find the Anker Soundcore 2 to be pretty decent.
Its sound quality is good with a rather balanced mid-range, so you get to hear the vocals clearly, but at times, you may find the treble range rather underemphasized, thus creating a duller tone. 
It is great for outdoor use, but take note that it struggles at the low-bass end (you may not feel the thump expected in bass-heavy genre music) and may not be loud enough at wide-open space. 
So, even with the Soundcore Exclusive BassUp technology and a patented spiral bass port, the low-bass end is still lacking. Also, there are no sound customization features which is a downer.
Although it has a built-in voice assistant, the Anker SoundCore 2 was found to respond poorly towards voice command. 
There's a built-in microphone for talking to Siri, Google Assistant or for making hands-free calls. Additionally, it has a 20m Bluetooth range which is impressive. 
Let's look at the bad sides too, Soundcore Bluetooth speaker has a system where it uses "beeping" sound for notification, such as you're turning it to max volume. This could be a deal-breaker for some who don't like this kind of interruption when using a speaker.
Overall, Anker SoundCore 2 offers loads of features at its price point. It is able to deliver decently loud, well-balanced audio with an overall impressive sound. 
Anker Soundcore 2 Bluetooth Speaker comes with 1 year local supplier warranty.
---
2. Bose SoundLink Revolve+ Bluetooth Speaker
Best 360-degree Bluetooth speaker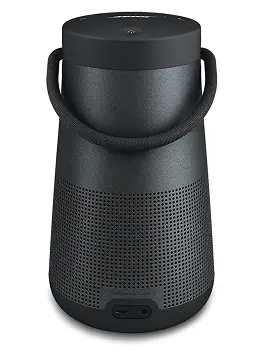 Bose SoundLink Revolve+ sounds incredible and does not look like a conventional box-shaped speaker. Its cylindrical shapes allow it to produce omnidirectional sound to all areas.
Best deal on Lazada Best deal on Shopee
---
Bose SoundLink Revolve+ Bluetooth Speaker Features Highlight:
360-degree portable Bluetooth speaker
Battery life at 16 hours
IPX4 water and shock resistant
Bluetooth and wire connection (Via aux input or USB)
Built-in speakerphone capabilities.
Customer's Positive Review:
We've tried probably 17 different types of bluetooth music boxes, from big to little. I wanted clear sound that I could crank up and jam out, but not a huge box, I wanted something I could leave on the countertop that would look nice. The small kinds we tried either looked ridiculous or couldn't hold a charge (because they didn't have an option to plug in). And the big ones were too big and bulky and constantly died.

This is the perfect balance. It's small and looks nice on the counter but boasts huge sound. If we go out to the patio to eat dinner I simply unplug it and take it outside, it even has a hangar to hang under an umbrella or whatnot. It's also waterproof and goes on our boat. There are multiple charging options, which I appreciated. Best part, it actually remembers my phone, so if my bluetooth is on and I'm near, I just tap the power button and it says "pairing to phone." It's AWESOME.
Customer's Negative Review:
The Bluetooth is a nightmare! It will just disconnect and connect to some other device for no reason. It sounds good, but it takes forever to charge! It lasts about half the time it says it does 6-7 hours tops. It seems to eat 10% of power ever time you turn it on for some reason.

I would ever buy another Bose product again. This is THE MOST DISAPPOINTING PRODUCT IVE EVER PURCHASED. Bose was supposed to be quality…JUST THE OPPOSITE! DO NOT WASTE YOUR MONEY!
This Bose SoundLink Revolve+ measures at 18.4 x 10.5 x 10.5cm. Spotting a sleek design, it is small enough, great for outdoors usage. Also, the handle helps make it easier to carry around. 
The chassis is aluminium with rubberized base and buttons.It has a good 16-hour battery life from its rechargeable, lithium-ion battery. 
Bose claims that this speaker is IPX4 water and shock resistant and it comes with a threaded tripod mount at the bottom of the speaker that allows you to attach it to a wall mount. All these pretty much give the flexibility to use the speaker for all imaginable situation.
Although it looks heavy, the speaker was found to be light for its size, so no problems in terms of mobility.  
The controls for power, pairing, volume, aux switch, and also the multifunctional button, are all on top of the speaker.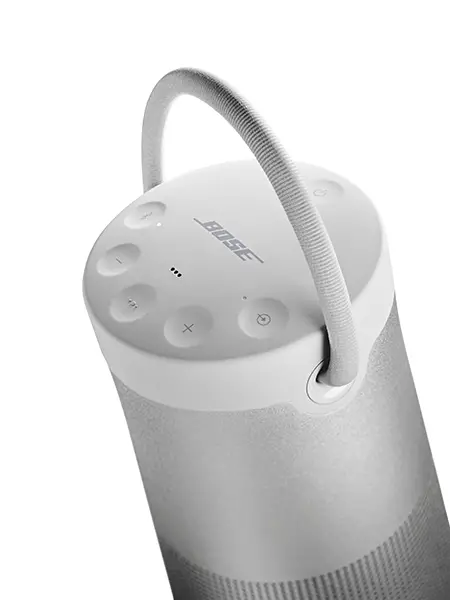 Most Bose speakers available in the market now are really due for an update. There's no USB type-C port, so it's kind of a bummer. There's only a micro-USB and an AUX-IN.
The SoundLink Revolve+ has improved sound quality with richer sounds with an overall slightly warm balance. It throws an even and more expansive soundstage. Bass is controlled and provides good impact. 
It supports wireless Bluetooth pairing with voice prompts with a great range of up to 9m. Also, there's a microphone that's great at picking up your voice for calling. 
Besides, this speaker can be controlled and tuned through Bose Connect app.Users can use it to control volume, playback, pairing and turn on party mode. Party mode allow two numbers of Bose revolve to work together to become stereo speaker.
Overall, this is a great audio Bose speaker with an impressive and powerful 360 degree sound, albeit expensive. 
Bose Soundlink Revolve Plus comes with 1 year international seller warranty.
---
3.Sony SRS-XB12 Mini Bluetooth Speaker
Best ultra portable bluetooth speaker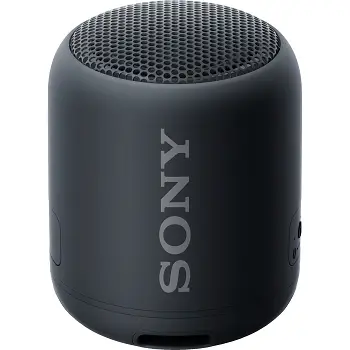 Sony SRS-XB12 is an impressive IP67 rated bluetooth speaker. You can bring it outdoors and don't have to worry about it suffers from any water damage while enjoying a clear and full sound.
Best deal on Lazada Best deal on Shopee
---
Sony SRS-XB12 Features Highlight:
Extremely compact and portable
Wide and large soundstage
Has Voice Assistant
Battery life at 16 hours
IP67 rating for dust and water resistance
No Wi-Fi mode
Customer's Positive Review:
boleh kata hrga agak premium, tp kualiti produk mmg sgt brkualiti.. sgt padu utk saiz dia yg agak compact.. extra bass mmg betoi2 extra
Customer's Negative Review:
The sound not quite good.
The Sony SRS-XB12 speaker is a comparatively small device at 9.2cm x 7.4cm. It is almost as tall as JBL Clip and Bose Soundlink Micro and only almost half of the size of Bose Soundlink Revolve+.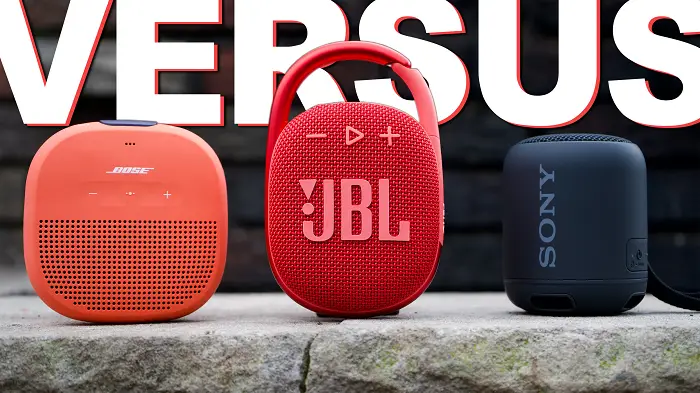 It has a rubberized cylindrical-shaped body design which feels sturdy and strong. It is available in various colors, such as Black, Blue, Red, Green and Gray.
There's a detachable strap where you can hang the SRS-XB12 anywhere and keep your music ongoing even when on the move.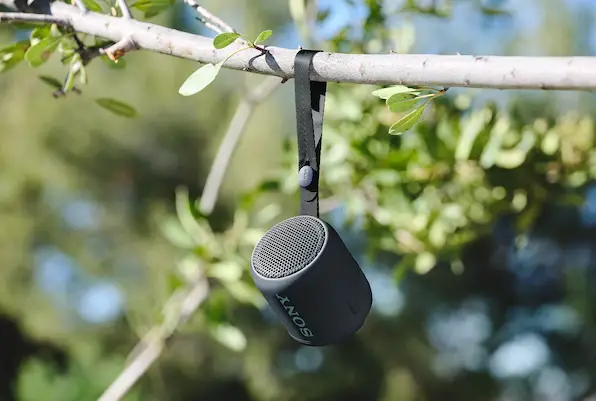 This is pretty decent for outdoor use. Sony claims that the SRS-XB12's battery life to be roughly 16 hours, but bear in mind that this can vary with your volume level.
It has an IP67 rating which means this speaker is dust and water-resistant. 
There's a control panel with all the control buttons in place which includes one to pair with another Sony speaker. There's also a micro-USB port and AUX-IN connection, such awesome and complete connectivity for a small speaker.
The Sony SRS-XB12 has a balanced mid-range for reproducing vocals and lead instruments clearly. However, it lacks low-bass, therefore causing the upper harmonics of vocals and lead instruments to sound somewhat bright. You can't tweak the sound as there's no EQ, which is a small setback.
The speaker connects to Bluetooth within seconds.  Once you paired it with smartphones, it can use the voice assistant from your paired smartphone. It doesn't have any built-in voice assistant features though.
If you need a mini-sized Bluetooth speaker, this is as good as it gets. After all, it does have a pretty good sound quality with a wide soundstage, although it doesn't get very loud, there's minimal compression at max volume, so your audio would still sound clean. 
Sony SRS-XB12 comes with 1 year local manufacturer warranty.
---
4. Tribit XSound Go
Best cheap portable Bluetooth speaker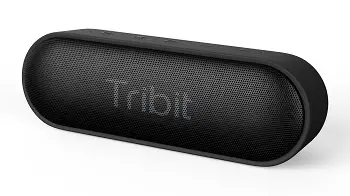 Tribit XSound Go is incredibly affordable and sounds better than many other speakers that are far more expensive.
It is also the cheapest water-resistant speaker with a built-in microphone. It's a great way to jam out while you're working out at the gym, cleaning the house, or even just chilling outdoors.
Best deal on Lazada Best deal on Shopee
---
Tribit XSound Go Features Highlight:
Affordable
Balanced sound, near zero distortion at high volume
IPX7 rated 
Supports analog input
Battery life at 24 hours
Built-in microphone
Micro-usb charging port
Customer's Positive Review:
I don't write a lot of reviews. Normally, a product meets my expectations. And if it doesn't, I send it back without complaining. But this speaker vastly exceeded my expectations and thought I should share. 

This tiny thing can boom sound like no other speaker of its size. I blasted the speaker full volume in a room downstairs. A few rooms and a flight of stairs away, I could still hear every lyric to the song I was playing. (You can tell I got a bit excited). 

It instantly connected to my phone via Bluetooth. It also seems sturdy enough that it can be knocked around a bit, which is helpful to me since I'd use it outside a lot. It's the smallest portable speaker I've ever used, yet produces more sound without any distortion at high volumes. 

The quality of the sound at all levels is phenomenal. I'm excited to see what mileage I get out of it. But as far as I can tell, this speaker is the best one you can get for this amount of money. And I'd argue it's worth more.
Customer's Negative Review:
I returned this product for the following 2 reasons:

– Not good for rock music. It produces constant buzzing when playing song with guitar sounds with distortion/overdrive.

– When using the Bluetooth communication there is delay with respect the source signal, so it's not good for watching videos/movies unless you use an aux cable.
 The Tribit XSound Go is a pill-shaped speaker at 17 x 5.8 x 5.6cm. Although the design is nothing much to praise about, it definitely has a rugged design and can be handled somewhat roughly without worry. 
There's an attached lanyard which helps make it easier to carry around.
Battery life is at an impressive 24 hours at medium volume levels but it takes around 4 hours to fully charge via Micro-USB. Unfortunately, there's no USB-C charging port.
And this speaker is IPX7 rated so it is very resistant.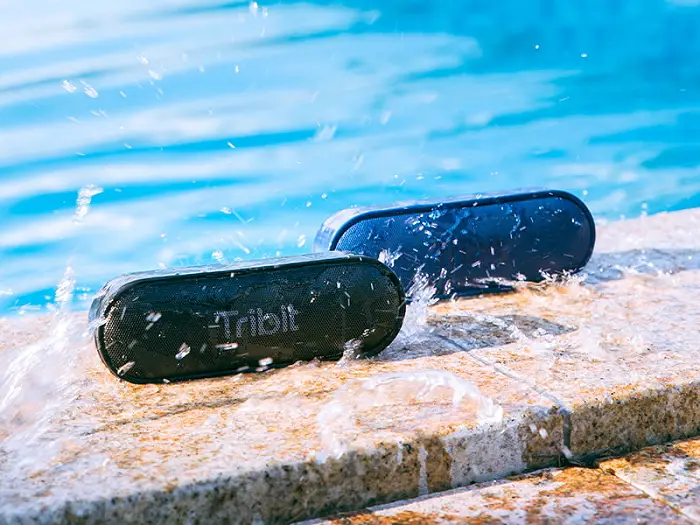 The speaker's control buttons are located at the top while the back houses a silicone flap, hiding the micro USB charging port and also a 3.5mm headphone jack. This is a nice touch as Bluetooth speakers in general, lack support for analog inputs. 
For the price you pay, this speaker is awesome for its sound quality. It is loud enough for a medium-sized room. Even at full volume, there's very little distortion on the highs.
The overall tonal balance is in the mid-forward direction with a nice emphasis and texture on the vocals. The extra bass is awesome for a speaker of this size. In short, this is a great Bluetooth speaker with a powerful sound.
Also, there's a built-in microphone for making speakerphone calls. 
For this price, the Tribit XSound Go is a great steal with an impressive balanced audio, near distortion-free at high volumes, not to mention an incredible 20+ hours of playtime at medium volume. 
Tribit XSound Go comes with 1 year local supplier warranty.
---
5. JBL Clip 4
Best wearable Bluetooth speaker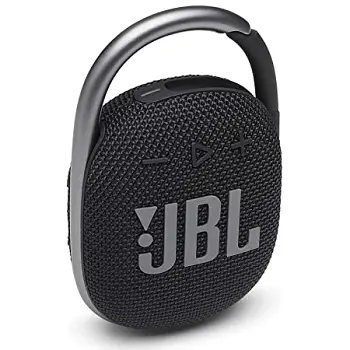 JBL Clip 4 is tiny, packs a powerful audio output and has an integrated carabiner hook. These criteria make it the best wearable Bluetooth speaker. This smart carabiner plus speaker design seems exclusive only to JBL speakers 
Best deal on Lazada Best deal on Shopee
---
JBL Clip 4 Features Highlight:
Compact and great for hiking
Integrated carabiner hook
 IP67 waterproof
 Battery life at 10 hours
 No microphone
Customer's Positive Review:
It is a very loud and convenient Bluetooth speaker. It gets hung in the shower and used while washing cars. We use ours often and have yet to recharge it after the initial charge so the battery works great!
Customer's Negative Review:
-None-
JBL Clip 4 has a carabiner built into the frame of the speaker instead of a separated hook. It is lightweight and measures 8.6 x 13.5 x 4.6 cm (about the size of Sony SRS-XB12 but thinner)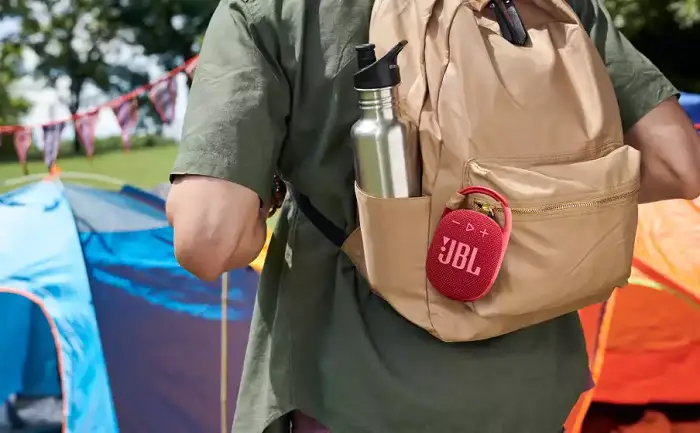 You can completely submerge this tiny speaker in up to 1m of water, thanks to the IP67 build. It's better than the JBL Clip 3 IPX7.
The JBL Clip 4 last a good 10 hours of music playback. It has a 5W speaker and packs more bass, as well as max volume that slightly louder than the JBL Go 3.
The control buttons are embedded at the front of the speaker, just above the big JBL logo. (which is too big and eye-sore, in my opinion)
In terms of its sound quality, this Bluetooth speaker does pretty well with mid-range sounds so this is great for the more relaxing acoustic songs and also podcasts.
It has a decent soundstage that is wide and spacious too.
However, when played at the highest volume it could sound a tad buzzy and loss of clarity. This may be a problem for those who prefer crank to max volume .
Pairing devices to the JBL Clip 4 is straight forward. The supported Bluetooth range is about 10m. There's also a built-in microphone. 
Another good thing with JBL Clip 4 is that it uses USB-C instead of micro-USB (Clip 3 uses micro-USB). So, you don't have to carry an extra charging cable when you go out.
With an improved battery life and a new, tougher design, this could be a great choice if you want a true portable Bluetooth speaker. 
JBL Clip 4 comes with a 1 year supplier warranty.
---
6. Bose SoundLink Micro Bluetooth Speaker
Wearable Bluetooth speaker with more bass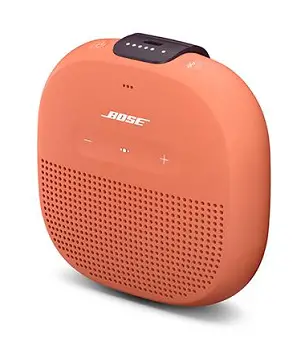 Bose Soundlink Micro is another good wearable Bluetooth speaker with warmer sound and more bass. But more expensive and poorer battery life. Can't blame it though, at this point, it is a 3 years old product. 
Best deal on Lazada Best deal on Shopee
---
Bose SoundLink Micro Speaker Features Highlight:
Tiny and thin form factor
No Wi-Fi
Has Voice Assistant
Built-in speakerphone function
IPX7 rated
Below average 6 hours battery life 
Customer's Positive Review:
This has huge bass, especially for a Bose product. I was totally blown away when I turned this little bad boy up. I love that it is waterproof and it definitely feels rugged. I will not be hesitant to take this biking or out in the woods and I am already turning this on when I wake up in the morning and just bringing into the shower so I don't have to stop listening to my audiobook or music.

This speaker is the ultimate multi-functioning sound machine. It's small enough to take anywhere and produces better and bigger sound than much larger and more expensive speakers. Bose really put a lot of thought into this one and produced another winner!
Customer's Negative Review:
sound was pretty good but after two weeks and some splashes of water the volume buttons stopped working.
Bose Soundlink Micro measures 9.9 x 9.9 x 3.6cm and comes in black, midnight blue, and orange.
It is small and lightweight, designed especially for those of you who are on the go. Its outer is more of a soft-touch rubberized finishing, giving you that extra grip. 
There's an integrated 'tear resistant' and flexible rubber strap, making it so convenient and easier for you to attach to anything you want to. You can strap it to bags, bike or onto your pants.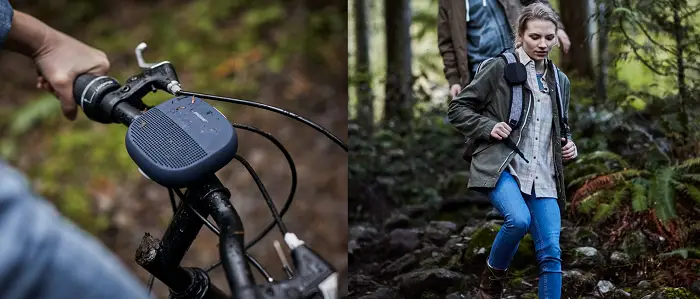 Just beware that this rubber strap is not as rigid as the JBL clip carabiner system. There is a user reported that the strap actually loosens and the speaker fell off from the bicycle handlebar on its own.
The battery life isn't great since it's listed at 6 hours of playback and, if you turn the volume up, you might only get 5 hours of fun. On a lighter note, users can simultaneously play music while charging if you're using it at home.
The Bose SoundLink Micro Speaker can endure full submersion for up to 30 minutes thanks to its IPX7 rating. 
The Bose SoundLink Micro is decent enough for music. Although for its minuscule size, it is still able to project good sound quality with unexpectedly strong extra bass.
Having said this, it does struggle somewhat to produce the true punchy bass to satisfy some. 
Furthermore, because it has a rather veiled treble, this affects the clarity of lead instruments and vocals. There are no EQ or any other sound enhancement features, so you can't do many adjustments. 
Still uncertain which one to buy? Check out the comparison of Bose Soundlink Micro vs. JBL Clip 4 below:
Besides, it has a built-in speakerphone for making calls and the microphone quality is pretty decent. 
Aside from lacking battery life, this is still a good ultra-portable Bose Bluetooth speaker with great audio performance. 
If budget is an issue, and you really like this form factor, you can check out Tribit Stormbox Micro.
Bose Soundlink Micro comes with 1 year international seller warranty.
---
Notes:
If you just want to enjoy some good music alone, make sure to check out our reviews on best wireless headphones and wireless earbuds in Malaysia.
---
Portable Bluetooth Speakers FAQ
How do I choose a good portable Bluetooth speaker?
Every portable Bluetooth speaker has its strength and weaknesses. And different people have different preferences.
For a portable Bluetooth speaker, you should determine the size you want first. Then followed by the audio quality, battery life and lastly water resistivity.
What are the best Bluetooth speaker brands in Malaysia 2021?
The best Bluetooth speakers brands including JBL, Tribit, Sony, Bose and Ultimate Ears (there's a Lazada mall but the store is empty as of this article is published)
---
References:
–https://www.rtings.com/speaker/reviews/best/by-feature/bluetooth
–https://www.whathifi.com/best-buys/best-bluetooth-speakers-portable-speakers-for-every-budget
–https://nymag.com/strategist/article/best-portable-speakers-bluetooth.html