Rice has always been the staple food for all Malaysians. Every single meal of us, will almost definitely include rice. Rice is always served with popular Malaysia food like curry, fried chicken, roast chicken, grilled meat, rendang even satay. In short, Malaysians will not be able to live without rice!

For those who frequently cook at home, a good rice cooker is such a key component for you to prepare a great meal. It is important to know your own needs and pick the best rice cooker accordingly.

We all know that when it comes to purchasing any household item, it can be a great hassle. One has to research, explore, obtain feedback from friends, so as to ensure that you will be in the optimum position to pinpoint the best product
Quick jump to:
How we pick
• Cooker Pot Material – Prefer nonstick coating, cast iron or stainless steel pot. Although some claim that aluminium pot is totally safe to use. Cooking and heating process will cause a minimal amount of aluminium leaches into the rice. If you have the budget, it's better to avoid using an aluminium pot.

• Capacity – Considering the capacity that the rice cooker can offer is important. If you are catering to a small crowd, you just need one that has a smaller capacity – around 6 cups of rice (1.0-1.5 litres) will do. However, if you have a larger family, then you should get a rice cooker with a bigger capacity – 15 cups of rice (3.5-4.0 litres) would be sufficient.

• Programme and feature – Keep Warm function is seriously a must in all rice cookers. This ensures that your rice remains warm long after it is cooked so that when it is finally served, you would still get hot, moist and fresh rice. A tight lid helps to maintain a constant temperature in the pot and ensure rice is cooked more evenly. It would be great that the rice cooker could also be used for other purposes – cooking porridge, vegetables, fish and meats. And also having a steam basket could save a lot of time, as you can steam other food simultaneously as you cook your rice.

• Price – is always one of the main criteria for Techrakyat. We are constantly looking for the best bang for your buck product.
Types of Rice Cookers
There are many types of rice cookers in the market. Some are very basic, whereas others come with multiple cooking programme, but whatever it is, all of them must have a heating element to enable the rice to cook. Rice, water and heat – the only ingredients to getting nice and fluffy rice!

Anyway, they range from simple to the sophisticated multi cooker and modern 'smart' WIFI connected cooker.
Therefore, we have put up an article dedicated to looking at some of the best rice cookers available in Malaysia, so that you will be in a more well-informed position to buy the best rice cooker that suits you. We have segregated them, based on the different price range and unique feature.
Best Rice Cooker for Most Malaysians – Tefal RK7405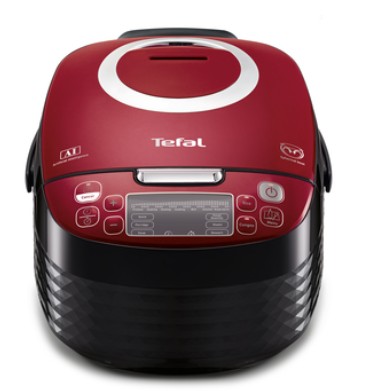 Tefal RK7405 rice cooker is the best value for money rice cooker that suit most Malaysia household. It has 1.5 litres capacity, nonstick inner pot, fuzzy logic, timer and 9 different cooking programme. And it costs only RM239.
Check price on Lazada Check price on Shopee
Tefal RK7405 is Techrakyat's pick for the best rice cooker for most Malaysian. For many housewives in Malaysia, Tefal is the recognizable brand name synonym to quality cooking wares. This particular rice cooker received hundreds of good review and no traces of bad reviews on the rice cooked with it.

Quoted from one of the Lazada user's review:
This rice cooker is best among the best.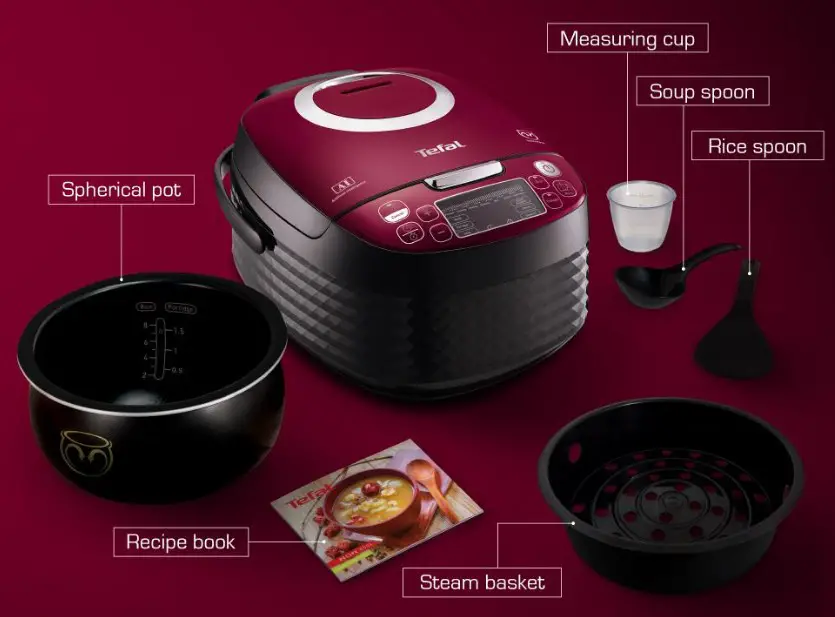 We like Tefal RK7405 for many reasons. It cooks rice fluffy and perfectly. At the same time, it packs all the useful and needed features of a great rice cooker.
Just right capacity – this cooker is neither too big nor too small. It can cook up to 8 cups or 1.5 litres of rice which is enough serving for about 8 people.

Spherical pot – helps to spread the heat more evenly. It is especially significant when you're cooking to half or a full pot of rice.

Nonstick ceramic coating – Tefal uses a ceramic coating that is lasting and saves you from scrubbing rice residual.

Fuzzy logic – Fuzzy logic is a feature which the rice cooker equipped with a computer chip that can sense the cooking condition (example: too much or too little water added) and adjust its cooking temperature throughout the cooking process.

Tight cover with detachable upper lid – Unlike the conventional cooker with removable cover, you can close this rice cooker tight and well. At the same times, the upper lid can be removed to wash the starchy residual after cooking.

Multiple function and preset programme – there is a timer, 24 hours keep warm feature, and even 9 cooking programme to cater for different types of rice and food.
Wait, one may ask how about the Philips HD3129 and HD 3132 rice cookers which cost RM100 less than Tefal RK7405? Well, these 2 Philips rice cookers are good too. They offer most of the features on Tefal's rice cooker. but, personally, I think Tefal RK 7405 is a better choice simply because of its timer function, fuzzy logic and my personal bias on Tefal non-stick coating technology.

The timer function is a very useful feature for working parents who wish to prepare dinner at home. Before going to work, preset the timer to start cooking rice and a steamed dish in the evening. After work, you just cook another one or two dishes. And it's ready for dinner, saving you a lot of time.
In conclusion, Tefal RK7405 is the best rice cooker for most Malaysians for its affordable pricing and wholesome feature. No gimmicky feature, just the practical one most of us will utilize each day.
Best Stainless Steel Pot Rice Cooker – Khind Anshin Rice Cooker 1.8L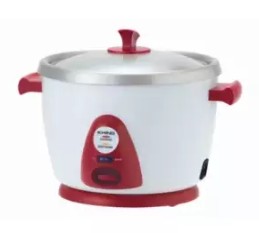 Khind Anshin rice cooker 1.8L is the few rare rice cookers that come with stainless steel pot. It suits for the extremely health-conscious people as well as those who are rough with their cookwares.
Check price on Lazada Check price on Shopee
Khind 1.8L Anshin Rice Cooker has a capacity of 1.8L. It is an old-fashioned conventional rice cooker with a stainless steel inner pot. It cooks rice just like any other common rice cooker. You still get rice crust here and there, rice will also stick to the pot because of absences of the non-stick coating. The good news is that you can scrub the inner pot without worrying damaging the nonstick coating.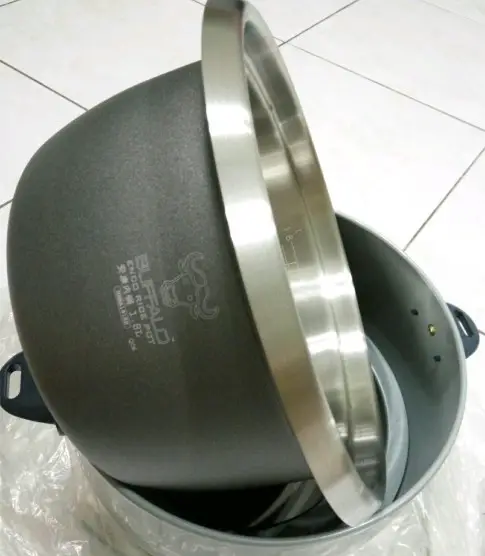 It is meant for those who are health-conscious and want something that lasts almost forever. For your knowledge, the non-stick coating can be harmful to health when they start peeling off. So, non-stick coated cookware should always be handled with care and avoid using any metal/hard brush to clean it.

Khind, a local brand has collaborated with Buffalo (famous for their stainless steel wok and pot) to launch the Anshin series rice cooker. Anshin(安心) means peace of mind in Chinese. So, you don't need to worry about any harmful substances when cooking rice with it.

Since there is no harmful coating on its wall, you also don't have to worry about damaging the inside surface of the pot whether you are washing rice, cooking, or cleaning with steel wool. Khind gives a 10 years warranty for this Buffalo inner pot.

This cooker has an 'ECO' mode, which the power supply will automatically cut off when the rice is nearly cooked, thus saving electricity. The heat from the inner pot will continue to cook the rice to its perfection.
Pros:
• No harmful coating on the inside surface.
• Can be used to wash rice directly without scratching the surface.
• Durable, and easy to clean.
• Can be used directly on a gas stove.
• Acid-resistant – do not react to chemicals.
• Easy to use.
• 10 years warranty on the inner pot.
Cons:
• Conventional rice cooker with no additional smart functions.
• Expensive for a conventional rice cooker
• Removable cover lid that will not hold tight while cooking. Rice being cooked unevenly.
Khind 1.8L Anshin rice cooker is best for those who emphasize health over the taste of rice.
Best Mini Rice Cooker – Tefal RK5001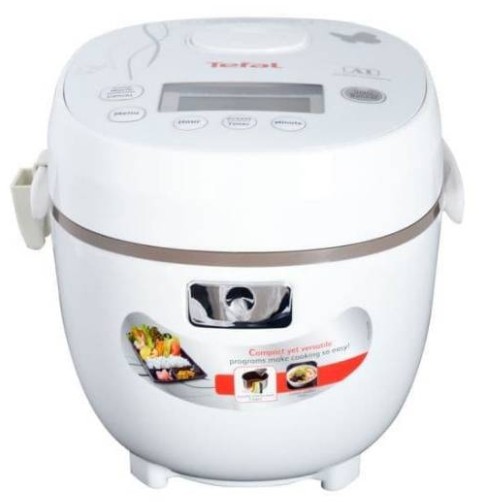 Tefal RK5001 rice cooker is mini in size and very space-saving. Although it is a mini rice cooker, it has all the awesome feature of the bigger rice cooker: nonstick inner pot, timer, fuzzy logic.
Check price on Lazada Check price on Shopee
Tefal RK5001 Rice Cooker is a mini rice cooker of 0.5L (3cups) capacity. With such small capacity, admittedly this mini rice cooker is ideal for college students, bachelor, and small families.

It has a 2.0mm inner pot, coated with diamond-shaped ceramic coating. Being a digital rice cooker, it boasts of 11 functions, namely rice, quick-cook, steam, congee, instant noodles, porridge, brown rice, reheat, keep warm and adjustable timer.

It also has built-in fuzzy logic technology that helps to cook better. This mini cooker has a tight cover that helps maintain consistent cooking temperature which Tefal called it as 3D-heating. The steam that produced during the cooking process will circulate inside the pot and cooks the rice evenly.

Basically, Tefal RK5001 is just like a younger sibling of RK7405. The biggest difference is its 0.5 litres capacity compared to RK7405's 1.5 litres.
Pros:
• Fuzzy logic rice cooker with 11 cooking programs
• Non-stick coating
• Small and compact, easy to keep
Cons:
• Non-stick coating have to handle with care

Best Smart Rice Cooker – Xiaomi IH Smart Rice Cooker 3L
Xiaomi IH smart rice cooker is only slightly more expensive than Tefal RK7405. But it uses induction heating technology and can be connected to wifi. The biggest downside is no local warranty
Check price on Lazada Check price on Shopee
As of to date, there is hardly any real smart rice cooker in the market. We define "smart device" as a wifi/internet-connected device which can hook up to your internet connection. So, users will be able to control the device remotely through the internet.
Most of the rice cookers only come with preset cooking programme and timer, those are actually not "smart" rice cooker. Xiaomi has the only real best smart rice cooker in the market because it can connect to the internet and controlled by using a smartphone app. It literally comes with hundreds of cooking recipes because the recipes are within the app and not hard-coded into the rice cooker. Xiaomi developer can add as many recipes as they wish. There are users who use it to bake care, cooking dessert and so on.
Wifi connected rice cooker is extremely handy for anyone who works with flexible working hours. Someday you may back home early, and someday you may back late. Instead of relying on a timer, you can start to cook the rice right before you begin your journey back home.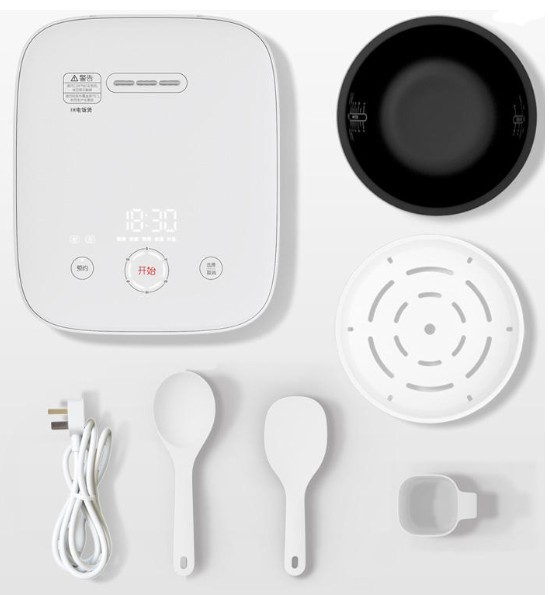 Xiaomi rice cooker has a clean and minimalistic white body. It comes with rice spatula, a cup and a steam basket. Similar to Tefal and Philips rice cooker, it also has a detachable inner lid which made for easy cleaning. Its inner port is as thick as 3mm and has a nonstick coating. Xiaomi claims that this thicker inner pot helps to achieve uniform heating speed.

A few years back, the first version of this Xiaomi rice cooker was launched a very small capacity. It barely enough for 4 person's portion. This updated series has 3 litres and 4 litres variation. So, I think now the product is mature and well-developed to be recommended for most consumers.

Xiaomi smart rice cooker is using induction heating (IH) technology to cook the rice. It is a premium rice cooker feature which you only usually see for rice cooker priced at more than RM500 and above. However, induction heating is nothing new nor innovative. It is widely adopted for cooking hob/stove. You can even buy one Rubin induction cooking stove at below RM100 on Lazada.

Although I don't understand why IH rice cookers fetch such a high price tag, you practically save almost 50% if you go for Xiaomi smart rice cooker compared to other brands. IH rice cooker heats up the entire inner pot evenly so that all the rice can be cooked at even pace. Thus reducing rice crust and raw rice.

Many online reviewers have claimed that IH rice cooker indeed cooks better rice that is more delicious and fluffy. While some of the reviewers explain that the improvement is actually very minor compared to a conventional rice cooker. Regardless, we, Techrakyat still consider this is a plus point
Pros:
• smart wifi connected cooker, can control remotely
• hundreds of recipes
• minimalistic and modern look
• best value for money
• the nonstick inner pot that feels premium
• cheapest induction heating rice cooker in town

Cons:
• The LED display is very dim, low visibility
• smart feature can be useless and gimmicky for older generation
• no water tray
• no local warranty
• china plug
Xiami IH smart rice cooker 3L is the best smart rice cooker for millennials who love being adventurous and dare to try out the new technology.
Best Premium Rice Cooker – Philips Avance HD4528 Rice Cooker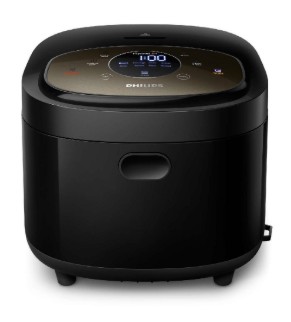 Philips Avance HD 4528 rice cooker is the best premium rice cooker with a hefty RM450 price tag. It has a very big 4 litres inner pot with nonstick coating. It uses IH heating that helps to cook rice more evenly and perfectly.
Check price on Lazada Check price on Shopee
Our premium rice cooker pick ribbon goes to Philips Avance Collection IH Rice Cooker HD4528. Similar to Xiaomi smart rice cooker, Philips has utilized their patented iSpiral IH technology that creates super strong currents that ensure thorough heat distribution and thus enabling each and every grain of rice to be fully cooked well and good. It should work more or less the same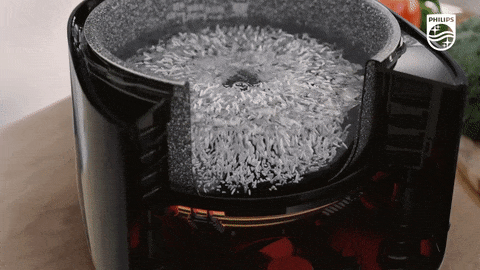 This multi-functional cooker boasts of 10 auto-programmed cooking functions – slow cook, rice/quinoa, risotto, oatmeal, boil/steam, stew/soup, bake/roast, brown/sauté, yogurt, manual and the usual keep warm.

Packed with a 4-litre capacity, this multi-cooker is really versatile – it has a pre-program function that allows you to plan ahead to kick start your cooking up to 24 hours in advance. And even though your food is done, you will have no worries that you'll be having a late and cold meal as the 12 hours Keep Warm function will ensure that your meal is hot and still fresh when you dig in later. But of course, if you are not a fan of using the auto-cooking functions, you can opt for manual cooking – just adjust the cooking temperature and time accordingly and you are all set!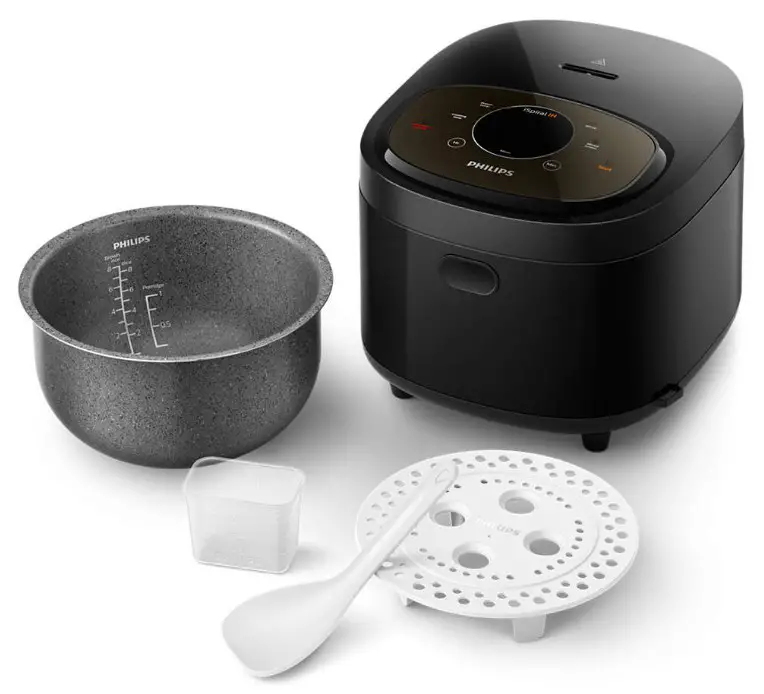 The inner pot with nonstick Bakuhanseki coating is dishwasher safe, non-toxic and allows easy cleaning. This inner pot feels heavy and premium. It can pose a challenge for shifting around especially when it is filled to the brim with hot soup!

Although it has a very big capacity, users feedback that this Philips rice cooker is able to churn out fine and yummy rice even when the portion was small. So no worries for a small family to buy this rice cooker. While some claimed that the rice cooked until too mushy or overcooked. Personally, I believe that it has to do with the choice of rice type that's being cooked. Some types of rice require more water while some require less. It could be easily fixed when you know the right amount of water to be used after a few sessions.

Besides, there are also compliments that cooking meat, vegetables and grains were awesome with this rice cooker(the results were fantastic in terms of texture and taste).
Philips Avance HD 4528 is a sleek looking, squarish and black-coloured rice cooker. Its design was pretty well thought out too. Pushing on the 'Open' bar below the lid, the lid moves and lifts up slowly and gently, you will have no fear of any sudden and dangerous steam gushing out. Philips even included a carrying handle and a lock on the lid for security purposes when moving around.
Pros:
• Multicooker with 10 pre-programmed functions.
• Easy to use and operate.
• Non-stick inner pot with Bakuhanseki ceramic coating.
• Markings are clear and precise.
• Easy to clean and maintain.
• 2 years local warranty
Cons:
• Expensive
• The countdown timer is not shown, only until the remaining 15 minutes. This becomes tedious as not knowing the time from the beginning will make it difficult for people to plan accordingly.
The core difference between this Philips HD4528 rice cooker compared to Tefal RK7405 rice cooker is the induction heating technology. The rest is pretty much the same for these two rice cookers.
Last words
From time to time you hear people complaining that nonstick coating peels off on its own, it usually because of people washing the raw rice in the inner pot. One should always wash the rice in another container then only pour it into the inner pot for cooking. If somehow there is rice crust that sticks on the inner pot, always soak them in water first before you proceed to wash them.
And finally, if you like this article and wish to see more similar content. Remember to support me by clicking any of the lazada/shopee link listed on the site before you make any purchase. And like our facebook page too.