Nowadays, there are many types of vacuum cleaners available to make house chores easier. But, we can't possibly buy every one of them because we have limited budgets
In this article, we'll guide you through which vacuum cleaner combo is most suitable for your usage.
What are the best vacuum cleaners in Malaysia?
The best vacuum cleaner in Malaysia is the Dyson V12 Detect Slim Cordless Vacuum. It is cordless, slim, lightweight, and has incredible suction power. In addition, it has an innovative Laser Slim Fluffy Head that reveals invisible dust on floors.
And you could pair it with a Roborock S7 to clean the floor every day automatically.
Let's check out the full list of 7 best vacuum cleaners in Malaysia below.
---
1. Dyson V12 Detect Slim
Best Cordless Vacuum Malaysia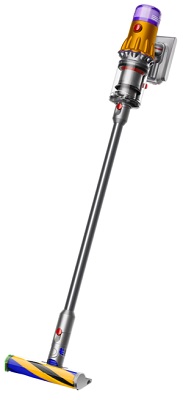 Best deal on Lazada Best deal on Shopee
Dyson V12 Detect Slim is the best cordless vacuum in Malaysia because it is lightweight, portable, and cleans well.
Dyson V12 Detect Slim specifications:
Suction power 150 air watts
Weight 2.6kg
Run time 40 minutes
Laser Slim Fluffy cleaner head
Direct Drive cleaner head 
Hair Screw tool
Quick-release combination tool, mini soft dusting brush, stubborn dirt brush
The Dyson V12 Detect Slim comes with a laser slim Fluffy head that shows invisible dust on floors. The vacuum makes cleaning more enjoyable and satisfying when you see all the tiny dust particles being captured.
The vacuum has four-speed modes: eco, medium, max, and auto. The Dyson V12 can pull a maximum of 150 air watts.
The medium suction mode can last about 40 minutes, Eco for about 60 minutes and Max can only last for less than 20 minutes.
Another unique vacuum attachment is the anti-tangle hair screw tool. It is handy if you have pets. Fur and hair can be sucked into the bin without tangling up the vacuum head.
One big reason Dyson is superior to other vacuum brands is its Dyson's sealed filtration system. It traps 99.97% of microscopic particles, which is ideal for users who suffer from allergies and asthma.
The Dyson V12 Detect Slim is selling at RM3,599 and comes with a 2-year local warranty.
---
2. Panasonic MC-CL789
Best Corded Vacuum Cleaner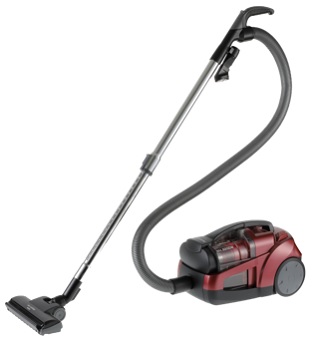 Best deal on Lazada Best deal on Shopee
Panasonic MC-CL789 is the best high-power vacuum cleaner in Malaysia. It has much stronger suction power than cordless vacuums and there is no worry about battery life.
Panasonic MC-CL789 specifications:
Advanced Mega Cyclone System
2200W power
5m cord length
8 layers of HEPA filtration 
2.2 litres bin
nozzle for mattress and curtain nozzle
Metal telescopic wand
The Panasonic MC-CL789 uses a stainless steel pre-filter similar to the one you find on Xiaomi and Dyson Cordless Vacuum. It prevents clogging of the filter and ensures maximum suction power all the time.
This Panasonic bagless vacuum cleaner has many useful attachments, such as a curtain nozzle, mattress nozzle, crevice nozzle, dusting brush and full capture nozzle.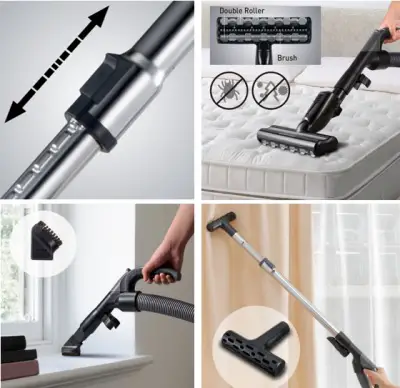 It also comes with a handy metal telescopic wand to adjust the length to your liking.
The mattress nozzle has a built-in dust sensor that can detect dust particles as small as 70 μm. 
When the light is red, it indicates there is dirt on that area; when the light turns off, it means the bed is clean.
Panasonic MC-CL789 is a powerful vacuum that will make your daily cleaning effortless. It uses an 8-layer filtration system including Stainless Guard and Double HEPA to keep your home clean while vacuuming.
---
3. 70mai Car Vacuum
Best Handheld Vacuum Cleaner Malaysia
Best deal on Lazada Best deal on Shopee

The 70mai car vacuum cleaner is also known as the 70mai Swift Vacuum Cleaner It is the best portable handheld vacuum cleaner in Malaysia.
70mai Car Vacuum specifications:
Max suction 5000Pa
Battery 4000mAh
Run time 24 minutes
Weight 700g
USB-C charging port
Ultra-portable handheld vacuum
The 70mai Swift is marketed as a car vacuum cleaner but can also be used at home. Because it is so small, it is very portable and can easily be stored anywhere.
70mai Swift is a simple cordless handheld vacuum with only two attachments: a brush head and a tall flat head. The flat head is useful for reaching narrow spaces.
Despite being a very compact vacuum, it features a prefilter and a HEPA 11 filter to prevent dust from recirculating.
The 70mai Swift is very handy for picking up small debris and dirt but its suction power is rather weak. It has good suction power for its size but is not comparable to a standard size cordless vacuum.
---
4. Bosch GAS 12-25 PL
Best Heavy Duty Vacuum Cleaner Malaysia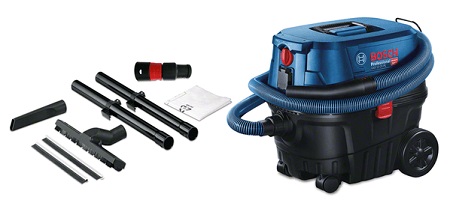 Best deal on Lazada Best deal on Shopee
Bosch GAS 12-25 PL is the best heavy-duty vacuum cleaner in Malaysia. It has stronger suction and a bigger capacity than the Bosch GAS15 PS and GAS12.
Bosch GAS15 specifications:
3-metre long flexible hose
Floor nozzle and crevice nozzle
Pre-filter and HEPA filter
Power 1250W
Maximum airflow 65 l/s
Maximum capacity 20 litres
You should expect a heavy-duty vacuum to function no matter what the conditions and situation are. The Bosch GAS 12-25 PL can do both dry and wet vacuums. 
The Bosch 2-in-1 vacuum cleaner can handle large amounts of fine dust, sawdust, or cement debris without any problems.
It has auto power on mode for power tools. The dust extractor will start automatically when you are using the power tool. And it will stop when you switch off the power tool.
With this Bosch vacuum, you can keep your workspace dust-free since it has a pre-filter and a HEPA H13 filter that can filter 99.95% of fine dust.
The Bosch GAS 12-25 PL is a reliable heavy-duty vacuum especially if you're a contractor or have a small DIY workshop at home. 
---
5. Xiaomi Dust Mite Vacuum Cleaner
Best Dust Mite Vacuum Malaysia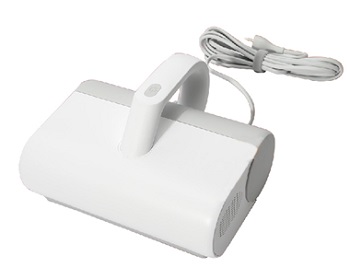 Best deal on Lazada Best deal on Shopee
If you want to remove dust mites from your bed and pillow, I recommend the Xiaomi Dust Mite Vacuum Cleaner. I also prefer the corded version to the cordless version because you can use it at full power all the time without worrying about running out of batteries.
Xiaomi Dust Mite Vacuum Cleaner specifications:
Beating frequency 10,000 beats/min
Suction 12000 Pa
3 steps dust filter
UV-C for killing bacteria and mites
50 degrees Celsius hot air 
Wire length 4 metres
There are many of dirt, dust, and even mites hidden in our bed, which are invisible to our naked eyes. Therefore, we should use a dust mite vacuum cleaner to clean our beds periodically.
The Xiaomi Dust Mite Vacuum uses a 5 step cleaning process to remove bacteria and dust mites from the bed. 
These five steps are tapping, sweeping, UV sterilization, vacuuming, and blowing hot air. 
This Xiaomi Dust Mite Vacuum is primarily used for vacuuming the mattress, but it can also be used for cleaning pillows, sofas, and chairs. You can do more with this vacuum cleaner.
There is a 3-step filtration system which includes a stainless steel prefilter, a HEPA filter, and a sponge filter to ensure that 99.9% of dust is captured. You can wash all the filter parts with water, making them incredibly easy to maintain.
On the other hand, there is a Cordless Xiaomi Dust Mite Vacuum. It is a more powerful vacuum with stronger suction and faster tapping. 
The statement is only true if you're using the maximum power output, which in turn will shorten its battery life.
Hence, I recommend buying the Wired Xiaomi Dust Mite Vacuum and not the cordless version.
---
6. Bissell Wet Vacuum SpotClean Pro
Best Wet Vacuum Cleaner Malaysia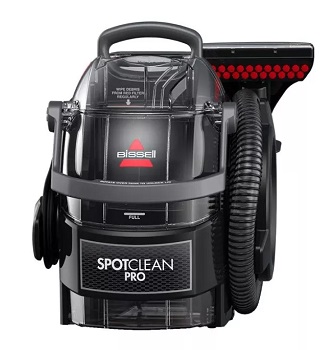 Best deal on Lazada Best deal on Shopee
Dust mite cleaners can be useful for removing bacteria and dust mites as well as bed bugs from mattresses and sofas, but they cannot remove any kind of visible stains. For removing stains and marks, you will need to use the Bissell Vacuum SpotClean Pro.
Bissell Wet Vacuum SpotClean Pro specifications:
Clean water tank capacity 2.8L
Dirty water tank capacity 2.2L
Hose length 1.5m
Cord length 6.7m
Weight 5.8kg
Tough stain tool and large tool
BISSEL SpotClean Pro looks like a regular vacuum cleaner but has separate tanks for clean water and dirty water. It can be used to clean any type of upholstery or carpet.
A 6.7m power cord allows you to cover any spot in your house easily. In the box, two attachments are included: a large brush and a small brush.
The large brush is suitable for big area cleaning like rugs and carpets. And the small brush is great for spot cleaning tough stains and dirty marks.
The BISSELL Wet Vacuum Cleaner works great in removing stains from carpet and upholstery. It just takes a few more passes to remove stubborn stains.
There is often a complaint about the Bissel vacuum's loud noise when it is running. This is unavoided due to its compact-sized. 
Regardless, it is still a very convenient wet vacuum that can clean carpet, mattress, curtain, and sofa so that they look like new again.
The Bissell SpotClean Pro is the best wet vacuum cleaner for Malaysian households. For people with children, cats, or pets at home, who are likely to have a dirty couch/carpet, this is the perfect vacuum.
---
7. Roborock S7
Best Robot Vacuum Malaysia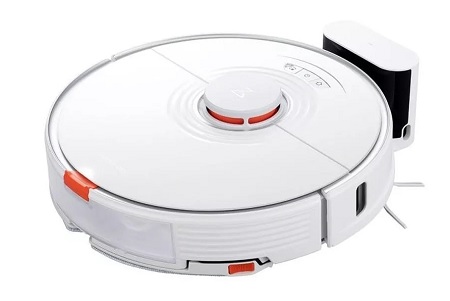 Best deal on Lazada Best deal on Shopee
Roborock S7 is the best robot vacuum in Malaysia. It has the best cleaning performance and a very smart mapping feature.
Roborock S7 specifications:
Suction power – 2500Pa
Battery life – 180 minutes, 5200mAh
Mopping – Yes
Sensor – LiDAR
Extra features – HEPA filter, Sonic Mopping, VibraRise Mop Cloth, multimap storage, carpet detection, rubber brush
The Roborock S7 has strong suction power of 2500Pa and a big 5200mAh battery. It will automatically adjust suction power depending on the floor surface. 
This allows the vacuum to clean an entire 250 square metre house effectively.
The Roborock S7 is best known for its impressive navigation and mapping features. LIDAR is used to create a detailed map of your home.
Also, Roborock and MiHome smartphone apps are top-of-the-line. It is very user-friendly and comes with tons of control in it. Using this app, you can schedule, customize cleaning, set up no-go zones, and view the robot's position in real-time.
There is also a mopping module that can be attached to the back of the Roborock S7. So, mopping and vacuuming are carried out at the same time.
Roborock S7 is an amazing 2-in-1 robot vacuum cleaner that can clean your floor very well and save lots of your time.
---
Competition
Deerma CM800 Review
Deerma CM800 is often compared with Xiaomi Dust Mite Vacuum, as both vacuums are similar in price. Although the Deerma CM800 has a slightly stronger 13000 Pa suction power, it is notorious for easily overheating. It cannot be used for prolonged vacuuming sessions. 
Hence, I don't recommend buying Deerma CM800.
---
Vacuum Cleaner FAQs
Are cordless vacuums better than corded vacuums?
Generally, cordless vacuums are better than corded vacuums for daily cleaning.  It is more portable, rather than having to plug and unplug the vacuum at different locations around the house.
A corded vacuum cleaner provides better suction power and a longer working duration.
Is a car vacuum worth it?
In my opinion, car vacuums are not worth purchasing. The wired car vacuum is inconvenient to use, and the wireless vacuum is too expensive for its basic function and poor suction power.
Getting a standard size cordless vacuum cleaner is an overall better investment.
Do I need a heavy-duty vacuum cleaner?
For normal household cleaning, you don't need a commercial heavy-duty vacuum cleaner. The heavy-duty vacuum cleaner is recommended only for those who have a large area of carpet in their home.  Or those who always have to deal with a large amount of fine dust eg: a DIY workshop.
Do I need a dust mite cleaner?
Yes, dust mite cleaners are highly recommended because they can pick up a lot of non-visible dust from your mattress and pillow. You can keep your bed more clean and healthy.
Are expensive vacuum cleaners worth it?
Yes, expensive vacuum cleaners are worth the money because they will perform better than cheap vacuum cleaners. They usually have better motors, stronger suction power and long-lasting battery life. RM500 to RM1000 vacuum cleaners are generally satisfactory for most people.