With an all-in-one washer dryer, you can wash and dry all your clothes at one go. It is very convenient and compact, which makes it ideal for small apartments and houses.
However, my philosophy has always been that a separate washing machine and dryer is better than an all-in-one washer dryer. This is because they usually work better independently, are cheaper, less likely to break down, and you won't lose both functions if one goes down.
Back to our main topic, I trust that you have really considered it well and decided to go for a washer dryer. The most important factors to consider when choosing a washer dryer are the size/space, features, and warranty period. 
The warranty period is important for washer dryers because they tend to break down. So, longer is better.
Here are the  6 best washer dryers in Malaysia:
Compare the 6 top washer dryers in Malaysia:
| Model | Wash/Dry Capacity  | Size  | General/Motor Warranty |
| --- | --- | --- | --- |
| Toshiba TWD-BJ120M4M | 11.0/7.0kg | 615 x 850 x 595 mm | 2/10years |
| Panasonic NA-S106G1WMY | 10.0/6.0kg | 596 x 845 x 560  mm | 1/10years |
| Samsung WD75T504DBW | 7.5/5.0kg | 600 x 850 x 550 mm | 2/11years |
| LG FV1450H2B | 10.5/7.0kg | 600 x 850 x 560mm | 1/10years |
| Midea MFC80-DR1400 | 8.0/6.0kg | 595 x 850 x 565 mm | 1/10years |
| Electrolux Washer Dryer EWW7024FDWA | 7.0/5.0kg | 600 x 850 x 575mm | 2/10years |
---
Best 5 Star Energy Washer Dryer
Toshiba Washer Dryer TWD-BJ120M4M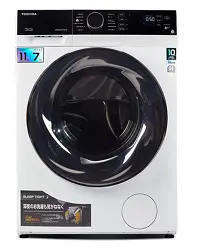 Best deal on Lazada Best deal on Shopee 
Toshiba Washer Dryer TWD-BJ120M4M Features:
An overall large capacity inverter washer dryer
Quiet operation
Clear LED Digital control panel
49cm wide door for easier access
Anti-bacterial gasket
12 pre-set programs
Air Dry SENSEDRY™ technology
5 stars energy – optimal energy consumption
2 years general warranty
Toshiba TWD-BJ120M4M's positive review:
Puas hati sangat…dah try guna tadi…terbaik baju kering senang kerja tak payah sidai hujan hujan mcm ni. Seller pun ok..ada respon di chat. Penghantaran pun laju
Toshiba TWD-BJ120M4M's negative review:
The machine mentions "Dryer" but CANNOT dry clothes completely. Used 3 hours to dry few clothes but it was useless. Same function as ordinary machines yet so expensive.
Toshiba TWD-BJ120M4M is an overall large capacity inverter washer dryer machine with 11kg washing capacity and 7kg drying capacity. At 615 x 595 x 850mm, this machine weighs 71kg. This Toshiba Washer Dryer is great for larger families and is a front-load machine. 
Toshiba calls its washing pattern "Great Waves " because of its S-shaped paddle and 200 rpm drum spinning speed, which make sure the clothes are thoroughly cleaned. It is also said to preserve fabric colours because it does not use any hot water.
With a front door panel that is 49cm wide, loading and unloading laundry is easy. It comes with a clear LED Digital control panel that makes it easy to use. This washing machine is similar to Panasonic NA-S106G1WMY which has internal drum light. So, no clothes will be left out when unloading.
There are a total of 12 pre-set programs available to choose from which includes a 12 mins quick wash and 59 mins quick wash and dry. The Air Dry SENSEDRY technology automatically stops the drying process when the clothes are dry, saving electricity and prevent damage to clothes.
The Toshiba TWD-BJ120M4M is a 5 stars energy washer dryer that uses an inverter motor. The motor warranty is 10 years and it has a general warranty of 2 years.
---
Best Washer Dryer For Large Family
Panasonic Econavi Inverter Washer Dryer NA-S106G1WMY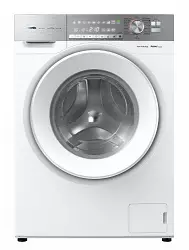 Best deal on Lazada Best deal on Shopee  
Panasonic Econavi Inverter Washer Dryer NA-S106G1WMY Feature Highlights:
Dual washer and dryer
Large capacity
ActiveFoam system (high density foam)
49mins active speed wash
Hot water wash, eliminate 99.99% allergen and bacteria
Remove unwanted odours
Panasonic Intelligent Eco Sensors, Econavi – energy and water savings
Panasonic NA-S106G1WMY's positive review:
it is an excellent washer dryer. don't forget to remove the transit bolts before you operate the machine. otherwise you'll think it is a faulty unit. read the manual carefully and digest it before use. superb functions.
Panasonic NA-S106G1WMY's negative review:
-Nil-
This Panasonic Washer Dryer NA-S106G1WMY is an excellent dual washer and dryer with a capacity of 10kg and dimensions of 596 x 560 x 845 mm. There is a drying capacity of 6kg, which is quite good. Washing a regular load becomes so much more convenient since you can wash and dry all at once. 
The ActiveFoam system makes washing clothes cleaner and more efficient. The deep cleaning method removes stains as well as any detergent residue.
It also has a 49 minutes Active Speed wash feature, which completes washing within 49 minutes. But this feature can only be done on half of the maximum laundry capacity.
There are multiple washing courses with this versatile Panasonic washer dryer combo, including:
Cotton – for cotton clothes
Soak – for very dirty laundry
Wool – wash gently on wool clothes
Dry only – dries only without washing
Synthetic – Wash chemical fibres gently
Mixed – for blended fabrics, cotton, linen, synthetic fibres
Shirts – for shirts
Hygiene – for infants clothing, bed sheet
Delicates – for undergarments, silk clothes, more gentle than wool
Bedding – for blankets, curtains, mattress sheet
Rapid 15/Quick 30 – quick wash for lightly dirty laundry
Tub clean – cleaning the drum
The most notable feature is Hygiene mode. It washes clothes with 60℃/90℃ water to eliminate 99.99% allergen and bacteria. The result has been certified by Allergy UK. Thus, it is best suited for sensitive skin, especially babies. 
In terms of drying capability, the drum is larger than conventional drums. Its 525mm drum allows clothes to spread throughout, resulting in fewer wrinkles.
Besides, it also has built-in drum light so that you can clearly see your clothes from outside.
Panasonic NA-S106G1WMY Washer Dryer is fitted with Econavi, Intelligent Eco Sensors. It detects laundry load, water temperature and material of clothing to optimize its washing course. It automatically adjusts the water level and time required so users can save on water, electricity and time! It comes with a 1-year local general warranty and 10 years motor warranty.
---
Best Smart Washer Dryer
Samsung Washer Dryer WD75T504DBW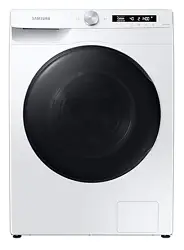 Best deal on Lazada Best deal on Shopee 
Samsung WD75T504DBW Features:
Value for money washer dryer
Air Wash technology
EcoBubble technology – energy efficient
Bubble Soak feature
Easy to clean and maintain – Eco Drum Clean function
Long motor warranty
It was reported that the machine worked well
The popular Samsung WD75T504DBW (600 x 850 x 550mm) is one of the best washer dryers in Malaysia, especially at such good pricing. You can buy one for less than RM2,000 which is surprisingly competitive coming from Samsung.
It is a 7kg washer with a drying capacity of 5kg. It can be connected to WiFi and control with Samsung's SmartThings App. You can control the washing setting as well as get notified on washing status through the app.
This washing machine has an AI Intelligent Wash that remembers your washing habits and suggests cycles that will clean your clothes better. 
The Eco Bubble feature helps clean your clothes more effectively without the needs of hot water. It generates more cleansing bubbles that penetrate more into the fabric. This helps eliminate bacteria, dirt, and odour while saving energy and preserving colour. 
Other than that, this Samsung washer dryer uses steam to deep clean your laundry. It releases steam from the bottom of the drum to "wash" the clothes. This removes 99.9% of bacteria and allergen (approved by allergy UK)
This 2021 Samsung WD75T504DBW washer dryer is powered by a digital inverter with incredible efficiency.  It reduces 3 to 5 dB of noise and is more durable in comparison to a typical motor. Samsung provides 2 year warranty on the machine and 11-years motor warranty. The longest warranty provided among all the washing machines listed here!
---
Best Large Capacity Washer Dryer
LG Direct Drive Washer Dryer FV1450H2B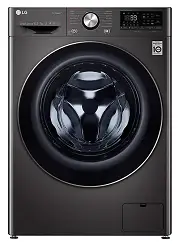 Best deal on Lazada Best deal on Shopee 
LG FV1450H2B Features:
Durable stainless-steel lifter
Large display and easy to see
AI Direct Drive™ – smart sensor
TurboWash 360
LG Steam+
Compatible with TWINWashTM Mini
ThinQ™ technology – smartphone control
LG FV1450H2B's positive review:
very good buy. the machine is silent when it is used. i'm very happy with the purchase! Seller is also quick to respond to queries. 
LG FV1450H2B's negative review:
feeling disappointed and terrible. the foam was appeared and leak to outside of washing machine.

lg.com
The LG 2-in-1 washer-dryer (600 x 850 x 560mm) claims to save 28% energy, 38% laundry time, and a 16% reduction in damage to your clothes.
With a 10.5 kg front load washing capacity along with a 7kg drying capacity, this washing machine has a large capacity which is pretty awesome for most Malaysian households.
The dark black exterior and tempered glass door on this LG washing machine exude elegance. The drum is specially equipped with stainless steel lifters to aid in washing but not to be too abrasive. Since it is made of stainless steel, it is more hygienic than the usual plastic lifter.
The key feature of LG LG FV1450H2B is its Intelligent Clothing Care with AI Direct Drive (AI DD). This AI DD detects both weight of laundry and fabric softness to figure out the best washing pattern. It's supposed to provide 18% more fabric softness protection.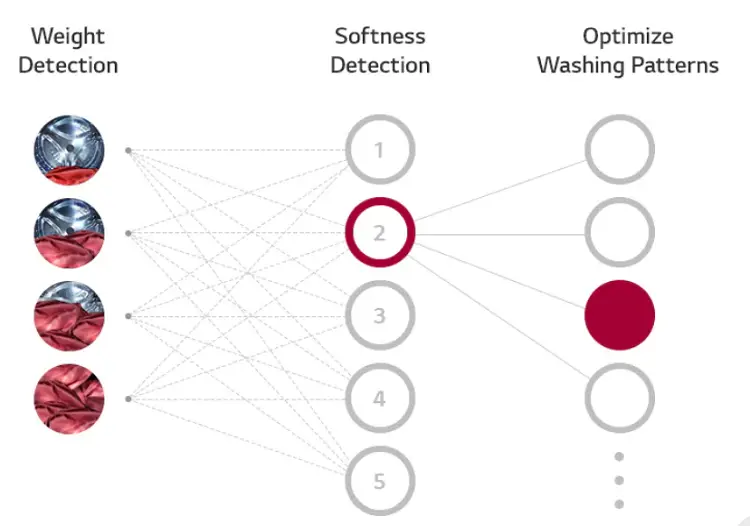 Another key feature is the TurboWash 360˚, where your laundry can be thoroughly cleaned within 39 minutes. It has a total of 4 spraying nozzles from the top and bottom that ensure the laundry is being cleaned from all sides within a short period of time.
LG Steam+ technology removes 99.9% of allergens and reduces wrinkles by 30%. To turn on this feature, simply select the wash cycle required and press the wrinkle care option together. Then, steam will be sprayed to your laundry upon the completion of the wash cycle.
This washing machine is also compatible with the LG TWINWashTM Mini, a small 2kg washer for small sized clothes that can be stacked below LG FV1450H2B.
With ThinQ™ technology, this washer dryer allows you to operate your machine remotely and enables you to choose more cycle options via a Wi-Fi connection.
The only problem with this LG FV1450H2B frontload washer dryer is the reported leakage of bubbles from the front. I believe it is inevitable that there will be random cases of quality issues. However, you should always contact customer support and salespeople to address this concern before placing an order..
LG washer dryer is covered by 1 year general warranty and 10 years direct drive motor warranty.
---
Cheap Washer Dryer
Midea Washer Dryer MFC80-DR1400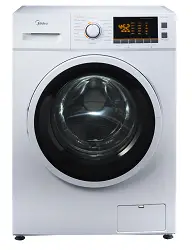 Best deal on Lazada Best deal on Shopee 
Midea Washer Dryer MFC80-DR1400 Features:
3 water flow types – wave and flow, bump and flow and flush and flow.
Smart temperature controls
Huge door allows easier handling
Timer and sleep modes
Affordable
Midea MFC80-DR1400's customer review:
Ok la kalau nak mesin yg jimat ruang.. tp, kalau nak yg efisien, beli 1 washer 1 dryer la.. model combo ni, mkn masa yg lama sikit untuk kedua2nya.. tu pun lepas dah siap, pakaian panas tp lembap.
This machine has 8kg washing capacity and 6kg drying capacity. At 595 x 565 x 850mm, this washer dryer weighs 65kg and comes with 3 water flow types, namely wave and flow, bump and flow and flush and flow. These are called the 3 super water flows which are essentially various types of washing techniques integrated with kneading, squeezing and rinsing that gives you spotless and perfect washing.
Water and Flow – this is akin to washing by hands. The stains are quickly removed, while at the same time the fabric is preserved.
Flush and Flow – great for washing thick, padded clothes. 
Bump and Flow – this is catered for heavily soiled clothes.The water flow will adjust accordingly to soak the clothes to patting, flushing and squeezing the clothes. 
There is also a smart temperature control for better fabric care along with pre-wash, speed wash, wool wash and speed wash programs. Equipped with timer and sleep modes, you can program your washing and drying to start whenever you want a day ahead. 
This Midea MFC80-DR1400 2-in-1 washer dryer comes with 2 Years Full Warranty, 3 Years Control Panel and 10 Years Motor warranty.
---
Best Washer Dryer For Wool
Electrolux UltimateCare 700 Washer Dryer EWW7024FDWA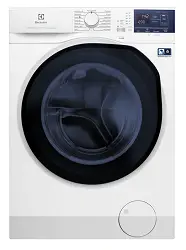 Best deal on Lazada Best deal on Shopee 
Electrolux Washer Dryer EWW7024FDWA Features:
Smart sensor
SensiCare technology
VapourCare function
Woolmark certified
3XL door opening
Electrolux EWW7024FDWA's positive review:
The washing machine is easy to use, quiet and serves the needs of our family very well.
Electrolux EWW7024FDWA's negative review
After using it for 2 months the machine started leaking and had to wait for 5 to 6 weeks for spare parts replacement! I Will definitely not buy another Electrolux product ever again and will definitely warn others
This 7kg/5kg washer dryer from Electrolux measures at 600 x 850 x 575mm and is fitted with many great features. 
The Auto Sense system automatically weighs your clothes to adjust the time and water needed for each wash cycle. This prevents over-washing and thus preserves your clothing better. 
VapourCare completes the washing cycle via a soft spray of vapour of 40°C to eradicate up to 99.9% of germs and allergens. Unlike boiling hot steam, the warm vapour spray will not wear down the laundry.
For drying clothes, it uses a SensiCare system with temperature and humidity sensors to adjust the drying heat and cycle time. It prevents clothes from over-drying.
Other notable wash programme with the washing machine includes:
Quick 15 programme
WashDry 60
Daily 60
Vapur Refresh
Baby Care
Wool
Energy saver
And many more…
It is also certified by Woolmark which allows you to wash Woolmark certified garment directly with this washing machine. 
Electrolux Washer Dryer EWW7024FDW has a large door opening that helps with loading and unloading the clothes with no hassles at all. This machine comes with 10 years warranty on the motor and 2 years general warranty, both including on-site services.
---
Washer Dryer FAQ
1. What are the Different Types of Washer Dryer?
There are two types of combo washer dryers; vented and non-vented. The one with a vent requires you to have a place for the unit to vent out the hot air, such as through a wall or window. These types tend to dry clothes faster but are not very portable. Whereas a non-vented unit does not require you to use a vent and therefore is more portable.
2. What Size Washer Dryer Do I Need?
Typically, 6/7kg load capacity is good for couple and small family which wash clothes twice a week. If you have a big family or wash less frequeunt, you can look into those models that can handle 9kg or more capacity.
3. Where Should I Put My Washer Dryer?
If you aren't short of available space then you can consider placing this appliance in the kitchen or the utility room. Of course, you'll need to also consider if the appliance is vented or not. Also, look into the practical aspect of it too. But if you face limited space, then you need to consider wall-mounting the machine if it is possible to do so.
4. Are All-in-One Washer Dryers Good?
Yes, if you have space constraint, an all-in-one washer dryer is good for people who are staying in a condominium. If you have enough space, you should buy a separate washer and dryer combo that can be stacked.