Cuckoo and Coway are two very popular water filter brands in Malaysia. 
Both of the brands have thousand of sales agents and we can see their advertisements every now and then. 
The cuckoo water purifier is best known for its mild alkaline filtered water that is rich in minerals. 
But are these Cuckoo water filters worth spending thousands of ringgit on? Let's find out.
---
Cuckoo Water Filter Rental Price and Buying Price
Cuckoo currently offers 11 different water filter models including Titan, Warrior, Queen Stand, Prince Top, Iris Top, King Top, Vivid, Icon, Marvel, Jazz and Xcel.
In this review, I will exclude the Cuckoo Queen Stand model because it is not commonly used by residential users.
Model
Monthly Rental (1st-3rd year)
Monthly Rental
(4th-5th year)
Contract Period
Buy Outright
Titan
RM113
RM108
60 months
RM4300
Warrior
RM100
RM95
60 months
RM3200
King Top
RM80
RM75
60 months/
Goood Plan
RM2999
Xcel
RM85
RM80
60 months/
Goood Plan
RM3700
Vivid
RM93
RM88
60 months
RM3200
Iris Top
RM97
RM92
60 months
RM3773
Prince Top
RM118
RM113
60 months
RM4200
Icon
RM115
RM110
60 months
RM4200
Marvel
RM65
RM60
60 months
RM1999
Jazz
RM90
RM90
60 months
RM3500
There is a complimentary 5-year service offered to customers who subscribe to any of the monthly rental plans.
---
Cuckoo Water Filter Specifications and Comparison
We will compare these water filters on the type of filtration, tank capacity, and temperature options.
| | | | |
| --- | --- | --- | --- |
| Model | Filtration | Tank Capacity | Temperature |
| Titan | Nano Positive Filtration System | tankless | Hot (40-100), Ambient |
| Warrior | Nano Positive Filtration System | 1.0+2.8+1.4L | Hot, cold, ambient |
| King Top | Nano Positive Filtration System | 1.0+1.0+0.3L | Hot, cold, ambient |
| Xcel | Nano Positive Filtration System | 1.0+1.0+0.3L | Hot, cold, ambient |
| Vivid | Nano Positive Filtration System | 5.3+1.3L | Hot, warm |
| Iris Top | Nano Positive Filtration System | 1.4+2.0+1.8L | Hot, cold, ambient |
| Prince Top | Nano Positive Filtration System | – | Hot (adjustable), Ambient |
| Icon | 6-Stage Filtration | 1.4+2.0+1.8L | Hot, cold, ambient |
| Marvel | 5-Stage Filtration  | tankless | Ambient |
| Jazz | 6-Stage Filtration | 1.3L(cold) | Hot (adjustable), cold, ambient |
On the chart above, you can easily choose a Cuckoo water filter based on your needs and priorities.
---
Best Water Filters We Like Other Than Cuckoo
Other than Cuckoo water filter, there are many other water filter brands in Malaysia like 3M, Aquasana, Bacfree and more. I have handpicked the best water filter in Malaysia that is cheaper to use and own.
Check out the best water filters in Malaysia
---
Cuckoo Titan Review
Cuckoo Titan is the newest and most advanced water purifier model. The design is simple and minimalist, so it will fit in any kitchen space.
Despite its compact size, it contains Nano Positive Plus 3.0 and a Carbon Composite filter, which kills 99.9% of bacteria.
On its touchscreen panel, there are three choices for volume control: 250ml, 500ml, and 1000ml.
One of its best features is its instant extra hot feature, which reaches up to 100 degrees Celsius, while other brands' instant hot water dispensers only reach 85 to 90 degrees Celsius.
Furthermore, users can adjust the temperature of the water according to their own needs, such as 50, 60, 70, or 80 degrees Celsius for preparing different types of drinks.
Cuckoo Warrior Review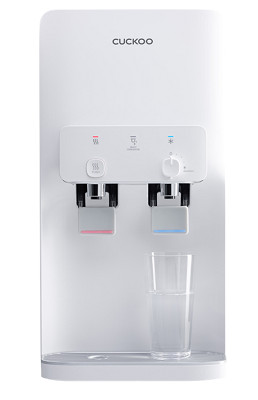 Cuckoo Warrior is a first-of-its-kind home water purifier featuring faucet sterilization so that you can drink safe water. 
With a 6-stage nanopositive filtration system, it ensures the water is always clean and free of impurities, bacteria, and viruses.
Also, there is a stainless steel water tank inside, so there are no rust concerns.
Furthermore, it has a temperature knob for cold water which is quite special because it allows users to choose a variety of cool temperatures. 
Cuckoo King Top Review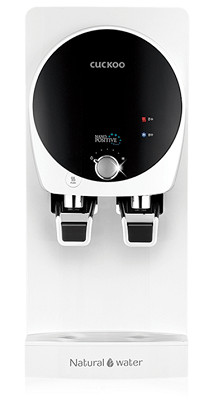 Cuckoo King Top is the first mild-alkaline water purifier that features room-temperature, hot and cold water options. There are seven temperature settings available.
This Cuckoo Water Purifier is equipped with a 6-stage Nano Positive Filtration System The water tank is made of stainless steel as well. 
Among Cuckoo's water purifier models, Cuckoo King Top is among the most affordable, making it a very popular choice among Malaysian users.
Cuckoo Xcel Review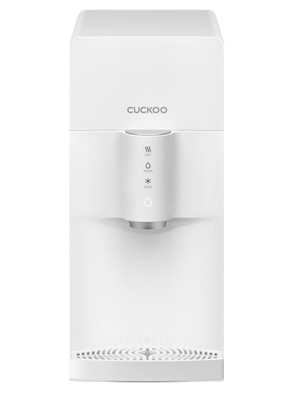 CUCKOO XCEL is a modern, stylish and minimalistic water purifier. It features a touch display that allows users to easily choose the temperature they want.
A choice of three temperatures is available: hot, cold, and room temperature.
This water purifier has a small size of 502 x 490 x 220, making it ideal for small kitchens.
The main appeal of this Cuckoo Xcel is its simplicity, compactness, and ease of use.
Cuckoo Vivid Review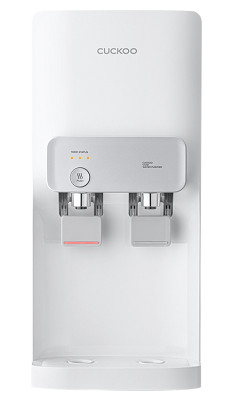 Cuckoo Vivid is primarily a water purifier with a large hot water tank. It is designed specifically for users who mainly use warm and hot water.
The hot water tank holds 5.3 litres and the warm water tank holds 1.3 litres, which is enough for up to 8 people in the family.
The Cuckoo Water purifier uses as much as 800 watts of power, which is more than any other Cuckoo water purifier with a water tank.
Cuckoo Iris Top Review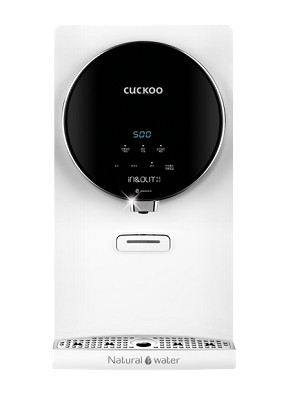 Cuckoo Iris Top is a 6-stage Nano Positive Filtration System. It comes with a digital touch panel with a clock display and child-lock safety features.
This model offers 13 temperature settings.
Cuckoo Iris Top is another best-selling model but it occupies a huge space. It has a size of 490 x 508 x 260mm. Therefore, it can take up quite a bit of space in your kitchen.
Cuckoo Prince Top Review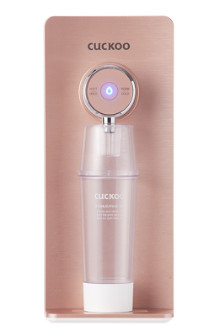 The Cuckoo Prince Top water purifier comes with a rose gold finish, designed specifically for consumers who want a stylish solution for their kitchen.
As with the Cuckoo Titan, the Prince Top uses a tankless design. It is a good choice for those who think it is more hygienic and healthy not to consume hot water which has been constantly reboiled.
With its instant heating feature, users can choose from 40°C, 50°C, 60°C, 70°C, and 80°C temperatures.
Cuckoo Icon Review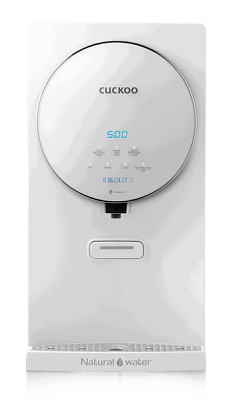 Cuckoo Icon is similar to the Cuckoo Iris Top but it is equipped with in & out electrolysis system.
This IN & OUT Electrolysis Sterilization System cleans the CUCKOO Water Purifier automatically, including the drain tube and faucet.
As with the Cuckoo Iris Top, it offers 13 temperature settings as well.
For people who want the utmost hygiene, then the Cuckoo Icon is a better choice than Cuckoo Iris Top.
Cuckoo Marvel Review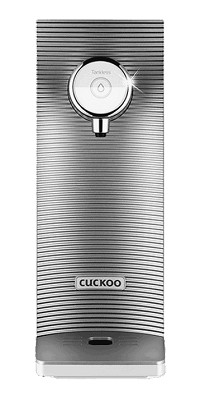 Cuckoo Marvel is another tankless water purifier. It is even more basic than the Cuckoo Prince Top since it only dispenses water at room temperature.
It is a 5-stage filtration system with 3 main filters: sediment filter, Natural Plus filter and Nano Positive Plus Filter.
The downside to such a simple water purifier is that it requires electricity in order to operate.
As such, I don't recommend getting the Cuckoo Marvel. Instead, check out other choices like 3M, Panasonic or Aquasana Water Filter.
Cuckoo Jazz Review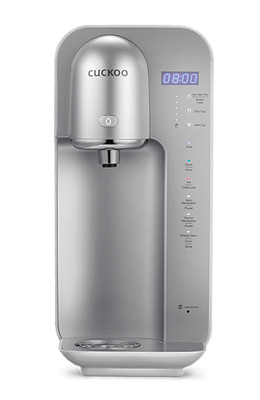 Cuckoo Jazz is yet another tankless water filter. But it actually has a dedicated 1.5 litres water tank to store cold water.
But it has no water tank for room temperature and hot water. Hot water can be dispensed in as little as three seconds.
This model uses Nano Positive Plus Filter & Natural Plus Filter. And it also has an /in & Out Electrolysis Sterilisation System.
Overall, Cuckoo Jazz is very similar to Cuckoo Titan but with slightly fewer features. So, it is a bit cheaper to rent and own.
---
Cuckoo Water Filter Pros and Cons
Cuckoo water filters are marketed as a healthier drinking solution. Cuckoo will be responsible for routine checking and maintenance so that your filter cartridge is always kept in good condition.
Here are the pros and cons of renting or buying a Cuckoo water filter.
Pros of Cuckoo Water Filter
A professional maintenance team handles service and maintenance if you are renting a Cuckoo water purifier.
Mineral-rich alkaline water
Clean drinking water that is 99.99% free of harmful bacteria
It is more convenient as hot and cold water are always available
Electrolysis Sterilisation Technology to keep tube and faucet free of dust, mold and fungus.
All Cuckoo water purifiers are SIRIM and HALAL-certified
Cons of Cuckoo Water Filter
Service interval is as frequent as every 4 months, which can interrupt your daily routine. But it is less disturbing compared to Coway's every 2 months.
Cuckoo water filters are very expensive.
Monthly rental of Cuckoo water filter can become a financial burden for some
Early termination of a contract is subject to a penalty
Users need to subscribe service membership after the complimentary free service period ends.
---
Conclusion
In case you are willing to pay a premium for convenience, the Cuckoo water filter could be a good choice. 
Whether you rent the water filter monthly or purchase it outright, you will be tied to a contract or service membership until you dispose of Cuckoo Water Filter.
As a general rule, I recommend purchasing water filters that you can own once you have paid for them. Ideally, users should be able to purchase and change filter cartridges themselves.
---
Cuckoo Water Filter FAQs
Is Cuckoo RO water?
Cuckoo Water Filter uses Nanofiltration, primarily the Nano Positive Plus Filter, to produce mildly alkaline drinking water.
Is Cuckoo water good for health?
Drinking alkaline water has no scientific evidence that it improves health conditions. If using a Cuckoo Water Filter encourages you to drink more water, then it is beneficial to your health.
Are Cuckoo water purifiers SIRIM and HALAL certified?
Yes, all Cuckoo water purifiers are SIRIM and HALAL certified.
What is the difference between Cuckoo and Coway?
The main difference between Cuckoo and Coway is that Coway focuses primarily on RO water filtration, while Cuckoo uses nanofiltration.