'Kitmens' is a new kitchen appliance brand from our very own country, Malaysia. The company focuses on developing smart kitchen appliances that help make your cooking experience easier.
Currently, Kitmens offers only two main products: the KM-B5 stand mixer and the KM-K065 digital oven. 
I was invited by them to give the Kitmens KM-B5 stand mixer for a full review.
---
Overview Kitmens Stand Mixer KM-B5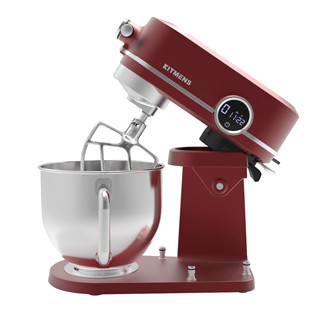 The Kitmens KM-B5 is a powerful, silent stand mixer powered by an 800W DC motor. Also, it is very sturdy with a steel body weighing about 9.9kg. 
Accessories such as the mixing bowl, dough hook, beater and wire whisk, are made of grade 304 stainless steel, which ensures it will last a lifetime without rusting.
Features highlight:
Accessories included– Dough hook, Beater and Balloon Whisk, Pouring Shield
Integrated accessories holder
5.2 litres bowl capacity
Full steel body construction (9.9kg)
Digital control for 8 mixing speed
Digital countdown timer
800W DC motor
Silent operation
Free personalisation engraving
Optional add-on attachment for more functions, eg: pasta, grinding, slicer, grater
5 years motor warranty
In this article, I will be reviewing four different aspects of the Kitmens KM-B5, from the perspective of an average user.
---
Delivery And Packaging
In terms of product delivery, Kitmens does an excellent job. As soon as Kitmens delivers the mixer, they will inform you of the tracking code. 
In my case, the package is delivered by SkyNet Courier Services. It was quite a surprise to me how quickly SkyNet was able to deliver the mixer the following day.
The stand mixer is kept in a "double-box" packaging for extra precaution. The outer box is a standard brown cardboard box with Kitmens Logo and the inner box is a white-coloured cardboard box. 
In the box, the stand mixer is held tightly with polystyrene foam. And the mixer machine and its accessories are all wrapped nicely in a plastic bag.
As you can see, Kitmens' team really goes the extra mile to ensure the product won't be damaged throughout the delivery.
As a frequent online shopper, I can really appreciate good packaging and delivery. We all know how frustrating it can be to deal with damaged products and return claims.
---
Design And Build Quality
Mixer Machine
At first glance, you can notice there's a big digital knob in the middle of the Kitmens KM-B5 mixer machine. The knob is used for controlling mixing speed, count down timer, and it is also functioning as the power button.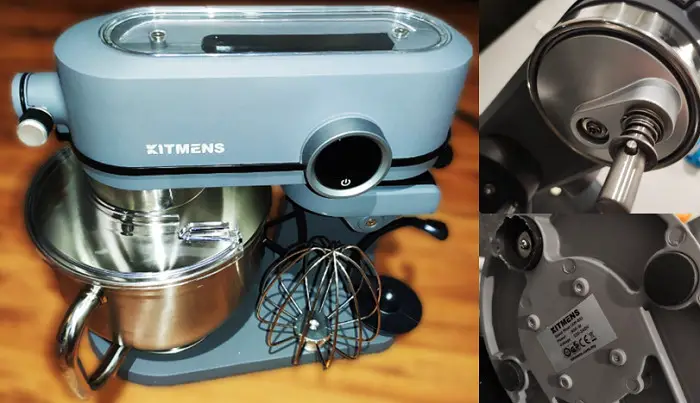 This stand mixer uses a tilt-head design which the top of the machines tilt up so that you can install the mixing attachment and bowl.
A good mixer is distinguished from an average mixer by its motor. And this Kitmens stand mixer uses an 800W DC motor.
On top of that, the entire body of the mixer is largely made of steel, from inside to out. It uses steel gears and steel housing. All of these adds up to a total weight of 9.9kg 
The extra weight is good to keep the mixer in place when mixing heavy dough, whereas some cheaper mixers usually only weigh less than 5kg and will shake more violently.
You can really feel that this machine is solidly-built and sturdy. And it has an all matte spray paint exterior which is modern and doesn't attract fingerprints.
This mixer is available in three distinct colours, namely: Burgundy Red, Royal Grey and Sky Blue, to match with any modern kitchen design.

At the bottom of the mixer, there are 4 rubber feet with a suction pad to ensure the mixer stays still even when you're mixing heavy dough at high speed.
Last but not least, the Kitmens KM-B5 stand mixer has three dedicated storage spots for you to keep all your mixing attachments in one place. 
Although it is a very tiny enhancement, I find this storage feature to be very smart and convenient.
Accessories
There are four accessories that come in the box which include a mixing bowl, dough hook, flat beater, and a wire whisk. These are all made from 304 stainless steel and are of good thickness.
They feel really solid and heavy on hand. They are certain to last for decades, if not a lifetime.
---
Features And Performance
Control
The most notable feature of Kitmens KM-B5 is its digital knob control. A push on the button will turn on the mixer.
The middle of the knob is an LED display that is big and clear. Turning it clockwise will increase the mixing speed and anti-clockwise will decrease it.
Other than that, it is also a countdown timer. Holding the knob in a counter-clockwise position will trigger the timer, allowing you to set the time frame you require (maximum 30 minutes).
Mixing Performance
Kitmens KM-B5 planetary mixers use a single beater that rotates around the bowl as it spins. Compared to stationary mixers, planetary mixers mix better as it ensures more points of contact with the batter.
I have used this mixer to make Chinese spring roll sheets aka. "popiah" skin. Frankly, it is not the thickest or hardest dough to prepare. But I think that it is a good enough test to check the mixing performance of the machines.
You can see that the mixer can reach every spot in the bowl and give you a good mix. The stand mixer also stood in place really well even when I turned to maximum speed. 
The body of the stand mixer does shake a little bit once you go up to 5-speed or more. This is perfectly fine and normal when mixing such a thick dough at high speed.
In less than 5 minutes, I am able to get a gluey and springy dough which is ideal for popiah skin =)
Noise
I have tried mixing at every speed from slowest 1-speed to fastest 8-speed. Overall, the stand mixer is indeed very silent in comparison to other AC motor stand mixers.
For speeds 1 to 3, I would say that the noise level is very low and will not be noticeable to others who are not in the kitchen.
Once you ramp up the speed, the noise does get a little louder which I think is unavoidable especially when you're mixing heavy dough.
---
Warranty And Misc.
Warranty
You can purchase with confidence with Kitmens' 30 days money-back guarantee and free pick up service.
In addition to that, the Kitmens KM-B5 stand mixer comes with a 1-year general warranty and a 5-year motor warranty. 
In comparison, these warranties are far superior to KitchenAid's 1-year warranty despite that KitchenAid is almost three times more expensive than it.
Free Laser Engraving (Personalisation)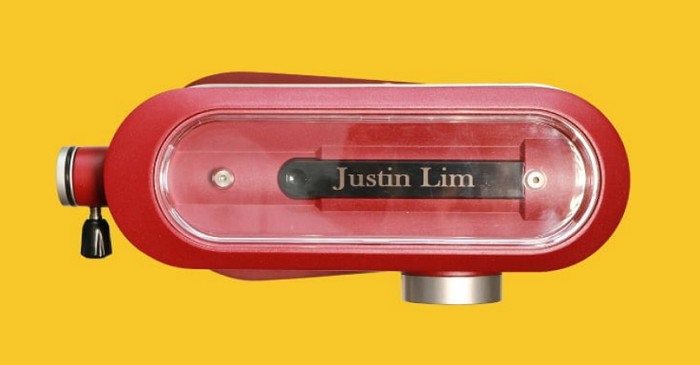 The free laser engraving service is another cherry on top. This unique feature makes it a perfect gift for your friends and families who love baking.
Attachment
For users who like to get more function out of the KM-B5 mixers, you can purchase additional attachments for it (similar to KitchenAid/Kenwood Mixers).

The available attachments are:
Pasta roller/cutter attachment
Slicer and grater
Food grinder
Sausage stuffer kit
Cookie press attachment
---
Conclusion
The Kitmens KM-B5 is a high-quality stand mixer that you can buy for a very reasonable price. I highly recommend it for any serious home baker.
Surely there are cheaper stand mixers in the market. 
But there is almost none that offers you a DC motor, 5 years motor warranty, full steel gear, full steel body construction, digital timer, dedicated hook storage space, in such a compact package.
Do check out our baking oven and combi microwave oven recommendation too.