There's no doubt you've heard of Long TV if you're in the market to buy an Android TV box. 
The Long TV Box was launched in 2018 by Longvision Media Sdn Bhd. 
It was touted as the first legal Internet TV services provider and digital TV platform. And give users access to over 300 channels with no monthly subscription required.
Long TV box was a very popular choice because there are some sellers who were selling pirated  Long TV box sets that can stream pirated content for free.
Let's look at the pros and cons of the Long TV box in this article
---
Long TV Box Price
The price of Long TV Box is RM399. It is very expensive because Mi TV Stick 4K has twice the power but is only RM200+. 
Long TV Box Specifications
I should point out that the long TV box is already a four-year-old Android box. As a result, the hardware will be outdated compared to the newer Android boxes available on the market today.
Below are the Long TV Box Specifications:
Size – 108 x 108 x 25 mm
Operating system – Android 7 OS
CPU – 2.0Ghz
RAM – 1GB DDR3
Storage – 8GB eMMc
Connectivity – WiFi 2.4/5Ghz, Bluetooth 4.1, USB, Ethernet 100MB
Video resolution – 4K
No monthly subscription
Long TV Box Channels
There are more than 300 channels on the Long TV box, which include local TV channels such as:
TV1
TV2
TV3
NTV7
8TV
TV9
Alhijrah
Okey
Pros and cons of Long TV Box
To be honest, buying a Long TV box in 2022 is not that appealing. When compared to newer Android TV Boxes like the Mi TV Stick 4K and Fire TV Stick 4K Max, there are no real advantages to buy the Long TV box.
Pros of Long TV Box:
The device is certified by MCMC and SIRIM
Comes with local live TV channels like TV1, TV2, TV3
A wide variety of free channels are pre-installed, both locally and globally
Pay once, no monthly subscription
Pre-installed karaoke app
Cons of Long TV Box:
Some Long TV Box sellers install illegal apps on it, which makes it haram to use.
Free channels are constantly buffering and lagging
Poor quality free channels
Streaming service lags during peak hours due to poor server performance
Very expensive for outdated hardware
Support 4K streaming but no 4K channel is available
Not support 4K Netflix
Lack of updates
Many advertisements
Long TV Box Common Problems
The common problems faced by Long TV box users are as follows:
Constant lagging
Full of advertisement
Black Screen
Machine stuck
Always required to reset
No Malay subtitles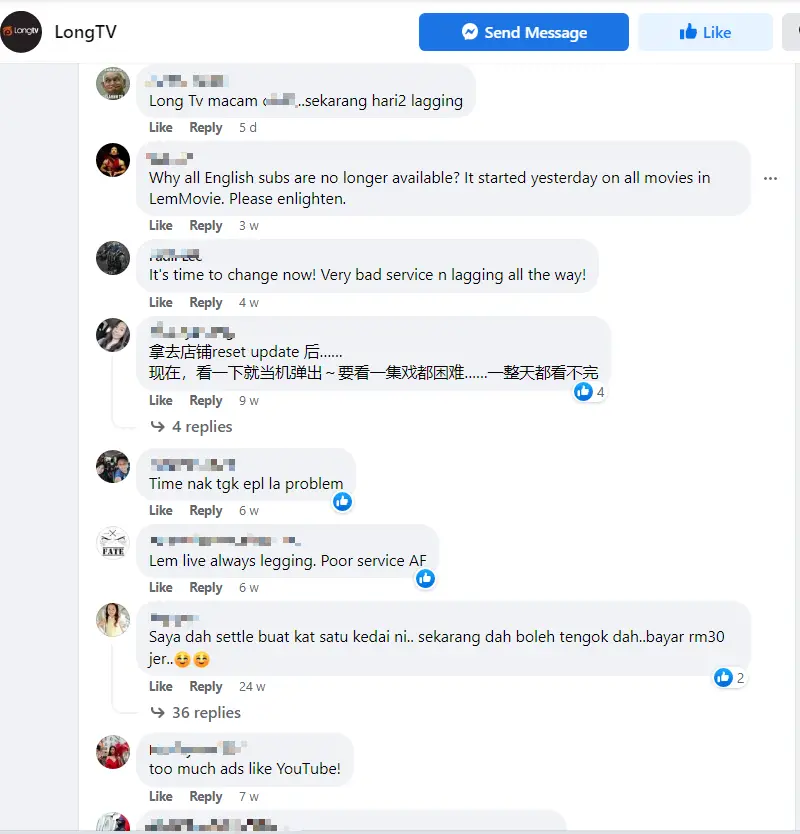 Picture above is taken from Long TV's official Facebook page. As you can see, there are many complaints regarding the streaming service's poor quality.
Conclusion
In conclusion, I wouldn't recommend buying the Long TV box in 2022 since its price is too high for such outdated hardware. You can buy a much better and more powerful TV box for RM400.
In case, you don't mind paying a monthly subscription. You can consider Unifi Box Plus or Astro Ultra Box too.
---
Long TV Box FAQ
Is Long TV Box legal in Malaysia?
Yes, Long TV box is legal in Malaysia. It is certified by both MCMC/SKMM and SIRIM.
How many channels does Long TV have?
Long TV has more than 300 TV channels including both local and international channels. The site claims to have thousands of movies and dramas available for watching.
Is Long TV 4K?
Yes, Long TV support 4K HDR contents. But there's no 4K TV channel that comes with the box.
How do I install Netflix on Long TV box?
Netflix is not compatible with the Long TV box because Android 7 OS is outdated and not compatible with the latest version of Netflix App.
Can I install Netflix on Long TV box?
Yes, but you will not be able to turn it on because the Netflix version is not compatible with Android OS 7.