The rice cooker used to be a one-purpose kitchen appliance. Conventional rice cookers are only used to cook rice.
Today, rice cooker technology has evolved a lot. Modern rice cookers don't just cook perfect, fluffy rice, but they can also cook other dishes like porridge, dessert, and bake cakes.
5 tips to consider when buying a rice cooker
1. Size
A rice cooker's capacity is the most important factor to consider. As a rule of thumb, 1 cup of rice should yield 2 bowls of cooked rice, a 1:2 ratio. So 1 cup of rice should be sufficient for 2 to 3 person.
If you are cooking for a small family of 4, you just need a rice cooker with a capacity of around 3 cups of rice (0.7 to 1.0 litres) will do. 
However, if you have a larger family, then you should get a rice cooker with a bigger capacity, 6 cups of rice (1.0 to 2.0litres) would be sufficient.
2. Type of Rice Cooker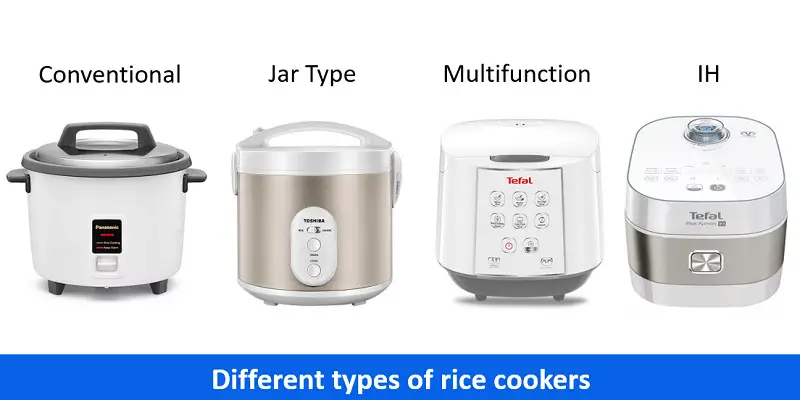 There are mainly 4 types of rice cookers in Malaysia, are:
Conventional rice cookers – Conventional rice cookers come with a removable lid which is made of metal or glass. This type of rice cooker doesn't provide a tight enclosure to ensure a more consistent cooking temperature. It is the worst type of rice cooker.
Jar type rice cookers – Jar type rice cookers come with a fixed lid that provides a good enclosure that results in better cooking results. It usually comes with cooking and keeping warm features.
Multifunctional rice cookers – Multifunctional rice cookers are similar to jar type rice cookers except that they come with more preset programme, scheduling timers.
IH rice cookers – Rice cookers with induction heating are called IH rice cookers. This is the best rice cooker that provides even heating from all directions, so the rice will turn out perfect and fluffy every time. 
Low sugar rice cookers – It comes with 2 cooking pots and mainly uses steam to cook the rice. One pot is used to segregate the rice from the water during the cooking process to achieve the purpose of reducing sugar. 
For most Malaysians, a quality jar rice cooker in the range of RM100 to RM150 from Philips and Tefal will suffice.
I don't encourage buying multifunction rice cookers because usually, we will have to use them to cook rice. Hence, the rice cooker will not be free or can be used to cook other dishes. Instead, you should buy a multi-purpose pressure cooker. So, you have two cooking appliances instead of one.
And lastly, I am against the idea of a low sugar rice cooker. One lab report shows that it has only very marginal benefits. Reducing the serving size of rice for each meal will be more effective. Hence, I don't recommend buying this type of rice cooker because it is impractical and expensive.
3. Cooker Pot Material
I highly recommend everyone to get rice cookers with a non-stick inner pot. 
Different from a non-stick pan, a non-stick inner pot for a rice cooker is hardly damaged. This is because we are using it mainly for cooking rice. So, it is not as prone to damage as a non-stick pan that is used for cooking different types of dishes every day.
It is less ideal to use a stainless steel pot since the rice will stick to it. Cooking will also be uneven.
There is also rice cookers that come with a ceramic inner pot. It is also not recommended because it suffers from the same problems as stainless steel pot.
4. Programme and Feature
Keep warm function is a standard feature in all rice cookers. But some rice cookers can keep warm for 6 hours while others could keep warm for 24 hours. So, it is totally depending on your needs.
As a note, I do not consider multiple cooking programmes to be very critical since I prefer to use my rice cooker only to cook rice. 
By doing so, it is a good way to protect the cooking pot and the rice cooker does not have any residual smell from cooking other food.
Some rice cookers have dedicated settings for cooking different types of rice, like jasmine rice, basmati rice, sushi rice, brown rice and Japanese rice.
There are rice cookers that can be used to stew food, bake cakes and even make yoghurt. Some rice cooker also comes with a timer.
Other than that, there are rice cookers that can connect to WiFi and can be controlled with a smartphone.
5. Price
It is always wise to plan your budget before buying a rice cooker. The price of a rice cooker can range from RM100 to RM1,000+. 
Bear in mind that most people will not use the full feature of an RM1,000 rice cooker. It is not wise to overspend on a single kitchen appliance when you can use the same amount of money to buy additional kitchen ware and electronics.
So, just make sure you purchase the right cooker within your desired budget.