Never heard of air fryer? Or considering to buy a new air fryer after you see this cool looking cookware in your friend's kitchen?
Day by day, there are getting more people who only have induction cooking hob in their houses. Frying food on induction hob is indeed inconvenient compared to using a gas stove. Air fryer that circulates hot air inside a small basket to fry foods becomes an ideal kitchen companion for every modern household in Malaysia.
Air fried food becomes an obvious choice over traditional deep-fried food with oil because the young generation is more mindful of their health.
Keep in mind that air fryers not able to replicate 100 percent of the taste of typical deep-fried food and only capable of frying a certain range of food. However, it does not mean air-fried food necessary taste bad, sometimes it even tastes better.
Not sure whether air fryer is a good investment? I have done the research for you so you can make easier decision.
Best Air Fryers in Malaysia:
The good and bad of air fryers
An air fryer is not the wonder cooking appliance which can cooks all kind of foods. To be honest, it only does well with certain kind of food/recipe and comes along with a bunch of disadvantages. I could not find any honest online reviews on the pros and cons of air fryers.
Those who wrote the reviews definitely never use air fryer or never use it to do any real cooking. In order to let you have a clearer picture, let us look at the downside first.
The downside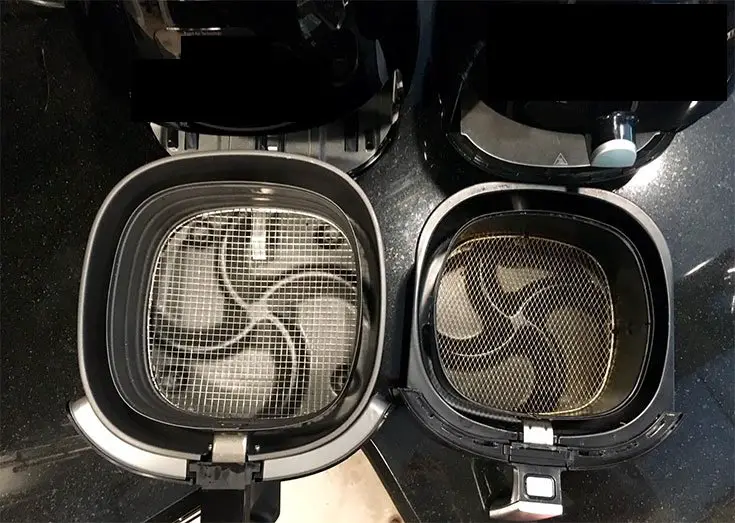 Air fryers are very hard to clean, the basket netting and swirl profile of the container is a pain in the a** to clean. The situation is worse when you are cooking meat, excess oil and grease drips down, dried and stained all over the place during the cooking process.
The non-stick coating is not-so-durable when it is subject to thorough cleaning daily. Some people suggested spraying oil on the basket first before cooking. Some would place the food on a piece of aluminium foil to minimize this grease stain problem.
No one tells you that the heating element above is prone to stain and grease and basically you should clean it every time after you cook before the stain becomes impossible to remove. There is a case where the user cut her finger while trying to clean it.
Some reviews say air fryer does not fill up your house with the smell of food which again is a lie. There is an air vent for every air fryer for them to vent out the smoke produced.
Most air fryers are only good for a small family, it can only cook a small portion of food.
The air fryer has its limitation of what it is capable to cook, thus the reason most will give air fryer's recipes as a complimentary gift.
A quality air fryer is not cheap at all.
The upside
Real cooking has never been easier.
It really tastes great and healthier compared to the traditional way of frying.
Cooking is speedy and convenient.
Should you buy it?
Overall, I feel the advantages of using an air fryer outweigh its disadvantages because my family are literally using it daily to prepare meals.
Take out a slice of salmon (or chicken tenders) from the fridge, clean it, sprinkle some salt and pepper, pop into air fryer, 7-10 minutes later you get a piece of juicy and mouth-watering, perfectly done salmon fillet. You may not even realize that you're such a talented chef before. It's that easy.
What's more important than good food for a Malaysian? People are queuing for hours just to get a meal at some famous restaurants. So, I still recommend people to get good air fryer if they can afford it to save time and money rather than always eating at fast-food chain and restaurant.
1. Tefal Fry Delight FX1000
Best cheap air fryer
Tefal fry delight FX1000 is the  best value for money air fryer that give 2 years warranty. It helps you to cook food nice and crisp without masking a fuss.
The Tefal Fry Delight FX1000 is the best air fryer which I highly recommend for any small modern family.
Tefal has been a household name for many years that even my parents recommended me to buy their product when I was moving into my new house. Unlike other competitors, this air fryer actually comes with 2 years warranty. In fact, only a handful of big brands that confident enough to give 2 years warranty for cooking appliances.
The design of Tefal Fry Delight is different from other air fryers which most look like a fat oil barrel. It's more squarish and looks stylish in a white colour accent. The square design is more space-efficient for your limited countertop space.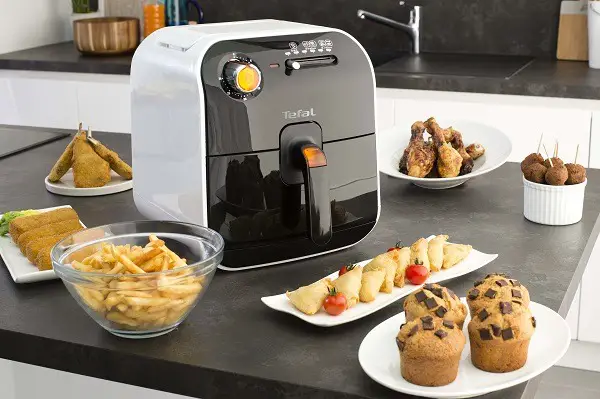 Personally, I will only recommend people to buy 0.8kg to 1.2kg capacity air fryer because air fryers are meant for a tasty quick bite. Serious cooking should be done in a more traditional way.
Big air fryer is very bulky as well. Preparing a large portion of food with air fryer usually resulted in poor results as the food closest to the heating element tend to be overcooked. Air circulation also will not be efficient when you are overfilling into the basket. Users may have to take out the basket in the middle of a cooking process and manually flip the food to ensure they are evenly cooked.
Thus, 0.8kg to 1.2kg capacity is the most ideal size.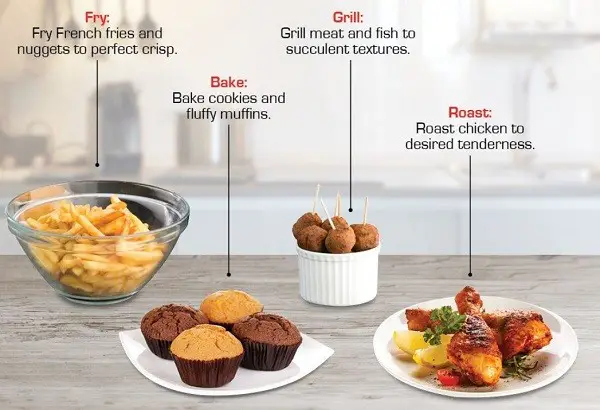 Tefal Fry Delight is capable of fry, bake, grill, and roast. Air fryers are especially good and convenient for cooking frozen food, like french fries, nuggets, hot dog, fried wings etc. You don't have to defrost the food, just put them into air fryer and start the cooking.
More than often, the results are better than oil frying. The food will come out nice and crispy similar to oil frying but juicier and healthier. I often use air fryer to prepare chicken thigh, steak, salmon fillet, and wings. Everything tasted great and delicious.
This model has a 30 minutes timer and 200 degree Celsius maximum temperature. Both are controlled via the analogue dials which sit on top of the air fryer. I am biased towards analogue control because I feel they last better than the digital one.
The basket and frying pan are detachable to make cleaning works easier. Frankly, everyone just copying and stealing the air fryer pioneer-Philips' on this feature.
Overall, this air fryer is an attractive pick for anyone looking to get a quality product that performs well and cooks healthy delicious meals.
2. Philips HD9643 Air Fryer
Best premium air fryer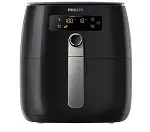 Philips HD 9643 air fryer is the best premium air fryer that built to last, stylish, efficient, convenient and also comes with 2 years warranty.
Philips air fryer is the pioneer, the holy grail, the pinnacle, it is "The Air Fryer". It is similar to Tesla for electric cars, Dyson for cordless vacuums, Ikea for DIY furniture, no one can dethrone them.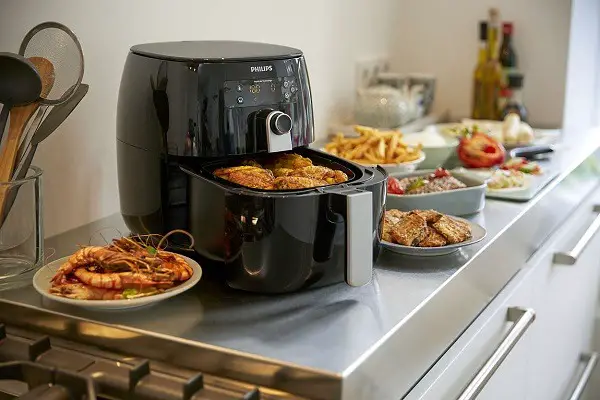 I myself own an older version of Philips air fryer but I don't recommend Philips as the best purchase due to its high price tag.
This new model is equally stylish compared to Tefal's but in a more modern & digital accent. Although the exterior is all plastic, it is overall very well built that can last.
Philips HD9643 is as good as, if not better than Tefal Fry Delight. It has the signature "starfish" at the bottom of the container to improve air circulation. Foods are almost guaranteed come out in golden brown colour and crispy. Philips has upgraded this model to include quick dial buttons for cooking pre-set popular dishes. It also has a unique keep-warm function for up to 30 minutes after cooking.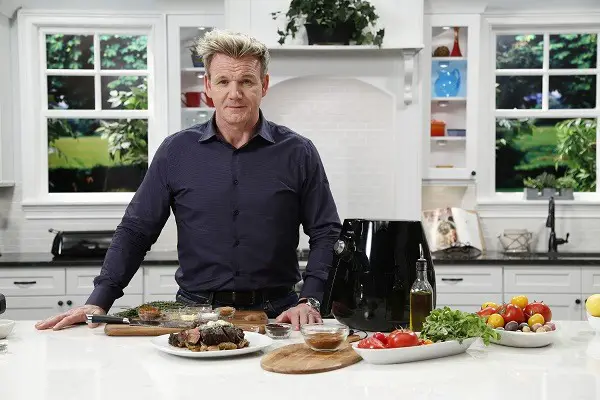 You can't go wrong with the Philips air fryer when it is endorsed by one of the most meticulous demanding Michelin Star Chef, Gordon Ramsay. There is one major downside with Philips HD9643 air fryer, it is the expensive price tag which double and sometimes triple of its competitors.
The Verdict
There are cheaper Philips old models air fryer like HD9220 & HD 9621 but I simply don't recommend them because there are age-old models that Philips may soon no longer produces.
There are many brands selling air fryers on Lazada and Shopee, like Russel Taylor, Airbot, PerySmith, Hetch, Faber and many more. I could not really comment much on it.
As a wise consumer, I would rather top up additional RM100++ to get a reliable branded air fryer.
Also, check out our awesome kitchen shopping list that covers the best gas stoves, ovens, induction cookers, rice cookers, pressure cookers and coffee machines.