An air fryer is a great addition to the kitchen, allowing you to cook faster and more healthily. First-time air fryer buyers often don't know how to choose the right air fryer.
There is no definite answer for which is the best air fryer because there are many features and brands to choose from. Here are my 6 most important tips to consider when buying an air fryer.
Types of air fryer
Cooking capacity
Footprint
Additional cooking features and air fryer accessories 
Digital timer and temperature control
Dishwasher safe
---
1. Types of air fryer
Air fryers actually don't fry food. Instead, the air is heated and blasted inside the basket to cook ("air fry") the food quickly.
The heating principle is similar to a convection oven. Hence, they can also be used for baking cakes and bread. There are mainly 3 types of air fryers in the market: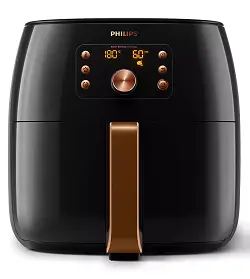 Air fryers with a pull-out tray/ basket air fryer – the most famous model would be the Philips air fryer series. Users put their food into a cooking basket then slot it into the air fryer to start cooking. If users wanna check the cooking condition, users will need to pull out the basket while it is in the middle of cooking.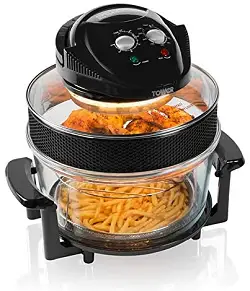 Air fryers with a bowl – this type of air fryer usually shaped like a rice cooker but bigger and bulkier. It usually has a viewing window in the lid so you can check the food while cooking.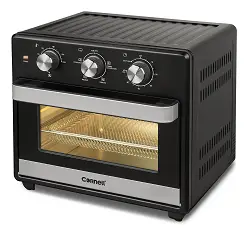 Air fryer oven – As the name implies, it is similar to a conventional toaster oven. It has a front door with viewing windows. There is one significant difference between an air fryer oven and a normal basket air fryer. The air fryer oven usually has multiple levels of frying basket and pans. This allows you to cook different foods simultaneously. 
Each of these air fryers cooks the food slightly different and have their own pros and cons. Get the best air fryer that suits your needs.
2. Cooking capacity
Overestimating the cooking capacity of an air fryer is probably the number one mistake of most first-time air fryer buyers. 
In Malaysia, air fryer capacity is usually measured in litres.
A 3L (litres) air fryer can only cook for one or two people. You may end up with uncooked or half-cooked food if you overfill or overstuff the air fryer basket.
An air fryer of 5L capacity can serve a small family of up to 4 people. If you want to use an air fryer to cook for events, you'll need one that is at least 10L. 
If you always have to cook for guests or host events, you should invest in a good oven instead of an extra-large air fryer
Here's a quick air fryer capacity guide vs. numbers of servings:
| Air Fryer Capacity | Serve size |
| --- | --- |
| < 3 litres | 1 to 3 persons |
| 5-8 litres | 4 to 6 person |
| >10 litres | 6 to 8+ persons |
There are, however, many air fryers that overstated their cooking capacity (as much as 25% more), so if possible make sure you check out the basket measurement too
3. Footprint
Air fryers are usually placed on the kitchen countertop. And this thing is huge if you compared it to any other electric kitchen appliance like the kettle, blender or coffee machine.
Make sure you buy an air fryer that fits in your kitchen. Although they are usually quite portable, they require a permanent space, just like a convection oven or microwave oven. Without a permanent spot for the air fryer, it will most likely be underutilized.
Always check the exact dimension, width x length x height of the air fryer before you proceed to buy one.
4. Additional cooking features and accessories 
Typical air fryers come with only a basket and no additional accessories. It is so simple and that's the reason I love using it. 
However, this might not satisfy everyone. Some people want their air fryers to have as many functions as possible.
Some of the latest air fryers have come with multiple cooking functions, including:
Multiple cooking zone/tray/twin basket – can cook different food at the same time
Automatic stirring – no need to pull out and shake the  basket halfway through your cooking process
Rotating basket/bowl – Some bowl air fryers have rotating baskets so that your food cooks evenly
Rotisserie – Some big air fryer has this accessory that lets you spin roasting and grilling a whole chicken. 
Dehydrator – There are air fryers that can double as a dehydrator with proper temperature and timer settings.
Personally, I only cook one dish at a time. So, I do not find the features like multiple cooking zones and rotisseries useful.
Knowing what's your priority is important to help you to decide which air fryer to buy. After you get your air fryer, make sure to check out my 15 best air fryer tips article.
5. Digital timer and temperature control
Most of the more expensive air fryer models are using a digital timer and temperature control. It lets you control the temperature and cooking process more accurately.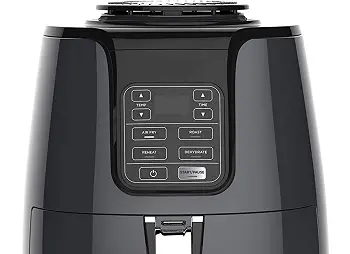 Digital control is especially useful for anyone using air fryers to bake cakes and cookies. A digital air fryer also usually comes with a preset cooking menu, automatic temperature control feature. So, it helps you to cooker easier.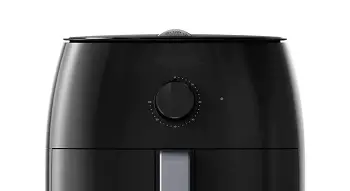 An analogue air fryer the turning knob control for time and temperature setting is not necessarily bad. You can quickly turn to the temperature and time required. And it is not relying on any digital parts so it probably should last longer.
Additionally, it is less likely to suffer from electronic issues, such as a short circuit or a malfunction of the digital control.
6. Dishwasher safe
A dishwasher is still not that common in Malaysia. In recent years, many people, especially millennials and Generation Z, are getting a dishwasher for their kitchens.
If you're one of them, you may want to make sure the air fryer is explicitly stated as dishwasher safe. Otherwise, the air fryer could be damaged by the high temperature and strong detergent of the dishwashing process.
Other less important air fryer features
Other reviewers consider certain aspects or features to be important, but I disagree. Still, I have made a list here for your reference.
Noise – To begin with, cooking is a noisy activity. A pressure cooker and microwave oven are probably a better option if you want something that is quieter.
Power rating – Some reviewers recommend getting a high power-rating air fryer. It is not very important. Air fryers typically operate between 1000 and 1700 watts. Most air fryers have no problem in air frying frozen fries, nugget, chicken breast, salmon, onion rings, and steak. If you really need fast heating, then you can get the higher power-rating model.
However, bear in mind that any high-temperature cooking method including air frying can form Acrylamide. Acrylamide is found to cause cancer in animals in studies where animals were exposed to a high dosage of acrylamide.
Preset cooking menus -Another not important feature, the number of menus available are irrelevant if you're not going to use all of them. Quantity does not matter in this case, but quality does.
Conclusions
That concludes my air fryer buying guide for Malayans. Air-fried food has less fat than deep-fried food since little oil or no oil is used in the cooking process. Nevertheless, one should not only eat too much friend.
Check out my 10 best Malaysian air fryer recipes. You can also cook fish, chicken, and steak with the air fryer.
.