Both washing and ironing clothes are house chores which almost inevitable. Although they are not the most tiring, it often takes quite a bit of time to do them. A modern steam iron can help us to make ironing relatively easier, faster and better.
Panasonic NI-W950ALSK is the best value steam iron we recommend to buy. If you can afford to spend more, Philips PerfectCare Elite GC9630 is the best premium steam generator iron in Malaysia.
Let's find out our list of 7 best steam irons as below:
Pros and cons of steam irons:
Before we dive into the steam irons reviews, check out the pros and cons of steam irons compared to a normal clothing iron (without steam):
Pros:
Get smooth clothes at a shorter time
High pressure steam to tackle stubborn wrinkles
Proven safe for even delicate fabrics
Cons:
More expensive
Slightly heavier
How to Choose a Good Steam Iron
Type of soleplates:
 There are soleplates made of anodized aluminium, ceramic, nonstick coating and stainless steel. Stainless steel soleplate is the best for its durability and good heat-conducting characteristics.
Types of steam irons:
There are three types of steam irons which are steam irons, steam generator irons and cordless steam irons. Steam generator irons come with a dedicated steam generator base which that can generate huge volumne of steam more effectively.
And also just a reminder that steam irons are totally different from a garment steamer.
Useful features:
Safety features like autopower-off to avoid burning. Variable steam gauge is good for controlling how much steam you wish to use for different fabrics.
1. Panasonic NI-W950ALSK Steam Iron
Best Value Steam Iron in Malaysia
---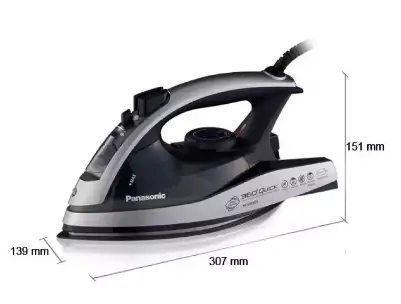 Panasonic NI-W950ALSK is the best conventional steam iron. It has a large water reservoir and emits steam nicely.
✔ Separate control for steam
✔ Adjustable steam amount
✔ Steam surge for removing stubborn wrinkles
✔ 3-meter long cord
✔ Automatic shut off
---
We highly recommend Panasonic NI-W950ALSK conventional steam iron because it offers a great set of features. It generates strong steam, big water tank, anti-drip system, and super convenience with its 3 meters long cord.
The NI-W950A is the most versatile 2400W iron in its price range. The soleplate is made of double-headed anodized aluminium.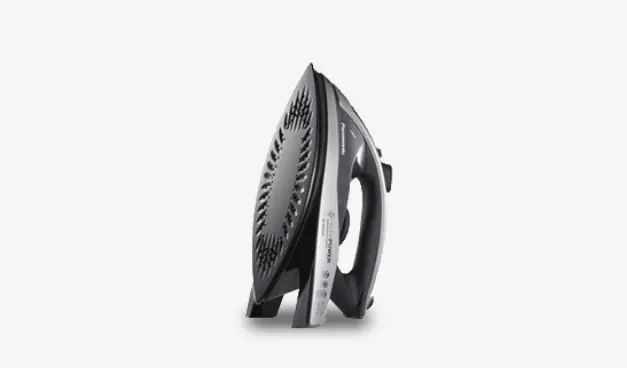 As you can see, the soleplate is designed to be pointed at both front and back so users can glides across clothing in any directions.
Just to note that the iron is slightly on the heavier side at 1.5kg. But the handle is ergonomically designed for comfort and it is shaped to achieve balance fo weight and form.
NI-W950ALSK comes with hundred of steam vents to emit a strong and even jet of steam to remove even the most stubborn wrinkles and creases.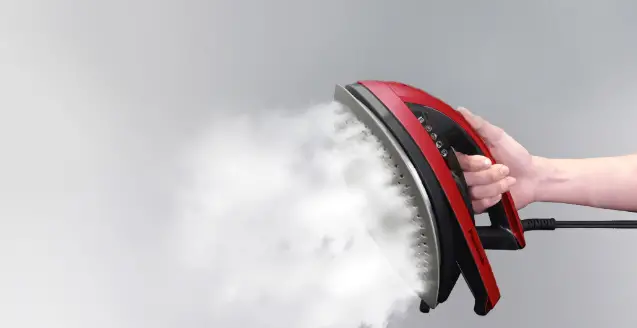 The steam system has anti-drip, anti-calcium build-up, self-cleaning so users will have to worry less on the steam getting clogged over time.
For its safety feature, NI-W950ALSK has an auto shut off detection that prevents burning. The 3m cord let users iron with confidence and convenience without being restricted by cord length.
This Panasonic steam iron comes with a 1-year warranty. Buy Panasonic NI-W950ALSK now.
2. Panasonic U-Series NI-U600CASK Steam Iron
Best Budget Steam Iron
---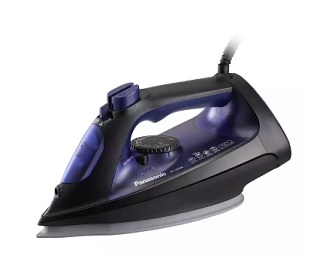 Panasonic NI-U600CASK is an affordable basic steam iron that works good enough for most conditions.
✔ 20% bigger than usual soleplate
✔ Anti-drip function
✔ Auto shut off feature
✔ Affordable
✖ Continuous steam can feel weak at times
---
Panasonic NI-U600CASK is a great cheap steam iron. It is ergonomically designed with a bigger than usual soleplate. And it comes with 2300W power.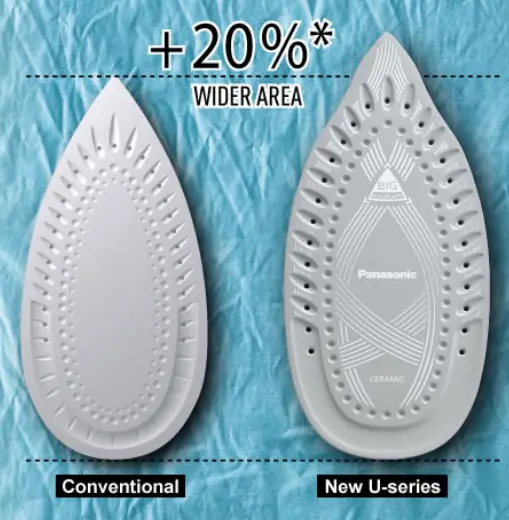 This U-series has a soleplate with 20% wider area – faster. It has 300ml water tank capacity. 27 vents pumping steam along the U-shape groove, ensuring wider coverage with even distribution of steam.
The curved ceramic coated soleplate – avoid fabric bunching up when ironing, eases ironing. The tip of the soleplate is precisely pointed to enable reaching narrow and tougher to reach places.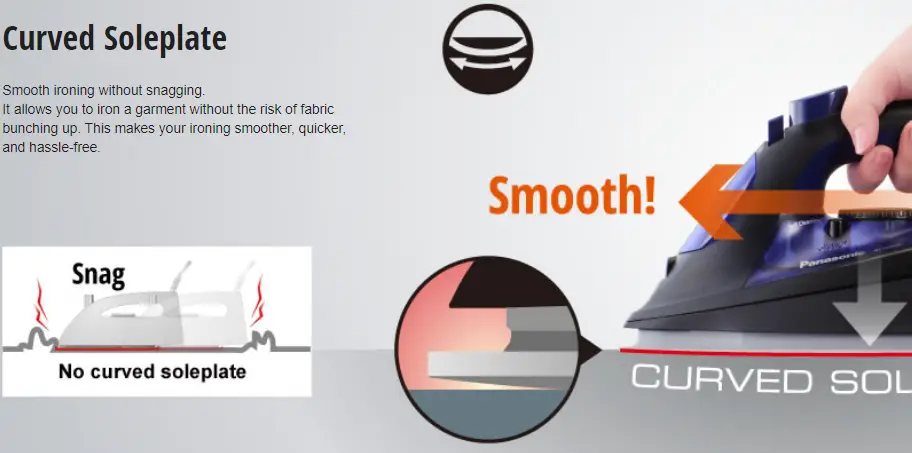 It has a power shot steam system that sprays high pressure concentrated steam (130g/min) for stubborn clothing wrinkles. Uses micro-spray, so smaller particles are able to penetrate deeper into the fabric, especially linen and cotton.
This budget steam iron comes with anti-drip function and auto turn-off after 1 min facing downwards, 10 mins when vertical.
It also has calcium metaphosphate in the inner water tank prevents lime scaling. Using Power Shot, whatever remaining water and limescale in the steam holes will be removed completely.
It has a 1-year local manufacturer warranty. Buy Panasonic NI-U600CASK now.
3. Philips PowerLife Steam Iron GC2998
Another Cheap Steam Iron Choice
---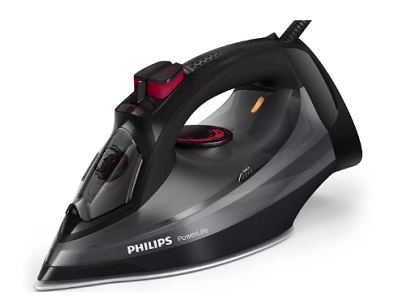 ---
Philips PowerLife Steam Iron GC2998 is the cheapest steam iron pick with 2400W power. This iron can heat up real fast and irons faster with 2x more steam.
With a 320ml water tank capacity, this iron is able to provide 45g/min with a boost of 170g. You can also use this Iron as a pseudo garment steamer.
The SteamGlide soleplate is anti-scratch and long-lasting. Additionally, it has a built-in calc-clean to remove calcium build-up to ensure optimum and long-lasting performance.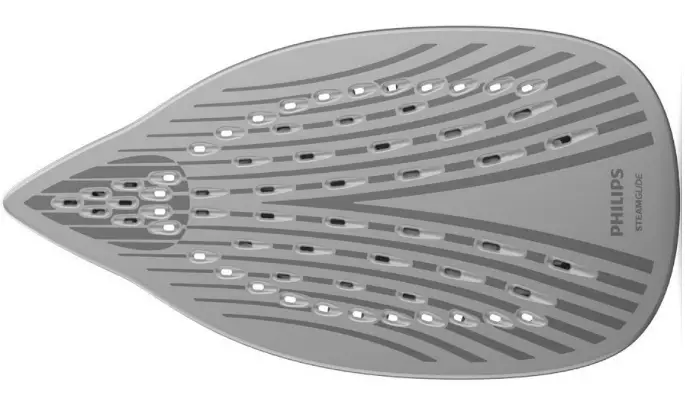 Refilling is easy via its extra-large filling hole.
The automatic shut off is triggered when left unattended (8 mins when left vertical, lying flat after 30s motionless). It also has drip-stop function prevents water droplets causing a stain.  
Philips iron has 2 years of international manufacturer warranty. Buy Philips PowerLife Steam Iron GC2998 now.
4. Philips PerfectCare GC7808 Steam Generator Iron
Best steam generator iron
---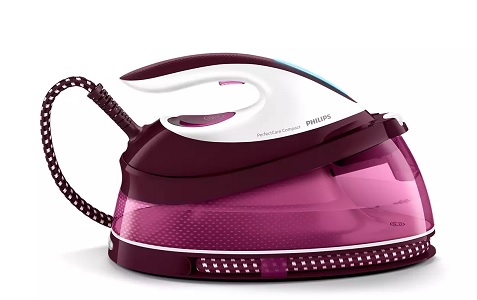 Philips PerfectCare GC7808 is a compact and powerful steam generator iron.
✔ Compact size
✔ Woolmark certified
✔ Antiscratch soleplate
✔ Eco mode
---
In general, steam generator iron has a separate steam generator base to produce more steam. The great thing with this Philips PerfectCare GC7808 is its compact size. It is able to sit on an average ironing board cradle.2w2
Its 1.5L water tank holds is non-detachable from the steam generator making it a bit hard to clean. Users can use tap water with it and there is a large opening for easy water refill.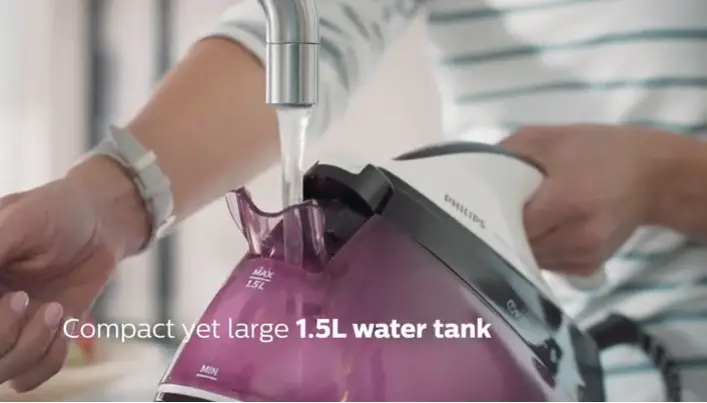 The continuous steam from this iron is measured at 120g/min can handle most of the wrinkle and thick fabrics.For stubborn creases, an extra steam boost of 280g can be used to remove them immediately.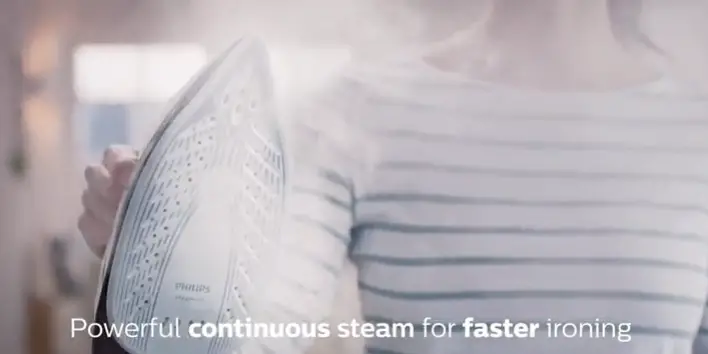 Similar to other Philips steam generator irons range, this model also has OptimalTemp technology which there are no temperature settings needed. You don't have to bother to keep adjusting the iron's temperature for different types of fabrics. This iron will handle it all for you, from ironing jeans, cotton to silk.
In addition to this, the iron will never cause any burns, or any shine on your fabric.
Philips steam generator irons are the first and only iron to have earned the Woolmark Gold seal certification (safe to use on any wool fabric). We have previously explained Woolmark certification on our washing machine recommendation guide.
Other notable features of this steam generator irons, including:
Energy-saving eco mode
SteamGlide soleplate that is scratch-resistantx
Smart calcium descaling and cleaning
Safety auto-off
This is a solid buy for those of you who wish to try steam generator iron. And it has 2 years worldwide warranty. Buy Philips PerfectCare GC7808 now.
5. Philips PerfectCare Elite Steam Generator Iron GC9630
Best Premium Steam Generator Iron
---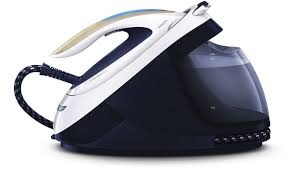 ---
Compared to the GC7808, GC9630 has a larger water tank, higher watttage at 2700W and a very convenient descaling system. It is suitable for anyone with heavier laundry needs.
This iron is ultra-light which only weighs at 0.8kg, much lighter than conventional steam iron.
Another key advantage is the detachable 1.8L water tank enables ease of refilling and cleaning when needed. The filling hole is large enough and you can use continuously use up to 2 hours.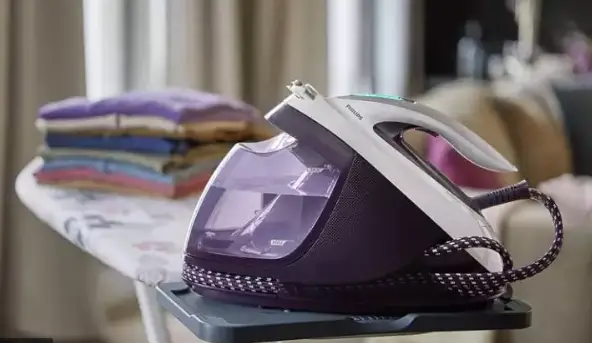 This iron pumps out steam at an impressive high-pressure 120g-135g/min. With the press of a boost button, it can spray up of 470g of steam that can flatten most creases.
The Philips PerfectCare system does not require users to adjust the temperature, thanks to OptimalTEMP technology. It intelligently controls the temperature so that there will be burning occurs.
GC 9603 comes with Philips' most premium soleplate, T-ionic Glide which is a stainless-steel base that is more superior than the usual anodized aluminium. Furthermore, the stainless steel is integrated with a titanium oxide layer for improved scratch resistance.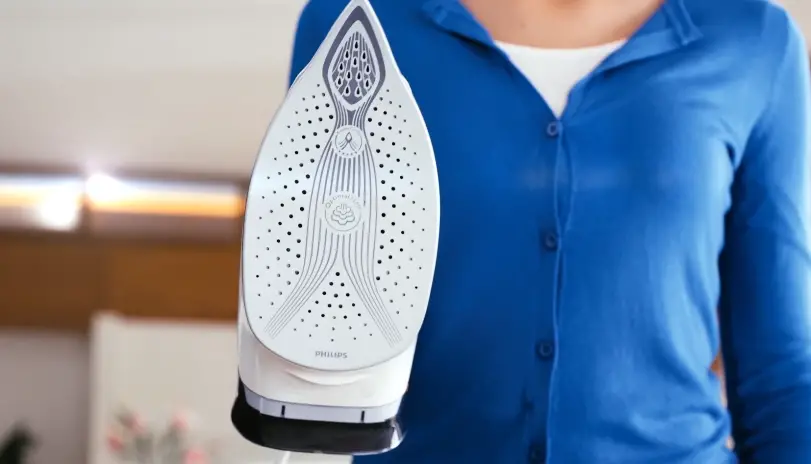 This iron has Easy De-Calc Plus lime descale function ensures regular descaling to rid of lime scale and thus protects your steam generator iron.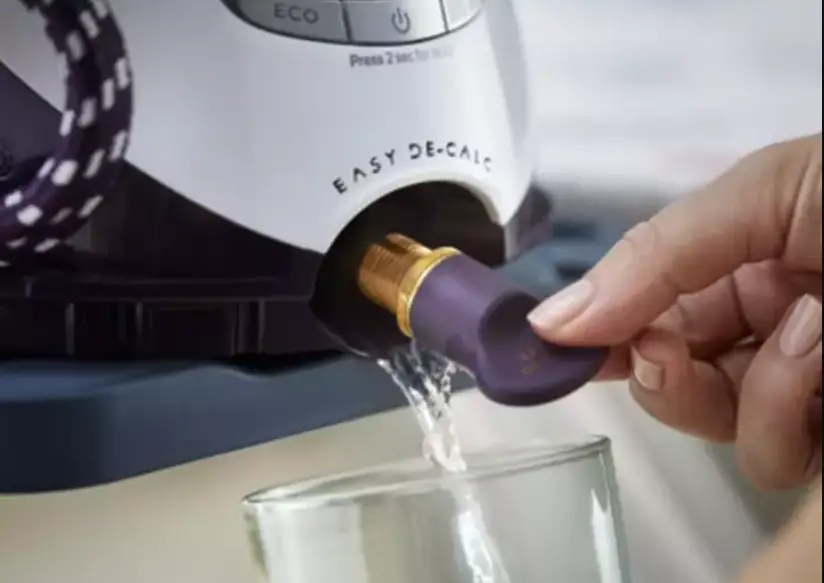 Philips PerfectCare Elite GC9630 is over the top steam generator iron. comes with 2 years international warranty. Buy GC9630 now.
If you are interested with the latest model, check out my hands-on review on Philips PerfectCare 9000.
6. Tefal Fasteo SV6040 Steam Generator Iron
Best Cheap Steam Generator Iron
---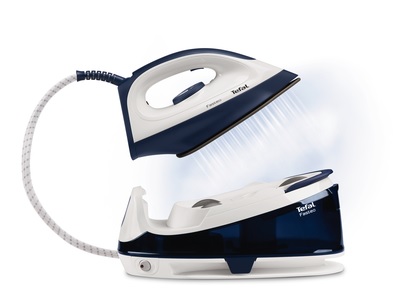 ---
Steam generator irons are generally expensive but Tefal's Fasteo steam generator iron is available at less than half the price of its competitors – around the same as normal steam irons. It sports a compact design to enhance convenience.
With a 1.2L water tank, there's no need to keep refilling and you can iron continuously on a large pile of laundry.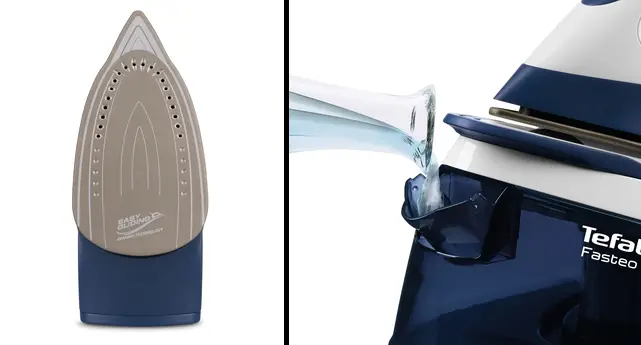 Its ceramic soleplate ensures effortless glide when ironing. The ECO mode reduces steam to help save energy.
This iron rapidly heats up within 2 minutes. The normal steam pressure is 100g/min along with the steam boost (180g/min) ensures that even the stubborn creases will be flattened. Steaming can be done vertically for suits, delicate fabrics and curtains.
Wtih the lower pricing, it comes with few distinct compromises compared to Philips steam generator irons:
No auto-off
No anti-drip
No empty tank alert
No dedicated power cord
Less well-distributed steam vent
Need to manually control temperature for different fabrics
This product comes with 2 Years local manufacturer warranty. Buy Tefal Fasteo SV6040 now.
7. Panasonic NI-WL30VSK Cordless Steam Iron
Best Cordless Steam Iron
---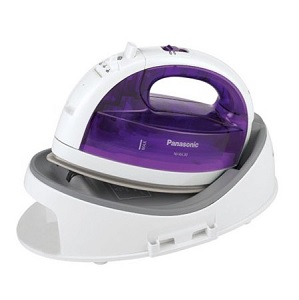 Panasonic NI-WL30VSK is a cordless steam iron that works like a charm.
✔ Multi-directional soleplate
✔ Anti-drip soleplate
✔ Cordless
✔ Affordable
✖ Weaker steam output
✖ No auto shut off
---
Going cordless is the trend for most electronics now. We have cordless vacuum, cordless earphone, cordless speaker, cordless charger and many more. And now we have cordless steam iron!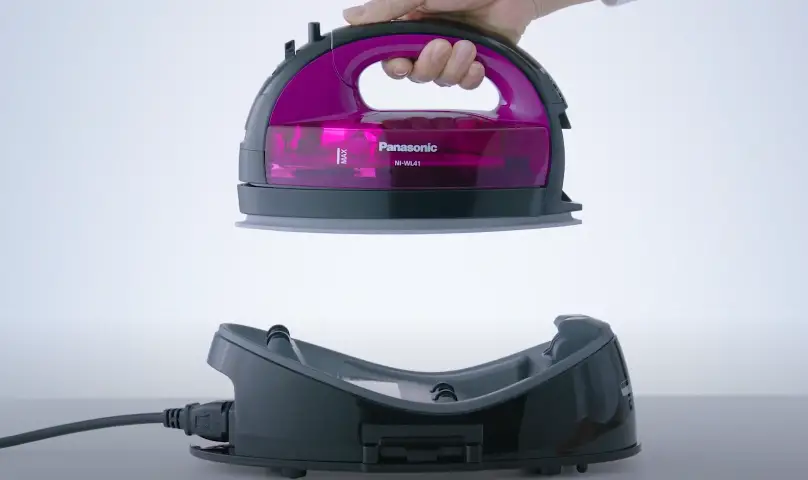 Panasonic NI-WL30VSK cordless steam iron is relatively new in the market. It has a charging station for heating up the iron.
For cordless steam iron, users have to repetitively dock the cordless iron on its base in order to use it. It can be cumbersome to use if you need to iron a large volume of clothes.
Also note that the steam output is also much weaker at only 10g/min, which is totally expected and understandable for being cordless.
Their main advantage is users do not have to be bothered by the power cord anymore. Ironing, changing direction, repositioning are smooth and easy.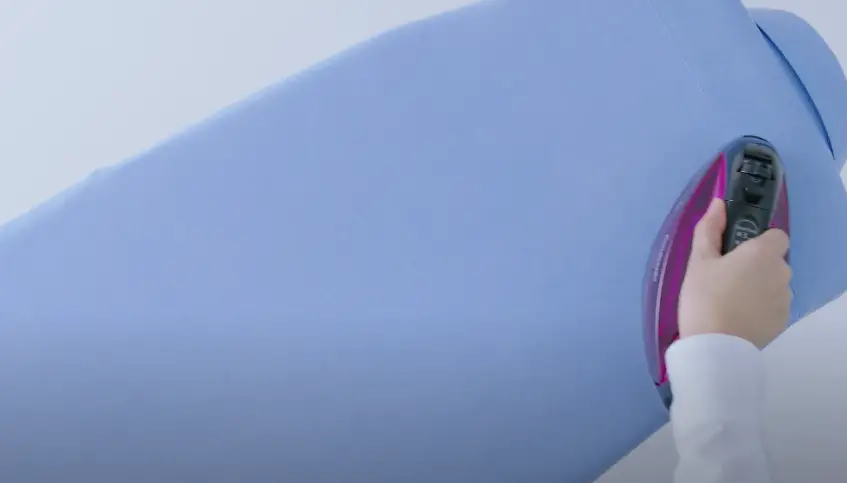 This cordless iron is worth to try out if you want to be the forefront of technology adopter. Moreover, it doesn't cost an arm or a leg. It comes with a 1-year warranty. Buy Panasonic NI-WL30VSK now.
Conclusion
Based on this round of steam iron reviews, we found that Philips and Panasonic to be the two most reliable brand for clothing iron. Comment below and let me know.
If you hate to do house chores, you can consider upgrading your cleaning tools and equipment. Check out our reviews on the best washing machines, cordless vacuum and vacuum robot.
References:
Philips Malaysia – https://www.philips.com.my/c-m-ho/ironing
Panasonic Malaysia – https://www.panasonic.com/my/consumer/home-appliances/irons-garment-steamers.html
Tefal Malaysia – https://www.tefal.com.my/Linen-Care/c/linen%2Bcare