Nowadays, security cameras and CCTV are very affordable. As wireless technology becomes more prevalent in CCTV cameras, it is easier than ever to DIY to install them at home and office.
We no longer have to deal with complicated wiring works. Just plug in the wireless security camera into a power outlet, connect to WiFi and it is ready to start monitoring.
A good CCTV camera should be able to record clear and sharp video as well as comes with an app that provides easy monitoring. Listed below are the best wireless CCTV cameras which fulfil these 2 criteria.
Comparing the top 7 wireless CCTV Cameras in Malaysia
| Model | Video Res | WiFi | Monitoring App | PTZ | Warranty |
| --- | --- | --- | --- | --- | --- |
| Mi IP Camera 2K Pro | 1296p | 2.4Ghz,5Ghz | Smartphone | Yes | 1 year |
| TP-Link Tapo C210 | 1296p | 2.4Ghz | Smartphone | Yes | 2 years |
| SriHome SH038 | 1440p | 2.4Ghz,5Ghz | Smartphone,PC | Yes | 3 months |
| SriHome SH029 | 1296p | 2.4Ghz | Smartphone,PC | No | 3 months |
| Xiaomi Imilab EC3 | 1296p | 2.4Ghz | Smartphone | Yes | 1 year |
| TP-LINK TAPO C320WS | 1440p | 2.4Ghz | Smartphone | No | 2 years |
| Xiaomi Imilab EC2 | 1080p | - | Smartphone | No | 1 year |
---
Best Overall Wireless CCTV Camera
Mi Home Security Camera 2K Pro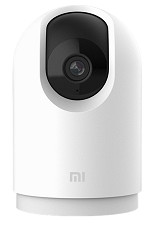 Best deal on Lazada Best deal on Shopee
Mi IP Camera 2K Pro Specifications:
360 degree rotation
2K resolution
HD night vision
3MP camera
AI Human detection
Two way Audio
Support 2.4Ghz and 5Ghz
Reasons to buy:
2K Video Resolution
2 Ways Audio
Support 5Ghz WiFi connection
Xiaomi Smart Home Ecosystem
The Xiaomi 2K Pro is the best overall wireless home security camera because of the Xiaomi Smart Home Ecosystem and its 5Ghz WiFi Connection.
Xiaomi is undeniably the leading brand in smart home appliances. It has a wide variety of smart devices including a smart robot vacuum, air purifier, door sensor, doorbell, rice cooker and more. 
By using Mi Home Security Camera, you can control all of your smart devices using only a single app, the Mi Home App. For example, you can easily connect the Mi Security Camera to a Mi Smart clock as a video display.
The Mi Security Camera 2K Pro is also notable for its 2.4GHz and 5GHz wireless compatibility. Most wireless security cameras are only compatible with 2.4Ghz. 
For your information, 5Ghz WiFi has a faster transfer speed than 2.4Ghz. In addition, 5Ghz has dozens of WiFi channels compared to 2.4Ghz, which has only 11 channels. 
Thus, 2.4GHz's WiFi channel is often congested and subject to interference from nearby WiFi networks. This results in laggy video playback and more buffering. So, supporting a 5Ghz WiFi channel is a huge advantage for an IP camera.
Apart from those 2 main factors, the Xiaomi Security Camera 2K Pro itself is a very capable CCTV camera. It can rotate at  360 degrees and can be tilted 118 degrees vertically. It is a full pan-tilt-zoom(PTZ) camera with no blind spots.
The video is recorded in a resolution of 2304×1296 (almost 2K quality). For nighttime or low-light monitoring, it uses 940-nm infrared light with no visible red glow. It is common for CCTV cameras to use infrared which glows red and can be quite disturbing.
If you want the best playback experience and better smart home integration, I think it is worth it to spend a bit more to get this Mi 360 Home Security Camera 2K Pro. It is only RM50 more expensive than the standard version and you get plenty of useful upgrades. 
---
Best Value 2K Wireless Security Camera
TP-Link Tapo C210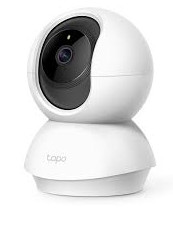 Best deal on Lazada Best deal on Shopee
TP-Link Tapo C210 Specifications:
360° horizontal, 114° vertical
Default in English language
Good app user interface
3MP camera, 2K resolution recording
2.4Ghz WiFi only
850nm infrared
2-way audio
Reasons to buy:
App UI is great and easy to navigate
High video quality recording
Default language is English
Tapo is a new smart home product brand by TP-link. It was first launched back in the year 2019 to branch out from their WiFi router business.
TP-Link Tapo C210 uses a totally identical design to the Mi 360 camera. It is a pan-tilt-zoom 360-degree wireless security camera with a built-in microphone and speaker.
The Tapo C210 uses a 3MP camera and an improved 1/2.8" sensor. This results in a more detailed and clearer video recording than Tapo C200. 
Be aware that the 2K recording size will also be much larger than 1080p. If you intend to always record in 2K, it is good to get a 256GB microSD card so that it gets re-write less often. And it won't wear out so soon.
TP-link Tapo app is one of the best IP camera apps available. It has an intuitive and clean interface. It does not contain any advertisements. You can easily switch between multiview viewports which let you monitor several areas simultaneously.
The video playback on the Tapo app is also very smooth and responsive. The camera has motion-detection recording, which records only when motion is detected, which effectively reduces storage use.
Do note that the Tapo C210 uses a barrel power connector instead of a micro USB port.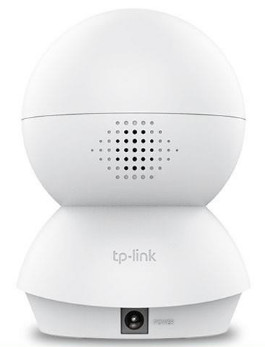 In my opinion, the barrel power connector is slightly less convenient especially when you need an extension or replacement cable whereas a USB cable is so common nowadays.
However, it shouldn't cause too much trouble as long as you have a power source located nearby where you want to install the CCTV camera. The 5 meters long cable provided in the box should be sufficient in most conditions..
Overall, TP-link Tapo C210 is a great wireless CCTV camera with a very good Tapo App. And most important, English is its default language, which is great for users of all languages. The Mi 360 cameras are usually in Chinese, which is less convenient for users who don't speak Chinese.
---
Best Wireless CCTV For Office & Warehouse
SriHome 2K CCTV SH038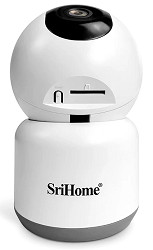 Best deal on Lazada Best deal on Shopee
SriHome SH038 Specifications:
4MP image sensor
2560×1440 resolution
InfraRed night vision
Support pan, tilt, zoom
Two way voice intercom
Built-in LED lighting
Support 2.4Ghz and 5Ghz WiFi
3 months warranty
Reasons to buy:
Support 2.4Ghz and 5Ghz WiFi
Built-in LED light
Sricam smartphone and PC app
Reasons to avoid:
SriHome SH038 is a very compelling alternative to Mi Home Security Camera 2K Pro. It offers most of the features that Xiaomi has but at a 40% cheaper price.
It uses a 4MP camera that can record videos at 2560×1440 resolution (real 2K resolution). It has InfraRed night vision as well as a low-light colour mode.
On top of that, it has built-in LED lighting which can be used to illuminate a dark room. This is especially useful for small offices or warehouses which want to record full-colour videos at night.
Unlike Xiaomi or TP-link cameras which can only be checked using a smartphone, Srihome has a dedicated PC app and smartphone app for monitoring all the CCTV installed. The apps are good with all the basic functions and can monitor 4 screens at the same time.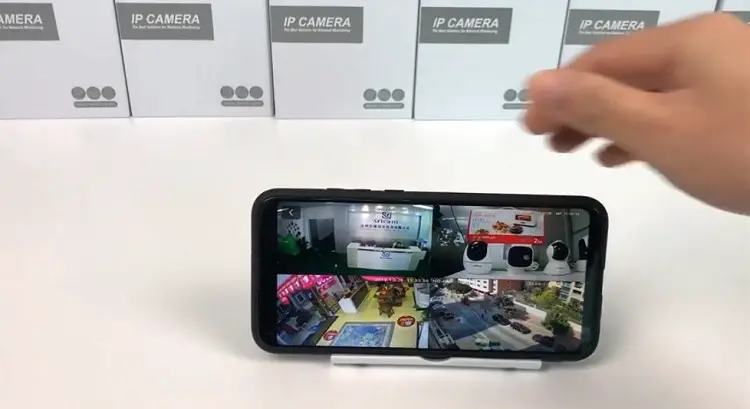 The SriHome SH038 also supports dual-channel WiFi. It is compatible with both 2.4Ghz and 5Ghz WiFi to ensure stable video playback.
The SriHome SH038 is a great 2K IP CCTV for only RM110. Do note that it has a very short warranty period of only 3 months which gives a feeling that the sellers are not confident with the product. 
---
Cheap 2K Wireless IP Camera
SriHome SH029 CCTV Camera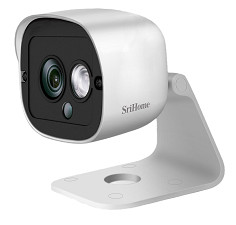 Best deal on Lazada Best deal on Shopee
SriHome SH029 Specifications:
3MP camera, 2K resolutions
Multiple CCTV view
Two way talk
Support up to 128GB micro SD card
Support multiple user viewing
Night vision with InfraRed
Suitable for indoor/outdoor, IP66
Sricam PC app
Reasons to buy:
Only RM69
Maximum of 4 CCTV screen at one time
2K resolutions
Can use PC for monitoring
Reason to avoid:
If you don't need the PTZ function, then you may want to consider the SriHome SH029 CCTV Camera. It is twice as cheap in comparison to the Tapo C210.
The SriHome SH029  is a simple and small-sized wireless CCTV camera. Albeit its cheap price, this camera can be installed outdoors where other outdoor CCTV cameras usually cost a few hundred ringgit. It is IP66 rated so it can withstand rain without any issue.
SH029 records great video quality in the daytime when there is sufficient lighting. For nighttime recording, it has InfraRed mode that triggers night vision to capture video in black and white mode.
In terms of picture quality, the Srihome SH029 is slightly poorer than Xiaomi and TP-link. But it is still sufficient for basic home security monitoring.
The biggest complaint with most users is its motion detection feature being too sensitive. So, you may have to turn the feature off. Otherwise, it will be very annoying as it constantly sends you false notifications
For only RM69, you can't find any other alternatives which have the same features as SriHome SH029. It records 2K resolutions video, IP66 rated, has dedicated PC and smartphone apps, and supports 4 screens multi-view. It is really a great bargain!
---
Best Smart Home Outdoor CCTV Camera
Xiaomi Imilab EC3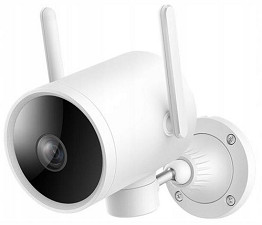 Best deal on Lazada Best deal on Shopee
Xiaomi Imilab EC3 Specifications:
Resolution 2304 x 1296
2.4Ghz WiFi only
Support LAN wired connection
270 degrees rotation
Human detection
Smart siren
IP 66
InfraRed night vision
Reasons to buy:
Can pan 270 degree
Smart Siren feature
Mi Home app integration
Reasons to avoid:
Only support SD card up to 64GB capacity
The Imilab EC3 is a great outdoor surveillance camera for smart homes because it is part of the Xiaomi ecological brand and uses the Mi Home app.
Daytime video recording quality is excellent. The picture is clean and sharp, and it has a super-wide field of view. At night, when the light is low, the video quality is still very clear. If you're installing it at your car porch, it is most likely able to capture full-colour video with some lights turned on.
The Imilab EC3 does a pretty good job of detecting human traffic. It will send a notification to your smartphone when human traffic is detected. There's also a Smart Siren feature that can be automatically turned on when motion is detected.
The Imilab EC3 is a reliable outdoor wireless CCTV camera. It is rare to find budget outdoor cameras that have the ability to pan, let alone rotate as much as 270 degrees.
---
Best Wireless Outdoor Security Camera
TP-LINK TAPO C320WS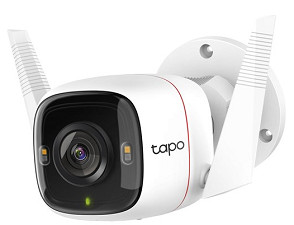 Best deal on Lazada Best deal on Shopee
TP-LINK TAPO C320WS Specifications:
4MP camera, 2K resolutions
Integrated spotlights
IP66 weatherproof
Sound and light alarm
Two-way audio
Supports up to 256GB microSD card
Wired or wireless 2.4Ghz connection
Advanced security features (line-crossing detection)
Reasons to buy:
4MP camera
Starlight night visionx
Sound and light alarm
Reasons to avoid:
Tapo C320WS is the upgraded version of Tapo C310. It has a better night recording quality and comes with the built-in spotlight.
The Tapo C320WS features a dual antenna design to provide longer transmission and wall penetration capability. You can experience a smoother video playback thanks to its good WiFi connection. 
The starlight night vision camera records noticeably better and more colourful video than the Tapo C310. The colours are accurate with a good amount of detail. It is easily one of the best wide dynamic range (WDR) cameras.
Besides, the Tapo C320WS has a built-in LED spotlight that will turn on automatically when it detects insufficient lighting. This is a very neat feature for outdoor security surveillance.
The Tapo C320WS has plenty of useful security features including Motion Detection, Area Intrusion Detection, Line-Crossing Detection and Camera Tampering Detection. You can set a boundary line where it triggers the camera to alarm with sound and a blinking light if someone crosses the boundary.
If you're looking for an outdoor security camera with a strong WiFi connection and clear night vision, you can't go wrong with Tapo C320WS. The Tapo app is very user-friendly and it has plenty of advanced security features for the C320WS model.
---
Best True Wireless Outdoor CCTV Camera
Xiaomi Imilab EC2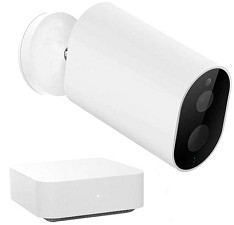 Best deal on Lazada Best deal on Shopee
Xiaomi Imilab EC2 Specifications:
Runs on battery (90 day)
Wire-free installation
IP66 dust and water resistant
130 degree wide viewing angle
1080p resolution
Human detection
Requires indoor receiver
Supports only up to 64GB microSD card
Reasons to buy:
Suitable for places without power point available
130 degree wide viewing angle
Mi Home app integration
Reasons to avoid:
Troublesome to recharge every 3 months
The Imilab EC2 is a true wireless IP camera that doesn't require any power cable. It is fully powered by its built-in battery which can last up to 90 days. This is its biggest advantage and also its disadvantage.
No doubt it is very convenient that you can install the Imilab EC2 at any place, even without a power outlet nearby. However, having to remove and recharge the camera every three months is very tedious. 
In most cases, outdoor CCTV cameras are installed at higher levels, where it is difficult to reach without a ladder, for security reasons as well as to get a better view angle. For this reason, I actually prefer Imilab EC3 more than EC2 as EC3 relies on a wired power supply.
Another thing that you should be aware of before buying the EC2 is it needs a dedicated 
Gateway in order to work properly. So, make sure you're buying the Gateway together with the camera. Otherwise, the EC2 camera is practically useless.
Imilab EC2  is only good if you really need a CCTV camera at a position where wiring is near impossible. If not, go for the Imilab EC3 or Tapo C320WS instead. Basically, you just install it once and can use it forever.
---
Competitions
EZVIZ TY2, C6CN, C3WN, C3N Review
Ezviz is a sub-brand of Chinese CCTV Camera Brand Hikvision. So, both HikVision and Ezviz's products have quite a similar quality. The video quality taken by Ezviz CCTV cameras is generally good. But for every price point, the SriHome camera seems to offer better value for money.
Yoosee 3MP IP Camera Review
Yoosee Mini is one of the best-selling IP cameras on Shopee. For only RM60, it has PTZ features and supports ONVIF. The camera is good as a baby monitor device. However, the camera build quality is not that great and its video quality is so-so. If you really want a budget PTZ camera, then this could be a good choice.
Hamrol 2MP, 3MP, 5MP Auto Tracking Outdoor IP Camera Review
Hamrol seems to offer a very good value for money with a 5MP camera and its auto-tracking features. It costs only half as much as Tapo C320WS and Imilab EC3. However, I can't find anything regarding this brand online. It is most likely just another OEM IP camera. Most of these CCTV cameras have no problem with daytime recording but they usually struggle when it comes to nighttime recording and are also less durable.
Hisee SE CCTV 3MP Review
The Hisee SE CCTV is another China OEM budget outdoor wireless security camera. It is good enough for basic monitoring usage. It uses a third-party smartphone app, iCSee to control the CCTV camera. Like Hamrol, these Chinese OEMs usually use a poorer camera sensor and they don't last as long.