LG fridges are often being compared to Samsung fridges. They are both Korean brands and produce high-end home electronics and kitchen appliances.
There are more than 40 different LG refrigerator models available in Malaysia. They are priced between RM800 to RM15,000.
LG offers more choices than Samsung when it comes to refrigerator types. It has French Door refrigerators, side-by-side refrigerators, top freezer refrigerators, Instaview refrigerators, bottom freezer refrigerators, single door refrigerators and door-in-door refrigerators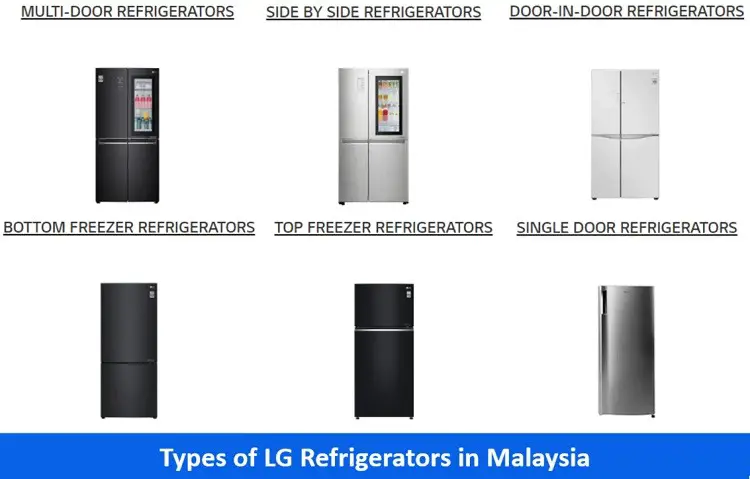 5 Best Refrigerators We Like Other Than LG Fridges
Other than LG refrigerators, I have handpicked another 5 best refrigerators to buy in Malaysia right now. 
Make sure you read my review on the best refrigerators in Malaysia prior to making any purchase decisions.
 Check out the 5 best refrigerators in Malaysia   
What Do Samsung Fridge Model Numbers Mean?
Before everything else, let us understand how to read Malaysia LG Fridge Model numbers.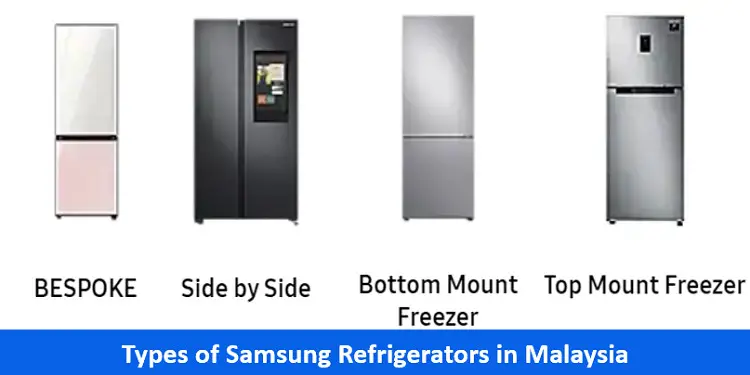 The first letter "G" represents that this product is a refrigerator.
The second letter "N" indicates the producing country:
N – Indonesia
B – Europe
R – Korea
C, S – China
A – Russia
The numbers indicate the model number. Then, it is followed by the door finish colour and the last part will be the design variant.
In general, there isn't much information we can gather from LG refrigerator model numbers other than its origin country.
LG Fridge Price List Malaysia
Here is a list of the best-selling LG refrigerators according to Shopee and Lazada, from cheapest to most expensive model.
| | | | | |
| --- | --- | --- | --- | --- |
| Model | Price | Type | Motor | Capacity |
| GN-B202SQBB | 1,129 | Top freezer | Inverter | 187L |
| GN-C372SXCC | 1,558 | Top freezer | Inverter | 333L |
| GN-C702HLCC  | 2,380 | Top freezer | Inverter | 547L |
| GC-B529NQCZ | 2,380 | Bottom freezer | Inverter | 454L |
| GN-C702SGGC | 2,728 | Top freezer | Inverter | 547L |
| GC-B247KQDV  | 2,988 | Side by side | Inverter | 680L |
| GC-B247KQDV | 3,089 | Side by side | Inverter | 613L |
| GC-B247SLUV | 3,358 | Side by side | Inverter | 687L |
| GC-B247SQUV | 3,930 | Side by side | Inverter | 687L |
| GC-Q22FTQKL | 6,299 | Side by side | Inverter | 594L |
| GC-X247CSAV  | 6,880 | Side by side | Inverter | 675L |
Best LG Fridge Models Malaysia
By referring to the table above, you can pick the LG refrigerator that is best suited to your needs. Here are my recommendations:
---
1. LG GN-B202SQBB 187L Review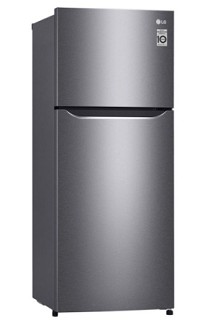 Best deal on Lazada Best deal on Shopee
LG GN-B202SQBB is an affordable small-medium 2-door refrigerator. It has a net capacity of 203L: fridge 143L, freezer 44L
LG GN-B202SQBB features :
Top mount freezer design, no frost
Net capacity: 187L
Bio Shield Gasket
4-star energy rating
Pocket handle
Ceiling LED
LG Multi-Air Flow
Vegetable box with humidity controller
Basic ice maker
Smart inverter compressor
As you can see from the video, this is a small-medium size refrigerator that is perfect for small apartments and SOHO units.
It is 555 x 1400 x 585 mm in size and weighs 40 kg.
LG GN-B202SQBB comes with a dark graphite steel finish. It has a sleek pocket handle on the fridge compartment door.
LG GN-B202SQBB is 4-star energy rated. It uses Multi-Air Flow technology to keep the food fresh and cool. 
The interior of the fridge is spacious and comes with plenty of convenient storage solutions. It has 2 tempered glass shelves, 3 door baskets, an egg tray and a vegetable box with a humidity controller. 
The top freezer compartment is a bit tight, with only 44 litres capacity. And this fridge has no dedicated ice maker. It is just a basic ice tray.
LG GN-B202SQBB is a practical, compact and value for money 2-doors LG refrigerator.
---
2. LG GN-C372SXCC 333L Review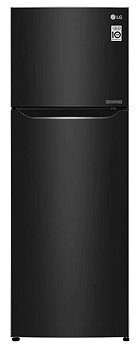 Best deal on Lazada Best deal on Shopee
LG GN-C372SXCC 333L is the best LG medium-sized fridge. This fridge packs all the latest LG refrigerator technology in it such as inverter linear compressor, door cooling, multi-air flow, and smart diagnosis.
The dimensions of LG GN-C372SXCC is 600 x 1690 x  665 mm. This model weighs 56kg.
LG GN-C372SXCC features :
Net capacity: 312L
5-stars energy rating
Linear cooling technology
Door cooling feature
Door alarm
Multi-Air Flow cooling
Ceiling LED
Pocket door handle
Movable Twist Icemaker
LG Smart Diagnosis
LG GN-C372SXCC uses Linear Compressor, which is 32% more energy savings. With its Linear Cooling technology, the fridge temperature is kept within ±0.5℃ temperature at all times.
It helps to keep the food, vegetables, and fruits fresher over a longer period of time
On top of that, it has LG DoorCooling feature that make the inside temperature cool faster and more evenly.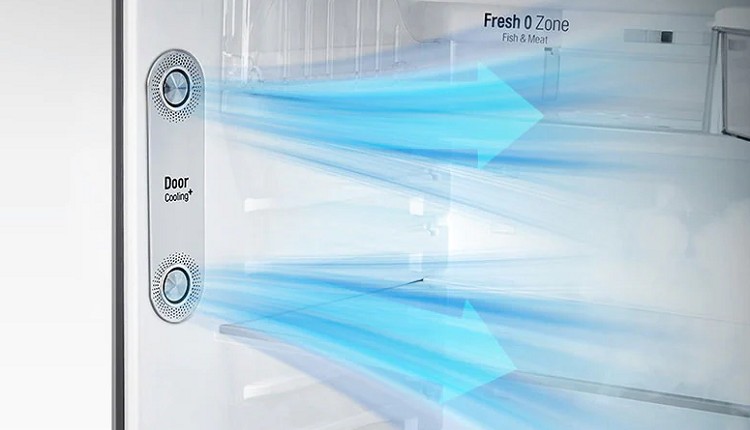 The freezer compartment has a net storage space of 69 litres. It has an innovative movable design for its ice maker. With this design, you can move the ice maker around to store your food more conveniently.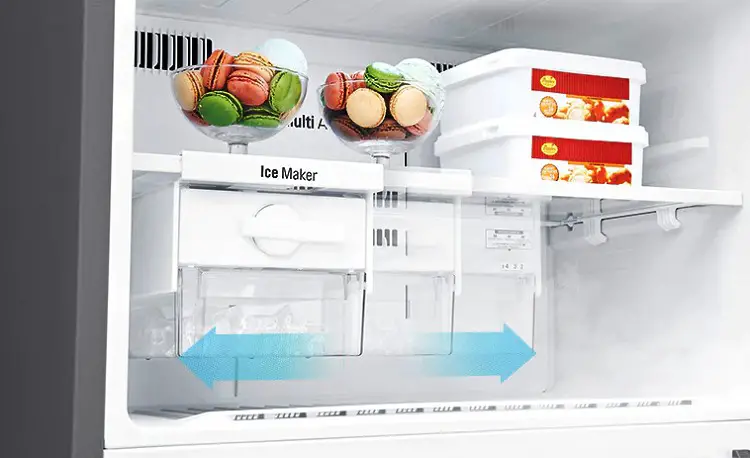 This LG GN-C372SXCC refrigerator is a very good value as it is rated 5 stars for energy efficiency, has a good amount of storage and is reasonably priced.
---
3. LG GC-B529NQCZ Bottom Freezer Review
Best deal on Lazada Best deal on Shopee
LG GC-B529NQCZ is a premium-looking refrigerator with a bottom mount freezer that is ideal for the modern kitchen. The LG fridge offers 420 litres of balanced storage space: 290 litres in the fridge and 130 litres in the freezer.
LG GC-B529NQCZ features :
Net capacity 420L
Bottom mount freezer
Door alarm 
4-star energy rating
Express freeze
Door cooling
Twist ice maker
Vegetable box with balance crisper and humidity controller
One foldable shelf
Pull out tray
Multi-air flow
LG Smart Diagnosis
LG GC-B529NQCZ is a slim and tall refrigerator with a size of 700 x 1200 x 700 mm. It is powered by LG's Inverter Linear Compressor.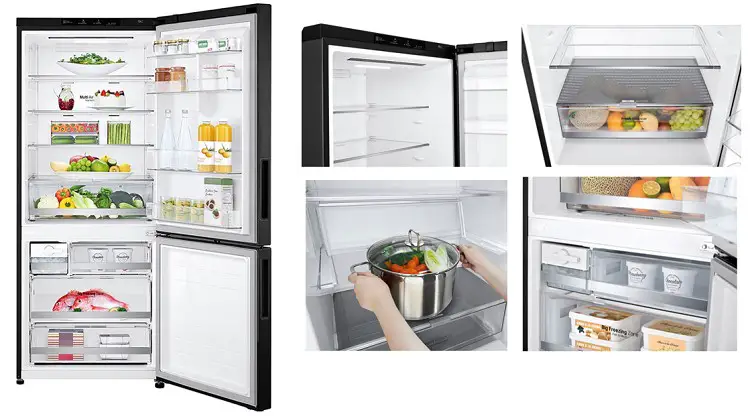 It comes with both multi-air flow and door cooling features. It has air vents located in the front ceiling of the fridge that blows onto the food store in the top door baskets. It helps to cool down the fridge more quickly.
It also has a 2-step folding shelf which you can easily fold up to accommodate large items like bottles and pots.
The vegetable box come with a moist balance crisper and humidity controller so fruits and vegetables can be stored longer with less wilting and rotting problems.
In addition, the freezer compartment is really spacious and divided into three sections. You can use it to store ice cream on top, frozen meat in the middle and frozen food, sausages in the bottom section.
LG GC-B529NQCZ comes with a 1-year general warranty and 10 years compressor warranty.
---
4. LG GC-B247SLUV 687L Review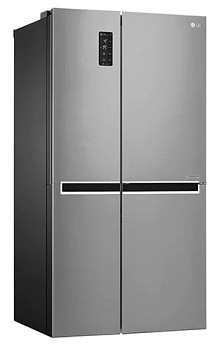 Best deal on Lazada Best deal on Shopee
LG GC-B247SLUV is the best large LG refrigerator. It is a 626 litres refrigerator with many shelves, racks and baskets so you can separate all your food into a dedicated section.
LG GC-B247SLUV features :
Net capacity 626L
Platinum silver colour
Inverter linear compressor
LG ThinQ, WiFi connectable
Touch-sensitive LED temperature conotrol
Child lock
Door alarm
Express cool
Smart Diagnosis
Multi-air Flow
Twist ice maker
The LG GC-B247SLUV is a huge refrigerator with a dimension of 912 x 1790 x 738 mm. It has a total net capacity of 626. The fridge compartment is 406L and the freezer compartment is 220L.
The main benefit of this LG side-by-side refrigerator is its large capacity as well as plenty of shelving space. It is ideal for large families and for people who frequently buy groceries in bulk.
There's a LED touch panel at the top left corner of the fridge door which allows users to control the operating temperature of the refrigerator and change WiFi status. 
Other than that, it has an Express Freeze button that cools down the freezer compartment quickly for an hour. There is also a child lock button, which will prevent your toddler from playing with your fridge.
Lastly, the LG GC-B247SLUV comes with LG ThinQ features which allows user to control the fridge using a smartphone app. However, the features are rather basic and cannot be compared to Samsung Family Hub.
---
5. LG GC-X247CSAV Instaview Knock Knock Fridge Review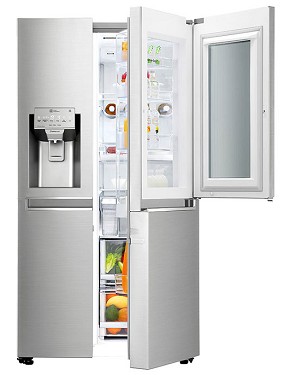 Best deal on Lazada Best deal on Shopee
LG GC-X247CSAV is the best LG refrigerator with an automatic ice maker and dispenser. It also has a unique LG's door-in-door design and Instaview windows.
LG GC-X247CSAV features :
Net capacity 601L
Door-in-door design
Express freezer and express cool feature
WiFi-connected
Door Alarm
Instaview
Ice/cold water dispenser (With crushed ice function)
Child lock
Wine rack
Hygiene FRESH+ air filter and deodorizer
Touch-sensitive LED control panel
The LG GC-X247CSAV is very similar to GC-B247SLUV except that it has an automatic ice maker and knock-knock Instaview feature.
I would only recommend buying the LG GC-X247CSAV if you think the automatic icemaker feature is important to you.
This is because the Instaview feature is not as hi-tech as the Samsung Family Hub. And the price of LG GC-X247CSAV is more than 50% more expensive than the LG GC-B247SLUV model.
The Instaview feature is just a mirrored glass panel that illuminates with two quick knocks. It is a cool feature but not really significant as you still have to be in front of the fridge to check what's inside the door-in-door compartment.
This feature, however, is effective to reduce cold air loss up to 41% in comparison to opening the fridge door.
The other unique feature of this fridge is its Hygiene FRESH+ air filter. It can remove up to 99.99% bacteria and minimize bad odour in the fridge. 
This fridge comes with a convenient LED control panel that can be used to set the temperature, active WiFi, Express freeze, child lock, and Hygiene Fresh.
The LG GC-X247CSAV can be controlled with the LG Smart ThinQ app. Users can control and diagnose their refrigerators at their fingertips with just a smartphone.
---
Alternatives to LG Refrigerators
LG vs Samsung fridge
In terms of price, cooling performance, and storage space efficiency, LG and Samsung fridges are very similar. For higher-end models, Samsung refrigerators give better value for money as it packs with more advanced features and sleeker design.
LG vs Hisense fridge
The main difference between LG and Hisense fridges is the price and appearance. The Hisense fridge is definitely cheaper than an LG fridge of equivalent specifications. Hisense fridges are normally more conservative in design.
However, Hisense inverter fridges have a really long motor warranty of 12 years, while LG only covers 10 years for its inverter motor.
LG vs Panasonic fridge
Panasonic home appliances are popular among Malaysians. Panasonic fridges are typically slightly cheaper than LG's.
Panasonic's budget and mid-range refrigerators are excellent. But their high-end models aren't very innovative.
Panasonic has a 6-door refrigerator model that is perfect for people who are extremely organized. Whereas, LG has 4 doors, a door-in-door design.
Panasonic fridges provide a 12-year motor warranty, which is longer than LG's 10-year compressor warranty.
LG vs Electrolux fridge
The main difference between LG and Electrolux fridges is their design and fridge type. Electrolux has some of the best designs for french door refrigerators.
In terms of price, Electrolux and LG fridges are quite similar.
However, Electrolux has only a one-year general warranty and a 10 years motor warranty. 
---
LG Refrigerators FAQ
Is the LG refrigerator good?
LG refrigerators ranked number one in reliability in the J.D. Power 2019 Kitchen Appliance Satisfaction Study.
It also has been tested by the VDE testing organization and has been proven to have a 20-year life span.
How long do LG fridges last?
LG fridges should have more than 20 years of life span that give you peace of mind.
Are Samsung fridges bad?
No, Samsung refrigerators are not bad. It is often those Samsung fridges with extra features, such as ice dispensers and cold water dispensers, that fail.
Is LG fridge better than Samsung?
Both LG and Samsung fridges have their own strength and weakness. They both are pretty reliable. In Malaysia, it is easier to fix an LG fridge as the replacement parts are more widely available.