Nowadays, more Malaysians are turning to Samsung Brand when it comes to choosing home appliances and kitchen appliances. A significant reason for this is its premium branding and image for the very successful Samsung smartphones.
There are easily more than 20 to 30 models of Samsung fridges which you can buy on Lazada and Shopee. 
Samsung covers every type of refrigerator including top freezer fridge, bottom freezer fridge, side by side, smart fridge, and BESPOKE series that let users combine multiple modules together seamlessly.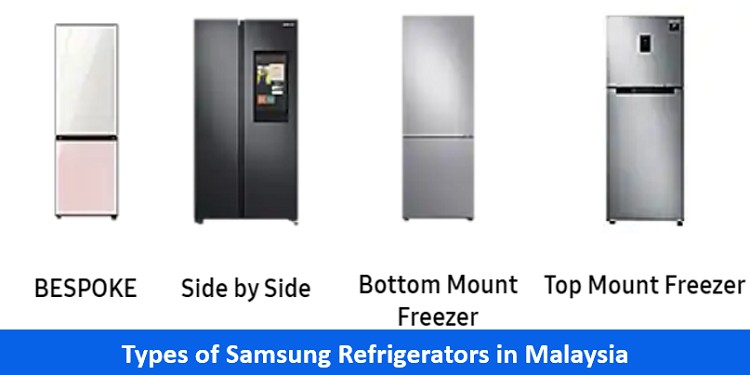 5 Best Refrigerators We Like Other Than Samsung Fridge
Other than Samsung refrigerators, there are many other refrigerator brands in Malaysia like LG, Electrolux, Mitsubishi, Toshiba, Panasonic, and more. I have handpicked the 5 best refrigerators to buy in Malaysia right now. 
These top 5 picks are better value for your money and perform equivalently to Samsung fridge, if not better.
Check out the 5 best refrigerators in Malaysia
What Do Samsung Fridge Model Numbers Mean?
Before everything else, let us learn how to read Malaysia Samsung Fridge Model numbers. So, you can immediately understand what are you buying, and whether it is a new model or an old model.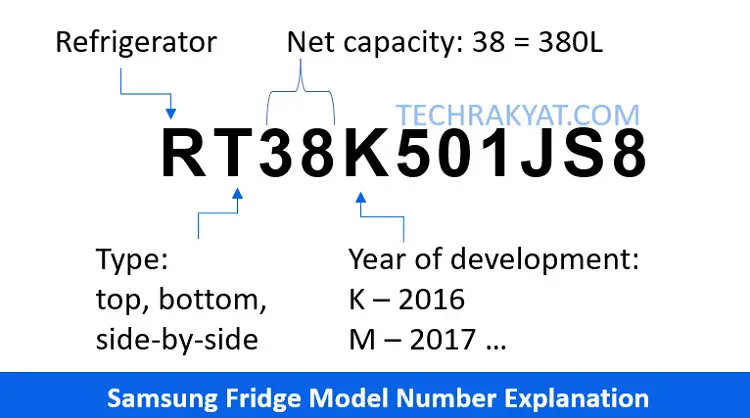 The first letter "R" represents that this product is a refrigerator.
The second letter "T" means that this is a top freezer refrigerator:
T – top freezer
B, L – bottom freezer
S – side by side
The third and fourth numbers indicate the approximate net capacity of the refrigerator.
And the fifth letter indicates the year when the model was developed, guidelines as below:
K – 2016
M – 2017
N – 2018
R- 2019
T – 2020
Please don't confuse model numbers with serial numbers. Years of manufacture can only be checked on the serial numbers. Bear in mind that the year of development of the fridge could be old, but the production date could be this year.
Samsung Fridge Price List Malaysia
Here is a list of the best selling and hottest Samsung refrigerators according to Shopee and Lazada sales numbers, from cheapest to most expensive model.
| | | | | |
| --- | --- | --- | --- | --- |
| Model | Price | Type | Motor | Gross Capacity |
| Samsung RR18T1001SA | 740 | Single Door | Non-Inverter | 185L |
| Samsung RT20FARVDSA | 988 | Top Freezer | Inverter | 220L |
| Samsung RT22FARADSA | 1,095 | Top Freezer | Inverter | 270L |
| Samsung RT32K5052DX  | 1,570 | Top Freezer | Inverter | 410L |
| Samsung RT32K5552SL | 1,668 | Top Freezer | Inverter | 410L |
| Samsung RB30N4050B1 | 1,670 | Bottom Freezer | Inverter | 315L |
| Samsung RT38K501JS8 | 1,688 | Top Freezer | Inverter | 500L |
| Samsung RT43K6271SL | 1,948 | Top Freezer | Inverter | 520L |
| Samsung RT38K5562SL | 1,950 | Top Freezer | Inverter | 500L |
| Samsung RL4003SBABS | 2,159 | Bottom Freezer | Inverter | 450L |
| Samsung RT53K6651SL | 3,499 | Top Freezer | Inverter | 620L |
| Samsung RS63R5561M9 | 3,699 | Side by Side | Inverter | 670L |
| Samsung RS64R5101B4 | 3,988 | Side by Side | Inverter | 660L |
| Samsung RS62R50312C | 4,180 | Side by Side | Inverter | 680L |
| Samsung RS63R5591B4 | 4,290 | Side by Side | Inverter | 670L |
| Samsung RS62T5F01B4 | 7,599 | Side by Side | Inverter | 660L |
Best Samsung Fridge Models Malaysia
Based on the table above, you can easily select the fridge size that suits your need and the type you prefer. Here are my personal recommendations:
---
1. Samsung RT20FARVDSA 220L Review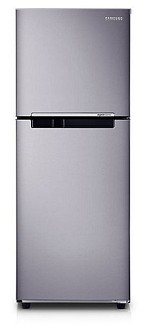 Best deal on Lazada Best deal on Shopee
Samsung RT20FARVDSA is an affordable medium size 2-door refrigerator. It has a net capacity of 203L: fridge 150L, freezer 53L
Samsung RT20FARVDSA features:
Top mount no frost freezer
Net capacity: 203L
All round cooling
Auto defrost
Deodorizer 
Tempered glass shelf
Easy slide shelf
Interior LED light
Fresh room
Twice icemaker
Door alarm
Recessed door handle
Digital inverter compressor
A few of the notable features of this Samsung refrigerator is its big guard on its door which you can use to keep 1.5 litres water bottle.
And Samsung RT20FARVDSA has a moist fresh zone to keep fruit and vegetables.
---
2. Samsung RT38K501JS8 500L Review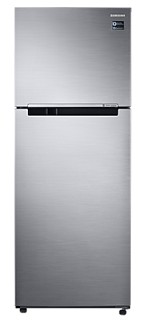 Best deal on Lazada Best deal on Shopee
Samsung RT38K501JS8 500L is the best large top freezer Samsung fridge. But don't be fooled by its exaggerated gross capacity, its net capacity is only 384L
The dimensions of Samsung RT38K501JS8 is 675 x 668 x 1785 mm. This model weighs 66kg.
It is powered by Samsung Digital Inverter Technology which is very power efficient and more silent.
Samsung RT38K501JS8 features:
Top mount freezer
All-around Cooling Technology
Big Guard at fridge door for easy storage
Recess door handle
Twist Icemaker
Tempered glass shelf
Deodorizer feature
R-600a refrigerant
Samsung A+ energy efficiency rating
2 years general warranty
10 years compressor warranty
Do note that the Samsung RT38K501JS8 is only rated 3 stars energy-saving, despite it being a digital inverter refrigerator.
With its easy slide shelf that comes with rolling hinges, it is easy to organize and take food from the shelf.
---
3. Samsung RL4003SBABS 450L Review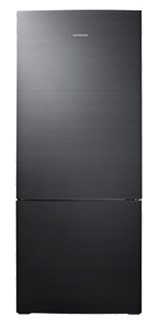 Best deal on Lazada Best deal on Shopee
Samsung RL4003SBABS is the best Samsung bottom freezer refrigerator. It measures at 700 x 1700 x 705mm. The fridge compartment is 300L and the freezer compartment is 102L.
Samsung RL4003SBABS features:
Net capacity 427L
Bottom mount freezer
5 smart sensors for optimal cooling
Adjustable door guards
Digital inverter technology
Hidden hinge design
Triple foldable shelf
Simple inner wall design
Multi flow cooling
Deodorizer 
Twist icemaker
Recessed door handle
Door alarm
Reversible door
Stylish blue LED touch control,
It features a sleek, glossy black exterior that adds style to a modern kitchen. On the top shelf, there is a touch-sensitive control you can easily access to adjust the temperature.
It achieves optimal cooling efficiency with 5 smart sensors: door sensor, ambient temperature sensor, fridge temperature sensor, freezer temperature sensor and defrost sensor.
Moreover, the Samsung RL4003SBABS maximized its internal storage space with a design that has no protruding lights and vents. This provides you with a spacious and sleek refrigerator.
---
4. Samsung RS63R5591B4 Side by Side Flexzone Review
Best deal on Lazada Best deal on Shopee
Samsung RS63R5591B4 is the best side by side Samsung refrigerator with an innovative Flexzone compartment.
Samsung RS63R5591B4 features:
Net capacity 620L
SpaceMax technology for maximum storage space
Flexzone compartment with 4 cooling modes
Samsung all-round cooling
Samsung Digital Inverter Compressor 
Metal cooling duct in the rear wall
Power cool/ power freeze feature
EZ slide shelf
Wine rack
Deodorizing filter
Slim indoor icemaker
The Samsung RS63R5591B4 is a huge refrigerator with a dimension of 912 x 1780 x 716 mm. It has a total net capacity of 630L.
There are three compartments in this fridge: a freezer compartment, a fridge compartment, and a Flexzone compartment. It minimizes cool air loss by 55% compared to a typical 2 door side-by-side refrigerator.
Flexzone is an independent compartment that can be set to different temperatures as you required. It can be used to preserve frozen meat, cool beverages, keep fruit, or just to store normal groceries.
The Samsung RS63R5591B4 can speed up cooling with its power cool (fridge) and power freeze (freezer)  features. It blows intense cold air to shorten the cooling time required.
In general, Samsung RS63R5591B4 is more convenient than top and bottom freezer refrigerators. You can reach all your food without having to bend down.
---
5. Samsung RR18T1001SA 185L Review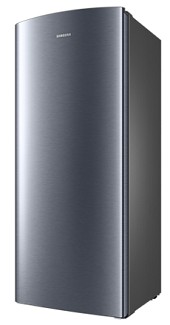 Best deal on Lazada Best deal on Shopee
The Samsung RR18T1001SA is Samsung latest single door fridge that comes with a crown design. It is best for small apartment and studio units in Malaysia.
Samsung RR18T1001SA features:
Net capacity 176L
Distintive crown design
Tempered glass shelf
Anti bacterial gasket
Dedicated vegetable box 
This fridge has a net dimension of 519 x 1244 x 520mm. It has a net capacity of 176L
This budget Samsung refrigerator does not have all-around cooling, unlike other Samsung refrigerators in this list. Rather, it offers direct cooling only.
Even though the freezer compartment is integrated into the refrigerator space, it is quite spacious compared to other single door refrigerator models. And it has a transparent enclosure to keep the freezer cooler.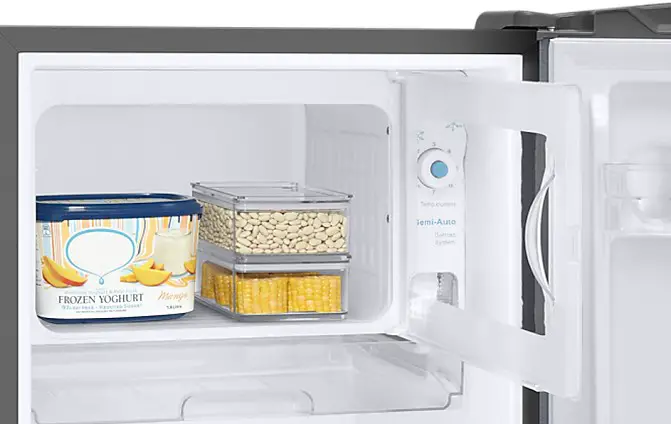 The Samsung RR18T1001SA has a semi auto-defrost system which is located in the middle of its temperature dial. 
When the frost is too thick, remove any food store at the compartment, press the defrost button, and the fridge will start defrosting. The button will return to normal and the fridge will function normally after 3 to 4 hours.
With a compact design and convenient features, the Samsung RR18T1001SA refrigerator can meet anyone's needs.
---
6. Samsung Family Hub Smart Fridge Review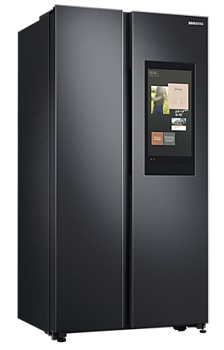 Best deal on Lazada Best deal on Shopee
Samsung RS62T5F01B4 is the best Samsung smart fridge you can buy today. You can check what's in the fridge using your smartphone, play YouTube and Spotify, set notifications, control other smart appliances with it. 
It can be the hub (heart) of your home. Making it one of the coolest gifts you can get for your wife who's always in the kitchen.
Samsung RS62T5F01B4 features:
Premium smart family hub integrations
WiFi-connected
Can check what's in your fridge using smartphone
Watch TV programs or any popular video streaming services on it
SpaceMax Technology
Built-in look
Digital inverter technology
Low noise 40dB operation
Integrated 25W speakers to play music
The Samsung RS62T5F01B4 is a large side by side refrigerator with a sleek built-in look. It has a fully-flat front surface that will seamlessly blend with your kitchen cabinet.
The size of the fridge is 912 x 1780 x 716 mm, with a net capacity of 628L. As a result of Samsung SpaceMax Technology, it has very little wasted space with a very thin refrigerator wall.
The core feature of this fridge is its family hub smart screen. You can do so many things on it. Moreover, it has a proximity sensor, so you won't need to actually touch the screen to use it. Simply wave your hand to swipe the screen around, a truly considerate feature for use in a kitchen.
Just note that this is the entry model Samsung smart fridge, so it has only a basic twist ice maker. There is no automatic ice maker and no ice dispenser.
All Samsung inverter fridge comes with a 2 years general warranty and a 10 years compressor warranty.
---
Alternatives to Samsung Refrigerators
Samsung vs LG fridge
Both Samsung and LG fridges are very similar in terms of price, cooling performance, and storage space efficiency. The main difference between Samsung and LG fridges is the Samsung high-end fridge has better smart home integrations, especially you're already using smart home appliances like Samsung Smart TV or Samsung Smartphone.
LG and Samsung inverter refrigerators have a similar 2 years general warranty and 10 years compressor warranty policy.
Samsung vs Hisense fridge
The main difference between Samsung and Hisense fridges is the price and appearance. There's no doubt that the Hisense fridge is relatively cheaper than a Samsung fridge. Hisense fridges usually come with a more conservative design.
But Hisense inverter fridge comes with a super long 12 years motor warranty whereas Samsung only covers 10 years warranty for its inverter motor.
Samsung vs Panasonic fridge
Many Malaysians prefer Panasonic appliances due to their reliability and good reputation. Panasonic fridges are usually slightly cheaper than Samsung, but still more pricey than Hisense fridges of equivalent specifications.
Panasonic budget and mid-range refrigerators are great. But, its high-end refrigerator models are lacking in innovation.
Panasonic offers 6-door premium refrigerators which are ideal for people who are extremely organized. Samsung has only a maximum of 3-4 doors design.
Panasonic inverter fridge provides 12 years warranty on the motor which is longer than Samsung's 10-year compressor warranty.
Samsung vs Electrolux fridge
The main difference between Samsung and Electrolux fridges is their design and type of fridges. If you're into french door refrigerators, Electrolux has some of the best variations of french door design.
In terms of price, Electrolux and Samsung fridge are quite similar.
However, Electrolux has only a one-year general warranty and a 10 years motor warranty. Its one-year general warranty is significantly shorter than other refrigerator brands.
---
Samsung Refrigerators FAQ
Is the Samsung refrigerator good and durable?
Samsung refrigerators are generally more spacious and sport sleeker designs than other brands. 
There have been reports of Samsung refrigerators not being cold enough, water leaks, etc. This mostly occurred on models with twin cooling, an ice dispenser, or a cold water dispenser.
Nowadays most new Samsung fridges have switched back to mono cooling. And it also provides 2 years general warranty and 10 years compressor warranty for all of its inverter type refrigerators.
What is the ideal temperature setting on the Samsung refrigerator?
For the fridge compartment, the ideal temperature is between 1°C and 7°C. So 3°C is the most optimal temperature.
For the freezer compartment, the best temperature is between -15 °C and -23 °C. You may lower the temperature more depending on how much food is stored in the freezer.
Are Samsung fridges bad?
No, Samsung refrigerators are not bad. It is often those Samsung fridges with extra features, such as ice dispensers and cold water dispensers, that fail.
How long will a Samsung refrigerator last?
The new Samsung refrigerator models can easily last an average of 10 years. If properly cared for, they can last even longer.