When you are shopping for a new washing machine, deciding the capacity and type of washing machine is of utmost importance. Besides that, there are many other factors you need to take into consideration.
A simple washing machine can cost as little as RM500, and a premium model can cost as much as RM5,000. What are the differences between cheap and expensive washing machines?
In this guide, I will discuss the top 10 factors that you should consider when choosing a washing machine for your home.
10 Tips on How to Choose The Best Washing Machines
1. Types of washing machine
There are mainly two types of washing machines, front load and top load washing machines. And, there is a washer-dryer combo, which is a washing machine that includes a dryer function.
Let's check out the pros and cons of different types of washing machines.
Front load washing machine
Front load washing machines are usually more expensive than top load washing machines of equivalent capacity and specifications. But they are more gentle on your clothes, and it uses less electricity and water for their wash cycle.
Pros
Gentle on clothes
Saves water and electricity
Cleaner clothes
Higher Spin Speed
Can stack a dryer on top
Save space
Cons
Expensive
Longer wash cycles
Can't add more clothes once the cycle has started
Require routine maintenance to prevent mildew growing
Top load washing machine
Top load washing machines are popular among Malaysians because it is cheaper than front load and requires less maintenance. Its quick spin in the tub is harsher to clothes.
Pros
Cheap
Shorter wash cycles
Easy to add clothes
Don't need to squat down while loading clothes
Less mildew problem on the gasket
Cons
Use more energy and water
Harsher on clothes
Cleaning performance slightly poorer than front load washing machines
Washer dryer combo
For those with limited space, a washer dryer is the best option. It can wash and dry clothes in one go. But it is very expensive and prone to break down compared to a single-function washing machine. 
You should only buy a washer dryer if your house cannot accommodate a separate dryer or you don't have a balcony or laundry area to dry your clothes.
2. Capacity
You should also make sure that the washing machine you choose is large enough to accommodate all of your laundries. 
As a rule of thumb, a 6 to 7kg washing machine model is sufficient for a family of four.
But keep in mind that this also relates to how frequent you plan to wash your clothes. If you plan to only wash your clothes once a week, then you will need an extra large washing machine, a 12kg model.
Here's a chart from newlifeappliances.co.uk showing how much clothing a washing machine can handle.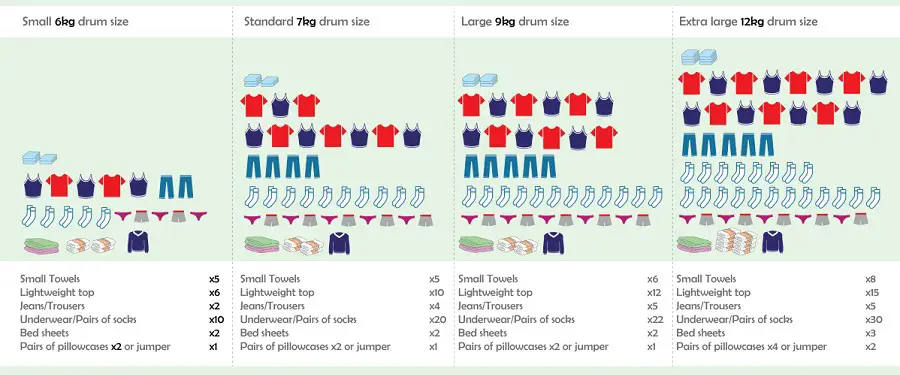 3. Space
So, you have decided on the capacity required but don't forget about whether you have enough space to fit in the washing machine. Always take measurements using a measurement tape of your available to get an accurate measurement.
Additionally consider the space required for opening the door, loading and unloading clothes, and storing detergent.
4. Cycle Time
The standard wash cycle time is something to keep in mind.
Most front loaders require about 60 to 75 minutes to complete a wash cycle, while top loaders require only 45 to 55 minutes.
Some washing machines provide quick and fast wash options. A quick wash cycle usually takes less than 15 minutes. Families with babies and toddlers, who often get their clothes dirty multiple times a day will benefit from this feature.
5. Energy and Water Efficiency
Thanks to Suruhanjaya Tenaga and SPAN, Malaysian consumers can quickly identify energy and water-efficient washing machine. 
Energy efficiency is rated from 1 star to 5 stars. The top performer washing machines will receive a 5-star energy rating label.
Water efficiency is rated from 1 star to 3 stars. The most efficient and environmental-friendly washing machine will receive 3 stars.
A front load inverter washing machines are the best in terms of energy efficiency and water efficiency. While they are expensive, they save you money in the long run on electricity and water.
6. Wash Programs
In reality, most average consumers don't use any other wash program besides the standard wash and quick wash.
There are also some very convenient wash cycles that you might want to consider, such as hot wash, steam wash, and delicate wash (wool, silk, cashmere).
7. WiFi Connectivity
Today, 5G and smart homes are all the rage. A washing machine with built-in WiFi is an excellent choice. 
Using WiFi, you can schedule it to start washing at desired hours and get notified when your laundry is done. This will prevent you from forgetting to dry your laundry in the future.
8. Price
The poor economy and inflation are affecting everyone, including Malaysians. Price is a big deciding factor. Don't overdo it and estimate your budget to select the right washing machines. 
You don't want to rack up unnecessary credit card debt because of buying home appliances.
9. Warranties
Washing machines are prone to wear and tear due to heavy loads of clothes and water combined with constant spinning. Hence, the motor warranty period on a washing machine becomes an important consideration. 
A motor warranty of 10 years is the best you can get on the market, and a minimum warranty period of 5 years is recommended.
10. Expert Reviews
If you still aren't sure which washing machine to choose, please read my reviews on the best washing machines in Malaysia and recommendations on top load and front load washing machines.