SMEG Fridges have been the talk of the town lately. This is because a recent viral post on social media revealed that local celebrity and entrepreneur, Neelofa was using a SMEG FAB series refrigerator. 
Malaysians may not be aware that SMEG Retro Style Refrigerators have always been very popular. 
With its iconic design, these fridges are often shared on Instagram, and Pinterest and they are also frequently featured in Hollywood movies.
---
10 things you should know about SMEG refrigerators
1. SMEG refrigerators are the worst?
According to choice.com.au, the SMEG refrigerators are manufactured by the same company that produces Beko fridges. So, consumers are really paying a very high premium for the brand and design
The SMEG FAB38 double door fridges have been rated with poor energy efficiency and temperature stability.
Quoted from Ashley Iredale, CHOICE's whitegoods expert:
That was the worst fridge we've ever seen in decades of testing
But this is not necessarily the case for every SMEG refrigerator model. Some models could perform better than this. Be sure to check out with the sales consultants first.
2. They are made in Italy
Larger SMEG appliances such as refrigerators and washing machines are still manufactured in factories based in Northern Italy. 
But this is not the case for smaller appliances. Smaller appliances like the toaster, kettles and stand mixers are mostly made in China.
3. They are really expensive
SMEG fridges are really expensive. A SMEG Mini Fridge FAB5 costs about RM7,799. The most popular FAB28 model is selling at RM13,000++. 
In comparison, a refrigerator of similar size to the SMEG FAB28 costs only RM2,000. In other words, SMEG refrigerators cost more than six times as much.
4. Limited-edition designs are even more expensive
If RM13,000 sound alright for you, then there are limited edition models that come with a design in collaboration with Dolce & Gabbana.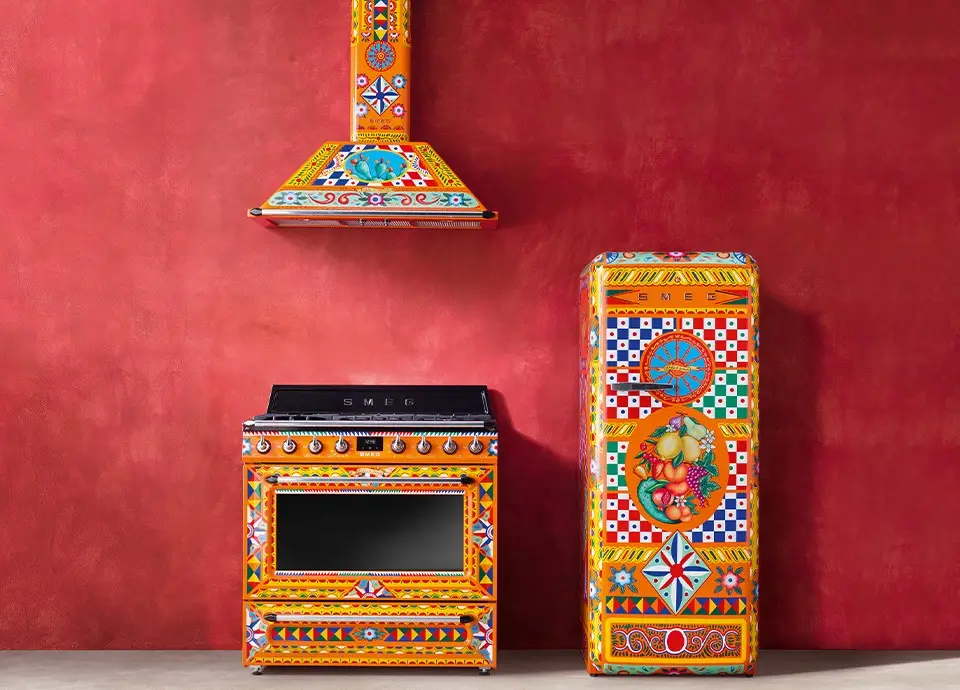 You can expect to pay up to RM60,000 or more for these D&G designer refrigerators.
For RM60,000, you can literally buy a brand new Perodua Myvi with cash in Malaysia.
5. They are available in more than 20 colour and decoration variations
The FAB series comes in dozen of different colours and designs.
They are also different sizes available. There are mini fridges, single door models, double door models and combined refrigerators.
There are iconic colours like the cream, red and Italian flag designs. There are also blue, black, gold, green, emerald, lime green, orange, pink, yellow and many more colour options.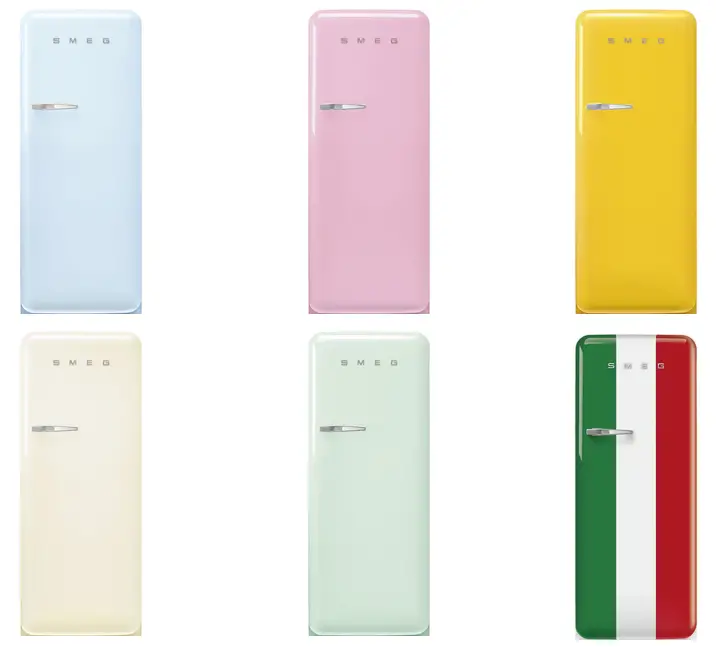 Not only that, you can choose for left or right-hand hinge to suit your kitchen layout.
6. The FAB series was launched in 1997
SMEG FAB Refrigerator may nail the vintage look, but they were launched in 1997. Although this series is known as the 50s retro style, they were not really designed in the 1950s.
7. The popular FAB28 model is actually quite spacious
Despite being a single door refrigerator, its size is comparable to double door refrigerators.
The dimension of the single door fridge, SMEG FAB28 are 60 x 73.2 x 154 cm with a gross capacity of 281 litres. It is not small at all.
8. SMEG produces normal-looking refrigerators too
SMEG refrigerators are known for their look, but they actually have refrigerators with modern designs.
You can check out this SMEG refrigerator with Universale design aesthetic if the 50's style doesn't fit your house design theme.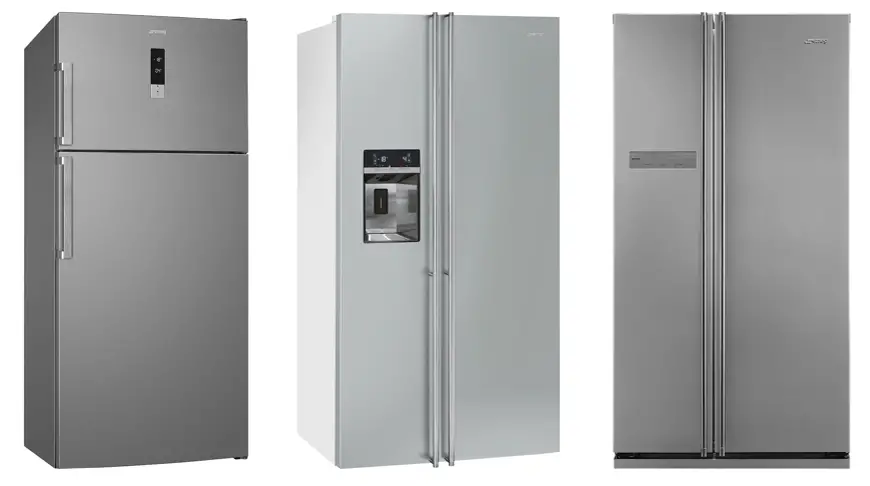 9. SMEG FAB28 requires manual defrost
The single door SMEG FAB28 comes with a freezer compartment. But this freezer compartment needs to be defrosted periodically and manually.
Quoted from SMEG FAB28 user manual.
The freezer compartment needs to be defrosted manually. When the thickness of frost or ice exceeds 2 cm, the freezer should be defrosted.
10. You can colour match it with other SMEG appliances.
Other than refrigerators, SMEG produces toasters, coffee machines, blenders, kettles, mixers and more.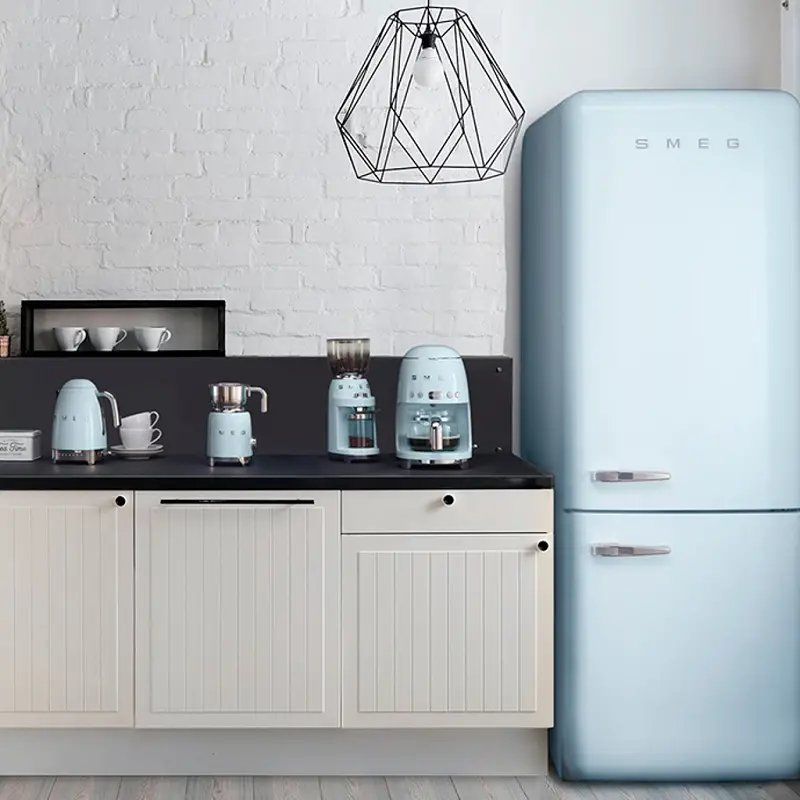 Most of them share the same design language and feature similar colour options to the FAB series.
You can buy the entire range of SMEG kitchen appliances for your house if you have a thick wallet.
---
SMEG fridge price Malaysia
The following table lists the price of different models of SMEG refrigerators in Malaysia.
| | |
| --- | --- |
| Model | Price (RM) |
| SMEG FAB5 50's Retro Style | 7,599 |
| SMEG FAB28 50' Style | 13,000+ |
| SMEG FAB28 50' Dolce & Gabbana | 60,000+ |
| SMEG SBS660X Side-by-side | 10,000+ |
---
Refrigerator brands we like better than SMEG

SMEG refrigerators are definitely too expensive for most of the average Malaysians.
There are other refrigerator brands in Malaysia like Hitachi, Electrolux, Mitsubishi, Toshiba, Panasonic, Samsung and more. 
Check out my top picks for the best value for money refrigerators in Malaysia right now. 
 Check out the 5 best refrigerators in Malaysia   
---
Source:
https://momsbakingco.com/why-is-smeg-so-expensive
https://www.housebeautiful.com/shopping/a22606736/smeg-fridge-buying-guide/
https://www.choice.com.au/home-and-living/kitchen/toasters-grills-and-sandwich-presses/articles/smeg-best-buys-and-what-to-avoid