Coffee, tea and Milo are the "three kings" of Malaysian favourite daily drinks. Particularly for coffee, improved living standard and emerging brands like Arissto & Nespresso coffee bring fine grade coffee to the general public in Malaysia.
Many started to look for ways to make better cafe-style coffee at home. Coffee machine or coffee maker is a must-have for those who wanna upgrade from the regular 3-in-1 coffee.
Whether you are a beginner or an experienced coffee drinker, we hope that the 6 best coffee machines recommended in this article would help you choose better.
Best coffee machines of every price ranges in Malaysia
These coffee machines are sorted from the cheapest to the most expensive one as below.
Types of coffee machine
Manual espresso machines – Users need to measure, grind and extract their own coffee. It usually comes with a lever pump that needs users to manually operate it. Not recommended for home users.
Automatic espresso machines – Coffee makers with built-in grinder to deliver freshly ground coffee at the press of a button. This type of coffee maker is easy to use but generally more expensive. There are full auto, semi auto and super automatic coffee machine. They easily cost RM2500-RM5000++.
Drip coffee machines – This type of coffee machine passes hot water through ground coffee with filter. It is the most common way of making coffee and does not produce strong coffee taste like expresso machine. Cost from RM90-RM500+.
Coffee capsule machines – make espresso from pods sealed with coffee. Cost fromRM500-RM1500++.
Fresh coffee bean vs coffee capsules
Choice – Coffee bean wins. Customers are free to go with any coffee bean they like instead of only stick to one particular brand of coffee capsules which often tie to the brand of the coffee machine.
Convenience – Coffee capsule wins. There is no need for grinding of coffee beans and the preparation from turning on the machine to drinking a cup of coffee is so much faster than a coffee bean.
Cost per cup – Coffee bean wins. The coffee capsule is usually more expensive as it has been processed and packaged nicely for consumers. For each cup of coffee, a capsule can cost 2 to 3 times more expensive than a coffee bean.
Taste – Coffee bean wins. According to eatlittlebird.com's founder, a coffee capsule does preserve much of the fragrance and taste of fresh coffee. It can be as good as coffee made of fresh ground coffee bean.
Overall, an automatic bean-to-cup coffee machine still the best choice for those who like the authentic feel and taste of making and drinking coffee. Sometimes life is about the process, right? For busy city dweller, coffee capsules would be the better choice.
1. Nescafe Dolce Gusto Mini Me
Best cheap coffee capsule machine Malaysia
Nescafe Dolce Gusto is the best cheap coffee machine that uses coffee capsule. And its large variesties of capsules that include Starbucks coffee makes it an easy pick for us.
✔ Compact size
✔ Wide range of capsule choices
✔ Easy to use
✖ No fine control
✖ Powdered milk capsule only
This coffee pod coffee machine is for those of you who wish to do away with any distractions concerning the hassles and finer points of coffee making. 
Nescafe Dolce Gusto Mini Me get you to make easily-repeatable tasty coffee drinks. They will produce the same taste all the time, without the need to have an in-depth knowledge of coffee brewing art. 
Therefore, if you are a beginner or a light coffee drinker who isn't bothered about the bean texture, its origin, its size, the roasting temperature and duration, this Dolce Gusto Mini Me would be the one for you. Dolce Gusto has many capsule choices available like Americano, Cappuccino, Latte Macchiato, Chocolate and even Starbucks specialty coffee.
However, this machine only uses powdered milk capsules, which would mean that those of you who love cappuccinos and lattes could be disappointed in this machine. Powdered milk produces a slightly poorer taste.
All in all, this is still a very affordable and versatile coffee machine. Nescafe Dolce Gusto Mini Me has 2 years local warranty.
2. Nescafe Gold Barista Machine
Best coffee machine for freeze-dried coffee
Nescafe Gold Barista Machine is actually a premium Nescafe coffee maker. We know Malaysians love Nescafe and Nescafe Gold uses a higher grade coffee bean that tastes better.
✔ Simple to use
✔ Easy to clean
✔ Great for Nescafe lover
✖ Only for freeze-dried coffee
✖ Not suitable for fine powdered coffee
If you want to make barista-style coffee drinks at home, this is certainly a very affordable choice. The NESCAFÉ Gold Barista Machine is a modern coffee system that uses freeze-dried soluble coffee. No capsules are required.
Apart from the Nescafe Gold original flavour , it has Americano, Creamy Latte and Dark Latte to suit difference preferences.
This machine is easy to use for beginners. Fill the container with water and with the push of a button, you'll get a much up-scaled aromatic coffee drink. Users also have the option of foaming the milk.

The thing is only freeze-dried coffee products can be used for this coffee machine. Fine powder coffee can choke the system. To be on the safe side, users can always stick to Nescafe Gold Barista series.
Nescafe Gold Barista Machine comes with only 1 year local warranty.
3. Morphy Richards Accents Espresso Maker 
Cheap coffee maker with steam wand in Malaysia
Morphy Richards Accents Espresso Maker is a small, compact and practical coffee machine that compatible for both ground coffee and coffee capsule.
✔ Convenient 1.25L jug
✔ Small and save space
✔ Affordable
✔ For both ground coffee and compatible coffee pod
✖ No fine control
The Morphy Richards Accents Espresso Maker, overall is a small and sharp looking coffee machine that is easy and convenient to use. Just check out this video.
It is a striking red coffee machine that answers the gap between capsule-based and ground coffee needs. Although capsule-based machines are indeed ideal for light coffee drinkers but in time, tastes can change and will mature. It is a matter of time that you'll want to 'upgrade' to using ground beans. 
So, you can easily start with the Easy Serve pods in the Accents coffee machine, then change to ground coffee beans later when you feel like it with this coffee machine.
Just take note that users will need to manually tamp the ground coffee in the holder and there's no cup warmer like other more expensive coffee maker machine.
Morphy Richards Accents Espresso Maker comes with 2 years warranty.
4. Nespresso Essenza Mini
Nespresso Essenza Mini is yet another Nescafe coffee pod machine. The main difference between them is the capsule varieties. Nespresso capsule usually packs a stronger taste.
✔ Very compact design
✔ Fast heating time
✔ Great choice and taste of coffee capsule
✖ Expensive capsule
✖ No built-in milk forther feature
If you like the taste of Nespresso, you should consider getting this coffee machine because it is their cheapest model available. It is designed for a modern small family in mind. It has a very small form factor of 8.4 x 20.4 x 33 cm (WxDxH).
Although Nespresso doesn't have Starbucks coffee capsule, it has more than 30 types of coffee capsules readily available, from mild to the extra intense flavour. If you care about the origin of coffee, they also have coffee origin from India, Indonesia, Colombia, Nicaragua and so on. The price of the capsule starts at RM2.20 to RM3.40 each (as of the date of writing this article).
Nespresso has a monthly subscription plan for the coffee capsules which is similar to Arissto coffee. But I don't recommend normal household to take subscription service. It better suits a small office or corporate customers.
This machine comes with 2 years local warranty. If you like milk froth, just get a cheap Ikea handheld milk frother (RM5.90) will do the job. Aeroccino milk frother from Nespresso is so overpriced as it costs additional RM300 to purchase in bundle.
5. Breville BES870 Barista Express Espresso Machine
Best all-in one espresso machine Malaysia
Breville BES870 espresso machine is the best pro-grade all-in-one coffee machine. It is recommended for coffee enthusiasts who can afford it.
✔ Bean to cup, fully automatic
✔ Fast and efficient coffee grinding
✔ Suitable for beginner and expert
✖ Expensive
Breville BES870 is a great buy from Breville, the decade-old Australian brand. Made of brushed stainless steel, this pretty coffee machine fulfils the yearns of anyone who desires for a fantastic artisan coffee.
According to a detailed review done by techgearlab.com, Breville BES 870 produce top tier coffee taste which scores 9 out of 10. It is on par with other much expensive machines. The coffee produced is rich, aromatic and bold. The built-in grinder is great too. The coffee bean grind quality is comparable to the Breville smart grinder pro which is selling at RM1,499.
This machine can be daunting for beginners. Because users still need to manually execute the grinding and tamping of coffee, as well as steaming the milk. However, we believe most users can get used to the process after several trials.
One notable downside of this machine is its maintenance. Apart from the usual cleaning of steam wand and portafilter, users need to manually descale the machine a few times a year. Users can mix a cup of half water and half vinegar mixture to manually flush the machine.
Breville BES870 is a great coffee machine that certainly not cheap. But it is less exorbitant than much high-end coffee machines. It only comes with 1-year local warranty.
DeLonghi Autentica Cappucino Coffee Machine
Best fully automatic coffee machine
Delonghi Autentica is the best fully automatic coffee machine. A great cup of cappuccino can be made with a single touch
✔ Simple to use, fully automated
✔ Make various types of coffee and customization
✔ Automatic cleaning function
This Delonghi machine is able to make various types of drinks, namely single, double espressos to cappuccinos, even lattes. Being a great all-rounder, this machine is efficient in everything it does. It takes 50 seconds to heat up. Each shot to make espresso takes less than a minute to pour.
This machine is excellent for its convenience where everthing is just one touch away. Just check out the video below:
Another advantage of this coffee machine is its automatic cleaning function. It has automated descaling, cleaning and rinsing program. It also has a detachable brew unit which make cleaning so much easier.
Delongi Autentica Cappuccino coffee machine only comes with a 1 year local warranty.
Bonus: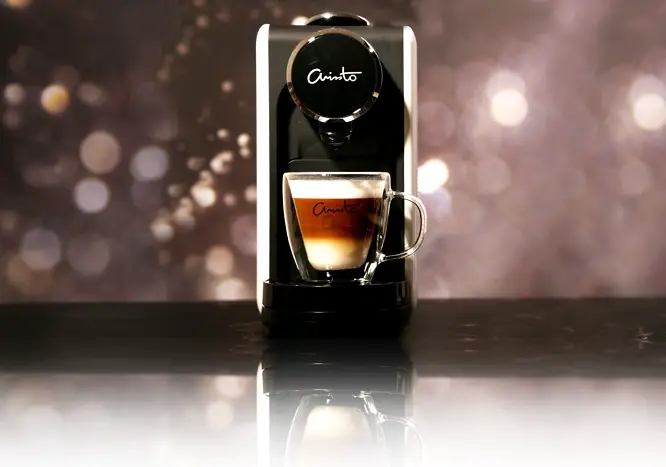 Arissto Coffee Machine
It will be unfair to not talk about Arissto coffee machine. Well, I have never owned an Arissto coffee machine. But our local blogger Candy-yumie.com had written a very detailed user experience and review on this machine. Here is the summary:
RM 1 per month rental with compulsory order of minimum 1 box coffee capsule
1 box has 10 coffee capsules
1 box capsule costs RM21.60
No contract binding, and no deposit required
You may or may not know that Arissto is operated by the same guy who brought us Diamond water filter. As much as I hate MLM and direct sales product, this coffee machine seems like a good deal because there is practically no risk involved in trying it out. So, I will keep a neutral stance on this one.
Conclusion
If you are looking for something budget, I highly recommend getting the Nescafe Dolce Gusto Mini Me for its large variety of coffee capsules. Breville BES870 is the best coffee machine for Malaysians who would like to enjoy artisan coffee at home.
Looking to upgrade your kitchen, don't miss out our recommendation on others kitchen appliances series including the best water filters, gas stoves, rice cookers, ovens, pressure cookers, and induction cookers