Coffee, Milo, and tea are Malaysians' favourite daily drinks. The quickest and easiest way to prepare a good cup of coffee at home is by making regular 3-in-1 instant coffee.
If you want coffee with a better aroma and taste, you should use coffee beans or coffee capsules. The best way to prepare them is to use a coffee machine or an espresso machine.
Different Types of Coffee Machine
Manual espresso machines – Users need to measure, grind and extract their own coffee. It usually comes with a lever pump that needs users to manually operate it. Only for professional coffee baristas. Not recommended for home users.
Automatic espresso machines – This type of coffee maker is easy to use but generally expensive. There are semi-auto, full-auto, and super-automatic coffee machines. They easily cost RM1000-RM5000.
Drip coffee machines – This type of coffee machine passes hot water through ground coffee with a filter. It is the most common way of making coffee and does not produce a strong coffee taste like an expresso machine. Cost from RM90-RM500+.
Coffee capsule machines – make espresso from pods sealed with coffee. Cost fromRM500-RM1500++.
What is the best coffee machine in Malaysia?
The best coffee machine in Malaysia is  Breville BES870 Barista Express. It comes with every tool to make the perfect cup of coffee. There is a top-grade built-in grinder and an excellent frother wand. Furthermore, it has multiple adjustable settings that allow for a greater degree of control over the brew. Both beginners and experienced coffee enthusiasts will enjoy this machine.
Below are the top 8 coffee machines in Malaysia:
---
1. Breville BES870 Barista Express Espresso Machine
Best Coffee Machine Malaysia for Home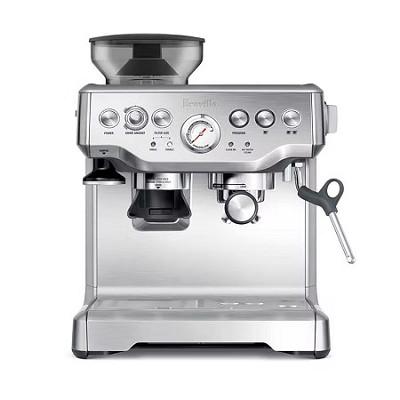 Best deal on Lazada Best deal on Shopee
Breville BES870 espresso machine is the best coffee machine in Malaysia for home use. It is recommended for coffee enthusiasts who do not mind paying a premium for the best taste.
Breville BES870 espresso machine features:
Stainless steel body
PID temperatures controlled Thermocoil
Pre-infusion function
Built-in conical burr grinder with 16 settings

Manual milk foam wand

Charcoal water filter
1600W Power
From the reputable Australian brand, Breville BES870 is a great buy. With its brushed stainless steel finish, this pretty coffee machine fulfils your every need for fantastic artisan coffee.
With Breville Barista Express BES 870, you can make high-quality coffee that rivals the taste of much more expensive machines. It produces a rich, aromatic, and bold cup of coffee. 
The built-in conical burr grinder is great too. It grinds coffee beans similarly to Breville Smart Grinder Pro, which sells for RM1,499.
Due to its numerous settings and steps required to prepare your first cup of coffee, this machine may be intimidating for beginners.
Users will still need to grind and tamp the coffee, as well as steam milk manually. We believe most users will become accustomed to the process after a few trials.
The main disadvantage of this machine is its difficulty in maintenance. 
Besides cleaning the steam wand and portafilter, users need to manually descale the machine once or twice a year. To do so, users can manually flush the machine by mixing half water and half vinegar.
The Breville BES870 is an excellent coffee machine that is certainly not cheap. 
But at the same time, it is more affordable compared to expensive models in the range of RM10,000 to RM20,000. The long-term savings can be considerable when compared to purchasing coffee from the cafe every day.
Pros:
All-in-one coffee machine including grinder, steam wand
Thermocoil heating system
Precise control over coffee and expresso extraction
Adjustable coffee grind size
Cons:
Expensive
No milk frothing temperature control
It can be difficult for first-timers
---
2. DeLonghi Dedica Espresso Machine EC785
Best Coffee Machine for Beginners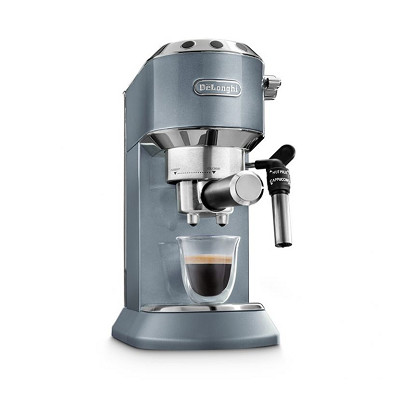 Best deal on Lazada Best deal on Shopee
DeLonghi Dedica Espresso Machine is the best entry-level DeLonghi expresso machine. Beginners who want to dip their toes into the world of coffee making will find it to be the perfect machine.
DeLonghi Dedica Espresso Machine features:
Thermoblock heating system
Adjustable Cappuccino Milk System
Stainless steel body
15-bar professional pump
Suitable for ground coffee and pod
The DeLonghi Dedica is a solid and compact espresso machine. It measures only 15cm wide which is suitable for small apartments and kitchens.
DeLonghi Dedica is a very simple espresso machine with only 3 buttons on top of it. No complicated setup, and no fancy switches. 
It uses Thermoblock heating and has a maximum output of 15 bar pressure. In addition, it has a high-quality Pannarello steam wand for preparing milk frother.
With high-quality and fresh coffee grounds, you are almost guaranteed to get a cup of wonderful espresso in less than a few minutes. There will be no need to worry about pump pressure or water temperature, which is great for beginners.
The only downside of this DeLonghi machine is it doesn't come with a built-in grinder. Thus, you will need to purchase a coffee grinder. Actually, most coffee lovers prefer to have a dedicated, stand-alone burr grinder instead of a built-in one.
DeLonghi Dedica is a very well-built and compact-sized espresso machine. Unlike cheap espresso machines that can produce thin, watery espresso, this machine consistently produces good espresso.
Pros:
One of the easiest espresso machines
Fast machine warm-up
Compact size
Comes with a steam wand
Cons:
Not cheap
Only for beginners due to a lack of controls
---
3. Philips Series 2200 Coffee Machine
Best Automatic Coffee Machine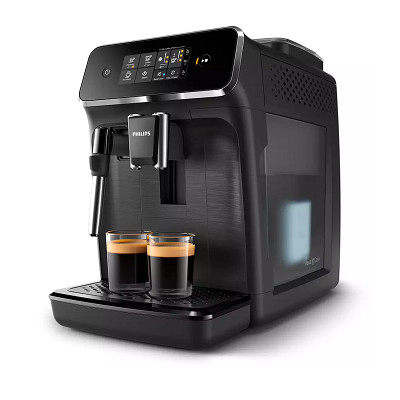 Best deal on Lazada Best deal on Shopee
Philips Series 2200 Coffee Machine is a great alternative to Breville and DeLonghi Coffee Machines. This is a fully automatic coffee machine that allows users to enjoy great coffee easily and conveniently.
Philips Series 2200 Coffee Machine features:
Thermoblock
Classic milk frother wand
12-Step ceramic flat burr grinder
2 preset drinks – espresso and coffee
15 bar pressure
Aqua-Clean water filter
Using this Philips coffee machine, you can prepare espresso or coffee with just a touch of a button. This machine is primarily made of plastic, with buttons that look as if they are actually LED touch displays.
It has a built-in ceramic flat burr grinder which has 12 grind settings. Beginners should find it sufficient. This machine is suitable not only for home use but also for office use thanks to its large bean container.
The Philips Series 2200 Coffee Machine comes with a manual steam wand to prepare milk frother. Insert the wand into the milk, press the button with the steam icon, and you get a decent amount of froth in no time.
The most outstanding feature of this Philips Series 2200 Coffee Machine is its ease of cleaning and maintenance. It has a detachable brew group that can be removed for thorough cleaning and rinsed under running water.
The AquaClean filters the water to ensure the coffee has an intense aroma and reduces the formation of limescale.
In conclusion, the Philips Series 2200 Coffee Machine is the best automatic coffee machine in Malaysia for office as well as home. It has a large storage capacity and can brew two cups of coffee at once.
Pros:
Easy to use
coffee tastes great
Affordable fully automatic coffee machine
Double shot option
Cons:
Body is made of plastic
Only 2 types of beverage choice
---
4. Nescafe Dolce Gusto Genio S Plus
Best Capsule Coffee Machine Malaysia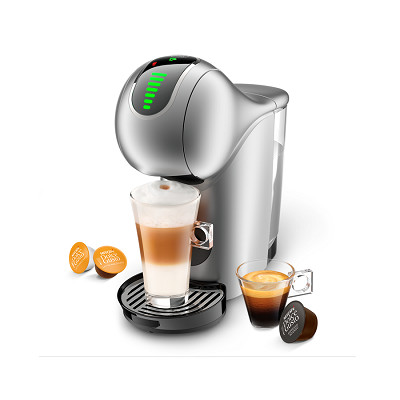 Best deal on Lazada Best deal on Shopee
Nescafe Dolce Gusto Genio S Plus Touch is the best capsule coffee machine for most people. We chose it because it offers a wide variety of capsules, including Starbucks coffee.
Nescafe Dolce Gusto Genio S Plus Touch features:
Thermoblock heating technology
Adjustable intensity
Extra large cup function
Automatic power off after 1-minute inactivity
15 bar pump pressure
With this capsule coffee aka. coffee pod machine, you won't have to worry about the hassles and finer points of making homebrew coffee. 
Nescafe Dolce Gusto Genio S Plus get you to make consistently tasty coffee drinks. 
There is no need to be an expert in coffee brewing to produce the same taste every time. 
The Nescafe Dolce Gusto Genio S Plus Touch is perfect for beginners and coffee drinkers who aren't concerned about bean texture, origin, size, roasting temperature, or brewing duration.
Furthermore, Dolce Gusto has a wide variety of capsules to choose from, including Americano, Cappuccino, Latte Macchiato, Chocolate, and even Starbucks.
However, this coffee machine only uses powdered milk capsules, so those of you who love cappuccinos and lattes might be disappointed. The taste of powdered milk is slightly inferior compared to fresh milk frother.
Overall, the Nescafe Dolce Gusto Genio S Plus Touch is a very affordable and versatile capsule coffee machine. If you don't need the touchscreen control, Nescafe Dolce Gusto Genio S Plus will be a cheaper option. 
Pros:
Compact size
A variety of coffee flavours are available
Easy to use
Can produce both small and big cups of coffee
Cons:
No fine control over coffee
Only can use powdered milk capsules.
---
5. Nespresso Creatista Plus
Best Nespresso Machine Malaysia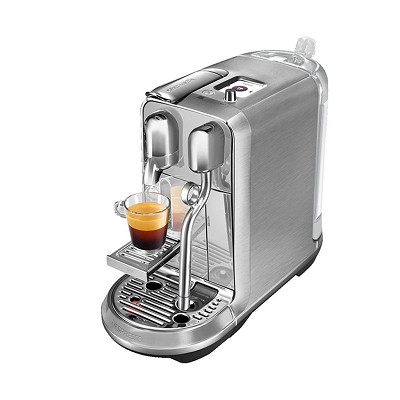 Best deal on Lazada Best deal on Shopee
Nespresso Creatista Plus is the best Nespresso coffee machine to buy in Malaysia. Different from the Dolce Gusto Coffee machine, the Nespresso Creatista Plus is a specialized machine for Nespresso Capsule.
Nespresso Creatista Plus features:
19 bars pressure
Frothing wand with 3 milk temperature
Full stainless steel exterior
Auto-off after 9 minutes
The Creatista Plus has a fully stainless steel exterior which is vintage and sophisticated. And it has a high-quality swivel steam wand.
Although Nespresso Creatista Plus is just a capsule coffee machine, its high-pressure pump allows it to produce authentic espresso. 
It can be used to make ristretto, espresso, lungo, cappuccino, café latte, latte macchiato, flat white.
The steam wand has 3 temperature and 3 texture settings, giving users more control over the milk foam.
Pros:
19 bars pump pressure
Multiple settings for milk frother
Authentic espresso taste
Can use third-party capsule
Cons:
No cold frothing option
Costly capsule coffee machine
---
6. Nespresso Essenza Mini
Best Budget Nespresso Machine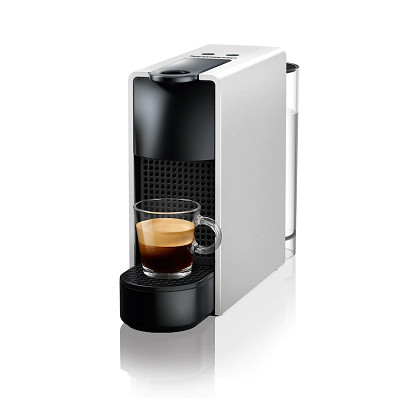 Best deal on Lazada Best deal on Shopee
Nespresso Essenza Mini is yet another Nespresso coffee pod machine. It is less than half of the price of the Creatista Plus but still produces great espresso.
Nespresso Essenza Mini features:
19 bar pressure pump
Removable water tank
Capsule capacity 6 nos
If you like the taste of Nespresso, you should consider getting this coffee machine because it is the cheapest model available. 
This is the smallest Nespresso machine designed for a modern small family. The dimensions are 8.4 x 20.4 x 33 cm.
Despite not having Starbucks coffee capsules, Nespresso offers more than 30 types of coffee capsules, from mild to extra intense. 
Like Arissto coffee, Nespresso offers a monthly subscription plan for their coffee capsules. However, I do not recommend subscription services for normal households. A coffee subscription is better suited for small offices or corporate clients.
Nespresso Essenza Mini comes with a 2-year local warranty. If you like milk froth, get a cheap Ikea handheld milk frother (RM5.90) will do the job. 
Pros:
Smallest Nespresso machine
Fast heating time
Great choice of Nespresso capsule
Cons:
Nespresso capsules are more expensive
Not cheap
No built-in milk frother
---
7. Delonghi Clessidra CoffeeNachine
Best Drip Coffee Machine Malaysia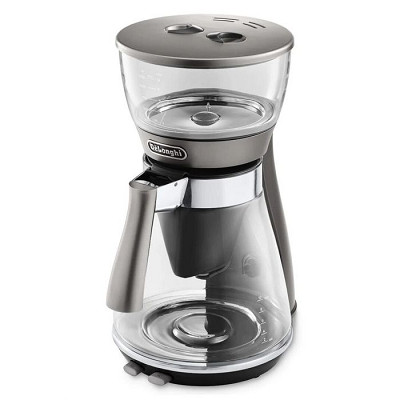 Best deal on Lazada Best deal on Shopee
The Delonghi Clessidra coffee machine is the best drip coffee machine in Malaysia. A drip coffee machine is also known as a filter coffee machine
But the Delonghi Clessidra coffee machine is different. It has an automatic pulse pouring function that mimics the pour-over coffee method. It makes the coffee more intense and aromatic.
Delonghi Clessidra coffee machine features:
Pour-over coffee method
Precise temperature control
Anti-drip system
10 cup carafe
Keep warm plate
Auto shut off
Descaling alarm
The Delonghi Clessidra coffee machine has earned certification from the European Coffee Brewing Centre. It can boil coffee at a precise temperature range of 92-96 degrees celsius.
Furthermore, it has 40 minutes keep warm function to ensure each cup of coffee is served at the best temperature.
Although the Delonghi Clessidra coffee machine is 5 to 10 times more expensive than the Khind and Pensonic drip coffee machines, the coffee is much better tasting and smells better.
In short, if you are looking for the best drip coffee maker at a reasonable price, then Delonghi Clessidra should be your top choice.
---
8. Giselle Espresso Coffee Machine KEA0330RD
Best Affordable Coffee Machine in Malaysia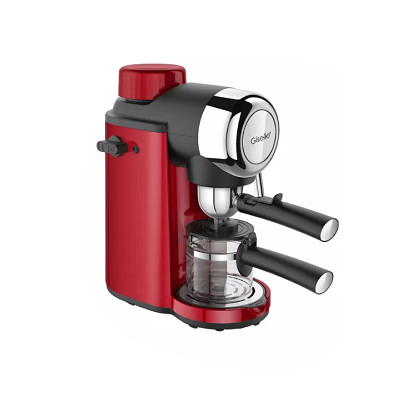 Best deal on Lazada Best deal on Shopee
Giselle KEA0330RD espresso coffee machine is the best-selling coffee machine on Shopee. Despite being the best budget coffee machine for many customers, I would not recommend it.
Giselle KEA0330RD espresso coffee machine features:
Comes with a steam nozzle
Stainless steel filter
3.5 bar pressure
This Giselle Coffee Machine has sold close to 8,000 units so far. It has stellar reviews too but it isn't meant for any serious coffee drinker.
First of all, the pressure of 3.5 bar is not enough to extract the crema of espresso.  Crema is the essence of a well-made espresso. There is no way to make coffee taste good without a good extraction.
Also, many people complain that the steam wand is difficult to use and does not produce milk frother effectively.
For coffee beginners who want to save on the coffee machine, I will advise you to get the Nescafe Dolce Gusto Coffee Machine. The machines themselves are cheaper, and since they use coffee capsules, you can make great coffee without hassle.
---
Competitions
Arissto Coffee Machine Review
I can't leave Arissto Coffee out for a Malaysia coffee machine review. Previously it cost only RM1 per month for machine rental, making it an interesting offer. Now it has raised the rental fee to RM10 per month, but you can get it waived if you order more than RM30 worth of coffee capsules.
Arissto coffee is, nonetheless, very close to authentic espresso for beginners and even intermediate espresso enthusiasts. Hence, it is a suitable coffee machine for those just starting out with espresso.
Dessini Coffee Machine Review
Dessini Coffee Machine is the second best-seller on Shopee. I previously reviewed the non-stick pan and pressure cooker from Dessini, and its product quality control is very poor. So, I don't have high hopes for its coffee machine. But there are many satisfied customers who claim that the milk frother works well and is able to produce sufficient crema. A common complaint is a leaky water tank. You can give it a try if you want to buy a cheap and good coffee machine.
Samu Giken Coffee Machine Review
Samu Giken CM20RG Espresso Machine suffers the same problem as Giselle Budget Coffee Machine Model. It has too low pressure, only 3.5 bars. It is not good enough to produce good coffee crema. Hence, it is not recommended.
SMEG Coffee Machine Review
Not all SMEG Coffee Machines are made equal. The SMEG Automatic Coffee Machine had received poor reviews on the internet. In contrast, the SMEG ECF01 Retro Espresso Machine, which shares the same design aesthetic as the SMEG refrigerator, has received much praise for producing good coffee.
Unless you really like SMEG coffee machines' aesthetic, I recommend Breville and DeLonghi espresso machines.
Illy Coffee Machine Review
With almost a century of history, Illy is a reputable Italian coffee company. The most popular illy coffee machine model is the X7.1 iperEspresso Capsule Coffee Machine. It is an elegant capsule coffee machine with a retro design. The taste and aroma of coffee are excellent, but the price might not be for everyone.
Lebensstil Coffee Machine Review
Lebensstil was a German brand acquired by Pensonic Malaysia. The Lebensstil LKCM-112X product quality and coffee taste are both acceptable. And its price is very reasonable too. There is no doubt that it is the best coffee machine for under RM300
Gemilai CRM3605 Coffee Machine Review
Gemilai CRM3605 is a highly-rated China Coffee Machine. Despite using mostly plastic material, the overall product quality is good. With its 15 bar pressure pump, it can extract good coffee crema. The frothing wand is great for beginners too. One big disadvantage is that it does not come with a warranty.
---
Coffee Machine FAQ
Which is the best coffee machine brand?
Breville is the best coffee machine brand for home use in Malaysia. Their coffee machines have the great build quality, and it produces great coffee and espresso consistently.
Which coffee machine brand is the best for beginners
I recommend getting the DeLonghi EC785 for beginners. It is relatively affordable compared to an all-in-one coffee machine but it can produce coffee that tastes on par with more expensive coffee machines.
Is Giselle coffee machine good?
Generally, the Giselle coffee machines are not good. They have various problems like leaking water, difficult-to-use steam wands, and poor crema extraction.
Which is the best barista coffee machine to use at home?
Breville Barista Express is the most popular and highly recommended coffee machine among professional coffee baristas.