The kitchen hood is an essential kitchen appliance if you frequently cook in the kitchen. It is just as important as a gas stove (or induction cooker).
It extracts and filters smoke while you're cooking. It helps to keep your kitchen fresh and clean.
The suction power of a cooker hood is important, but at the same time, we should pay attention to the ergonomics and aesthetics aspects as well.
Let's learn more about different types of cooker hoods in this review.
What is the best cooker hood in Malaysia?
Based on reviews and testimonials from many customers, the Elba Zitto EH-M9138ST is the best kitchen hood in Malaysia. The excellent suction power, sleek design, good build quality and great cost-to-performance ratio make it an easy recommendation.
Check out the full list of the top 6 kitchen hoods in Malaysia:
---
1. ELBA Zitto EH-M9138ST
Best Cooker Hood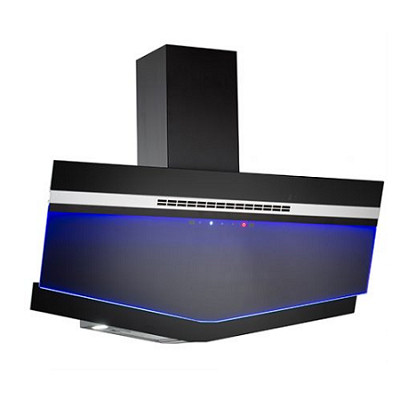 Best deal on Lazada Best deal on Shopee
The ELBA Zitto EH-M9138ST Designer Hood stands out from its competitors by offering the best balance of features for its price of RM1200+, on top of a futuristic design and great build quality.
With a suction power of 1,400m3/hr and a 230w motor, it easily outdoes a lot of cooker hoods within its price bracket. 
There are 4 options for suction speed, giving you the option to conserve energy according to your usage.
There are two washable aluminium grease filters that are easy to clean. You also get a charcoal filter that ensures all unsavoury smells get strained out.
An Elba Zitto EH-M9138ST is equipped with a gesture motion sensor, allowing you to control it with simple gestures. 
It's especially convenient when your hands are greasy and you don't want to touch the kitchen hood. Using simple hand gestures, you can turn on/off and control the fan speed of the hood
The Elba Zitto EH-M9138ST's heat cleaning function makes cleaning a breeze. 
Using heat and steam, the kitchen cleans itself automatically, only requiring a quick wipe for tougher grease stains.
Other than that, this Elba kitchen hood comes with two 1.5w LED lamps for lighting. Elba Zitto EH-M9138ST also has a blue magic light that makes it look futuristic.
Last but not least, the ELBA Zitto EH-M9138ST's slanted hood design makes it more ergonomic for users. It is safer and more flexible to cook without worrying about bumping your head onto the hood.
Pros
Slanted hood design
Modern design
Strong suction power
Gesture motion sensor
Heat cleaning technology
Cons
---
2. Rubine MARK-90BL Kitchen Cooker Hood
Best-Selling Cooker Hood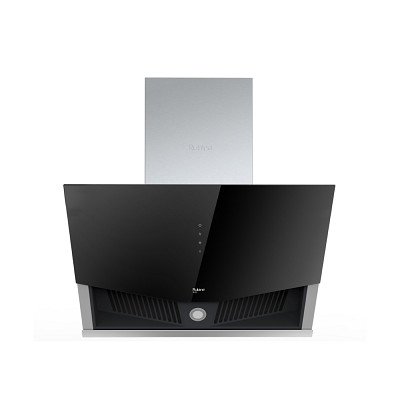 Best deal on Lazada Best deal on Shopee
If you're looking for an affordable slanted hood, then the Rubine MARK-90BL Kitchen Cooker Hood is a great choice. It's one of the best selling-cooker hoods around, squeezing every bit of value from its RM600+ price tag.
Powered by a 238w motor, the Rubine MARK-90BL has a suction power of 1,400m3/hr. There are only two-speed levels to choose from, giving users very little choice for speed control.
The cooker hood comes with one LED lamp. It is mainly made of tempered glass and stainless steel. So, cleaning it is very easy.
Design-wise, the Rubine MARK-90BL is simple, sleek, and understated. The design blends well with any kitchen and doesn't look too fancy.
As a side note, I have previously mentioned that I have had bad experiences with Rubine water heaters. Therefore, I have some doubts to recommend Rubine electric appliances.
Considering its price and many good customer reviews, the Rubine MARK-90BL Kitchen Cooker Hood remains a very attractive deal because it has a good design as well as strong suction power. The hood motor comes with 6 years of warranty too.
Pros
Slanted hood design
Reasonable price
Compatible with both recirculation and extraction mode
6 years warranty for the motor
Cons
---
3. Midea MCH-76MSS Slim Cooker Hood
Best Cheap Slim Cooker Hood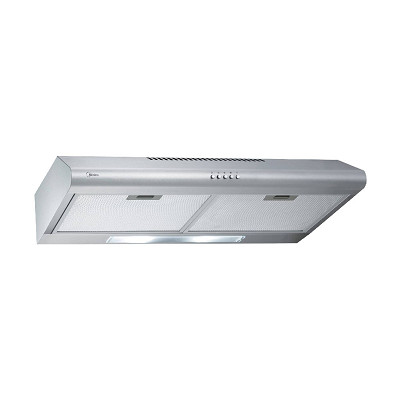 Best deal on Lazada Best deal on Shopee
Midea's MCH-76MSS Slim Cooker Hood is a solid cooker hood and its low price sets it apart from the competition.
Midea MCH-76MSS Slim Cooker Hood has twin motors rated at 300w.
It has a suction power of 900m3/hr, which puts its performance poorer than the recommended kitchen hood above. But, keep in mind that most slim cooker hoods only offer 300 to 500m3/hr suction power. 
So, this Midea MCH-76MSS is more than enough for everyday cooking.
You can install it with or without exhaust ducts. It features a push-button control panel and two LED lamps for good illumination.
Furthermore, it comes with 4 filters which are two aluminium filters and two charcoal filters. These filters can effectively remove grease and odours from the air. The aluminium filters are washable, which is very convenient.
In short, Midea MCH-76MSS is an excellent value for money choice if you are tight on budget. It comes with 5 years motor warranty and a 1-year local general warranty. It is a fantastic package that doesn't break the bank.
Pros
Affordable
Strong suction power compared to other slim cooker hoods
Cons
---
4. ELBA Hood EH-E9122ST with ELBA Hob EGH-K8842G
Best Cooker Hood and Hob Combo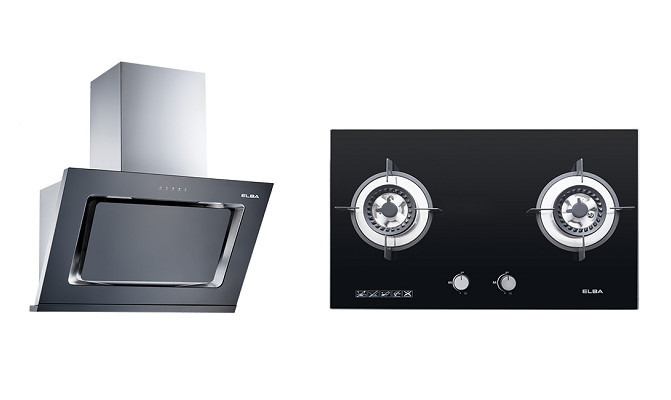 Best deal on Lazada Best deal on Shopee
Are you looking for a cooker hood and hob combo for your kitchen? We have you covered with the ELBA Hood EH-E9122ST and ELBA Hob EGH-K8842G combo.
The ELBA EH-E9122ST cooker hood is a good quality kitchen hood, and it works well with the included hob.
EH-E9122ST has a stainless steel chassis and elegant tempered glass finish. Overall, the appearance feels very premium.
It comes with two extraction modes, ventilated and recirculation. So, it is suitable for a condominium as well as a terrace house kitchen.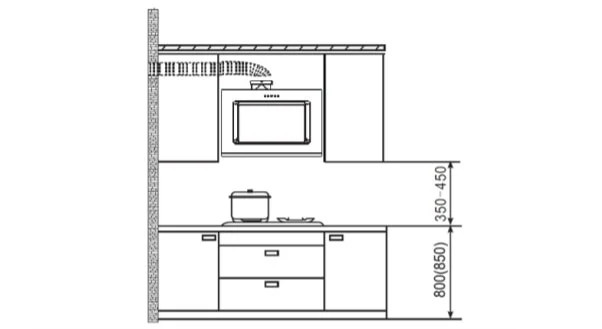 Its suction power is 1400m3/hr, which is respectable. In addition to two-speed settings, there is a turbo speed that can be selected for quick removal of heavy smoke.
This Elba cooker hood features a LED touch control panel. It is equipped with a delay timer and an LED lamp. 
The hob included in the combo is pretty standard. The stove has two burners and a tempered glass finish. The burner rating is as high as  5.0kW
Overall, I think the ELBA Hood EH-E9122ST and ELBA Hob EGH-K8842G are a very solid combo. 
Pros
Strong suction power
Touch panel control
Slanted hood
Affordable
Delay timer feature
Cons
---
5. Electrolux EFC928SC
Best Cooker Hood with Strong Suction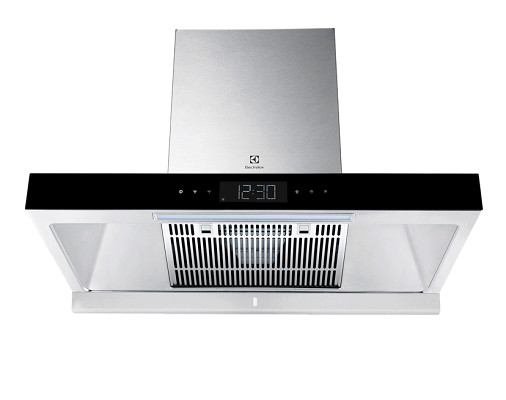 Best deal on Lazada Best deal on Shopee
This Electrolux EFC928SC cooker hood is one of the most powerful cooker hoods on this list. With a fantastic blend of features and suction power, it's no surprise that it comes with a hefty price tag of RM2,400+.
For starters, it has a maximum air extraction of 1400m3/hr. It can quickly remove cooking smoke and greasy hot air. As a result, air quality in the kitchen can be improved without the use of an air purifier or ceiling fan.
The best feature of this Electrolux hood is its cleaning alert. It will automatically alert users when it is time to activate the steam clean function.
It also comes with the SilenceTech feature which keeps the extraction relatively quiet.
In a nutshell, the Electrolux EFC928SC is an incredibly helpful kitchen hood that keeps your kitchen clean and fresh. 
Pros
Powerful suction

Steam self-cleaning

Cleaning alert
Cons
Expensive
Less ergonomic
Slightly outdated design
---
6. SENZ SZ-CH1288RC-B
Best Built-in Cooker Hood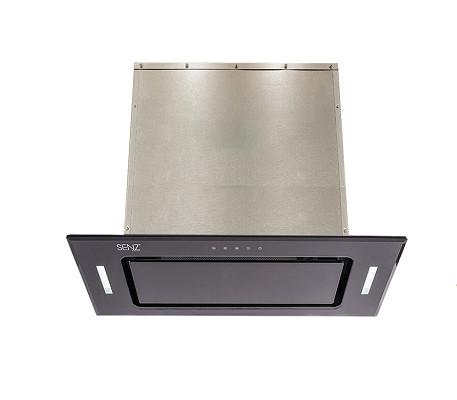 Best deal on Lazada Best deal on Shopee
The SENZ SZ-CH1288RC-B is an invisible cooker hood, which can fit perfectly in the kitchen cabinet with no protruding roof. Compared to the usual kitchen hood, it is more seamless and takes up less space.
In addition to looking great, it's also quite reliable. It features a suction power of 1,200m3/hr, making it a small yet powerful cooker hood.
The suction power is superior to many similar-priced hoods, whether built-in or not.
There are three fan speeds on this SENZ Invisible Multihood. The filter system comprises a 6-layer aluminium grease filter and twin charcoal filters, along with an oil cup to store overflowing grease. 
With two LED lights flanking the sides of the cooker hood, the kitchen counter is lit brightly, making cooking easier and more pleasant. 
In conclusion, the unique hidden concept design makes the SENZ SZ-CH1288RC-B Invisible MultiHood the best kitchen hood for a small kitchen. Besides saving space, the 6mm tempered glass finish looks elegant as well.
Pros
Powerful suction
Unique hidden concept
6mm tempered glass finish
Cons
Smoke capture area is slightly smaller
Slightly expensive
---
Competitions
Fotile JQG9031 Review
Fotile JQG9031 is a very powerful chimney hood with 1750m3/hr extraction airflow. It features an umbrella containment field that effectively captures cooking smoke. As such, it can remove oil particles by 95% and reduce odours by 98%. The Fotile cooking hood is great but fetches a very high price of RM2500+.
Rinnai RH-S95A-SSVR and RH-S65A-SSVR Review
The Rinnai slim cooker hoods are not as popular as their gas stoves. It has a moderate 490m3/hr suction power. These Rinnai cooking hoods are available in 90cm and 60cm widths, giving users more size choices. Otherwise, the Midea Slim Cooker Hood is a better choice.
SENZ SZ-CH338i Chimney Hood Review
SENZ SZ-CH338i Chimney Hood has a very similar design to Fotile JQG9031. It has a wide smoke capture area and a strong suction power of 1800 m3/hr. It also features a dual-way auto-clean function. To remove heavy smoke, it has a turbo boost function to boost up an additional 200 m3/hr of airflow for a short period of time.
---
Kitchen Cooker Hood FAQ
Which type of cooker hood is best?
You need to understand your priority in order to pick the best cooker hood. Generally, the standard chimney cooker hood offers the best mix of suction power and pricing but is less ergonomic. Slanted cooker hoods are balanced in terms of ergonomics and suction power. The telescopic and hidden hoods are the least effective hood but are more discreet and save space.  
How do I choose a cooker hood?
When choosing a cooker hood, users should first decide on types of cooker hoods, then select the required extraction power, ergonomics and design.
How do I know what size kitchen hood I need?
Kitchen hood size is entirely dependent on the size of your kitchen and hob. When buying a hood, ensure that it fits by measuring the space available above the hob.
How high should I install my cooker hood?
A standard cooker hood installation height should be 600mm to 800m above the kitchen hob. However, every cooker hood has a preferred installation height. The correct way should always be to check the installation manual for its allowable installation height.