Looking for the best induction cooker for your new house? Or tempted to upgrade your existing gas stove to induction cooker? We have the answer for you here.
SENZ SZ-RI3200i is our best recommended double cooker built-in induction hob. And if you want to get a single free standing induction cooker, get the Xiaomi Smart Induction Cooker.
Pros and cons of using induction cooker vs. gas stoves:
✔ Safer, no flames involved
✔ No risk of gas leakage
✔ Convenient, no need to replace gas cylinder
✖ Ceramic or Halogen hob cooker is an energy vampire
✖ Limited types of compatible cookware material
✖ Can't cook without electricity
There are many induction cooker brands in Malaysia now. Household names like Rinnai, Philips, Midea, to name a few among the many, have already established themselves well. Here we have the 8 best induction cookers ranging from the high-end models to budget picks:
SENZ SZ-RI3200i – Best value dual-zone hybrid induction cooker
Xiaomi Mijia Smart Induction Cooker – Best single induction cooker
---
1. SENZ SZ-RI3200i 2-in-1 Smart Induction & Ceramic Cooker Hob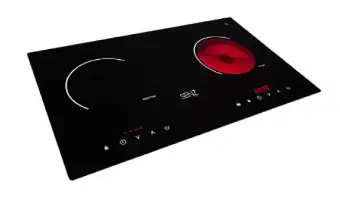 We think Senz smart induction & ceramic cooker hob is the best value induction hobs for most Malaysians. Because it has an induction cooker at one side and ceramic hob on the other side.
SENZ SZ-RI3200i features highlight:
Highest 2000W heat, total 2800
Timer function
Overheating protection
Child safety lock
One side is ceramic hob, suitable for all cookwares
Customer's positive review:
Cooks well, really love it. Easy to use and install. Induction zone is very very powerful, ceramic takes longer time to heat up and i felt the heat on the ceramic zone is less powerful. Nonetheless it was worth the buy 👍
Customer's critical review:
The material is only tempered glass and not Schott Ceran. Both side can't run on same high temp, if you raise one side the other will drop. I ordered together with ch930ac hood but I still haven't received them, they should bundle the orders together but one item is here and the other one is missing. I just started to use the hob and after a few usages the ceramic area has some stains there which will never go off. Not satisfied with this purchase.
There are multiple brands that do direct sales for induction cooker before Senz. We have Vees delicooker and Sugawa too. It seems that Senz is the only one which is still active right now.
The key advantage of having a ceramic hob is that it compatible with all types of cookware material: claypot, ceramic, glass, copper, cast iron, stainless steel, normal steel or even aluminium non stick material.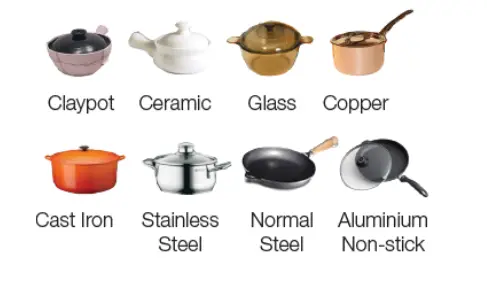 Induction cooker only works with metal type material which can be magnetized in order to utilize the induction method for heating.
With its affordable pricing, there are hundreds and thousands of satisfied customers for Senz induction cooker. It has 1 year local warranty.
Best deal on Lazada Best deal on Shopee
---
2. Bosch Series 8 PPI82560MS Built-in Induction Hob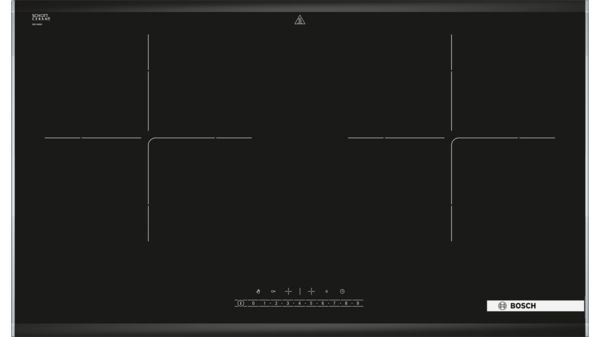 Bosch PPI82560MS is our best built-in double induction cooker. At 780 x 450 x 59mm, it is a pick for those who wants high-end kitchen wares. It has an elegant, modern design with bevelled front/rear along with stainless-steel strips at the sides.
Bosch Series 8 PPI82560MS features highlight:
Elegant modern design
Bosch's PerfectFry technology
FlexInduction Zone feature
DirectSelect Premium feature
PowerBoost function
Program timer to configure cooking zone set time to turn off
Easy to clean and maintain
Safety measures: pan recognition, safety time switch off
Cons:
No ceramic hob could be inconvenient for most Malaysians family
Customer's positive review:
High end product. no regret on this purchase. Unexpected fast on delivery on 11.11 purchase.
Customer's critical review: None. However, it could be misrepresented simply due to lack of reviews.
This induction hob is easy to clean and maintain. The cooktop allows precise and fast power control cooking. Utilizing PerfectFry technology, this enables perfect cooking which it automatically regulates the heat for reducing sauces, fried fish, and even preparing rare steaks.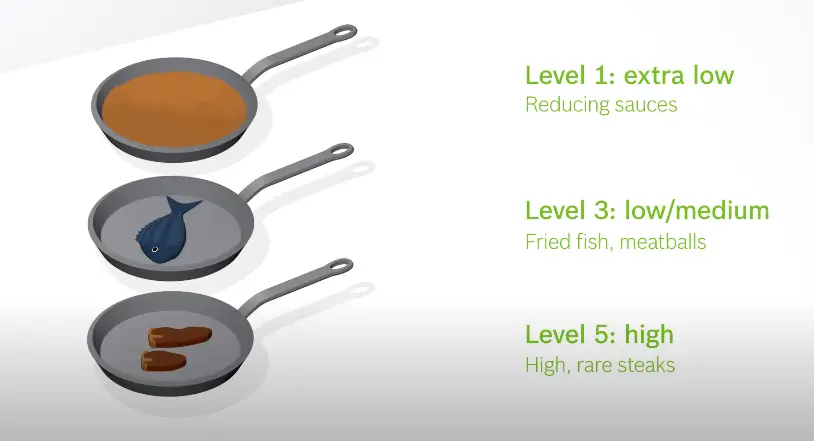 It also gives you the flexibility in your cooking through Flex Induction Zone – combines the cooking zones into bigger ones. Using its DirectSelect feature, you can choose the desired cooking zone, and selected the needed power (Levels 1 -9) and other functions to create the best dishes you want.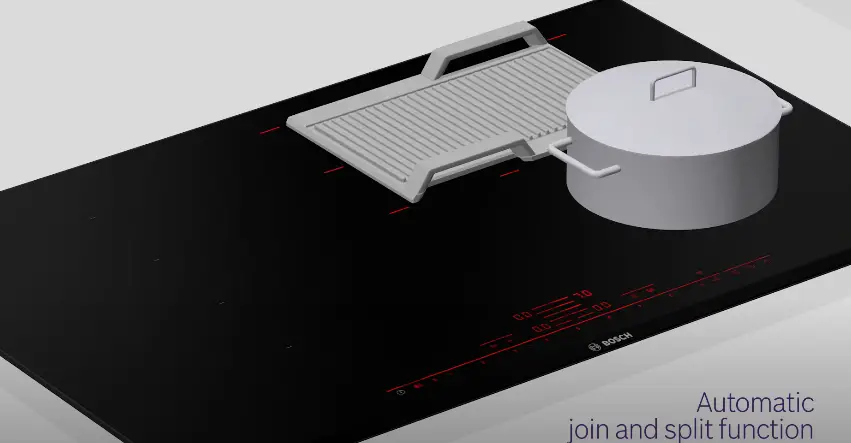 For those of you who do heavy cooking and often, the improved PowerBoost function adds more power (50% more) to speed up the cooking process – boiling 2L water becomes 3 times faster.
You can program the timer to turn off the assigned cooking zone after the set time, so you can focus on other things without worry of over-cooking or any spillages.
The safety measures included are pan recognition (will not work when no pan detected), safety time switch off and power management function.
Bosch Series 8 PPI82560MS induction hob comes with 2 years local manufacturer warranty.
Best deal on Lazada Best deal on Shopee
---
3. Midea MC-IHD361 Built-in Dual Zone Induction & Ceramic Hob (1800W)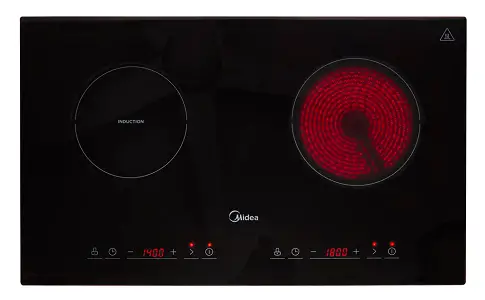 If you are one who doesn't like direct sales brand and prefer to buy from a known manufacturer. Based on reviews on Shopee/Lazada, I would recommend getting the Midea MC-IHD361 dual-zone multi cooker. This is a hybrid built-in induction and ceramic hob.
Midea MC-IHD361 features highlight:
Hybrid induction and ceramic cooking
Suited for all cookwares
9 various power levels selection
Lifetime warranty on tempered glass
Residual heat indicator
Automatic safety switch-off function
Child lock function
Customer's positive review:
Collected in person from the store. Item works well. Looks good on the kitchen cabinet. Used only a few times cuz just moved in. very cost effective compared to other brands. Highly recommend it to other buyers.
Customer's critical review:
Hi I've used the stove for 2months and just wanna ask why the burner git yellow flame? It burnt my cooking pots and left them with coal at the pots bottom.
At 700 x 430 x 82mm, this requires a built-in size of 670 x 400mm.The tempered glass surface is sleek and solid with a lifetime warranty.
Both the ceramic and induction hobs provide 1800W power output. Midea MCIHD361 hob offers the flexibility of dual zones – induction and the other a ceramic hob. The ceramic cooker is suited for all cookware, so you need not change any of your existing cookware.
The touch control panel is easy to use. Selecting from 9 varying power levels, you can control the temperature levels accurately.
There is a safety switch that automatically shuts off, whenever there are any unstable power surges/overheating. Having a child lock function also ensures you with a peace of mind.
With all these functions, flexibility at this price, this could be an excellent choice for you. This comes with a 1 Year local manufacturer warranty.
Best deal on Lazada Best deal on Shopee
---
4. HETCH 2-in-1 Induction & Halogen Cooker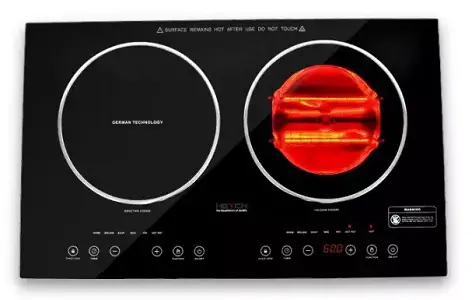 For those who really with a shoestring budget and want the cheapest dual induction cooker, then you can go for HETCH 2-in-1 induction cooker. It is the cheapest dual cooker available and has over 150+ reviews (mostly positives).
HETCH 2-in-1 Induction Halogen Cooker features highlight:
hybrid 2-in-1 hob, suitable for all type of cookware materials
can be used as built-in or free standing
Timer functions
Child lock
Customer's positive review:
So far have been using it for around 1 month. Both side works perfectly and for the induction side it actually make the kitchen area cooler due to it only heat up the metal pot or frying pan only.
Customer's critical review:
As per telephone conversation with your Customer Care the induction cooker on the left hand side does not work when we press the +/- button to increase/decrease the temperature. As a result not be able to cook using the induction cooker as the +/- button are not working. No heat at all from the induction cooker.
Note that the negative review could be an individual case. Regardless of all the rave reviews, I personally don't prefer to go with this model as the price difference between it and Midea MC-IHD361 is only around RM100. Midea's brand is more reputable and it has higher heat output too.
Similar to other hybrids electric hob, the halogen cooker can be used for any types of cookware material.
This cooker comes with 1 year local warranty only.
Best deal on Lazada Best deal on Shopee
---
5. Xiaomi Mijia Smart Induction Cooker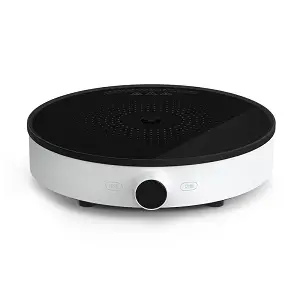 The one and only smart induction cooker in the market that can be connected to your smartphone. It is advisable to get Xiaomi Mijia Smart Induction Cooker from Dasher or SenHeng because they are reputable and provide a longer warranty.
Xiaomi Smart Induction Cooker features highlight:
Dual frequency heating (quick and even)
Low temperature cooking (sensitive sensor)
Precise cooking temperature (99 different temperautre level)
100+ cooking mode
Smart, can control with Mi Home App
Customer's positive review:
Usable with tefal fry pan. Such amazing induction stove that easily become hot and got lots of cooking mode, really love it! Really suitable for those love to cook
Customer's critical review: None
Xiaomi induction cooker comes with the usual Xiaomi design aesthetic which is clean and stylish. Different from other typical induction cookers, it is white in colour and round-shaped.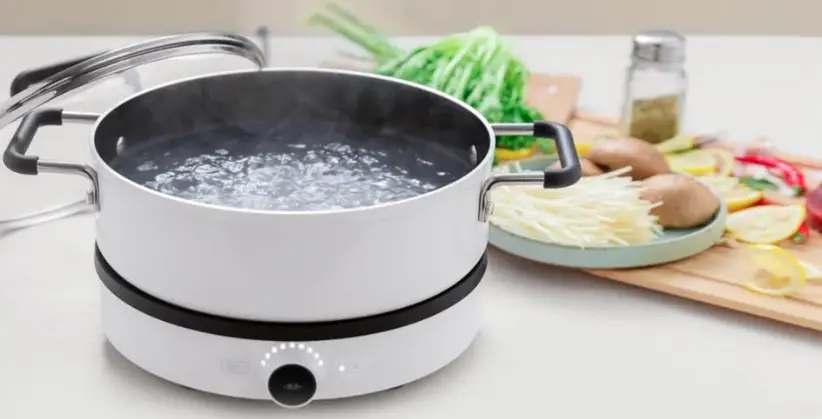 This cooker also has the advantage that its temperature can be controlled very precisely, you can increase the heat by 1 level each time, up to maximum of 99.

Also, it can do really low-temperature cooking which many induction cookers or even modern gas stoves would not be to do so. Low-temperature cooking can help to prepare your food in perfection in terms of taste and texture.
On top of that, Xiaomi induction cooker has more than 100+ cooking modes when you connect it to Xiaomi Home app.
There's one small downside with this cooker is that it doesn't coes with Malaysia plug. If you don't mind that, it is the best free standing single induction cooker in my humble opinion.
This cooker comes with 1 year warranty.
Best deal on Lazada Best deal on Shopee
---
6. Philips HD4931 Induction Cooker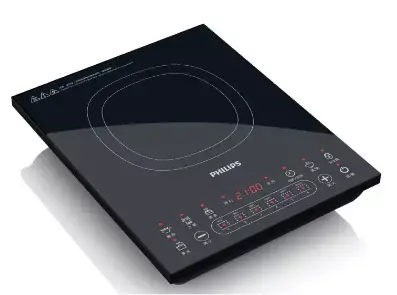 Being the most popular big brand choice, this Philips Viva Collection Induction Cooker HD4931 is certainly value for money. The powerful 2100W heating ensures cooking is done fast.
Philips HD4931 features highlight:
Value for money
Build quality good and heats up fast
6 cooking function and 6 power levels
24-hour pre-set function and timer set from 1 – 120 mins
Powerful 2100W heating
Child lock safety
Customer's positive review:
best deal ever at 8.8 promo. effective induction cooker for light warming & cooking. low to medium power consumption, judging from my electricity bill. 2nd buy for this model; either to keep it for future planning or as gift to fren/relative. tested it right away i received the parcel, works fone
Customer's critical review:
1st time use the numbers display on 3 digit cannot fully display. The touch sensitivity not good at all, need to touch many times for a command especially + & – buttons. The pot that put on top will be moved due to the slippy
The glass panel on the surface is of Grade A class and thus durable. Comes with 6 cooking function and 6 power levels, this induction cooker cooks food much faster thus ensuring the nutrients are still well retained in the food.
Average cooking time with an induction cooker is only one-third of conventional gas cooker.
At 19.40 x 3.80 x 30.60 cm, this cooker has a responsive touch control panel which has an informative and clear display. The useful features are the 24-hour pre-set function and also the flexibility to set the timer from 1 – 120 mins.
This 24-hour pre-set function allows you to start the cooking without you having to be there at that time – cooking will begin and automatically stop when the timer stops. So, in a way, it has become a hands-off type of cooking – convenient.
There is a child lock safety feature, so no worries of your kids turn it on accidentally.
It comes with a 2-Years International Warranty.
Best deal on Lazada Best deal on Shopee
---
7. PerySmith PS2310 Induction Cooker (2500W)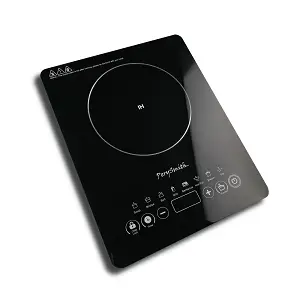 This induction cooker has more than 1000+ reviews and rated 4,8/5. Being a budget pick, PerySmith PS2310 is the most popular free-standing, high-powered induction cooker (2500w) that cost only RM100+.
PerySmith PS2310 Induction Cooker features highlight:
Budget pick
A+ scratch-resistant crystal glass panel
2500W high power output
8 Pre-set cooking programs
Compact and easily portable
Child-lock function
Cons:
The power cord may be too short (1 meter long)
Customer's positive review:
Received the item in good condition and tested the item and found that it works well. Performance is as expected. Good quality and good looking.
Customer's critical review:
It looks like the polystyrene that covers the product melted onto the cable and plug. Can I exchange the product?.
The cooktop surface remains cool while cooking. Standing at around 350 x 420 x 120mm (packaging size), this cooker has a strong 2500W power output.
At 2.5kg, it spots a compact design and very portable. There are 8 pre-set cooking programs available – Soup, Braise, Boil, Milk, Barbecue, Hot Pot, Steam, Fry. These options alone are more than sufficient to whip up various delicious food.
There is also a manual temperature control setting and a fan cooling system in place to prevent overheating. The panel is touch-sensitive and it has a child-lock function to avoid any unwanted accidents.
Purchases made from PerySmith Malaysia official store and registered with e-Warranty will entitle you with 2 Years warranty (Accessories purchase are exempted from this warranty)
Best deal on Lazada Best deal on Shopee
---
8. MIDEA C16SKY1613 Induction Cooker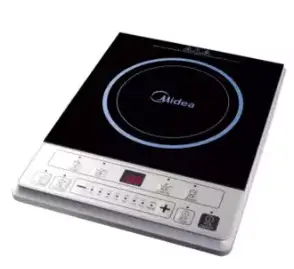 Another customer's favourite budget pick is this MIDEA C16SKY1613 Induction Cooker that has more than 360 reviews and rated 4.8/5.
MIDEA C21-RT2120 Induction Cooker features highlight:
6 pre-set cooking settings – makes cooking so much easier
Clear digital display
LED Digital timer
Accurate manual temperature control 60 degrees – 240 degrees
Automatic safety shut off function
Budget pick
It was commented that the cooktop heats up fast
Customer's positive review:
its awesome product.more cheaper than store and my wife love it.thanks lazada. delivery guy also very good person.i give 100 star.thanks again and i will buy again.
Customer's critical review:
The worst product I've ever purchased in my life. Bought it a while ago and used for the first time today. Even on the lowest temperature setting it burns food completely. Can we still return?
At 355 x 270 x 65mm, this induction cooker has 6-stage power settings. So, if you are the type who struggles with deciding on the correct temperature settings to use, this induction cooker could be your best friend.
It has 6 cooking settings for soup, braise, fry, deep fry, porridge and hot pot. Just press the one you want and the required temperature will automatically turn on for you.
Once you become more familiar, you can opt for the manual temperature settings (60 degrees Celsius – 240 degrees Celsius). The digital display is informative and easy to read. It has a LED Digital timer where you can do a 3-hour working timer configuration.
This cooker has high-temperature protection via its automatic safety shut-off switch. It is suitable for beginners as well as advanced users too.
Just one last thing, this is an older model of Midea induction cooker albeit it has garnered lots of good reviews. This product has 1 Year warranty by Midea Malaysia.
Best deal on Lazada Best deal on Shopee
---
That's all for your recommendation of the best induction cookers in Malaysia. We cover various kitchen appliances too. So you can check out our reviews on the best air fryer, pressure cooker, oven and rice cooker.
Source:
Xiaomi.com – https://www.mi.com/index.html
Senz.com.my – https://www.senz.com.my/product/senz-sz-ri3200i-2-in-1-smart-cooker/
Consumerreport.com – https://www.consumerreports.org/electric-induction-ranges/pros-and-cons-of-induction-cooktops-and-ranges/