Did you know that Malaysia achieved 5G coverage in almost 50% of populated areas as of the end of 2022? And Kuala Lumpur and Putrajaya areas have 5G coverage covering 90% of the population!
In addition, Digital Nasional Berhad (DNB) target to cover 80% of Malaysia's populated areas by end of 2024.
Is the 5G network important? What are the benefits we can gain from it? 
The most important question is does 5G make much difference compared to current 4G and 4G LTE networks?
Let's find out!
---
Introduction to 4G and 5G
4G or 4G LTE, is the successor to the 3G network. Compared to 3G, 4G networks offer faster download and upload speeds for modern internet use such as streaming video content, mobile gaming with low latency and video calls., 
5G is the 5th gen and latest mobile communication technology. The technology has faster speeds and lower latency than 4G, making it ideal for virtual reality, autonomous vehicles, and general Internet of Things applications, such as security cameras, smart TV, internet-connected fridges, cars, etc
The main difference between 4G and 5G is 5G has a significantly faster download speed, which is close to 300Mbps compared to 15Mbps of 4G. On top of that, 5G has much lower latency too.
---
4G vs 5G Mobile Plans in Malaysia
Every Malaysian telco offers 4G and 4G LTE networks, regardless of whether you are a postpaid or prepaid customer. Here are the telcos with 4G service:
Celcom
Maxis
Digi
Yes
Unifi Mobile
UMobile.
On the other hand, not all telcos have made 5G networks available to their users. Telcos that offer 5G networks are listed below.
Celcom
U Mobile
Unifi Mobile
Yes
Currently, Maxis is the only operator without 5G service. However, it is expected to enter into Access Agreement with DNB by January 2023. I predict that Maxis users should be able to get their taste of 5G internet in the second quarter of 2023.
4G vs 5G Internet Speed in Malaysia
Download Speed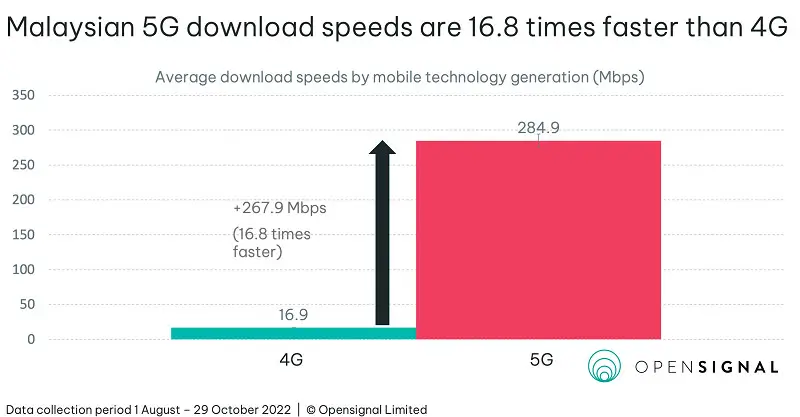 According to opensignal.com, the average 4G internet speed/download speed in Malaysia is only 16.9Mbps. And the average 5G download speed is as high as 284.9Mbps.
This represents a  sixteen-fold increase in the download speed of 5G in Malaysia compared to 4G.
Upload Speed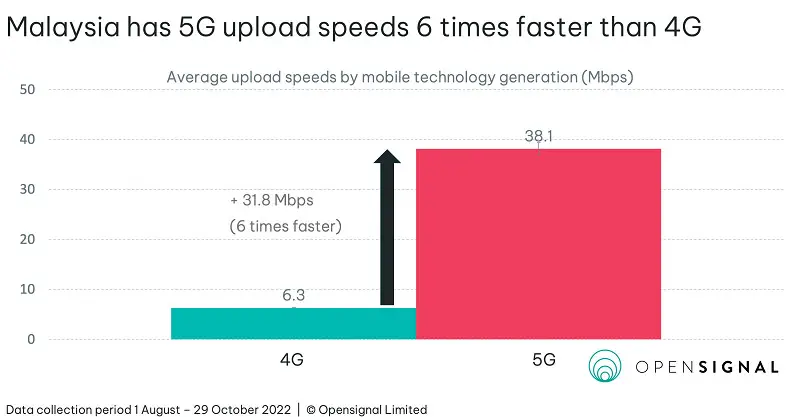 Again, based on the data collected by opensignal.com, it shows that the average 4G upload speed in Malaysia is only 6.3Mbps.
Meanwhile, 5G's upload speed is 39.1Mbps, which is six times as fast as 4G.
Check out the video below for the real-world performance of Digi 5G networks.
4G vs 5G Price in Malaysia
At the time of writing this article, most Malaysian telcos don't charge extra for 5G services. Take a look at their current 5G availability and status. 
Celcom – 5G access is free for all users, including Celcom MEGA Lightning, XPAX Postpaid and XPAX Prepaid Mix & Match plans
Digi – 5G is only available for postpaid users, particularly Digi Postpaid 90, 120, 150 and Family Unlimited 200 plans
Yes – All users can access 5G
Unifi Mobile – All users can access 5G
Here, I wish to remind you that you will need a 5G smartphone to access 5G networks.
5G Coverage in Malaysia
5G is relatively new in Malaysia. So, it is mainly deployed in densely populated areas, which are big cities such as Kuala Lumpur, Selangor, Putrajaya, Melaka, Pulau Pinang, Perak and Johor.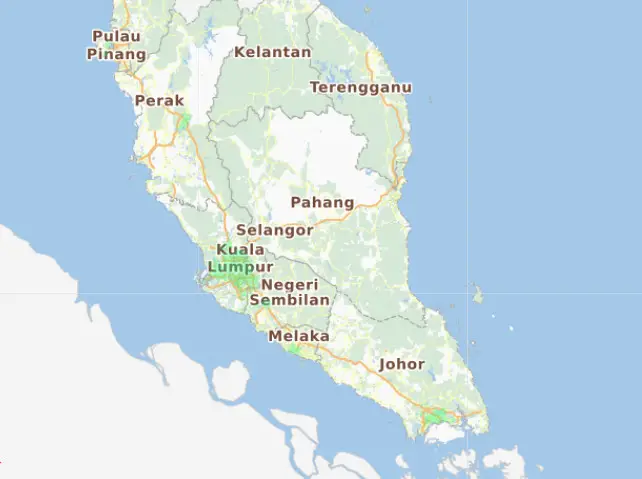 You can check out the respective 5G network coverage in the list below:
Is 5G worth it in Malaysia?
Yes, especially if you live in an area where the 4G network is always congested.
5G network has larger bandwidth and latency. Since 5G is still very new in Malaysia, you may experience a dramatic increase in speed once you switch to 5G.
Apart from high-end smartphones, most smartphones on the market still only support 4G, but not 5G. As a result, you have fewer users competing for bandwidth on 5G networks.
Should I get a 5G smartphone in Malaysia?
It depends, if you plan to upgrade to the latest iPhone 14 or Samsung S22, then you're in safe hands. Those high-end smartphones are already compatible with 5G. 
In my opinion, if you're a budget smartphone user, you don't really need to upgrade to 5G smartphones yet because they are usually more expensive and 4G's 15Mbps download is sufficient for most casual users.
Is 5G good for gaming?
Yes, 5G is known for having lower latency than 4G. It provides the best gaming experience with no lags or buffers. 
With 5G networks, you can play games smoothly on smartphones and laptops no matter where you are. There is no need to stay connected to a WiFi router or solely rely on fibre broadband.
If you live in an area without Unifi or Maxis Fibre broadband, you may want to consider getting a 5G router with a SIM card slot. It might be a good temporary solution for you to get fast internet
Does 5G use more battery?
Yes, 5G consumes more battery in both iPhones and Android smartphones because the smartphones will need to connect to both 4G and 5G at the same time. Thus, it drains the battery faster.
You should turn off 5G on your smartphone if you aren't using it.
As an example, in comparison to iPhones that only use 4G, iPhones with 5G turned on will have one to two hours less battery life.
Conclusion
In short, the 5G network provides faster download and upload speeds than 4G and is also less congested since it is still in its infancy. One of the biggest downsides is that the smartphone's battery drains faster.